Baskets are as nostalgic as they are functional. Woven baskets from natural fibers have been around for millennia, and the tradition has been carried through different cultures around the world, including by Indigenous groups in North America.
Although they're among the world's oldest crafts, baskets cannot be physically traced as far back as other historically notable works like pottery. That's because the fibrous and other lightweight natural materials they're made from eventually decompose.
Today basketry continues to evolve with human culture. Contemporary artisans in New York State are keeping the tradition alive. Artists Jes Clark, Jonathan Kline, and the Ceyanto family of Gullah Geechee Basket Weavers vary in the materials, process, and the traditions they draw from.
Clark draws inspiration from European traditions, Kline homes in on the Native American traditions of the Shaker and Taghkanic communities, and the Ceyanto family tradition is finely woven from generations rooted in the West African countries of Senegal and Sierra Leone.

Clark and Kline are based in New York State. And while the Ceyanto family resides in South Carolina, they travel often enough to be fixtures of the New Paltz and Kingston art scenes, where they frequently sell out studio workshops with Circle Creative Collective. Here's how each sources material and works with it to pieces that are both ancient and modern.
Jes Clark: Cultivating Willow
Jes Clark is located in Willow Vale, a 5-acre farm of their own where they grow and weave with willow in Stanfordville, N.Y. Prior to attaining their own farm in 2015 and weaving since 2013, Clark has spent 13 years farming on a different farm with a small willow patch where they were first inspired to create with willow.
"Willow and humans go way, way back," they say. "We have used willow as fuel, medicine, building material, in sacred ceremonies, and of course, in the arts."
Primarily drawing from European-British Isles traditions of weaving, Clark ties distinct traditions together into a contemporary style. While willow gracefully carries a peaceful aesthetic, it's not the only aspect of willow Clark admires.
"I appreciate willow's ability to foster a diverse ecosystem, its contribution to carbon sequestration, and the fact that I can take a harvest from it every year without killing the plant or disturbing the soil in which it is grown," they say. "The variety within the genus Salix (willows) is really stunning, and I love being able to showcase that with every piece I make."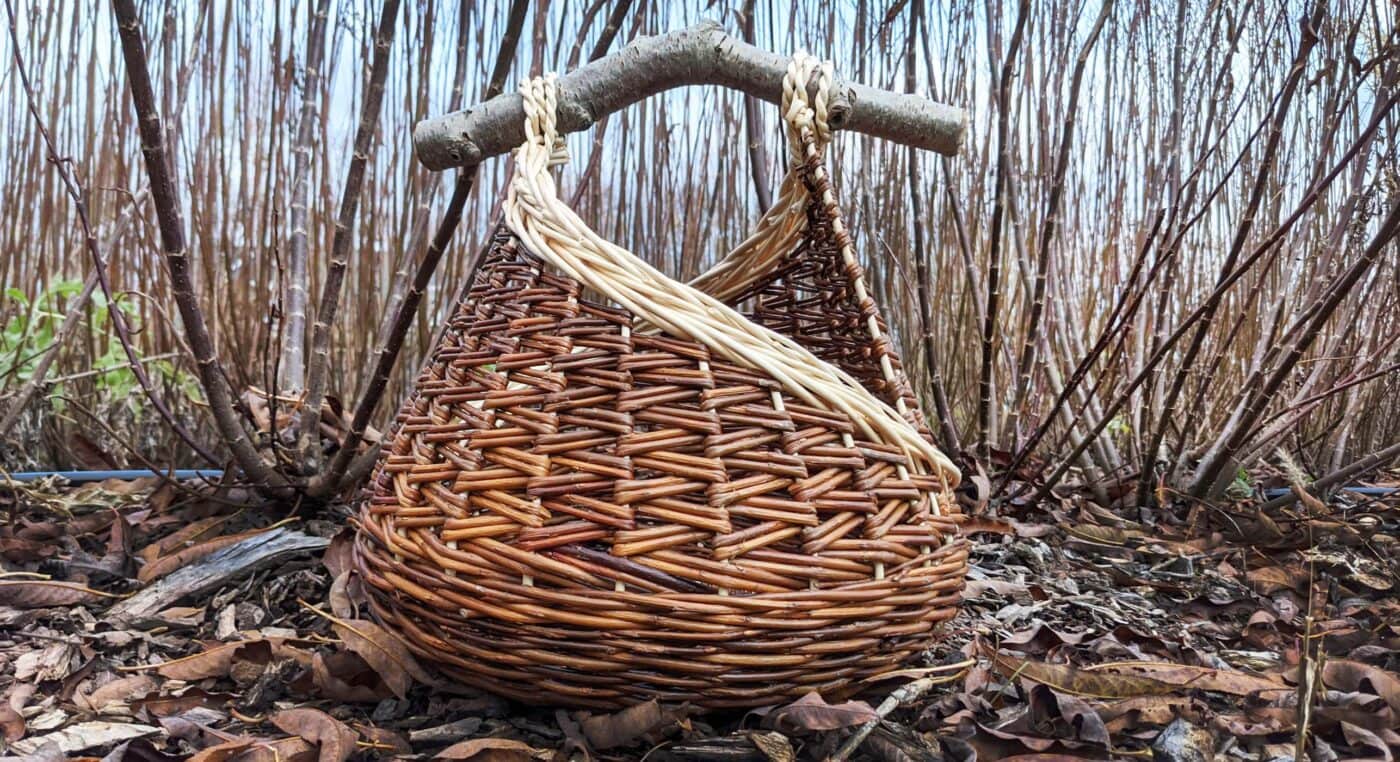 Clark's process begins with the plant. First harvested with help every winter, the willow is cut to be sorted by variety and size, then dried for storage. To prepare it for weaving, the plant soaks in water for several days before being left to "mellow" under cover for maximum pliability.
Clark describes the process of turning these sticks into baskets with concepts of form and purpose. "I am usually making to order, so I plan how to create what the customer desires," they say. "As I'm weaving I take into account how each stick, being an organic material with its own life history, wants to be woven. The finished basket is just a long conversation, a list of observations in the manipulation of the material, the culmination of responses to minute changes in weaver tension and flow."
Jonathan Kline: Drawing on Black Ash
Although he's now based in the Finger Lakes, Hudson Valley native Jonathan Kline draws inspiration from the local Shaker and Taghkanic communities near where he grew up. In 1980, he had the opportunity to first learn the basics of the craft from a fourth-generation New Hampshire basket weaver, Newt Washburn. He's been creating beautiful rugged pieces using a few simple hand tools ever since.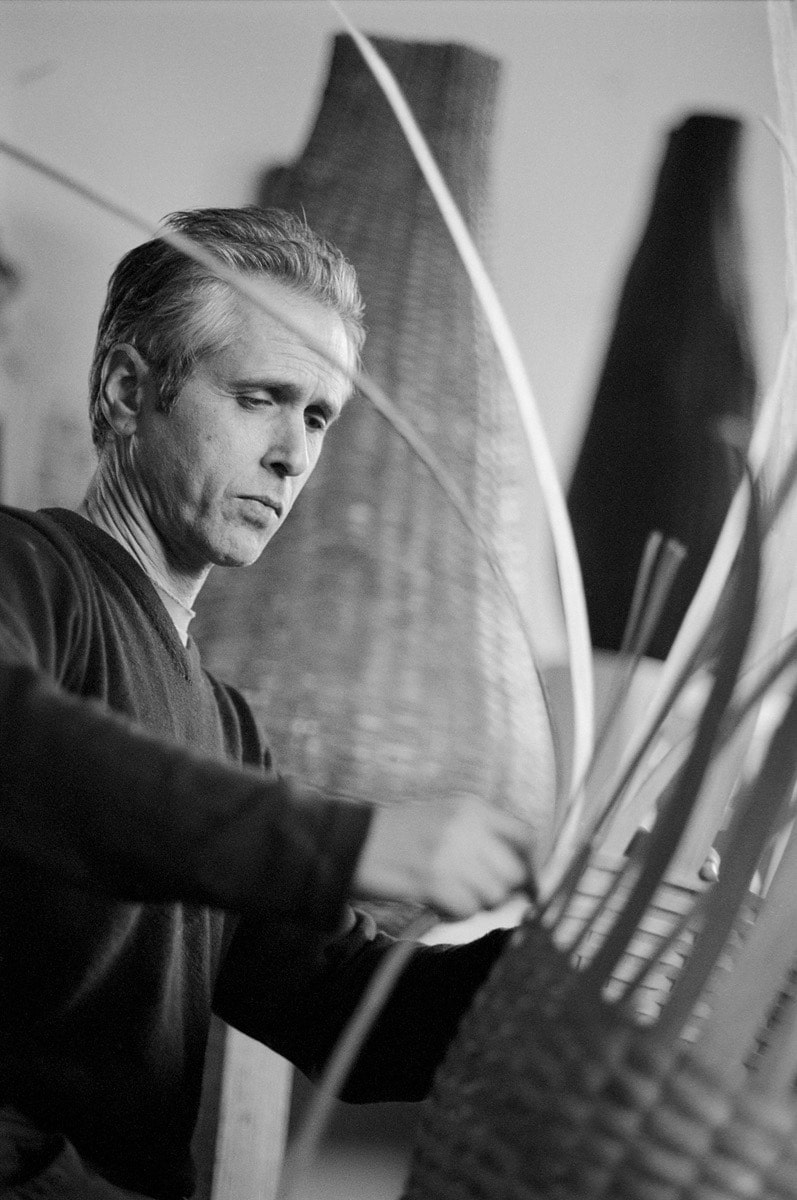 "Though modern society is less dependent on them, our long connection seems to have left an archetypal imprint, a symbol of elemental simplicity," he says of baskets. "Their inclusion in our homes can soften the edges of our often hectic daily lives."
Kline's process begins with harvesting material from the black ash trees grown in the woodlands near his home and native to the cold wet grounds of the Northeastern U.S. and Southeastern Canada. He creates splint baskets in an array of styles, sizes and finishes, left in their natural finish or painted using a casein base with minerals.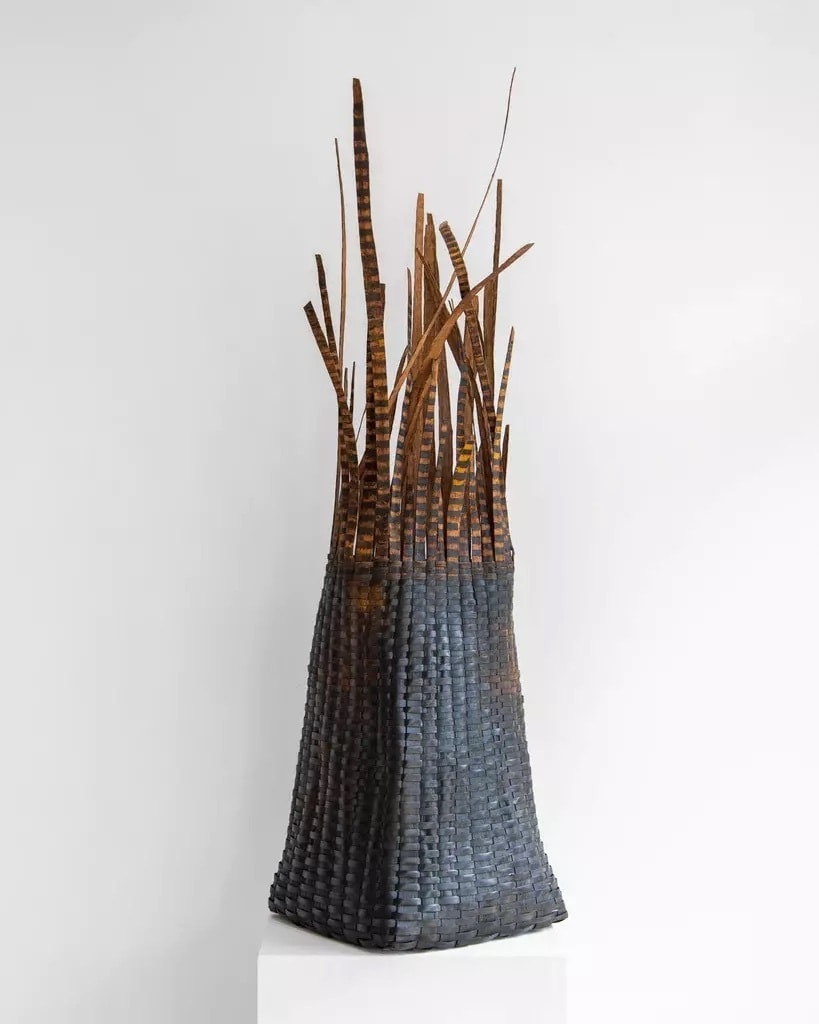 Paint is sometimes used to prolong the longevity of a thoroughly-worn basket or in Kline's case, enhance the appearance if desired. These paints are durable and nontoxic, as well as sealed with linseed oil.
Black ash has the brilliant ability to separate along annual layers, as used by Native Americans for thousands of years. The smooth outer layers are ideal for carrying/gathering or table top baskets, while the inner layers are used to construct open weave trays that dramatically showcase the knots and figured grain of these layers.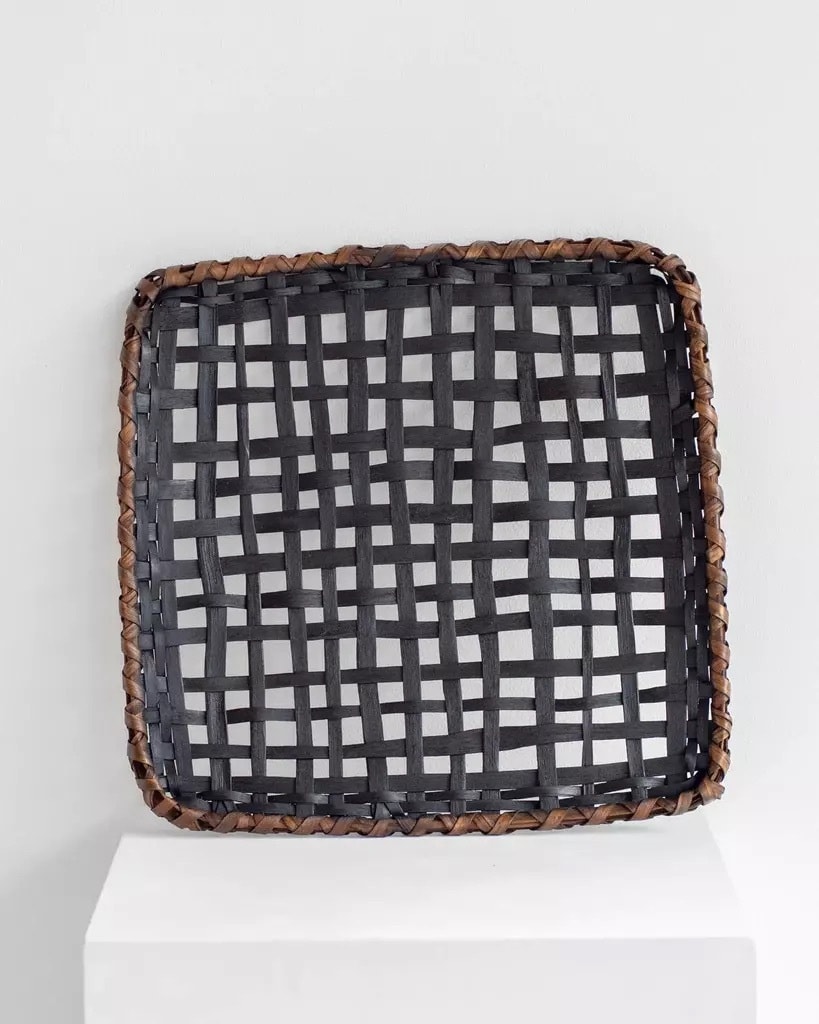 The bark is stripped into slices then pounded with a steel mallet, the spongey fibers between growth layers are pounded and then shaved with a knife to a smooth finish. Kline uses the supple strips of black ash for weaving and dense strong hickory for handles and rims. All baskets are woven by hand without the use of molds or jigs to create individual characters born from this process.
Gullah Geechee Basket Weavers: Gathering Sweetgrass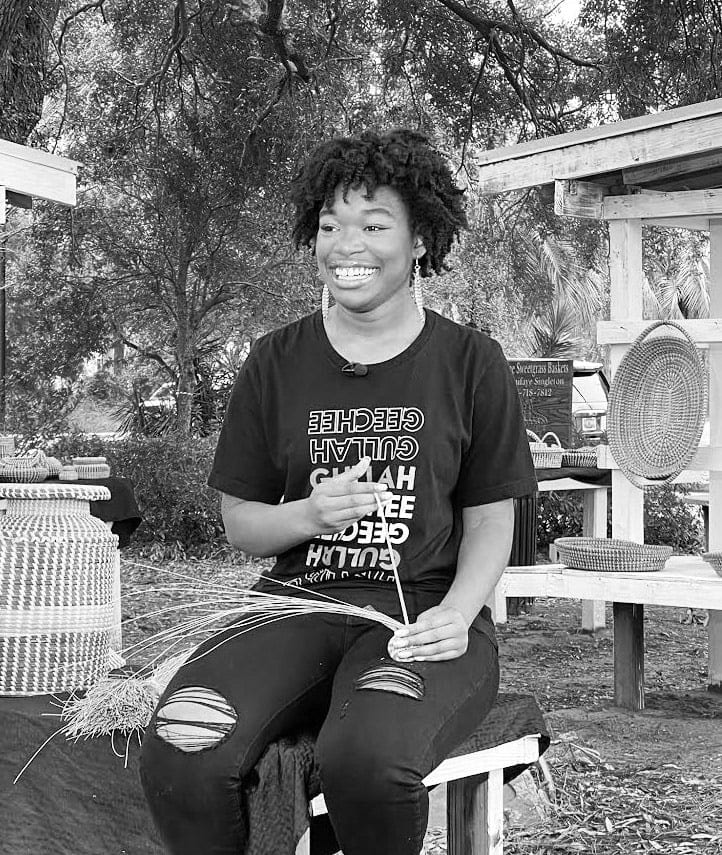 Three generations of Gullah Geechee Basket Weavers practice one of America's oldest African art forms. Fifth-generation weaver Martha Cayetano, daughter Andrea Cayetano-Jefferson, and granddaughter Chelsea Cayetano draw inspiration from family tradition traced all the way from Senegal and Sierra Leone.
Martha was taught by her mother, who was taught by hers. She grew up weaving sweetgrass baskets with her siblings to sell along Highway 17N in Mount Pleasant, S.C. In the early 1980s, Martha had her own booth in Charleston City Market, where she and her family currently sell their art.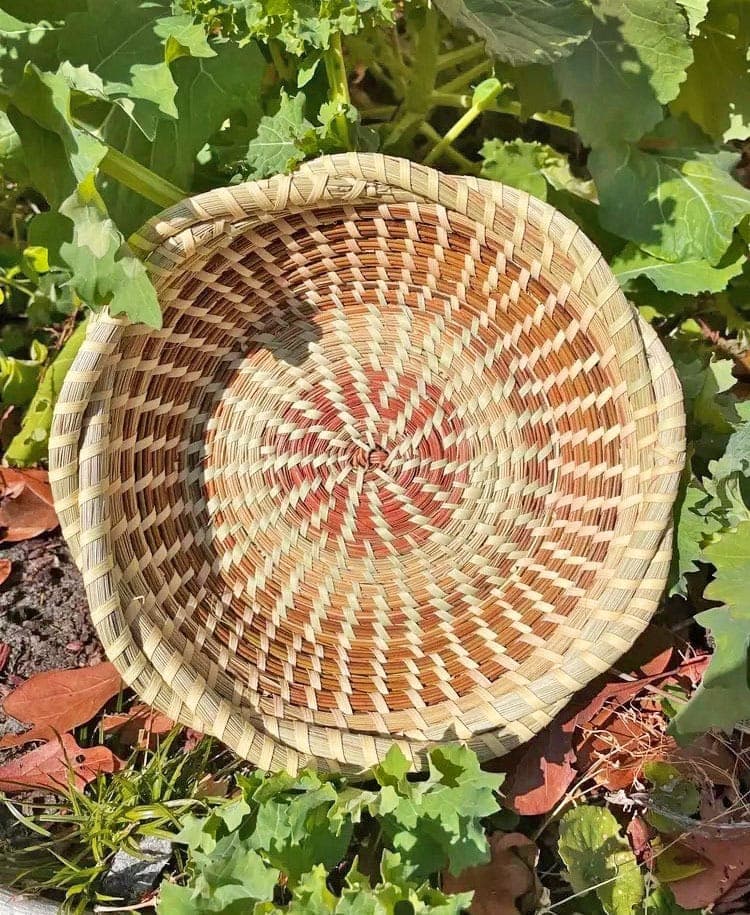 Andrea has been weaving since the age of 6 and going to the Charleston City Market with her mom since she was 8.
The family's process begins with harvesting plants themselves, including sweet grass, bulrush, and long needle pine, collecting together along marshy areas.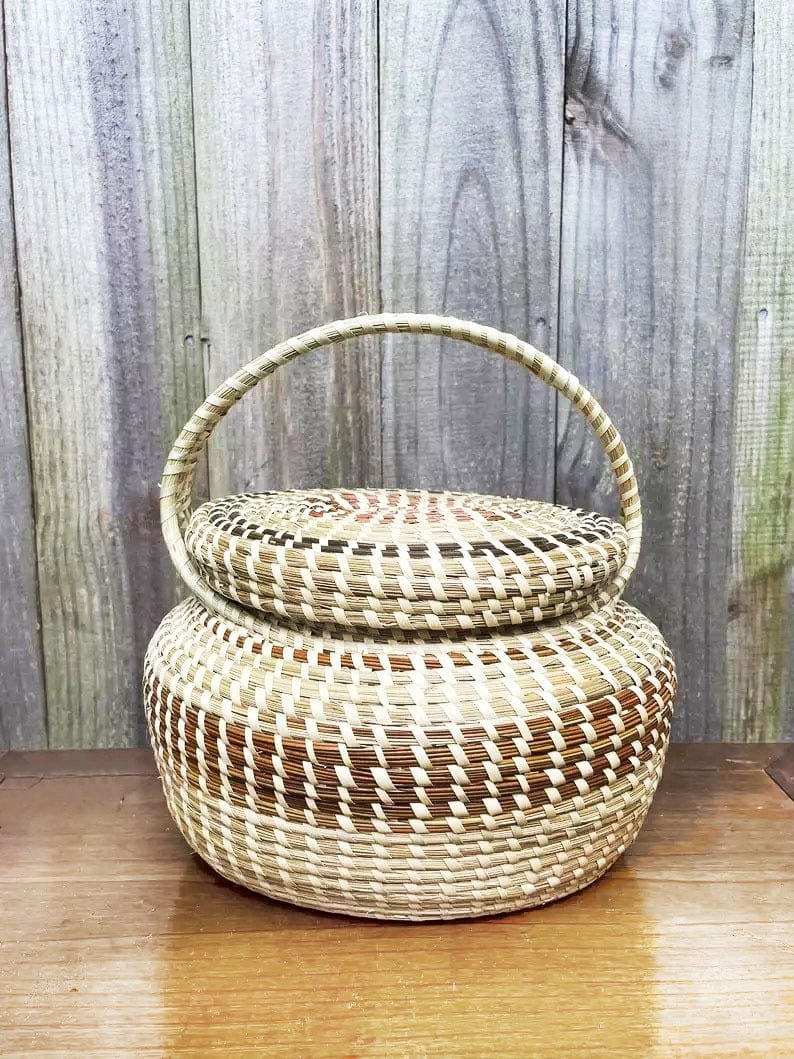 These materials are woven together with strips of palmetto to create a variety of masterful pieces. The family can be found selling out studio workshops or featured in art and culture festivals with the Circle Creative Collective in New Paltz; they held four workshops this past November.
Interested in more ways to join a community of Hudson Valley basket-weavers, or venturing into a new artistic endeavors? Try Circle Creative Collective.
Izdihar Dabashi is an Arab-American writer based in New York. She obtained her bachelor's degree in psychology and cognitive neuroscience from Marist College and her master's from Columbia University.