What do Kitty Hawk, N.C., and the Hudson Valley have in common? Both played key roles in aviation history. Just seven years after Orville Wright's first flight — which went 12 seconds and half the length of a 747 — Glenn Hammond Curtiss piloted a plane from all the way from Albany to New York City.
Curtiss not only set an American distance record, but also demonstrated the unlimited potential of air travel. As Rick Leisenring, curator of the Glenn H. Curtiss Museum in Hammondsport, N.Y., says, "It was a very big deal."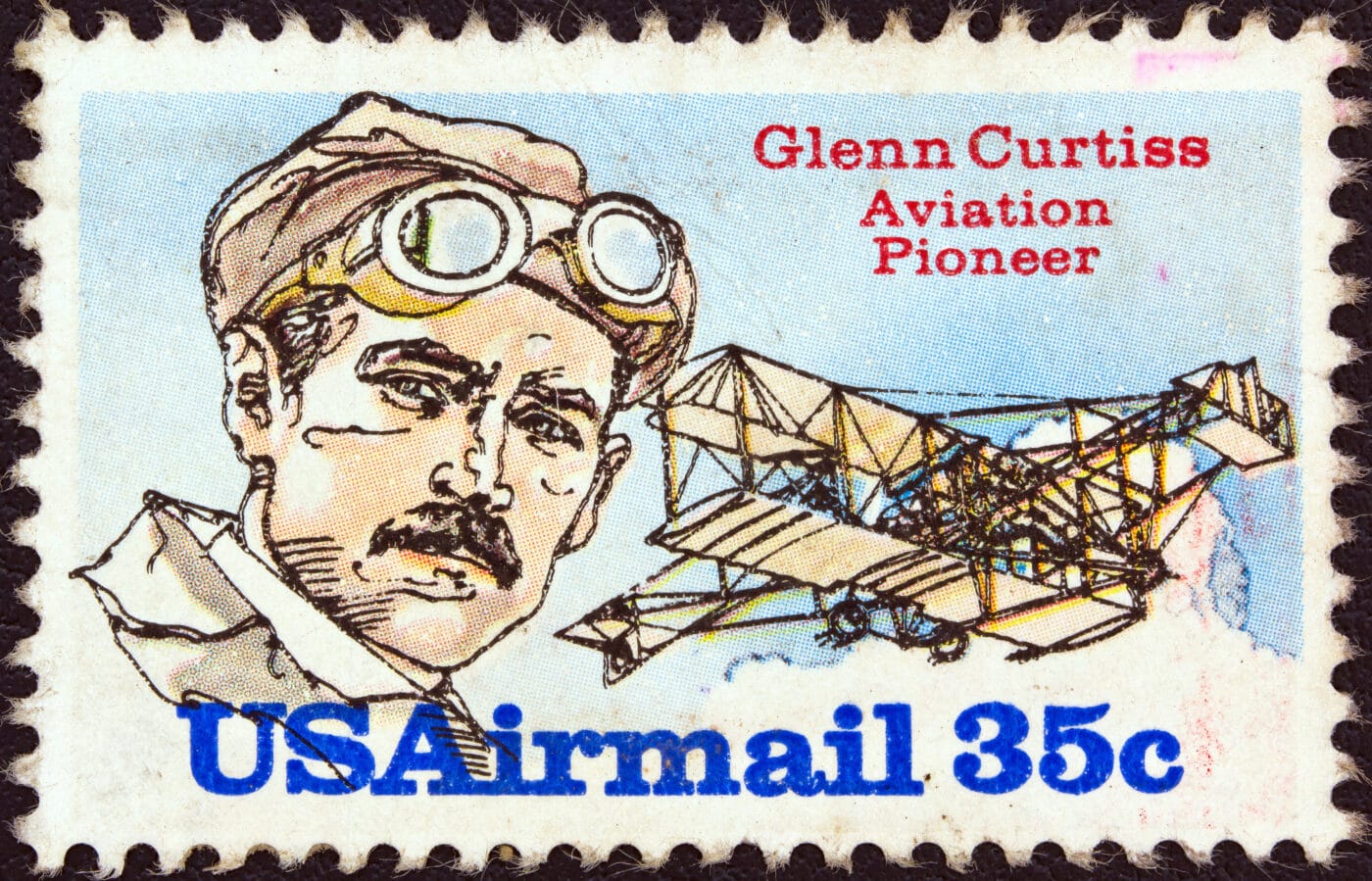 The New York World helped spark Curtiss's record-smashing flight, offering $10,000 to any pilot who could complete the 152-mile journey before October 10, 1910. Two stops would be allowed, and it could be made in either direction. "There were a lot of big names shooting for the prize," says Leisenring — Orville Wright included.
The 32-year-old Curtiss was a daredevil motorcyclist. He'd piloted the first publicly witnessed U.S. air flight in 1908 in his plane the "June Bug," and won a $5,000 prize at an air meet in France the following year. He quickly took up the new challenge. "Everybody was waiting to see what Curtiss would do next," says Leisenring.
He and his mechanics got to work building a biplane in his hometown of Hammondsport. A flimsy-looking assemblage of wire, bamboo, and steel, Curtiss called it a "monster violin." He prepared for an emergency river landing: Beneath each wing, covered in rubberized silk, he placed sealed metal drums. Plus, along the fuselage he attached cork-filled bags sewn out of cloth to make hot air balloons. Essentially, it was the world's first seaplane.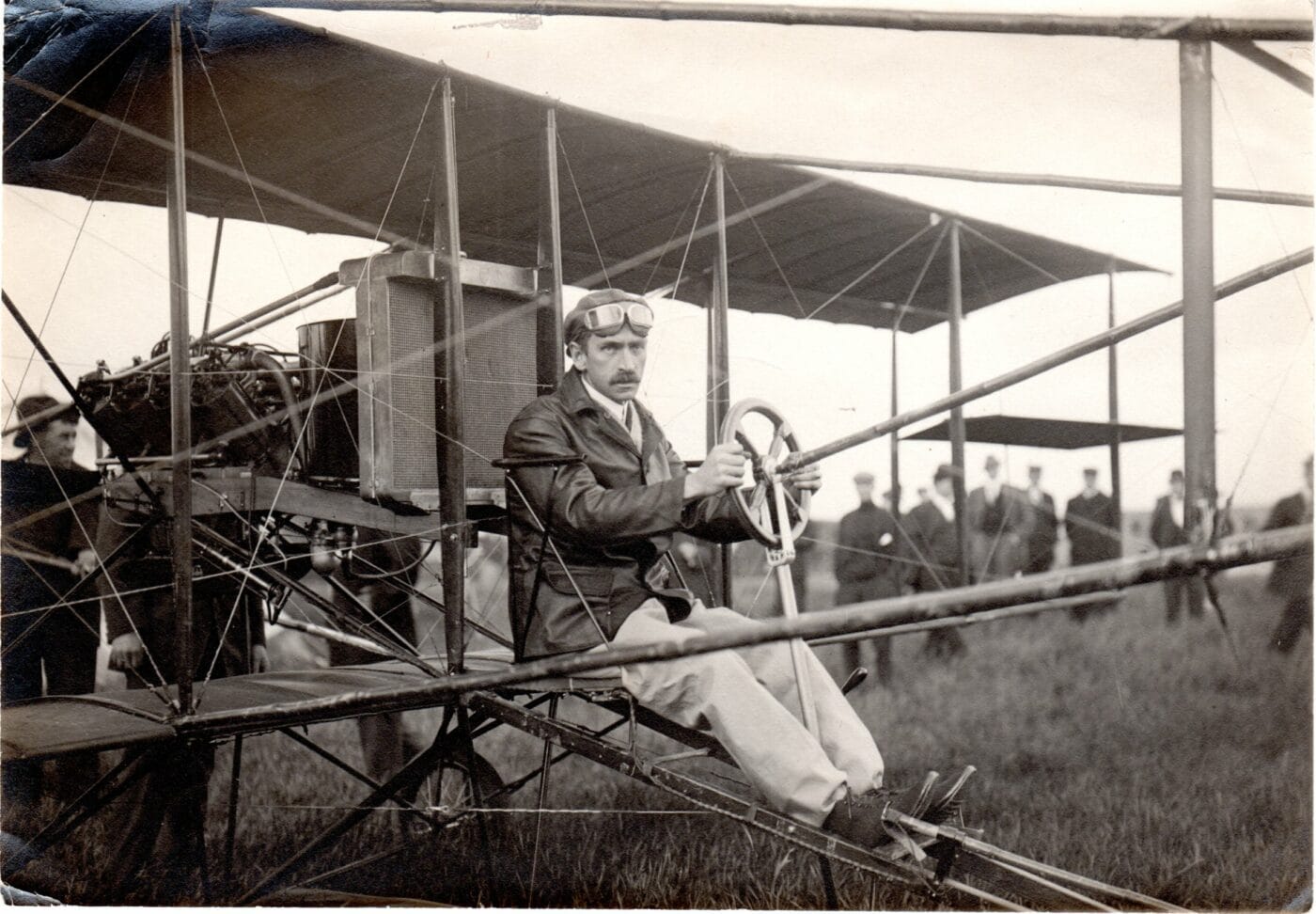 Curtiss came east to scout the valley and potential landing sites. (Believe it or not, Leisenring says, the man we'd consider a daredevil "was not a risk-taker.") Because the winds favored a north-to-south flight, Curtiss opted to take off from Albany. In May 1910, the plane — eventually dubbed the "Hudson Flyer" and the "Albany Flyer" — was taken apart, crated up, and shipped to Albany. A German farmer rented him a field on Rensselaer Island there for $5.
Curtiss tried to keep the pending flight a secret, to prevent other pilots from beating him to the punch. But it didn't take long for the public to catch on. Hundreds of spectators thronged the makeshift airfield each day, hoping to watch the takeoff. A train chartered by the New York Times also was kept in constant readiness across the river; it had right of way, so photographers and reporters (as well as Curtiss's wife, Lena) could keep up with the plane.
"A locust springing from the sands"
For three straight days, bad weather scrubbed the flight. Finally, on Sunday, May 29, it cooperated. (Frustrated by the postponements, only 100 people showed up that morning to witness the takeoff.) Clad in fishing waders, a leather jacket, motorcycle goggles, and a cork life vest, Curtiss settled onto the plank that served as his seat. In a pocket he carried a letter of greeting from the mayor of Albany addressed to his counterpart in New York City — in essence, the nation's first airmail.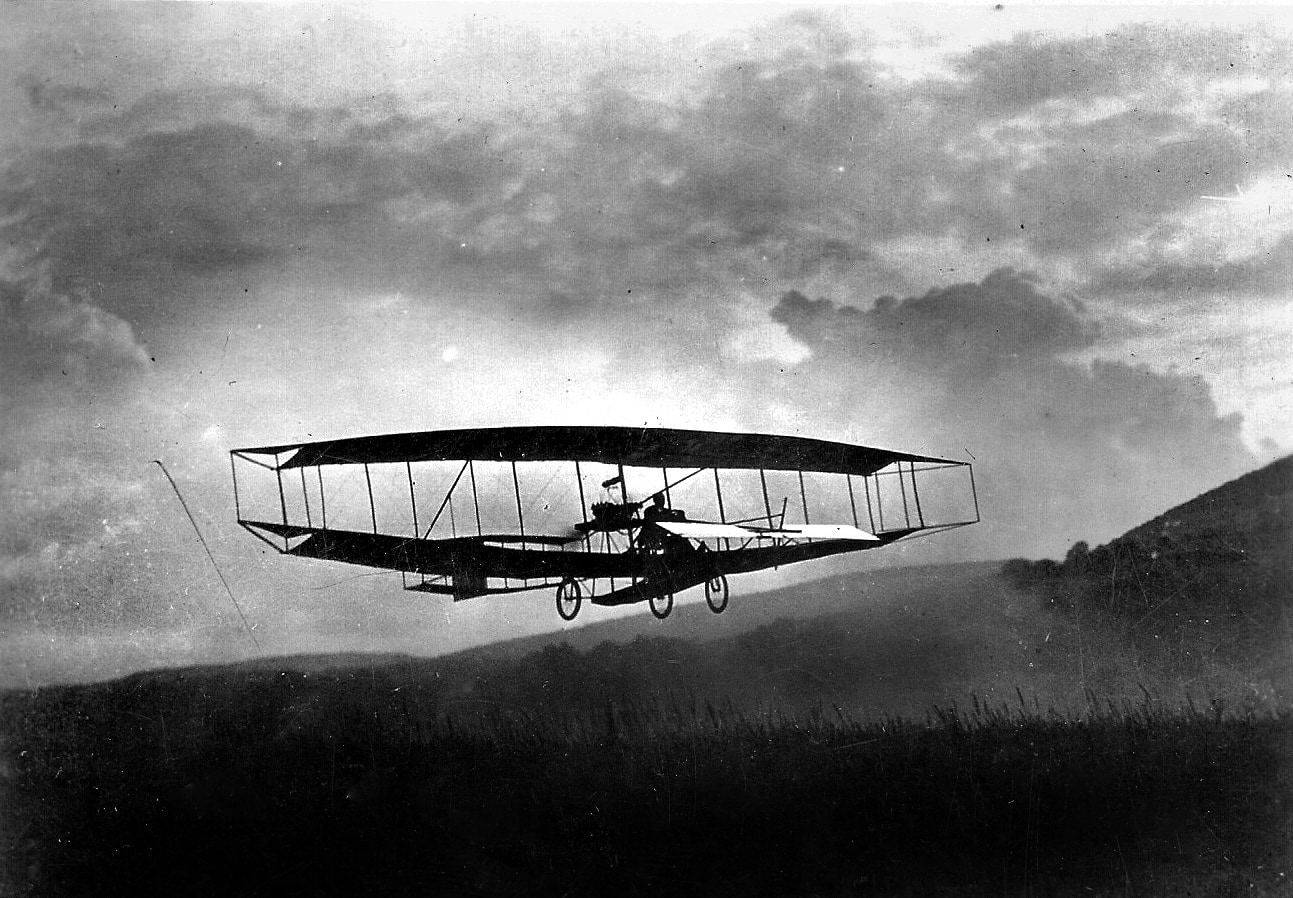 The propeller was given a turn and the adventure began at 7:02 a.m. "Like a partridge running to get its wings, and like the beating of wings of a partridge was the roar of exhaust from the pulsating engine," reported the Poughkeepsie Daily Eagle. After takeoff, the paper's account continued, "the suggestion of a partridge receded in the mind and one saw that in tenuity of gossamer surfaces and reedy anatomy this was a locust springing from the sands."
Curtiss flew up to 700 feet and leveled off above the middle of the river. At 7:33 a.m. he passed Hudson. As he flew over Catskill, its telegraph operator cabled: "Curtiss just went by here and he is gone, going like h – – -!" Lacking any controls, Curtiss relied on the flutter of his sleeve to gauge speed and the drift of chimney smoke to assess wind direction. As he approached Poughkeepsie at 8:20 a.m., he debated whether he should fly above or below the railroad bridge — today's Walkway over the Hudson. He chose the former and landed minutes later at his planned stopping point (near today's IBM plant on Route 9 in the Town of Poughkeepsie).
Curtiss had arranged to have fuel waiting, but the supplier was a no-show; perhaps he was chastened by a local pastor who chided Curtiss for choosing "the Lord's day to make his spectacular flight, thus robbing God of his day." Fortunately, passing motorists gave Curtiss the eight gallons of gas needed to top off his 10-gallon tank. After laying over for an hour, for his mechanics to check out the plane and to receive a kiss from Lena, he took off once more, barely missing cows startled by the engine's roar.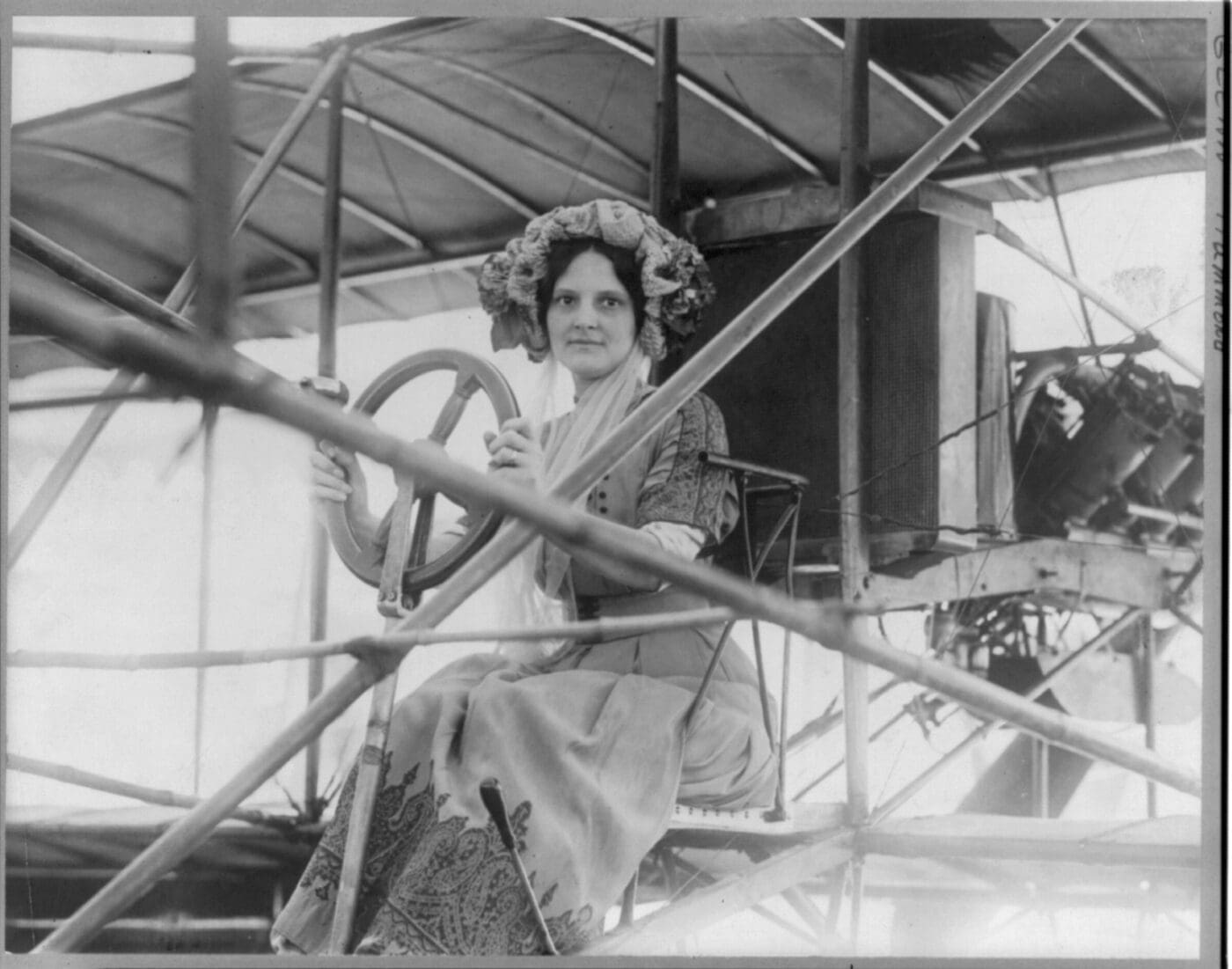 "I thought it was all over"
The most dangerous leg of the trip came at the northern entrance to the Hudson Highlands, which forms a giant wind tunnel. Curtiss rose to 2,000 feet to try to avoid the gusts, but they jolted the plane mercilessly, dropping it several hundred feet and nearly ejecting him. "It was the worst plunge I ever got in an aeroplane," he later noted. "I thought it was all over."
Curtiss tried a new tack — reducing his altitude to 40 feet. Another blast of air nearly pitched the plane into the water. He managed to pull up just in time.
At West Point, cadets flocked onto the plain to salute Curtiss, whose thoughts turned to how easy it would be to drop bombs on them — the first suggestion of an aircraft's military capabilities. Then, as he soared above the Tappan Zee and Palisades, he discovered he was leaking oil and would have to make an unscheduled stop. Just past Spuyten Duyvil, Curtiss spotted a long, grassy lawn. He touched down on it at 10:25 a.m., filled up with oil and gas, and took off on his final leg. Technically, he had won the prize since he'd already landed in Manhattan.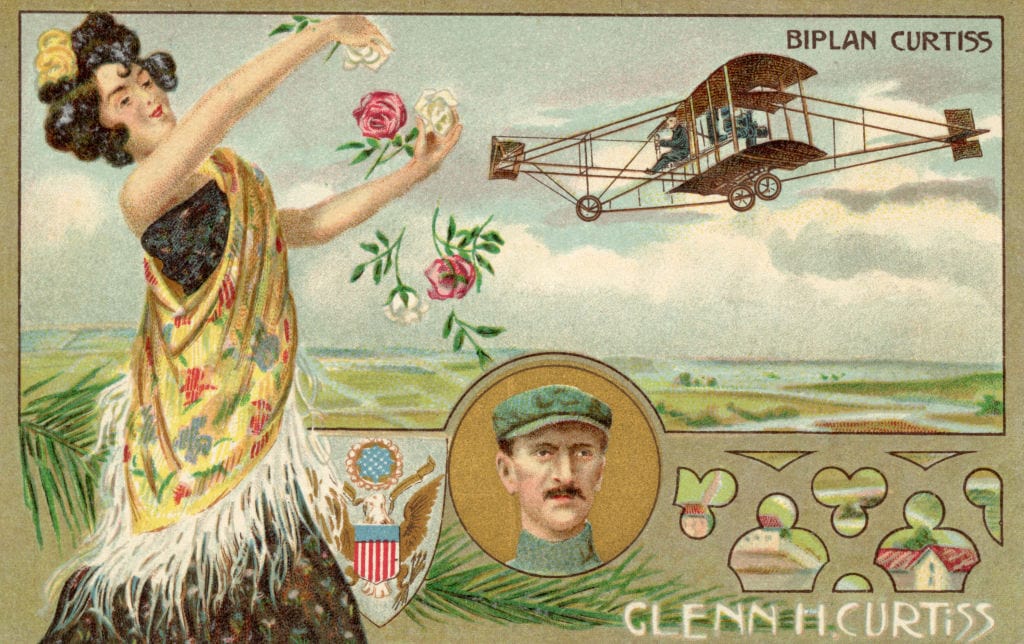 Over those last miles Curtiss was hailed by tooting tugboats and waving masses who thronged rooftops. Over New York Harbor, he looped around the Statue of Liberty and dropped onto Governors Island at noon. All told, he had been airborne for two hours and 51 minutes.
In addition to being a press sensation — the New York Times dedicated six full pages to the flight — this exploit "marked the birth of practical aviation in America," according to Curtiss biographer C.R. Roseberry. "Up to then," Roseberry continued, "flying had been more an experiment and a sport than an activity to be taken seriously. By achieving the first sustained flight between two major cities, Curtiss had…proved that an airplane might dependably start from here and go to there… The excitement kicked up by his deed triggered an outbreak of distance flights which stretched ever longer until they marked out the continental airways."
The Glenn H. Curtiss Museum in Hammondsport features a permanent exhibit about the Albany-NYC flight, as well as other fascinating artifacts from the aviator's career.