This year marks the 202nd anniversary of "The Legend of Sleepy Hollow," which appeared in Washington Irving's The Sketch Book of Geoffrey Crayon, Gent. in 1820. Many literary authorities consider it our nation's oldest ghost story. For sure, it's a Halloween staple. But out of all the spooky stories ever imagined, why has this one loomed so large for two centuries and counting?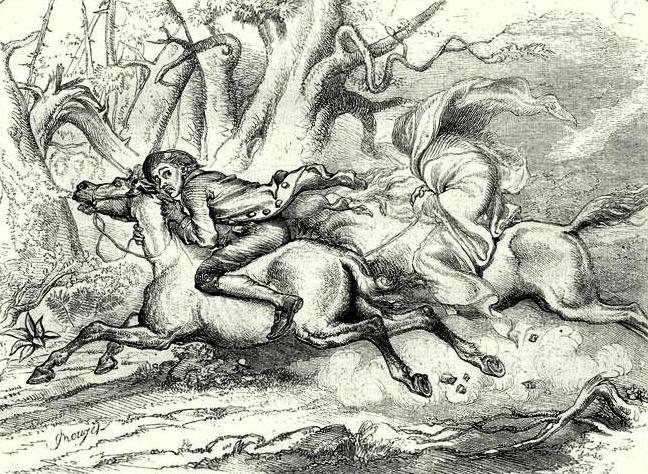 As you might remember, "Legend" recounts the harrowing events that befall Ichabod Crane one autumn night in 1790. During his ride home from a harvest party — at which he was jilted by the woman he wants to marry — the superstitious schoolmaster meets a cloaked rider carrying his head on his saddle. The ensuing chase culminates with the Headless Horseman throwing his noggin at Ichabod, who is never seen again.
Irving leaves it up to the reader to decide whether the severed head is really a pumpkin and the horseman a rival for the affections of Crane's hoped-for fiancée. He concludes: "The old country wives, however, who are the best judges of these matters, maintain to this day that Ichabod was spirited away by supernatural means; and it is a favorite story often told about the neighborhood round the winter evening fire."
The history of this creepy little tale goes even deeper than you might imagine.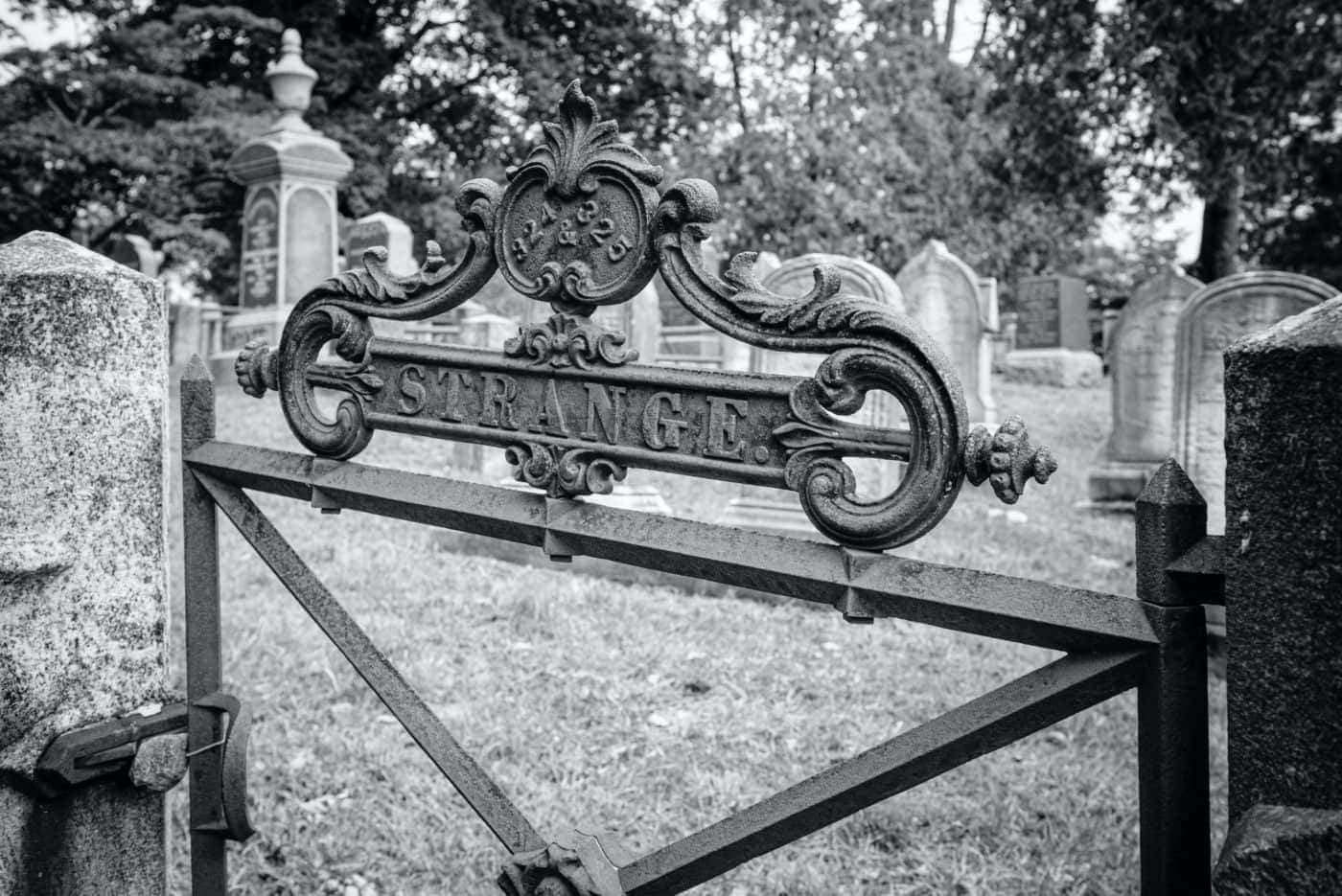 Old legend, new setting
Tales about headless specters were old hat when "The Legend of Sleepy Hollow" was published. They had been frightening people all over Europe since the Middle Ages. Some literary historians surmise that Irving was motivated to write one after reading "The Chase," a poem his friend Sir Walter Scott had translated from an earlier work in German. Its plot, about a hunter haunted by the devil, may trace back even further, to Norse mythology.
Irving made the story entirely his own by setting it in America. This "Legend" takes place in Westchester County locales the author visited as a teen, when he decamped to Tarrytown one summer to escape a yellow fever epidemic in Manhattan. (In 1835, he would purchase a house nearby.) Sleepy Hollow's Old Dutch Church and the surrounding graveyard where the hair-raising encounter occurs still sit along Route 9. (True "Legend" fanatics also will want to the visit the one-room schoolhouse in Kinderhook whose teacher, Jesse Merwin, allegedly provided the inspiration for Ichabod Crane.)
Irving further roots his "Legend" in U.S. soil by giving his characters the Dutch names of local families, such as Van Tassel. The horseman is reputed to be the ghost of a German mercenary fighting for the British during the American Revolution who was decapitated by a cannonball at the Battle of White Plains. While staying in Tarrytown, Irving may have heard accounts from old-timers about a Hessian soldier whose headless body lies in an unmarked grave in the Sleepy Hollow burying ground.
An enduring and terrifying mystery
Along with "Rip Van Winkle," published a year earlier, "The Legend of Sleepy Hollow" helped to establish Irving as the first American writer to gain international renown. It has spawned countless film adaptations, ranging from the ridiculous (The Smurfs: The Legend of Smurfy Hollow) to the sublime (Tim Burton's 1999 Sleepy Hollow, starring Johnny Depp). Much of the latter was shot in and around Tarrytown, including Rockefeller State Park Preserve.
So what's behind the story's continuing allure — which has prompted a whole town to change its name, and for 100,000 tourists to visit the place each October to this day? On one level, it provides a vivid link to our nation's past. As American University Professor Lewis Grossman explains, "Irving intentionally constructed it as folklore rooted in the country's history and traditions. Thus, it survives not only as a wonderfully written tale, but also — particularly through the immortal characters of Ichabod Crane and the Headless Horseman — as part of American popular culture and legend."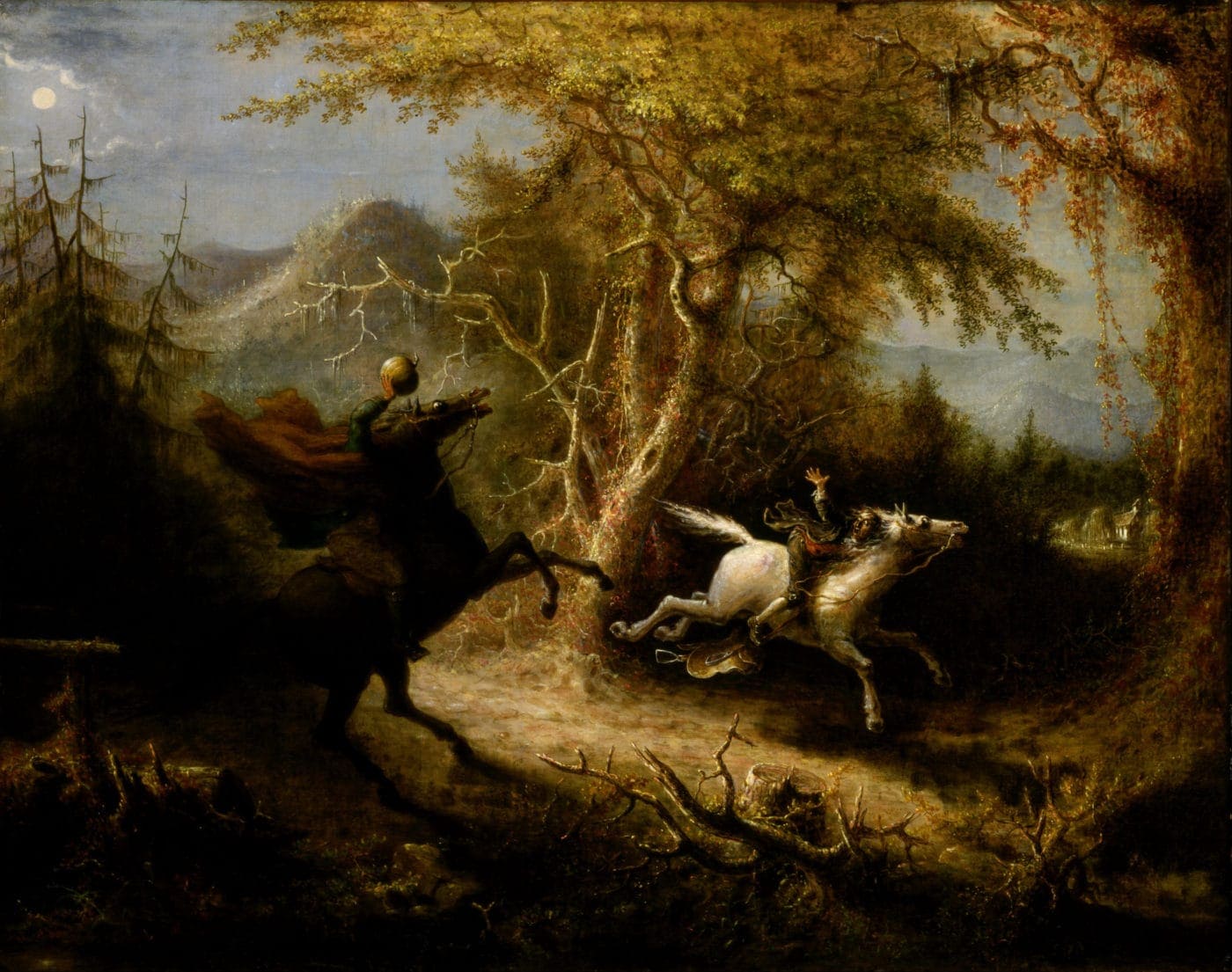 From a more visceral standpoint, despite its 19th-century language "The Legend of Sleepy Hollow" continues to scare readers — the mark of any truly great ghost story. "It inspires people because it reminds them that there are still some American mysteries, some half-truths that may never be fully known — and that's the whole point," says historian Elizabeth Bradley, vice president of Programs and Engagement at Historic Hudson Valley (which maintains Irving's house as a historic site). She adds that "The 'Legend' lends itself to any interpretation, and it continues to fascinate and terrify us in the best possible way."
Providing a great way of introducing children to this literary classic without terrifying them, Historic Hudson Valley has a free, online shadow puppet version of "The Legend" available now. Featuring narration and music, it promises to be a real Halloween treat.