The next time you're hiking in the Lower Hudson Valley, be on the lookout for two of the region's newest conservation professionals. You'll recognize Dia, a peanut butter-colored American Field Labrador, and Fagen, a Belgian Malinois with ears that stick up like traffic cones, by their orange vests and determined gaze. Behind them, you'll probably see the dogs' handler, Joshua Beese, doing his own gazing through a pair of binoculars.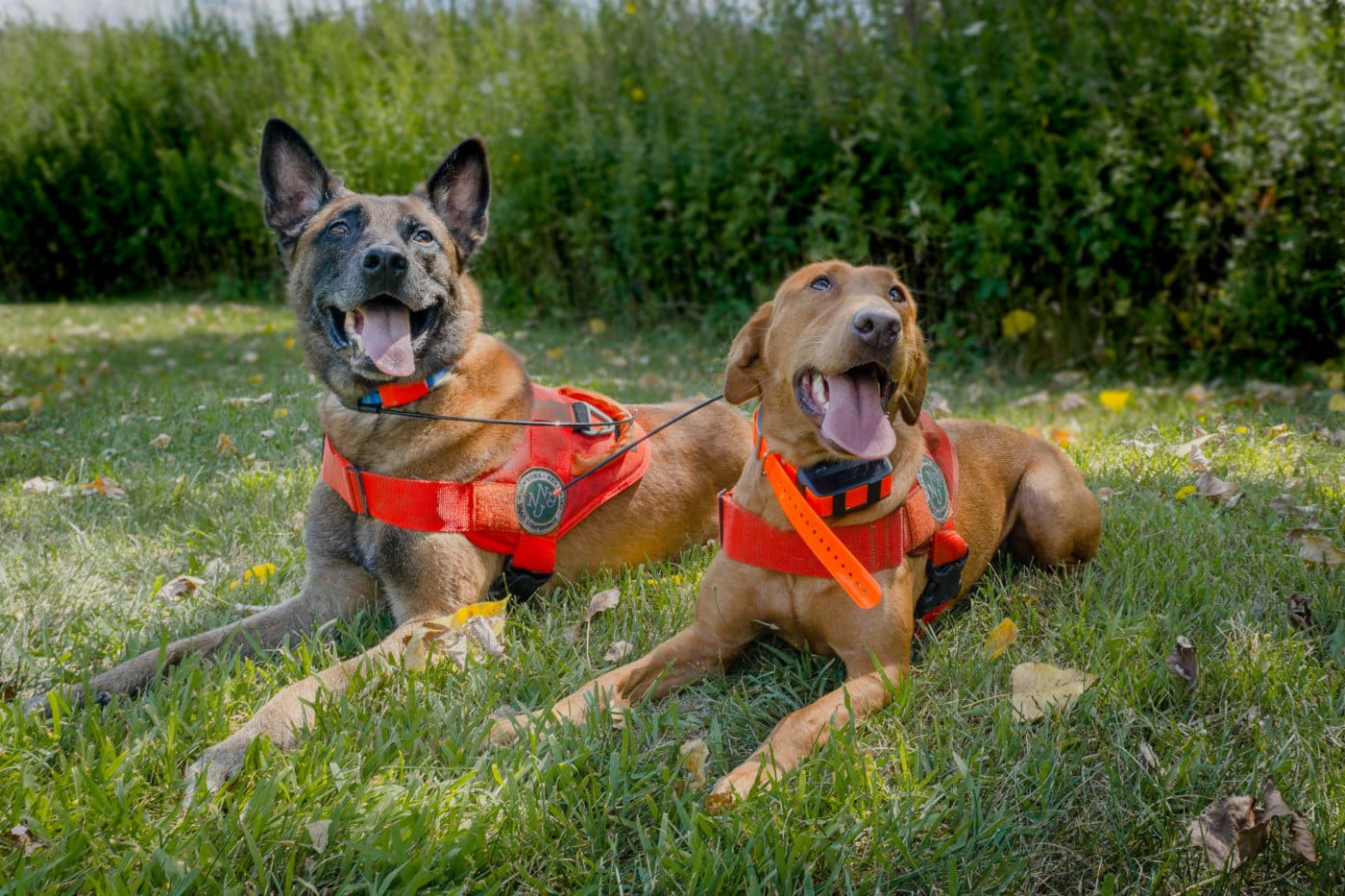 Beese, Dia, and Fagen work for the New York-New Jersey Trail Conference's (NYNJTC) Conservation Dog Program to locate invasive species among the 5,200 acres the organization helps to manage. This winter, the trio is concentrating mainly on spotted lanternfly, but have tracked down oak wilt, scotch broom, sticky sage, and more in the two years since the program first started.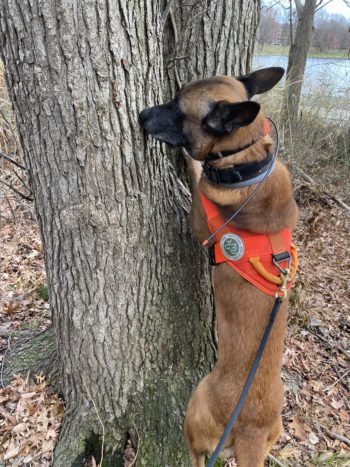 Ten years ago, Beese was a high school history teacher living in New York City with an Australian shepherd mix named Salvador. Though the duo took hours-long walks in Central Park, Beese was worried the dog wasn't getting enough stimulation. "I became interested in how to exercise a dog's mind," he says. His interest led him to the burgeoning field of conservation dogs, canines lending a paw to ecologists and land managers across the United States by sniffing out rare or harmful species for research or removal.
While detection dogs have been used for more than a century in military, law enforcement, and search-and-rescue capacities, it was the late 90's before they were put to work for the environment.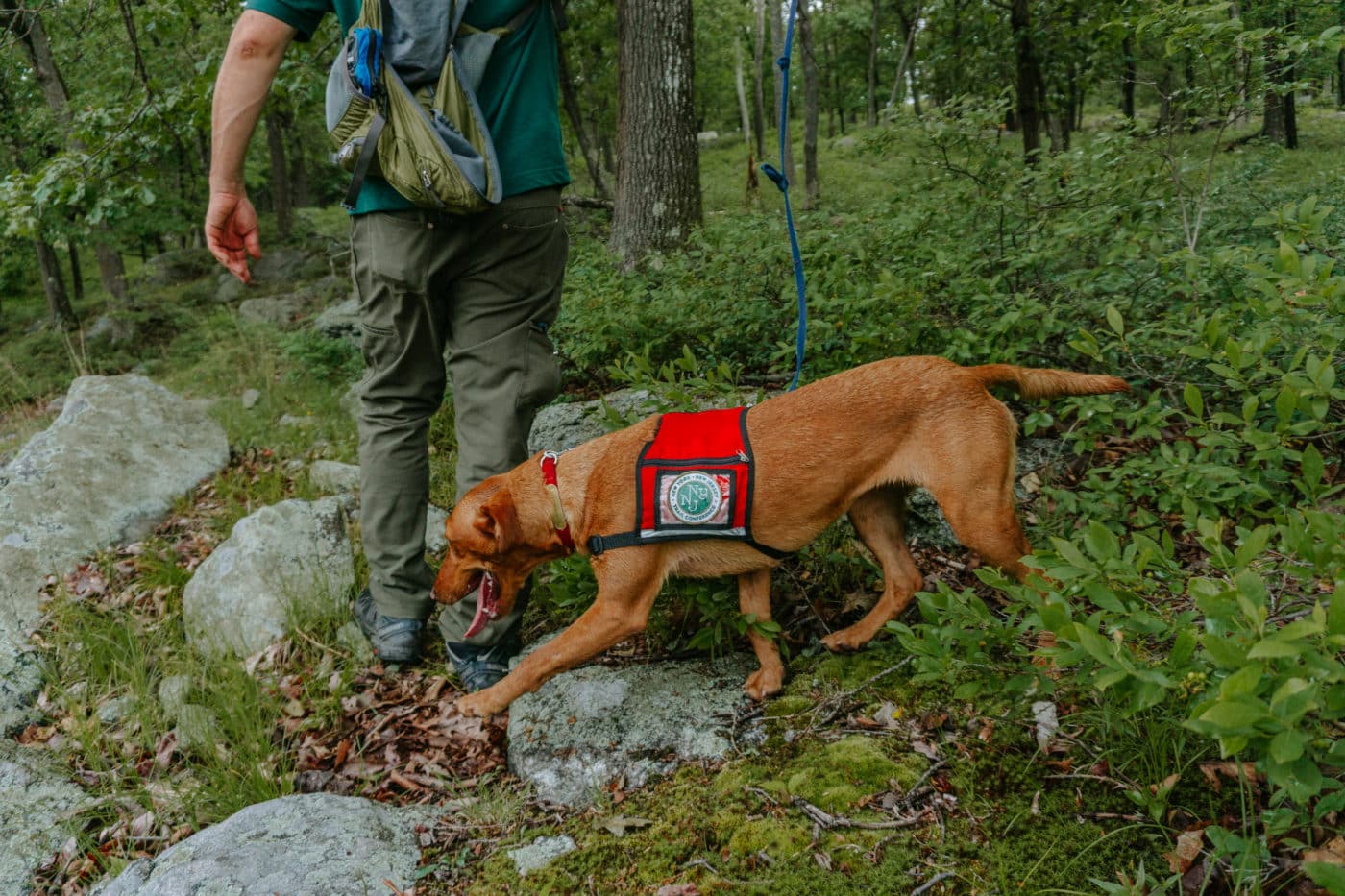 In 1997, Samuel Wasser, a professor at the University of Washington, collaborated with the state's department of corrections to retrain narcotics dogs to locate the scat of elusive and endangered animals across vast swaths of wilderness. He used those specimens to evaluate the impact of environmental degradation and various conservation strategies. Soon, Wasser's methods were being duplicated across the country.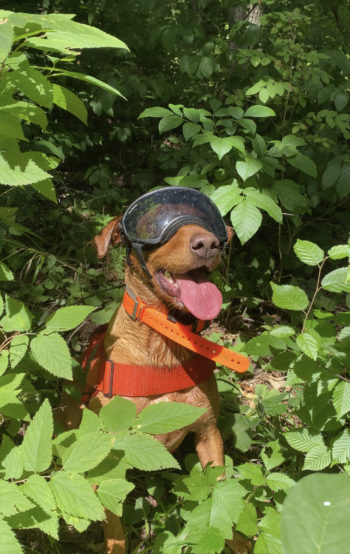 In 2000, Aimee Hurt cofounded Working Dogs 4 Conservation (WD4C) in Missoula, Montana. Four years later, the group embarked on its first invasive species-related project, using dogs to find brown tree snakes in Guam and spotted knapweed in its home state. In the last two decades, the canines at WD4C have been trained to find invasive snails, mussels, ants and feral swine.
"As humans, we're pretty much limited to searching for things by sight, and sometimes sound," Hurt says. "Dogs crack open another realm entirely by searching by scent."
Back in New York, Beese had become a canine search specialist with New Jersey Task Force 1 and FEMA, following WD4C's work from afar. He was intrigued by their projects and wanted to do something similar on the East Coast. Clicking around on Scenic Hudson's website, Beese stumbled upon the Partnership for Regional Invasive Species Management (PRISM). He saw that NYNJTC was the coordinator in his PRISM region and reached out to ask if the organization might be willing to start up a conservation dog program. Its answer was a quick and enthusiastic yes.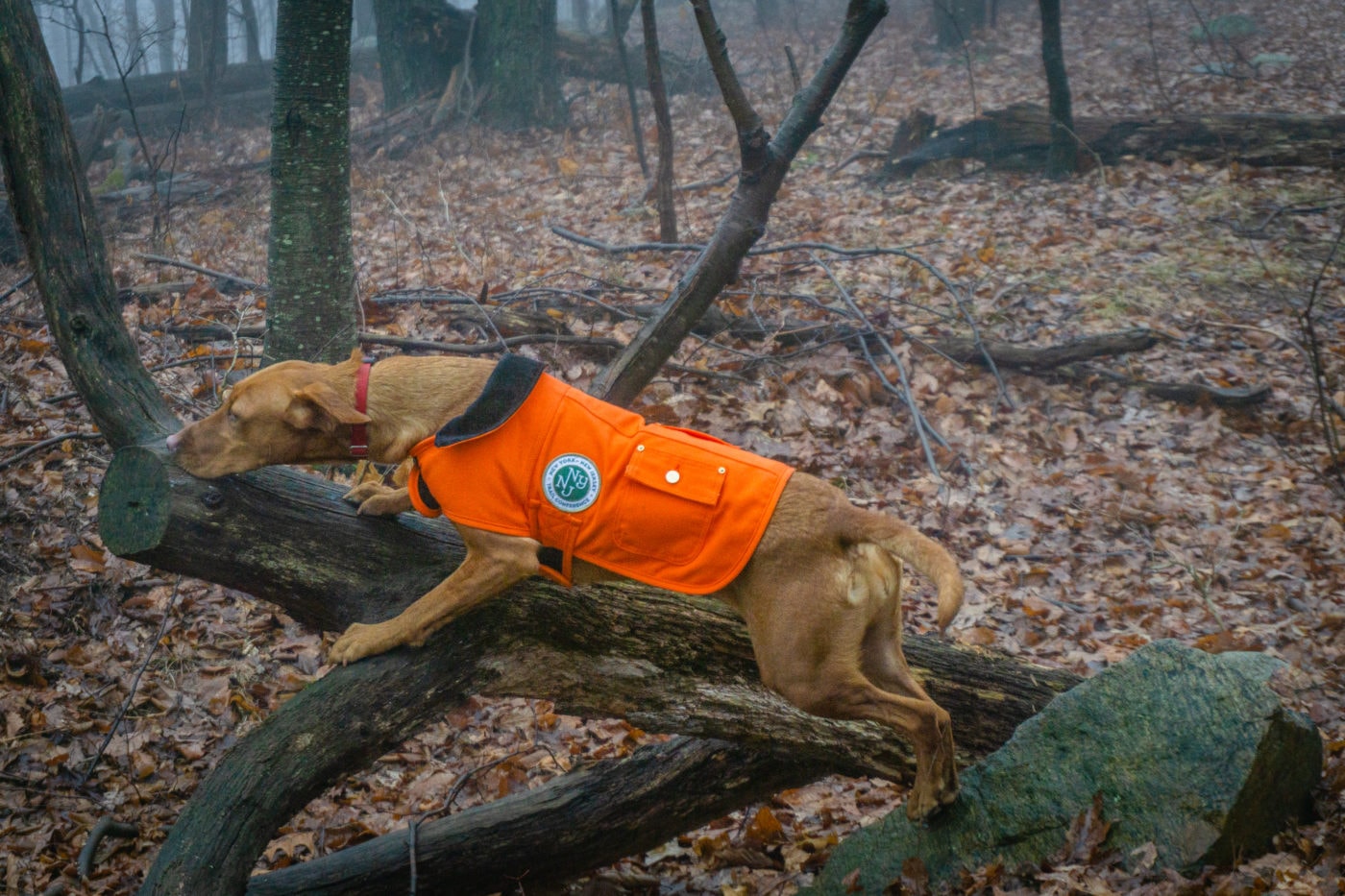 In August 2018, after months of fundraising, Dia was brought to New Jersey from Wisconsin. Fagen joined the NYNJTC team in 2019. Together the dogs have learned how to locate six types of invasive species, and Beese says this year they will be working on two more (which two is still a "top secret" matter, he jokes).
When they're on the job, Dia and Fagen dash through the forest, stopping to sit when they smell their target. Beese says his dogs will work for just about anything, but both are especially motivated by their ball and a session of tug.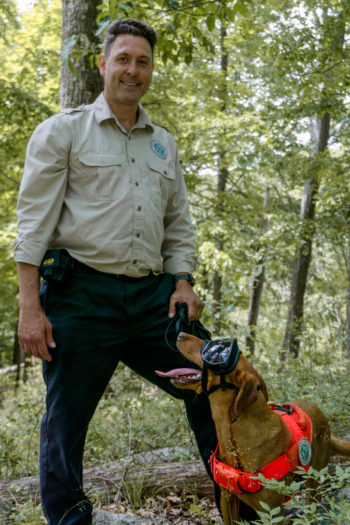 For handlers like Beese, finding the right dog is the most difficult part of the process. "It's not just the motivation you're looking for," he says. "It's the endurance, the fearlessness, the willingness to work with you. And the focus."
For organizations like NYNJTC, the challenge is funding. Dogs need veterinary care and kibble; handlers need a salary. But Linda Rohleder, Director of Land Stewardship for NYNJTC and Coordinator of Lower Hudson PRISM, argues that the returns on those investments come in the form of valuable staff time. "Dogs are faster, and more accurate," she says, "which means we won't be going back to the same site year after year." (She also notes that while NYNJTC has opted for dedicated conservation dogs and program staff, other organizations might defray costs by collaborating with contractors or even motivated volunteers.)
Additionally, Dia and Fagen contribute to NYNJTC's outreach efforts, Rohleder says: "They allow us to reach a different audience. They draw people in who may not care otherwise." She is especially excited to utilize the dogs "as a new way to talk to kids" about invasive species during post-pandemic school visits, which means Beese may soon be back at the front of a classroom — this time with two furry teacher's aides.