During the pandemic, many of us have had more time to focus on feathering our nests — and making them more sustainable, from gardening to composting. "The pandemic has dramatically raised the awareness and concern over how much food goes to waste," according to the nonprofit ReFED. If everyone in the U.S. composted even just their food waste, it'd be equivalent to pulling 7.8 million cars off the road.
But can you really compost if you don't have a backyard (or don't like decaying stuff and potential pests)? Yes, says Rebecca Louie, author of "Compost City: Practical Composting Know-How for Small-Space Living." From using worms to buying a pest-proof bin, from freezing scraps to take to a nearby collection spot to arranging household compost pickup, below are four doable options in the Hudson Valley.
Not sure which of these four will work best for your needs? Louie suggests starting small to set yourself up for success. "Our ambition can often outpace our capacity and we wind up with bad composting experiences," she notes. Consider the amount of compostables you're producing, level of effort you're willing to put in and how much space you have. And keep in mind that how you compost doesn't have to be set in stone. There's no shame in being a yard-bin composter in summer who signs up for curbside pick-up come winter!
Worms
After a few months in a worm bin, scraps like vegetable peels and apple cores turn into worm castings — some of the best plant fertilizer around. To set up a bin, you need special worms. "There are 9,000 species of worms and only half a dozen are composting worms," says Bill Richmond, chief worm wrangler at Adirondack Worm Farm in Hudson Falls. Richmond sells the most popular kind: red wigglers.
"Set them up in a [plastic] tote or a bin, with some shredded cardboard or leaves from the backyard and keep that moist," he says. You'll need to drill holes in any DIY bin for oxygen flow, or purchase a starter kit with instructions. Worm bins are not good for meat, dairy or heavy citrus. They're also not ideal as the sole composting method for a large family with a lot of waste. Still, "for gardeners interested in soil health, vermicastings are incredibly microbially rich, more so than everyday compost," Louie says.
Pest-Proof Bin or Pile
If you have a yard, you can create a passive compost pile. It's not good practice to just toss scraps outside; they can lure hungry scavengers. Instead, build a structure to keep things neat. "I err on the side of low-key and low-cost — composting is not a privileged person's activity," says Louie. To deter pests, she suggests digging a hole in the center of the pile and deeply covering all food scraps with a "bio filter of dry, less-tasty materials," including leaves, clippings and shredded paper.
If you're not a DIY type, you can purchase a bin or tumbler. In these, the balance of dry stuff — "browns," in composting lingo, is also critical. You want a ratio of "greens" (food scraps) to browns that leaves the contents of the bin with the moisture level of a damp sponge. Make sure your container offers drainage, too. "Most people throw in food scraps and one piece of paper and it gets imbalanced," Louie says. "This is an important tip people forget about in their excitement to compost. You have to do the initial ratio right."
Drop-Off
A simple way to handle food scraps is to take them, frozen or not, to a collection site. These are common in towns and cities with high population density, and often found at farmers' markets, community gardens, and even schools.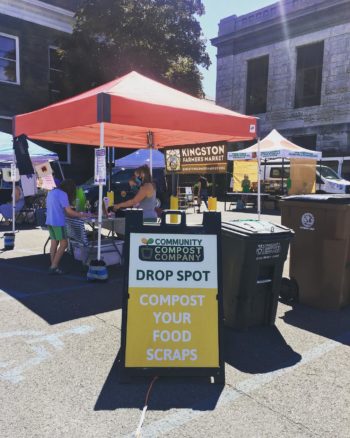 In the Hudson Valley, Community Compost Company offers access to private drop spots in Kingston, Saugerties, Beacon and Marbletown for $15 a month — check their website for one near you. You drop whenever you want, and all scraps eventually wind up at Arrowhead Farms on route 209 in Kerhonkson, where they get processed and eventually sold under the brand name Hudson Soil Company.
A less formal (and free) option is to find a gardener friend who is an active composter and "work something out with them," says Louie. They might be as glad for your scraps as you are to find them a home.
Household Pick-Up
"The best thing to do with any kind of waste is not haul," said Eileen Banyra, founder of Community Compost, a former city planner and a board member of the U.S. Composting Council. Banyra always asks potential customers: "Can you put it in your backyard? Then don't give it to me. Compost it yourself."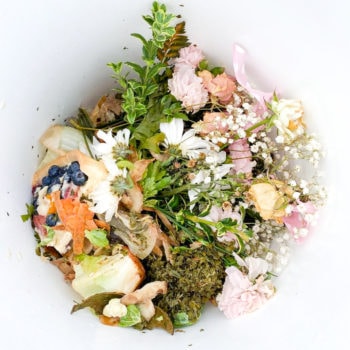 If they say they aren't going to compost, and they're not interested in bringing to one of Community Compost's drop-off sites, then the organization offers curbside pick up for $39 a month — if you live in or around New Paltz (or Hoboken and Jersey City). Further north in the Lake George and Hudson Falls areas, Adirondack Worms also offers curbside pickup biweekly for $20. Both companies provide a 5-gallon bucket with a lid for scraps, as well as yearly finished compost.
One advantage to pickup: Most backyard compost piles are too small and not hot enough for composting fats and meats (if you really want to geek out in the advanced course, fermenting bokashi buckets are the place for that), but some pickup services allow meat, dairy and poultry scraps in their buckets.
And services like Adirondack Worm send their customers quarterly impact reports. A typical 3-person household can compost about 500 pounds of food waste in a year. "In terms of the greenhouse gas emissions they're offsetting, it would be equivalent to a cross-country car trip," says Richmond.
And all it takes is diverting food scraps from the trash. Time to get started.