When Scenic Hudson Park at Irvington opened 20 years ago this week — on June 28, 2001 — the village got a beautiful place to enjoy magnificent views and active recreation instead of a mega-housing development. To celebrate, we reached out to people directly involved in its creation to get a behind-the-scenes look at what it took to transform a contaminated industrial site into a riverfront gem. It's a remarkable story of collaboration.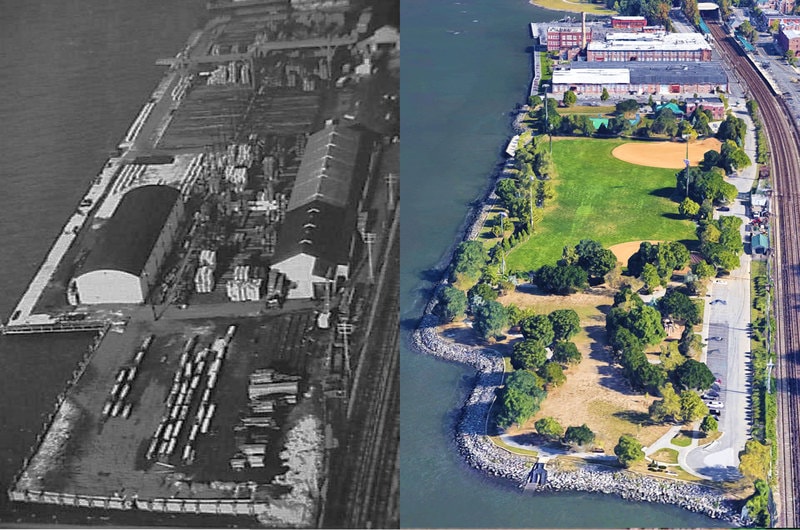 Steve Rosenberg (SR) — retired Land Conservation Director: I received a call from Irvington's mayor, Dennis Flood, telling me that New York City real estate firm Tishman Speyer had optioned the two waterfront parcels and wanted to build 248 housing units there. The village didn't want that. David Sampson, then director of the Hudson River Valley Greenway, suggested to Dennis that he reach out.
Dennis and I met with Tishman Speyer in their offices, and got them to agree to give us a six-week option to put a deal together for Scenic Hudson and the village to buy the properties. If we did, then Tishman Speyer would assign their agreements to us.
Margery Groten (MG) — former Scenic Hudson Park Project Manager: The village was so bound and determined not to allow it to become a development.
SR: We succeeded. The village ran public meetings to get input and build support. And Scenic Hudson mobilized funding to acquire the land. We entered into a cooperative ownership agreement where the village committed not less than $3.6 million to clean up the contaminated site and build a park.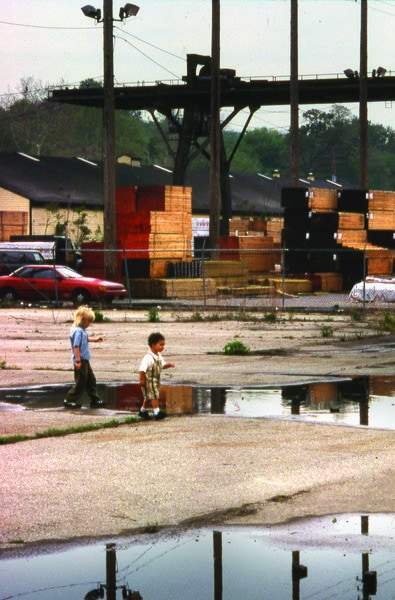 MG: I think [the village] really felt rescued. While they had the means to do a lot, I don't think they had the wherewithal to do the negotiations that we pulled off in such a short amount of time.
SR: The park ended up costing more than $11 million, all paid for or raised by the village. A part of that was the state's first brownfield remediation program grant to a municipality.
Paul Ciminello (PC) — founder, Ecosystems Strategies, Inc.: The majority of the site, 75% of it, was a lumber mill. The northern part was a school bus garage [now Irvington's senior center]. We got a call from Scenic Hudson to do an environmental investigation on the two properties. We tested the soils and water, and we found some limited contamination near the bus garage. The lumberyard had a septic system and leach field that had a fair amount of contamination.
Then the state Department of Environmental Conservation came to the village and said we want this site to enter the brownfield program. In order to get into it, they needed to have a more extensive investigation and a remedial plan. We put that together. We found an elevated level of lead in the leach field that had to be removed. There also was a fair amount of low-level contamination. Since the site was going to be a park, it was determined that protective measures ought to be more extensive.
That's why the site was covered with a geo-composite liner, basically a rolled-out clay mat. In order to roll it out, you had to put an impermeable layer underneath it. This would hold the mat up and make sure it was stable, and also prevent rainwater from draining through the contaminated soil into the river. Then you had to put a whole drainage system on top of the clay mat and clean soil so you could plant vegetation. Basically, it was a layer cake.
This was a fairly standard practice for a landfill. But the idea that you would transfer this technology to a property that would become a park was somewhat new.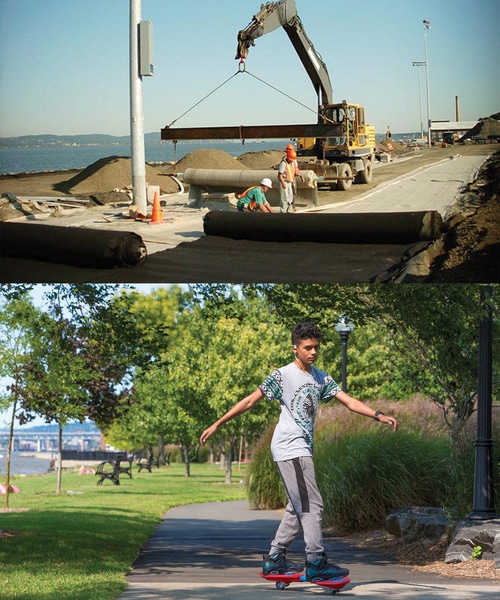 Signe Nielsen (SN) — principal, Mathews Nielsen Landscape Architecture, MNLA: We met with village residents who came out to comment on the master plan. Our firm offered a couple alternatives. One was more passive, like a strolling, quiet park, and the other incorporated more active recreation, with two ballfields. The public generally felt that the [village's existing Matthiessen] park was sufficient as a passive park and that this park should try to satisfy the active recreational demand. My strong recollection is that Mayor [Dennis] Flood and [Village Administrator] Larry Schopfer were instrumental in guiding our plan through the public process.
MG: The park fulfilled residents' needs — that's what came out of the public meetings.
As the park progressed, we also had team meetings. There must have been 12 people around the table — the landscape architecture firm, the engineers, the marine architecture firm… Everybody had something constructive to contribute. There was a lot of respect and a lot of interchange back and forth. This was my first year at Scenic Hudson, my first park development. I loved the team meetings, where I soaked everything in.
SN: When we first visited the site, the remnants of the lumberyard were apparent, including several buildings and concrete pavement. Most remarkable to me was the section of the concrete pavement that had extended over the water, supported on timber piles. It had collapsed, leaving a sloping slab dipping into the river. That was the inspiration for the gentle rocky edge that holds back the park from the river. It was such a wonderful moment when the village leaders said that we did not need to provide a railing along the shoreline because of the gentle slope. This makes the park and visitors feel one with the river.
MG: Work on the park started in 1997 and was completed in 2001. I went on to do Long Dock Park, which took 10 years. This was very fast and very intense.
SN: The biggest challenge was that after all the "wrap and cap" to clean up the site so it would never again discharge toxic chemicals into the river, we only had two feet of soil in which to plant trees, install utilities and footing for light poles and fencing. We needed to be judicious about the amount of soil we brought, partly because of cost and partly to minimize truck traffic through the village and over the bridge.
We have visited the park many times since. It continues to draw many types of visitors, from baseball players to folks seeking a quiet walk. I am very pleased to see how the trees have matured in spite of the shallow soil. The lack of irrigation means that the grass areas can brown out in the summer heat, which is good for the environment.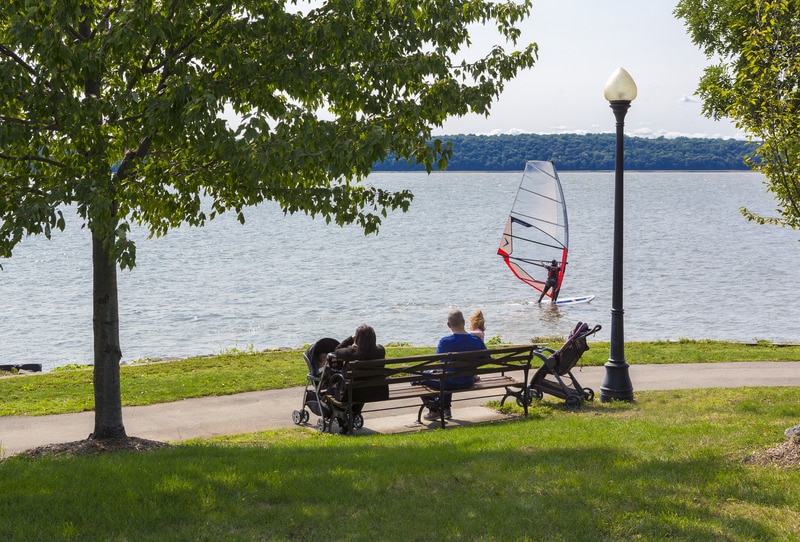 PC: I walk in that park and see how many people are using that land. It's a wonderful feeling, having watched its transformation from a dumpy industrial site into something beautiful.
SR: In 2017, after the village successfully managed the park for 16 years, Scenic Hudson transferred our interest in the land to the village, and the village granted us a conservation easement. The structure of this arrangement became a template we also used to create new riverfront parks with the Village of Haverstraw and the City of Peekskill.
Irvington Mayor Brian Smith: To say we are pleased with our partnership would be an understatement. Scenic Hudson provided much-needed funding and support at a time when we were staring down the largest capital undertaking in our history. It is safe to say that the project would not have happened without them.