The Hudson Valley has lots of iconic scenes, from the river and mountains to man-made creations that show up in pic after pic. Our #MeetTheMakers introduces you to the creatives behind some of the most compelling designs, starting with some of the most popular features in Scenic Hudson parks.
This month, meet David Souers, the architect behind Overlook Pavilion at Poets' Walk Park. Instant acclaim greeted this structure when the park opened in 1996, and it continues earning praise for its simple beauty and compatibility with the landscape's 19th-century Romantic feel.
David Souers grew up 30 miles from Poets' Walk Park, in Fishkill. After earning a masters from the Harvard University Graduate School of Design, he began his career with some of the nation's leading architecture firms — including I.M. Pei & Partners, where he was involved in creating its award-winning John Hancock Tower and Christian Science Center.
In 1992, Souers founded his own firm, Optimus Architecture, in Rhinebeck. Originally focusing on buildings serving the health care industry, he and his team later branched into designing commercial, residential and corporate structures. Now living in Maine and retired from day-to-day responsibilities at Optimus, he remains a design consultant with the firm.
Although Overlook Pavilion may feel timeless and inevitable now, it wasn't so easy to build. Here's a peek behind the scenes at the creativity — and problem-solving — it took.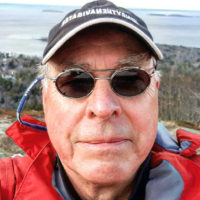 Do you remember building anything as a kid?
I helped my father and grandfather build a modern cabin on Lake Bomoseen, in Vermont. At the age of 11, I was using a table saw and all the tools. I built my own bedroom and whatever else I could, with my mother, when my father wasn't available to help.
What were your favorite outdoor experiences back then?
Camping, canoeing and hiking. We hiked up Wittenberg Mountain and many other popular trails in the Catskills. We also traveled the Hudson in a 17-foot Thompson wood powerboat.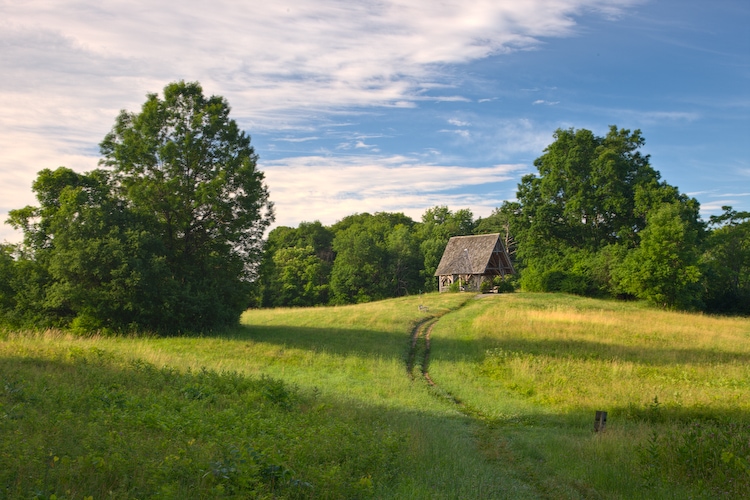 With I.M. Pei, you worked on some of the 20th-century's most iconic modern buildings. At Poets' Walk Park, you designed something entirely different. How do you switch from one style to another so easily?
All design and all good architecture involve integrity, which is not just a style, but an attitude toward creating something that's pure and authentic to its place and time. It can be either modern or traditional. It also involves construction and craftsmanship. I.M. Pei was known for demanding exceptionally high standards of craftsmanship for his firm's work, and the pavilion at Poets' Walk Park required an equally high level.
How did you get involved at Poets' Walk?
The park had already been conceptually imagined by a landscape architect who had drawn some sketches, the kind of things you might see in a storybook. I was asked about the possibility of developing those sketches into buildings. I had been doing some work in Rhinebeck, taking older houses and other buildings and renovating them to suit modern purposes while retaining their historic character. I took a great interest in projects like that.
How did you come up with the design?
The concept for the whole park was the Romantic period, weaving architecture and landscape architecture together.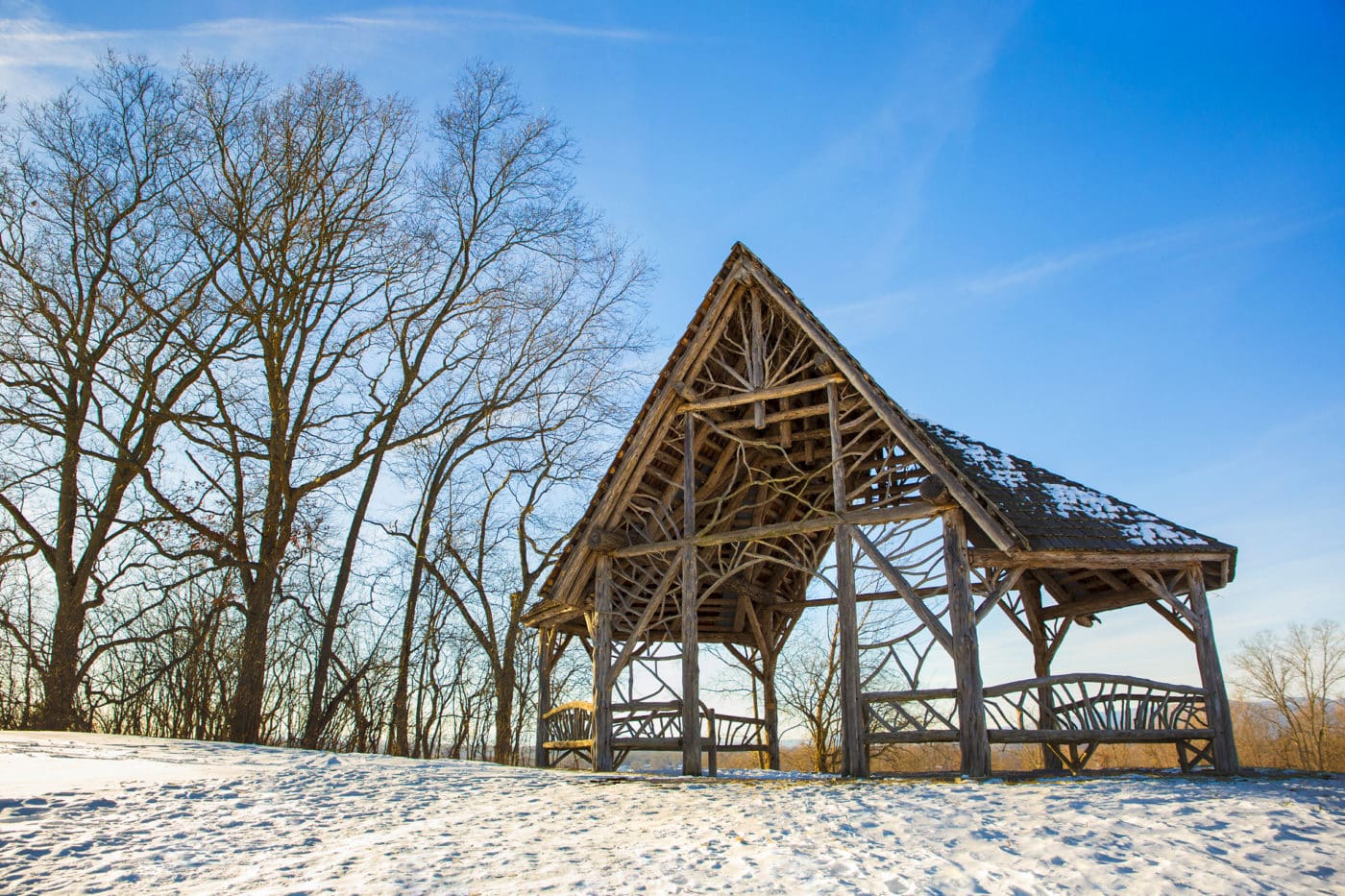 The pavilion was an unusual structure. It wasn't a matter of just doing construction or design drawings. In fact, it was hard to imagine without doing a model, so that's how we started. We took wood dowels, because we knew we were going to use logs, and developed a scale version of the final project. That gave us a starting point for developing drawings.
What made the pavilion unusual?
The angles and the shape and the form. You look at most buildings, and they're very rectilinear. There is a very simple conversion from two-dimensional drawings to the three-dimensional structure. But at the pavilion there was not. In fact, in a small sense, it was a very similar structure to Frank Gehry's Fisher Center [at nearby Bard College]. His office used very complicated three-dimensional design and construction documents to build that. That certainly wasn't reasonable or realistic for this small pavilion.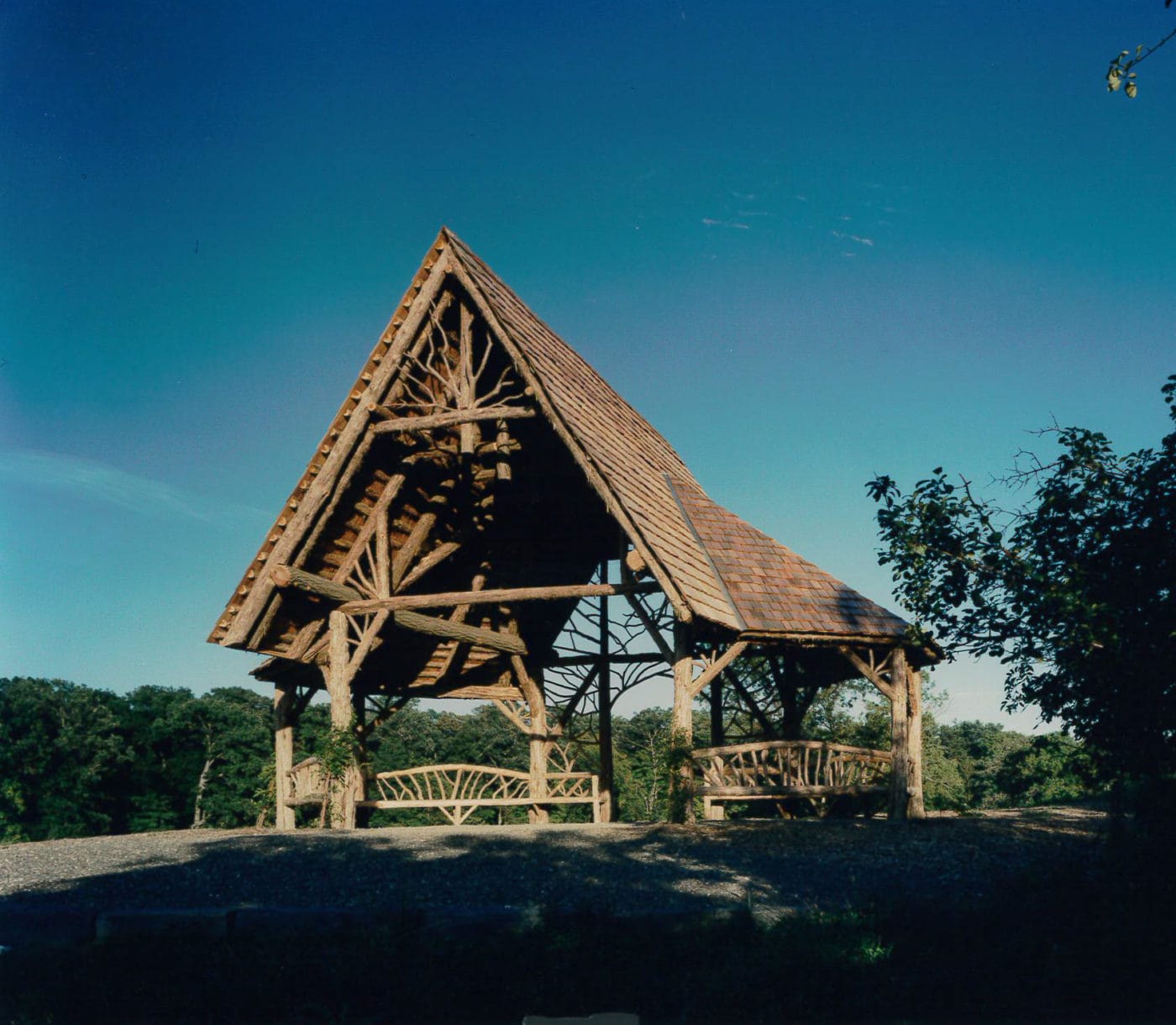 Were there any construction challenges?
The pavilion was built with logs and sticks of cedar or locust. As you know, trees grow wider at the bottom and narrower at the top. Our model used dowels that are one dimension from end to end. All of the lumber or design manuals used by engineers rely on similar dimensions of lumber — but logs don't have that.
Our design drawings called for certain minimum diameters. We found that the minimum diameters were challenging because the diameter on the top end of a log became huge on the bottom end. We had to take some chances and recalculate and rework with the builders to reduce the minimum sizes to dimensions that were more reasonable in terms of their appearance and weight and structure.
So this wasn't a matter of finishing the drawings and handing it off to the builders.
I was probably on the site every day, from start to finish.
Tell us a little about the people who built the pavilion.
Part of our work was to help Scenic Hudson find local carpenters and builders. The structures were built by Rondout Woodworking, a team of carpenters who were millwrights and shipwrights; none of them were conventional home-builders They had been through the Hudson valley restoring old waterwheels and gristmills, and some had worked on constructing Pete Seeger's Clearwater.
All of the carpenters took incredible pride in their work. I remember we had done a design sketch of Scenic Hudson's logo to work into the fabric of sticks over the entrance. One morning I noticed that the carpenter on that portion of the project was being so meticulous in trying to match what we had drawn, and in trying to make it very flat and two-dimensional. I told him he could use his carpentry imagination and skill and be more free about it. By golly, he was relieved.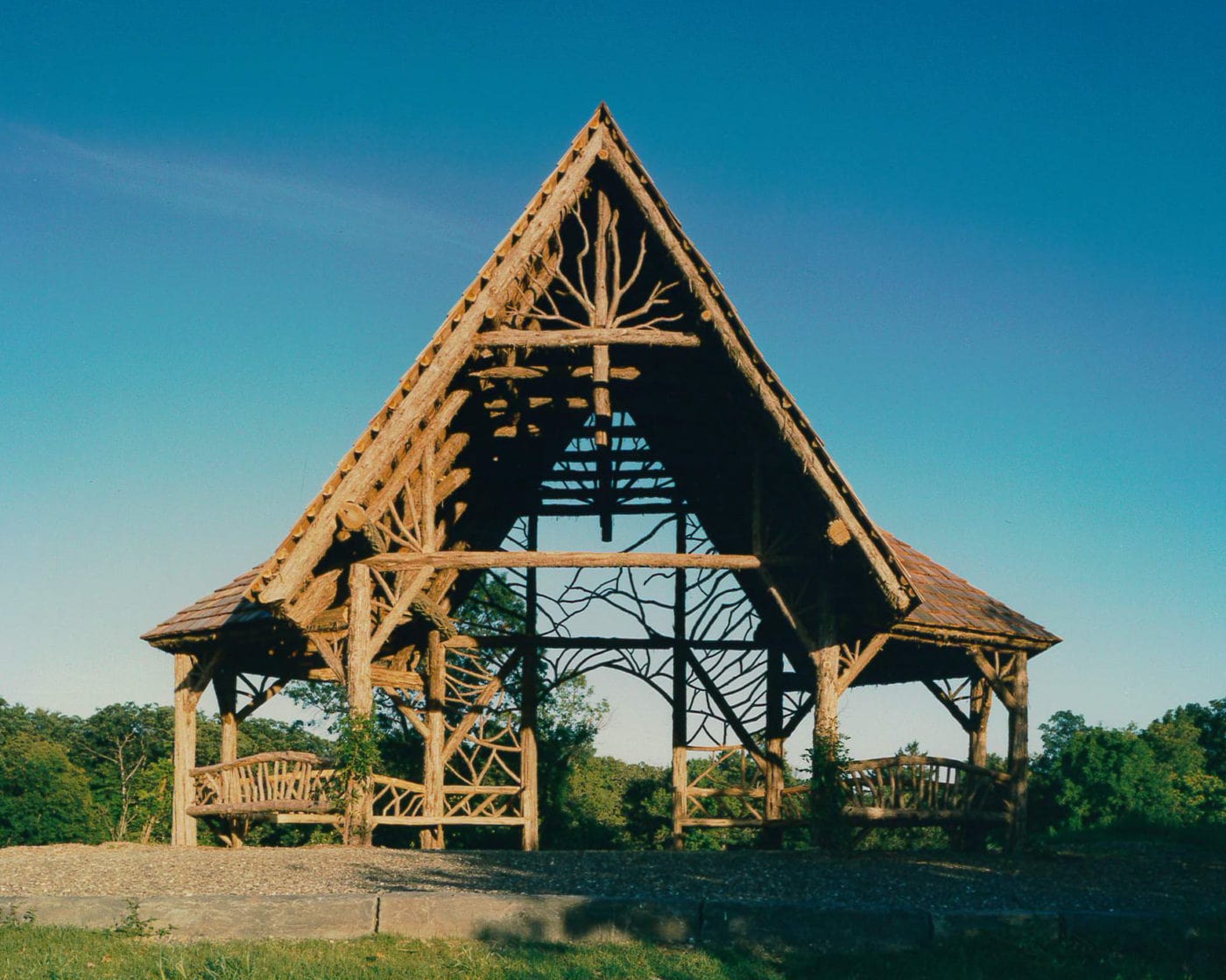 Despite the complexities involved in designing it, part of the pavilion's appeal is its seeming simplicity.
Yes. I also would also use the word magnificent, in terms of its scale. It changes perspective. It looks small on the horizon, then gets larger as you approach it. And when you get up close and walk into it, that cathedral-like space is quite exciting. And that's the other thing that I think is so perfect about that structure — it's like a little chapel. It's not religious, but it's spiritual.
What has surprised you about the way the pavilion has been received?
I'm grateful how many people have found such pleasure in going there. It has shown up in so many photographs of the Hudson Valley and become a landmark that draws people from all over. Wherever I go in the country, people remark about their experience in the valley going to the Old Rhinebeck Aerodrome and Poets' Walk Park. I think that's great.