"You could have just put a couple of big beams in there," Barry Medenbach says about options for crossing the water at Black Creek Preserve. Instead, Scenic Hudson chose a suspension bridge and called on civil engineer Medenbach to design it. Our #MeetTheMakers series highlights the creativity that went into some Hudson Valley favorites, starting with some of the most popular features in Scenic Hudson parks.
This month, we're showcasing the now-beloved suspension bridge at Black Creek Preserve, imagined by Medenbach. Opened in 1999, it provides one of the most dramatic entries to any natural area in the Hudson Valley. In fact, it's hard to peel kids off it and convince them to start hiking.
Medenbach grew up near the Jersey Shore and got his engineering degree in the Garden State as well. He and his family moved to Ulster County in 1983 in search of more open space and fresh air. Today, he's principal engineer and president of Medenbach and Eggers, a civil engineering and land surveying firm headquartered in Stone Ridge. While the company has worked on a number of other park projects at Mohonk Preserve and Sam's Point, the dramatic span at Black Creek, much to Medenbach's regret, remains his only suspension bridge.

Did you create things as a kid?
I always had my hands in something — go carts, boats, different toys. Later, I worked on cars. My dad was a tool and die maker, so I basically had a machine shop in our basement.
What were your favorite childhood outdoor experiences?
I was always outside, playing in the woods, getting poison ivy all the time. When I was little, we'd hike and pretend we were hunting. Later, we would go hunting, and fishing.
A friend of mine had an aluminum boat. We would drag it down the street to this little creek that only had a few inches of water. Then we'd drag the boat about half a mile down the creek until we'd finally get water deep enough so we could row it. From there, we'd take it all the way out into the bay and spend the day. Sometimes we'd drag it back the way we came and sometimes I'd call my mom and say, "Hey, come get us."
How did you get into engineering?
Since I was always working on something — engines, motors — everybody always told me I was going to be an engineer someday. I never, ever questioned it until I got into college. And then I said, "Do I want to be engineer? This is hard."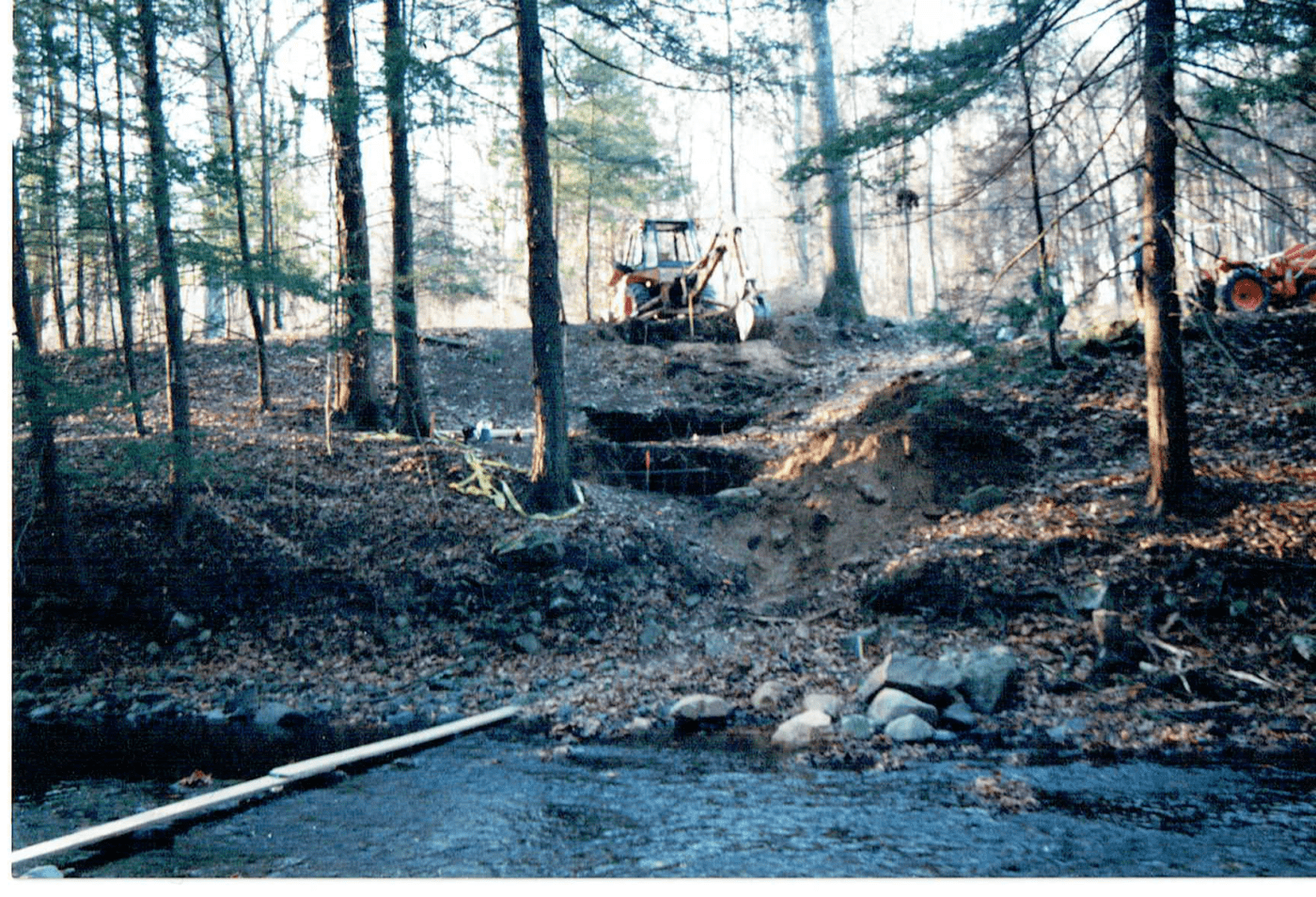 I went to college for mechanical engineering. Then I pledged a fraternity and all of my fraternity brothers said, "No, you're a civil engineer." I didn't even know what that was at the time, but then, as I looked into it, I said, "Yeah, that's the kind of engineering I want to do." It involves the use of land. You're not stuck in the office all day at a computer. I liked the idea of being outside. So I pursued civil engineering.
Prior to working at Black Creek, had you ever designed a bridge?
We had some experience with bridges, mostly repairs, but we're not your typical bridge engineers.
What inspired you to take on this project?
The idea of building a bridge in the woods, building it up to the canopy of the trees, crossing the stream without disturbing the bank or the bed of the stream. I have always been an admirer of the work of John Roebling and was impressed by one of the first ones he did, up in Narrowsburg, which floated barges on the Delaware & Hudson Canal across the Delaware River. The idea of designing a suspension bridge for pedestrians in a forest was very exciting.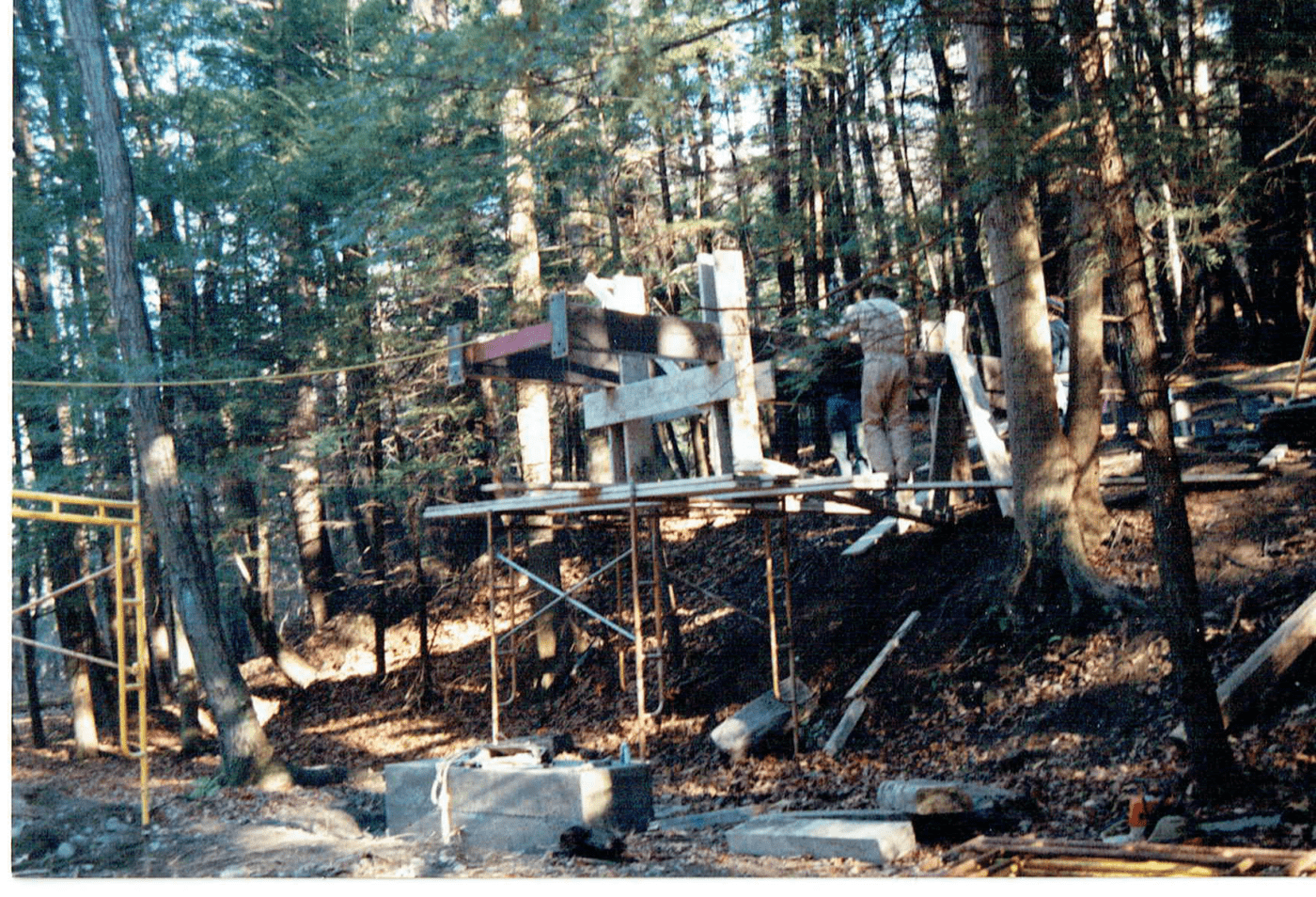 How did your involvement come about?
Scenic Hudson was all for having a cable bridge. They called me up and asked if I'd be interested in designing one. I said, "I'm all with you on that."
[Scenic Hudson] sent me to a fellow up in Rhinebeck who had one, and they asked if I could design something like it. His was a real cable bridge; you could swing around on it. For public use, the one over Black Creek would have to be more substantial. But I tried to keep it very simple, using very simple materials. Other than the cables, it's all wood.
Did you encounter any challenges?
The real structural significance is the towers. We used utility poles. Normally you would need pretty significant foundations for anchoring them to the ground. We were able to use helical piers, which were just starting to become popular. We brought in some portable equipment that could drive the piers into the ground, and then we put concrete caps on them.
The rest was just hand labor. To keep the canopy, you couldn't bring any cranes in, or other heavy equipment.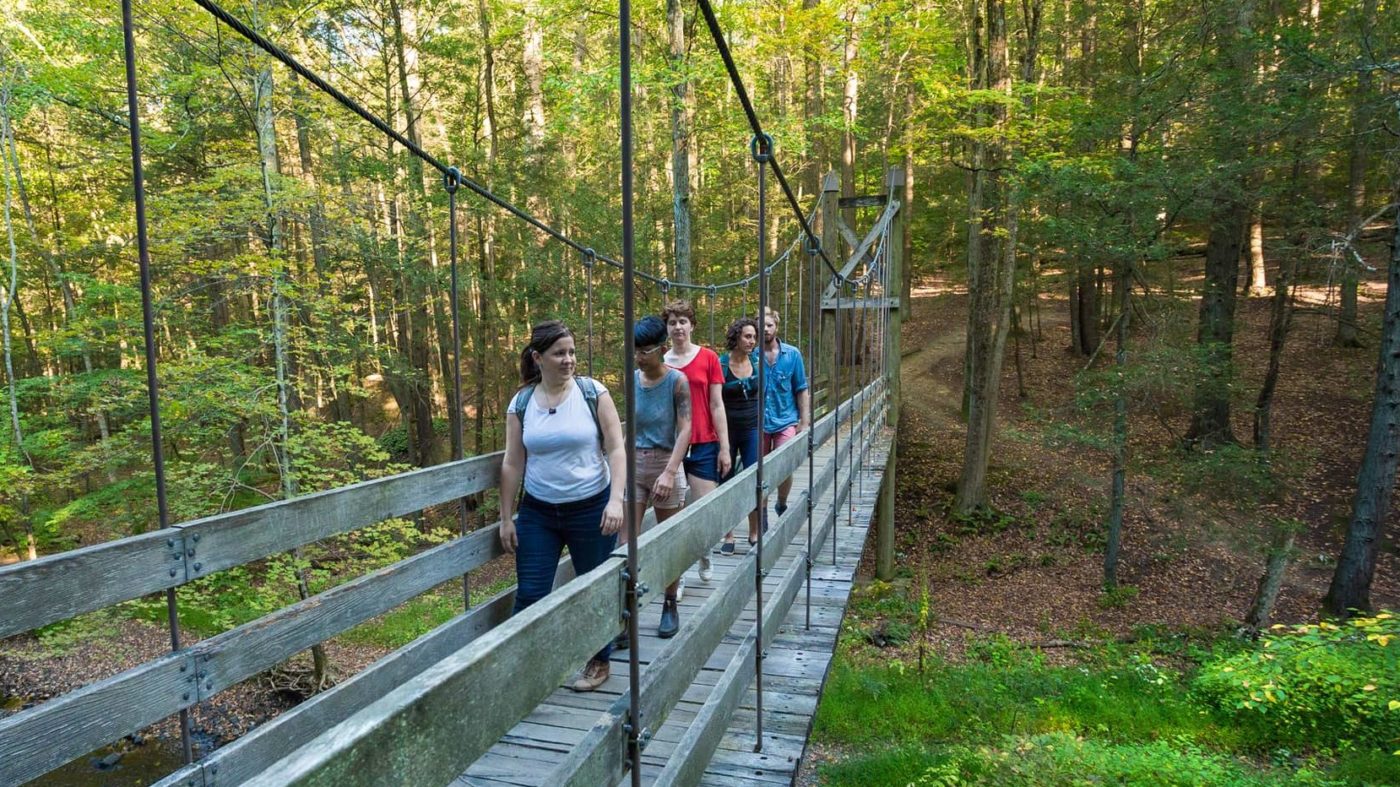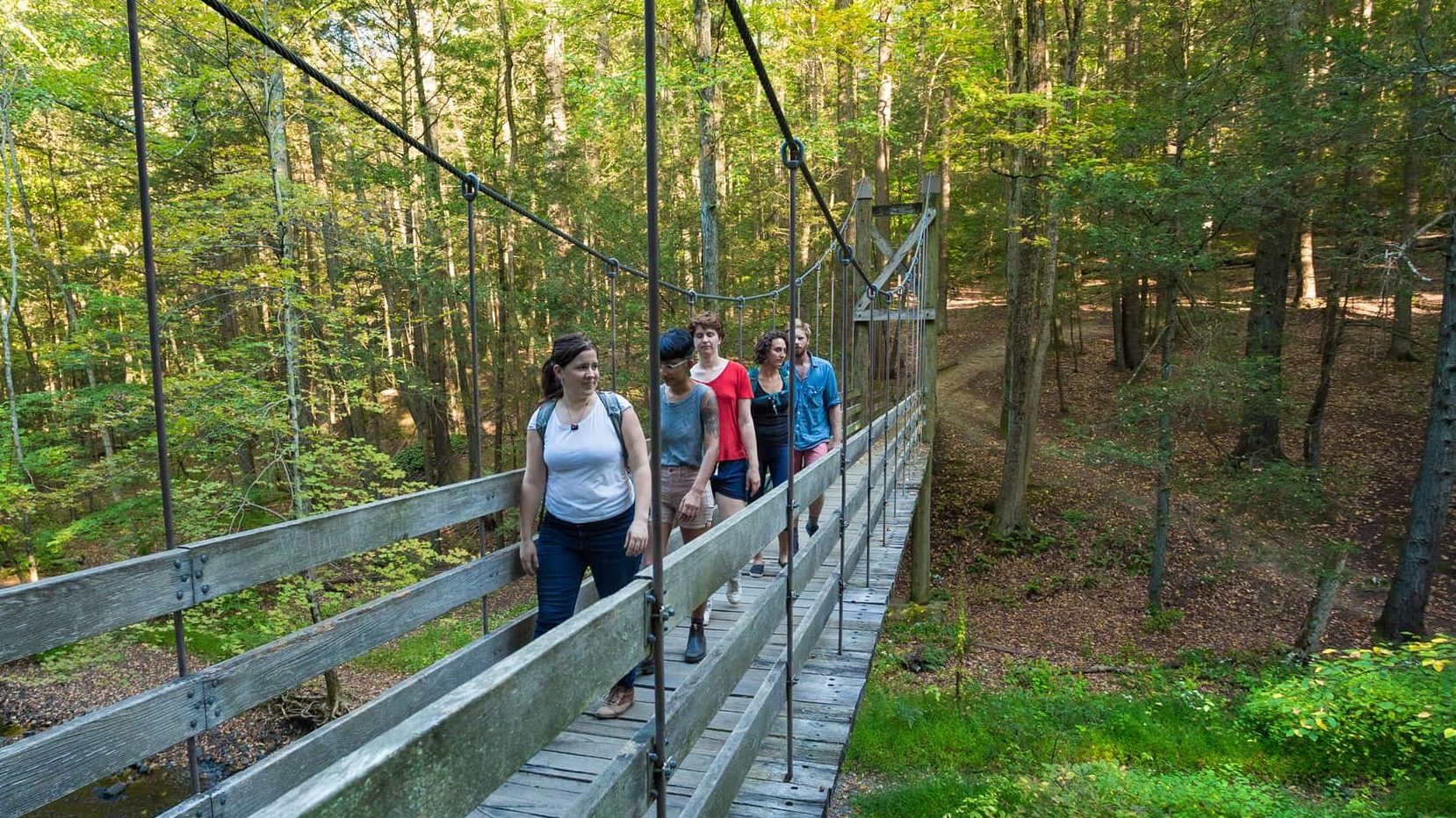 Since then, have you designed other suspension bridges?
No, that's the only one. I'd love to do another. I've talked to a couple of the trail people around here and I can't find any takers.
Do you ever visit the bridge?
I've been there a few times. I always like to jump on it in the middle and see if I get a little vibration out of it.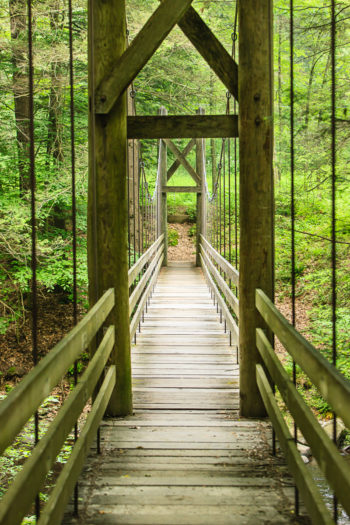 I remember they had a ceremony there for the opening, a ribbon-cutting. When the bridge was loaded with people, I was in the middle of the crowd and I jumped up and down on it a little bit to help move it. It's not supposed to be stiff. The whole idea is to get a sense that you're hanging on cables as you walk across.
Final thoughts about it?
I think it's beautiful. It was one of the prouder projects I've worked on. We've done lots of septic systems and water supplies, parking lots, roads and subdivisions. To have a little bridge like that is such a novelty. It was so nice to be involved in.