In May, the residents of South Miller Street in Newburgh gathered to plant, to care for — and really, to better understand — a line of new trees that now dot the block.
For some residents, it was an opportunity to correct misconceptions about the saplings upending, or "heaving," the concrete of the sidewalk as their roots grow. A local arborist who had previously worked with street trees in New York City for decades was able to effectively speak to those issues, according to Kathy Lawrence, chair of the Greater Newburgh Parks Conservancy.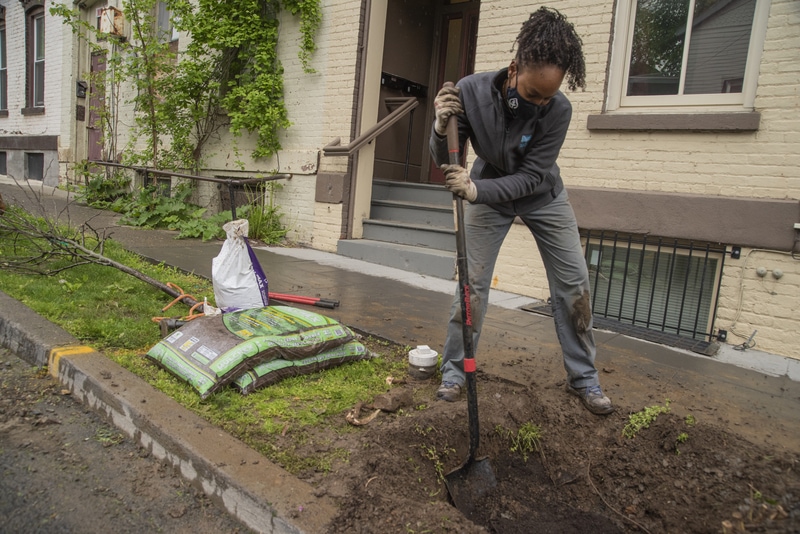 The conservancy helped organize the events — along with Scenic Hudson, Habitat for Humanity of Greater Newburgh, and other organizational partners — in an effort to restore a healthy tree canopy and all the benefits it can provide to a city.
But the work also included helping residents understand the major benefits of street trees versus preconceived downsides. "He was able to address, from years of experience, their concerns about sidewalk heaving and how to prevent that," says Lawrence of the arborist's presentation. "The reaction, I think, was just really very good."
Outside of their aesthetic value, street trees provide numerous benefits. In a report titled Urban Street Trees, former Florida Department of Transportation coordinator Dan Burden estimates that a street tree costs $250 to $600 to plant, including the first three years of care — but that investment is handily recouped by more than $90,000 worth of benefits offered throughout the lifetime of each tree.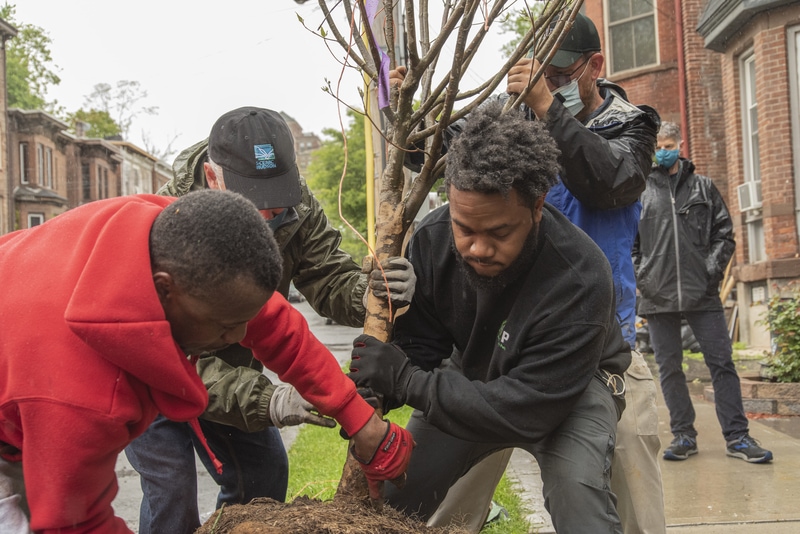 The benefits include greater pedestrian and motorist safety through reduced traffic accidents, protection from rain, heat, and sun for people and infrastructure alike, and improved physical, mental, and emotional health of residents.
Unfortunately, the benefits of street trees have not always been acknowledged nor prioritized for investment in many cities. Those cities include Newburgh, which has lost an estimated 4,000 trees in recent decades — a number that doesn't include the neighborhoods that never had many trees.
Engaging the community on its own terms is the focus of the ongoing tree-planting pilot project. It's expansive, long-term work, but if the start is any indication, the roots are strong.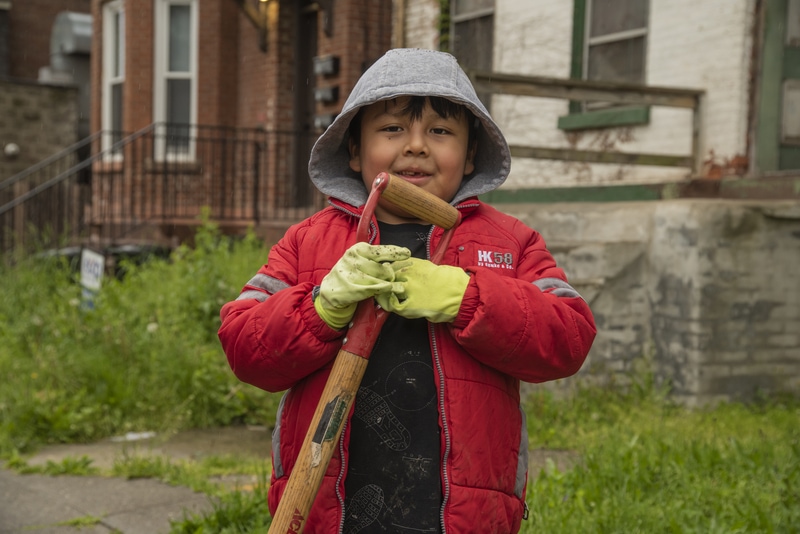 Along with Poughkeepsie and Kingston, Newburgh is one of three municipalities that belong to Scenic Hudson's River Cities program, through which Scenic Hudson seeks to advance urban equity, economy, and environment. The Greater Newburgh Parks Conservancy and other local organizations, like Habitat for Humanity of Greater Newburgh, the Department of Small Interventions, and the Conservation Advisory Council, brought the idea of planting street trees to Scenic Hudson in early 2020.
"I followed up with them and got a sense of the different locations they were interested in working in the City of Newburgh," says Zoraida Lopez-Diago, Scenic Hudson's River Cities program director. "Our [Geographic Information System] team at Scenic Hudson was able to create a map that had locations of empty tree pits. They layered housing density on top of that and then also looked at where our partners are working. We noticed a few key neighborhoods."
South Miller Street, between First Street and Broadway, was selected since it is also home to a strong block association, which could help ensure the stewardship of the new trees. Street trees can survive for decades, but need to be watered, pruned, and otherwise cared for, especially during the first two years following transplanting.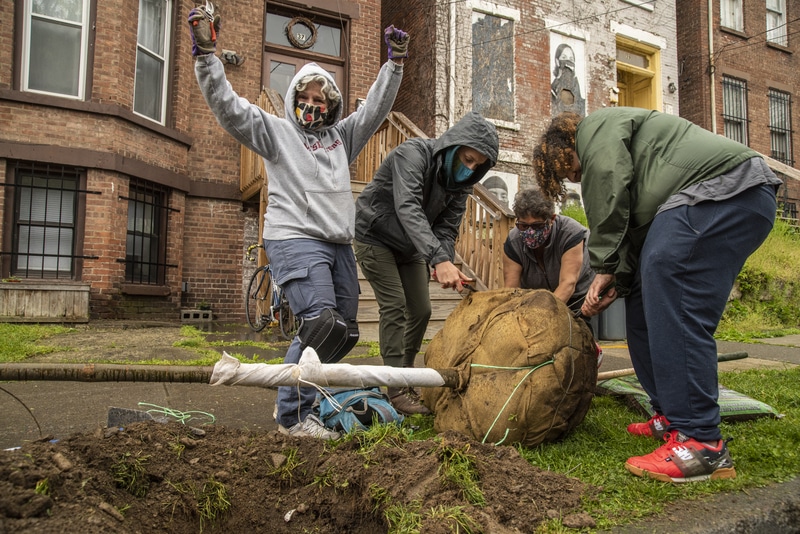 The block association was able to connect the other organizational partners with eight families who were not only interested in having a street tree planted in front of their home, but also in caring for it. Scenic Hudson gave the families tool kits, including buckets, gardening gloves, and educational material, along with ongoing, hands-on instruction.
The tree-planting pilot is considered a success, both Lawrence and Lopez-Diago say. Other neighbors who now also want trees have requested them, inspiring a second round of planting in the fall, as well as the potential for inaugurating another block of Newburgh into the program next spring.
It's still too early to be planning an expansion into Poughkeepsie or Kingston, Lopez-Diago says, but she can see the program in other river cities as well. The goal is not necessarily measured by how many trees are planted, but by how deep their roots grow, so to speak. A mother and her two sons (one in elementary, the other in high school) planted a tree together during the program's first event. That kind of intergenerational stewardship is the mark of success.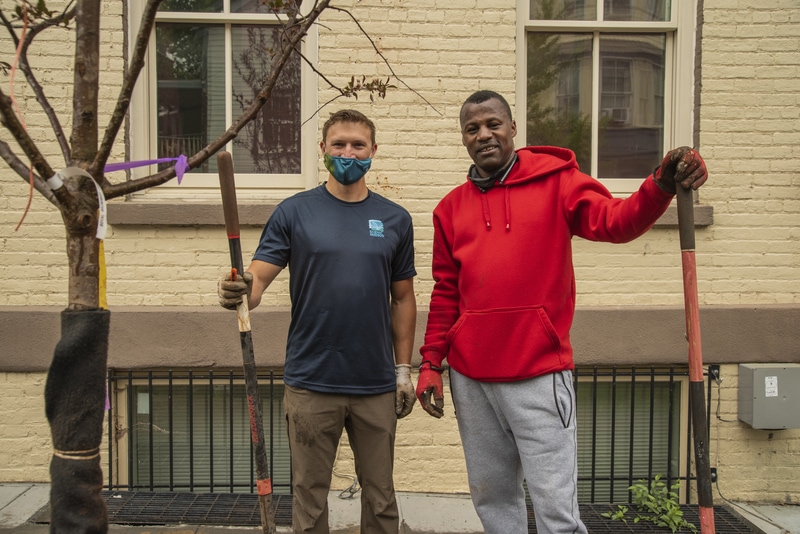 So is better health, according to Corey Allen, neighborhood revitalization coordinator for Habitat for Humanity of Greater Newburgh. Growing up in Newburgh, Allen used to play on South Miller Street, and he saw it become neglected over the years.
Allen was especially struck when one longtime resident on the street developed emphysema — and was found to have had lead paint on the outside of his home. "It can get into air conditioning and cause a lot of problems for people," he says. "They talk about environmental justice — there has been so much benign neglect over the years, especially in Black neighborhoods. I was told that street trees improve air quality — I'm in."