The second word in "solar farm" can sound like a misnomer. Often solar panels sit on former agricultural land, but aren't what we'd otherwise think of as a farm.
Agrivoltaics aims to change that by hosting PV panels and agriculture on the exact same land. Often, livestock like sheep graze under the solar panels. Sometimes the projects include pollinator habitat as well, which can benefit biodiversity, honey production or adjacent pollinator-dependent crops. And trials are being done growing shaded crops under raised panels, too.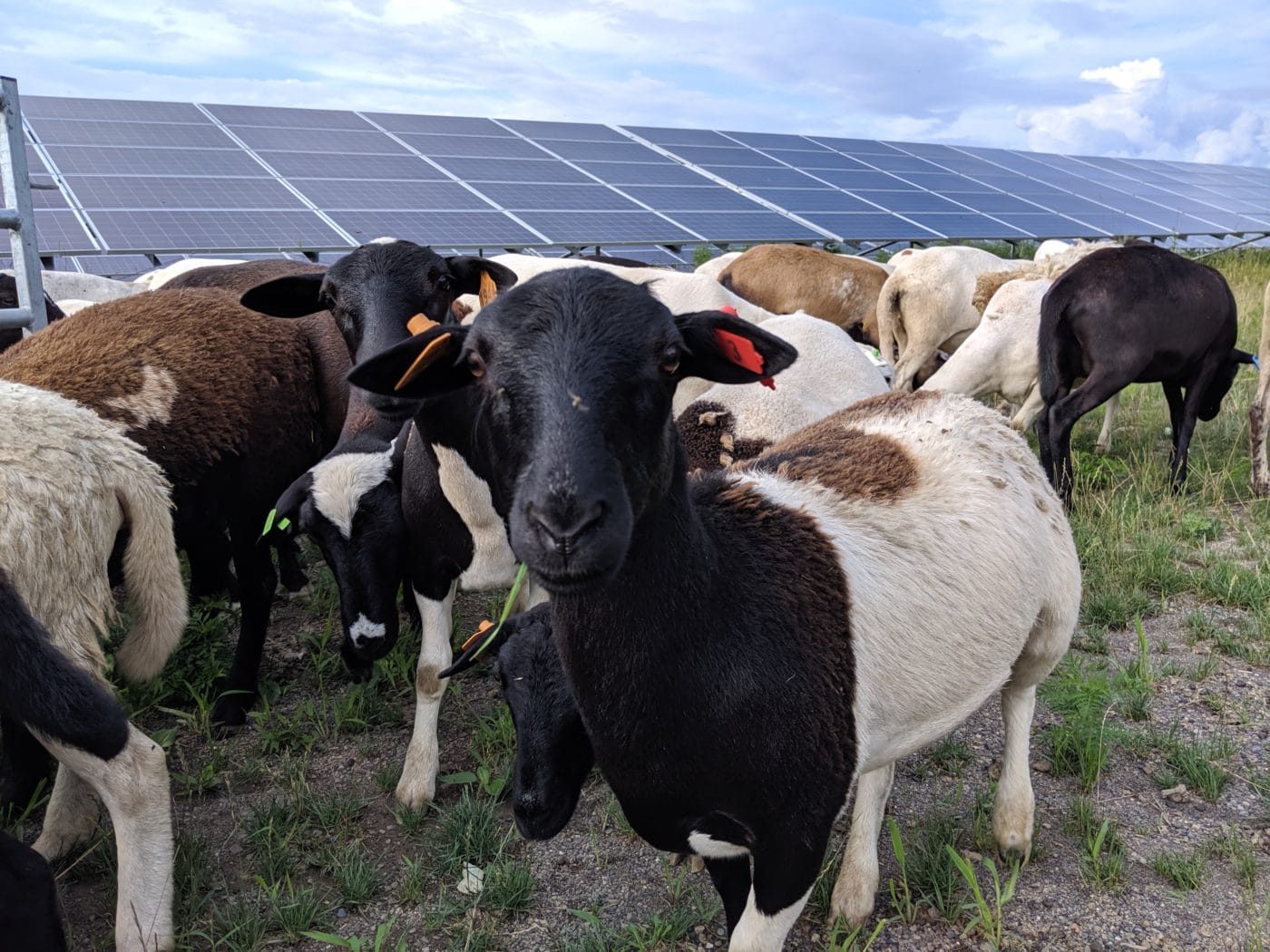 The agrivoltaics concept — also called dual-use solar, or when livestock are involved, solar grazing — is being successfully expanded elsewhere. That includes in our neighborhood of the Northeast (Massachusetts, the Finger Lakes). While it isn't yet being done at scale in the Hudson Valley, for a range of reasons, interest among farmers and developers is growing.
"When solar's done right, it can contribute to farm viability. It benefits biodiversity, it benefits pollinators — these larger goals of conservation are coming together," says Lexie Hain, co-founder of the American Solar Grazing Association. "I'm hopeful this is beginning of a revolution of intelligent co-design."
The association, formed in rural Ithaca in 2018, has been expanding. Hain has spoken at conferences as nearby as Albany, last January, and as far away (at least virtually) as Europe this fall. She's aware that land values and terrain are different in the Finger Lakes than near the Hudson River, and that viewsheds are parsed carefully here, too. But she says, "I would love to see it happen in the Hudson Valley. I'm not going to rule it out."
In some corners of the valley, finding shepherds close enough to a solar project to viably transport sheep from their home farm is the challenge. Nexamp is a developer with community solar arrays in the valley. It currently grazes 2 solar sites in New York State. The advantages to developers like Nexamp can be big: fewer panels damaged by rocks and mowers, reduced vegetation maintenance costs, and more community acceptance.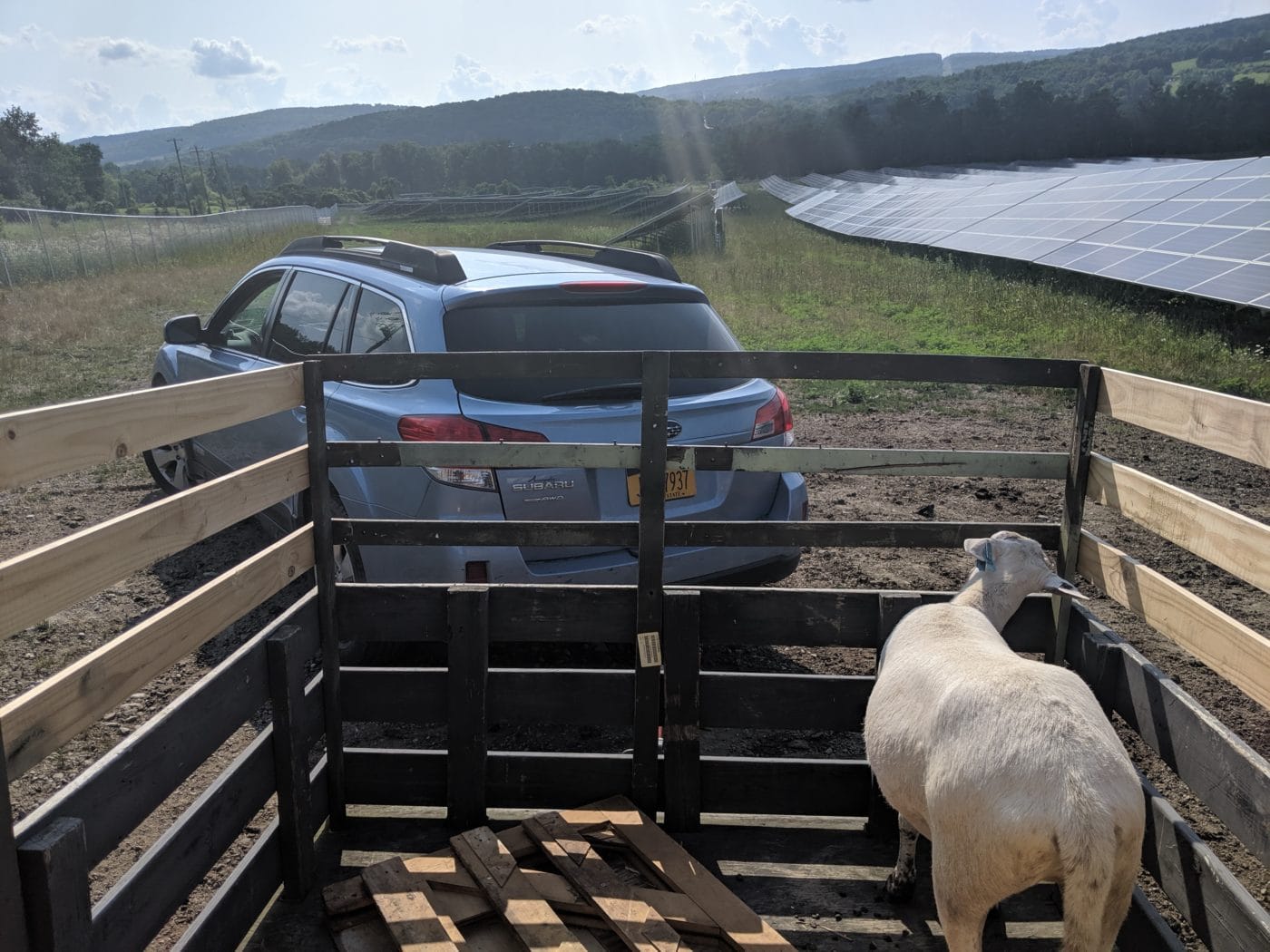 Next year the company will expand to grazing 12 N.Y. grazing projects, communication manager Keith Hevenor says — but none are local. "For us it's really about finding the appropriate local farmer who's willing and able to travel within the distance required," Hevenor says. "It's really just a proximity thing."
Geographic tools have been developed to help it happen. The American Solar Grazing Association recently launched a kind of "matchmaking" tool to help sheep farmers find nearby solar developers, and vice versa.
Scenic Hudson, for its part, is eager to see agrivoltaics emerge as a win-win solution in carefully sited projects. The organization's Solar Mapping Tool and Renewable Energy Siting Guide provide guidance for bringing it along. "These kinds of techniques can be a real solution and align agricultural policy with renewable energy policy," says Audrey Friedrichsen, land use and environmental advocacy attorney at Scenic Hudson. "We want to see the transition to renewable energy accelerated with smart planning, because climate change is the issue of our time."
Despite the delay compared to other areas from North Carolina to Illinois, agricultural observers like Sam Calhoun, FARM Program associate at the Columbia Land Conservancy, believe agrivoltaics is coming our way. The conservancy recently held a Solar Grazing webinar that attracted 25 participants interested in learning what the concept was all about.
"We're aware of this and looking at it as something we're going to be seeing more of," Calhoun says. "We're trying to stay ahead of it rather than having to play catch-up."
Lynn Freehill-Maye is managing editor of Scenic Hudson's HV Viewfinder. She is also a Hudson Valley-based sustainability writer whose work has appeared in the New York Times, the Washington Post, Scientific American, Sierra, Civil Eats, CityLab, Modern Farmer and beyond.