Hiking is a beloved pastime for so many, offering a chance to escape the hustle of daily life, get some fresh air, and delight in all the natural sights. Yet for individuals who do not conform to a conventional image of a "fit" hiker or may feel intimidated hitting the trails, starting an outdoor adventure can feel daunting. That is where the Body Liberation Hiking Club comes in.
Alexa Rosales founded the hiking club, an affiliate group of her larger organization Body Liberation Outdoor Club two years ago. Since then she and her group have been featured in local publications like Hudson Valley Magazine and Spectrum 1 New. They're inspiring people of all shapes, sizes, genders, and skill levels, to rekindle their love of nature in a judgment-free setting. Here's how Body Liberation hikers are moving with a mission: to promote inclusion and body positivity on the trails, one hike at a time.
How and when did you form this group?
I formed the group in May of 2021 at the height of the pandemic. I got the idea from my own personal struggles. I'm someone who doesn't look like a stereotypical "fit" hiker. I had been feeling so bombarded by exercise culture and the pressure to always associate movement with burning calories and dieting. Instead of going out and nature and feeling joy, I was isolating myself and feeling dread.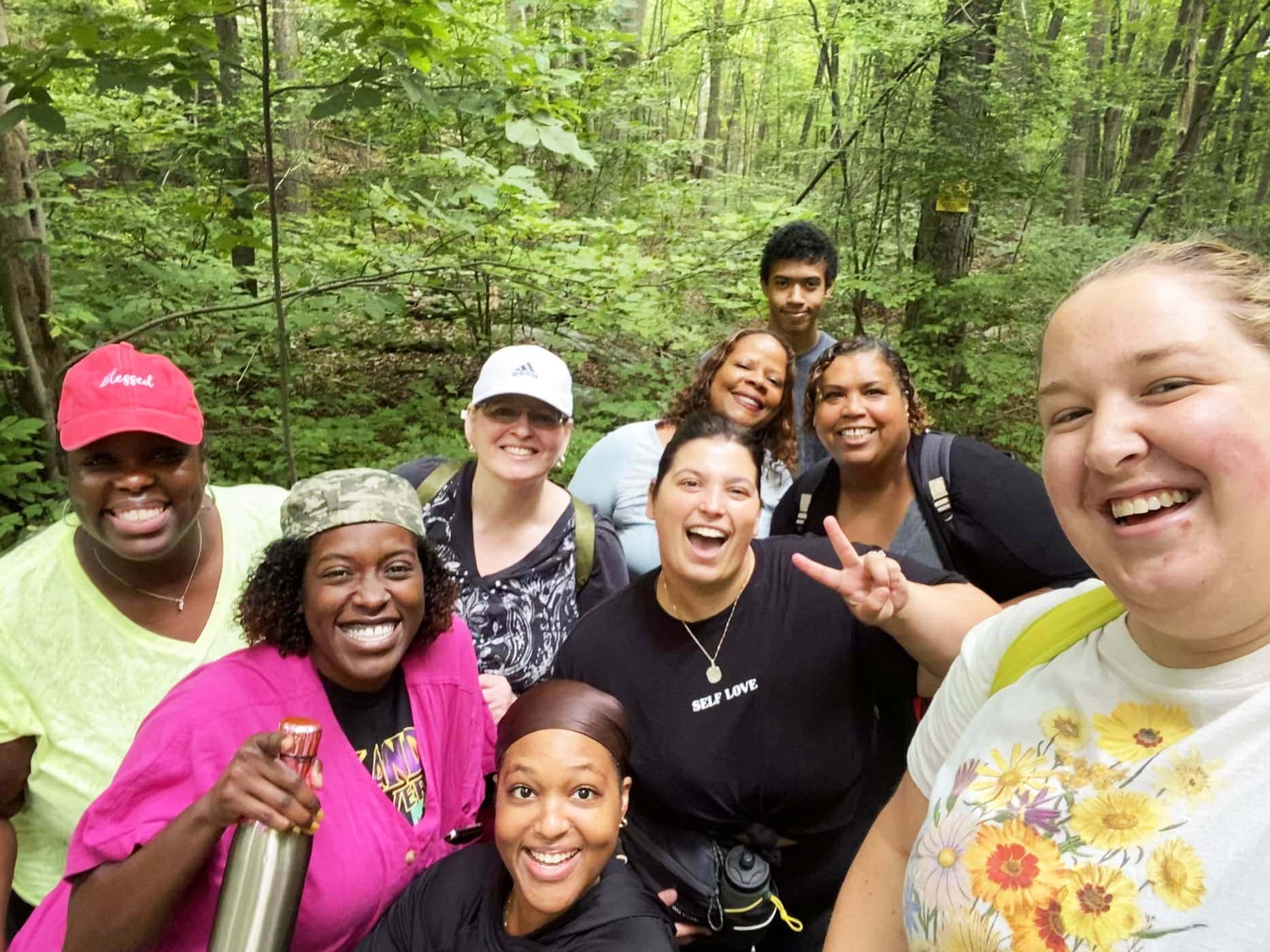 One day I realized there are so many wonderful benefits of being outside, and I am not going to keep myself from this space any longer. I started to re-engage my mind and body with nature, and it felt so liberating to re-enter the outdoors with a new mindset. I guess once I experienced that transformation, I wanted to inspire others to do experience the same.
I started by making a Facebook group to engage locals near me and a lot of people resonated with the mission right away. At first, I kept most hikes within a one-hour radius of where I live in Newburgh, so it was easy to promote them and get people to commit to trails that weren't too far away.
We started to grow our presence on Instagram as well and since 2021, we have almost 2,000 followers across our social media pages.
What makes your group unique?
Our group was actually initially called "Plus-sized Hikers of the Hudson Valley," but after a year I started to realize that name was excluding some people and I wanted the group to be open to anyone who didn't feel they had a space to feel empowered and comfortable hiking and being outdoors, including across the gender spectrum. By changing the name to Body Liberation, we are reaching so many more who need this judgment-free space, and I think that intention makes us really unique.
We also understand what it's like to get winded. We don't pressure anyone to keep any pace, and we always wait for you if you need a break along the trail. This isn't a race or a competition to burn the most calories. We are all about taking our time and being present with nature and each other. Stopping to have a little picnic at the summit of our hikes is a good example because we don't want to miss out on all the beauty at the top. Nothing better than lunch with a view!
Most uniquely, we are about freedom and liberation to be yourself and taking the body you have now outside to move. If you want to eat a burger after we hike, go for it! Want to take a burger with you on the trail? Go for it!
What are some of your group's favorite places to go in the Hudson Valley?
Sam's Point at Minnewaska is definitely a favorite — the ice caves there are unreal! Any hike that has some kind of natural wonder, like waterfalls or special view points are always on our list.
What are some challenges your members have faced?
I'm not sure we've faced many challenges, honestly. Since we have a big presence on social media, I was concerned, and kind of expected, some negative comments or trolling posts about our group, but we have never encountered anything like that. I think that's a huge win and a testament to how many people benefit from the space we've created.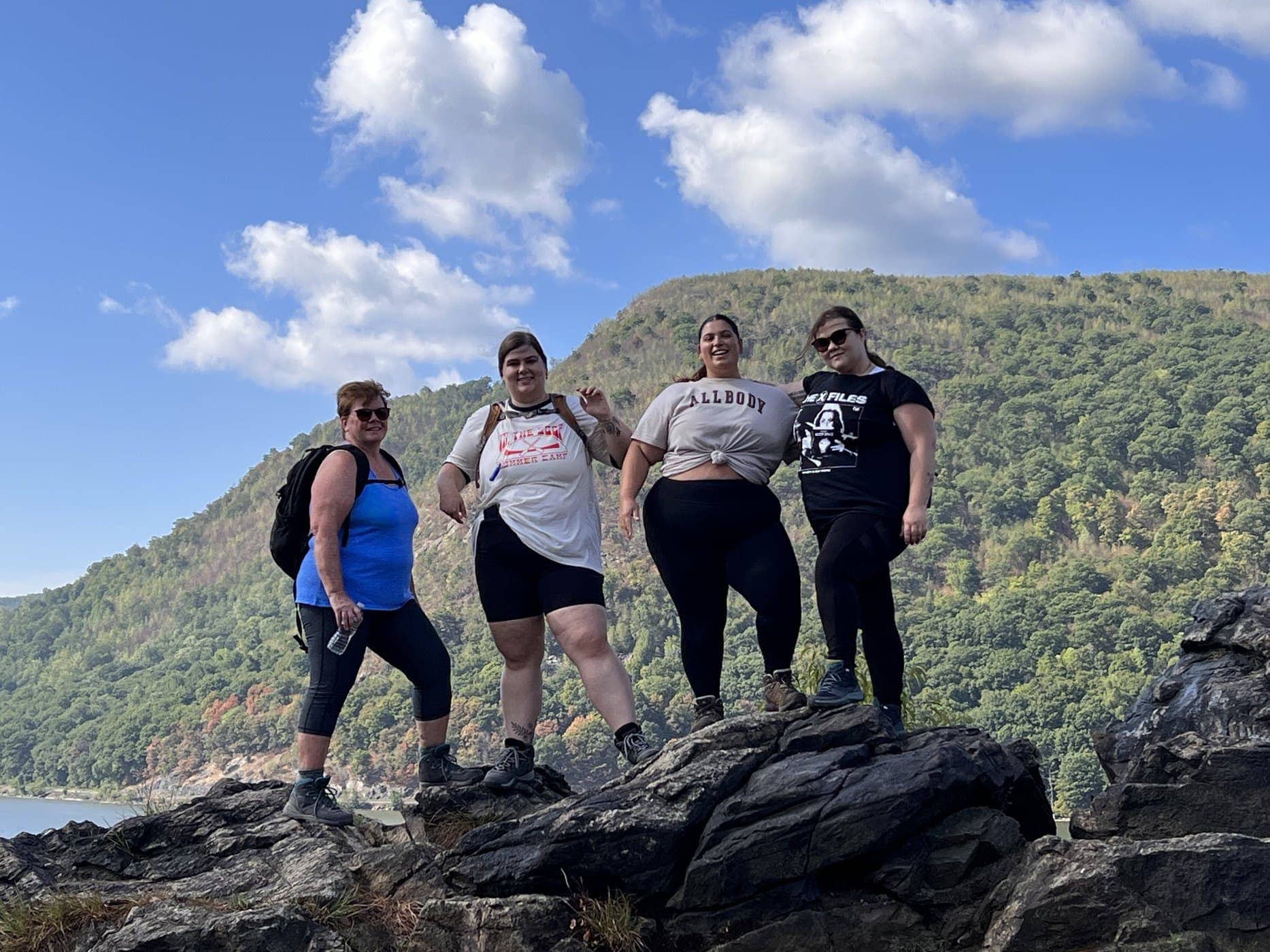 What does the experience of walking or hiking do for your group in particular?
A lot of our participants had never hiked before because, similar to my past experience, they would feel anxious and isolate themselves from this kind of activity. They'd worry about how they might be perceived by others on the trail.
I created this group to lift people up and out of that mindset and I think it does just that. We encourage people to break free from the pressures of diet culture and come together to find the joy nature offers. People also make friends and have really valuable conversations while hiking. It's a hiking group, sure, but it is also a community.
How does the time in nature inspire you? What are some favorite sights you've seen?
As the leader of Body Liberation, I am inspired in so many ways by meeting new people on the hikes. When I see people enjoying the outdoors for the first time, feeling empowered, and gaining all the intended positivity from it, that alone is incredibly inspiring.
As just Alexa, outside of my work with Body Liberation, I feel liberated just to be totally switched off when I go outside. All I think about is my feet moving and it puts me in a place of peace and calm.
In the past, all I would think about is how can I change myself to fit this activity — how can I shrink or change my body to fit? Now I am more present outside and I see so much of myself in nature — in the shapes of the trees and even in the insects. The beautiful curves of nature!
Peter's Kill and Mossy Glen are definitely some of my favorites. The rock formations look like you're walking on the moon!
Are you open to new members, and if so, how can people get involved?
Absolutely. The best way to get in touch is to contact us via our social media pages. Join our group on Facebook and send us a DM on Instagram. We post updates on upcoming hike and meetup points on both pages and we try to do new hikes about three weekends every month.
Kat Merry holds a master's degree in science and spends weekends exploring new hiking trails in the Hudson Valley with her husband and dog. Based in Beacon, she writes for local news publications such as the River, the Highlands Current and MainStreetBeacon.com.