Nobody saw it coming. After all, it was your typical mid-March — cool temperatures, but with a hint of spring in the air. Trees were showing signs of budding, and river ice was fast disappearing, raising expectations that steamboats soon would resume regular passenger service along the Hudson.
The weather forecast for Eastern New York on Sat., March 10, 1888, predicted nothing unusual: "light to fresh easterly winds…and warmer fair weather, followed by occasional light snow or rain on Sunday."
Then on Sunday it began to rain and then snow. And snow. And snow. And snow.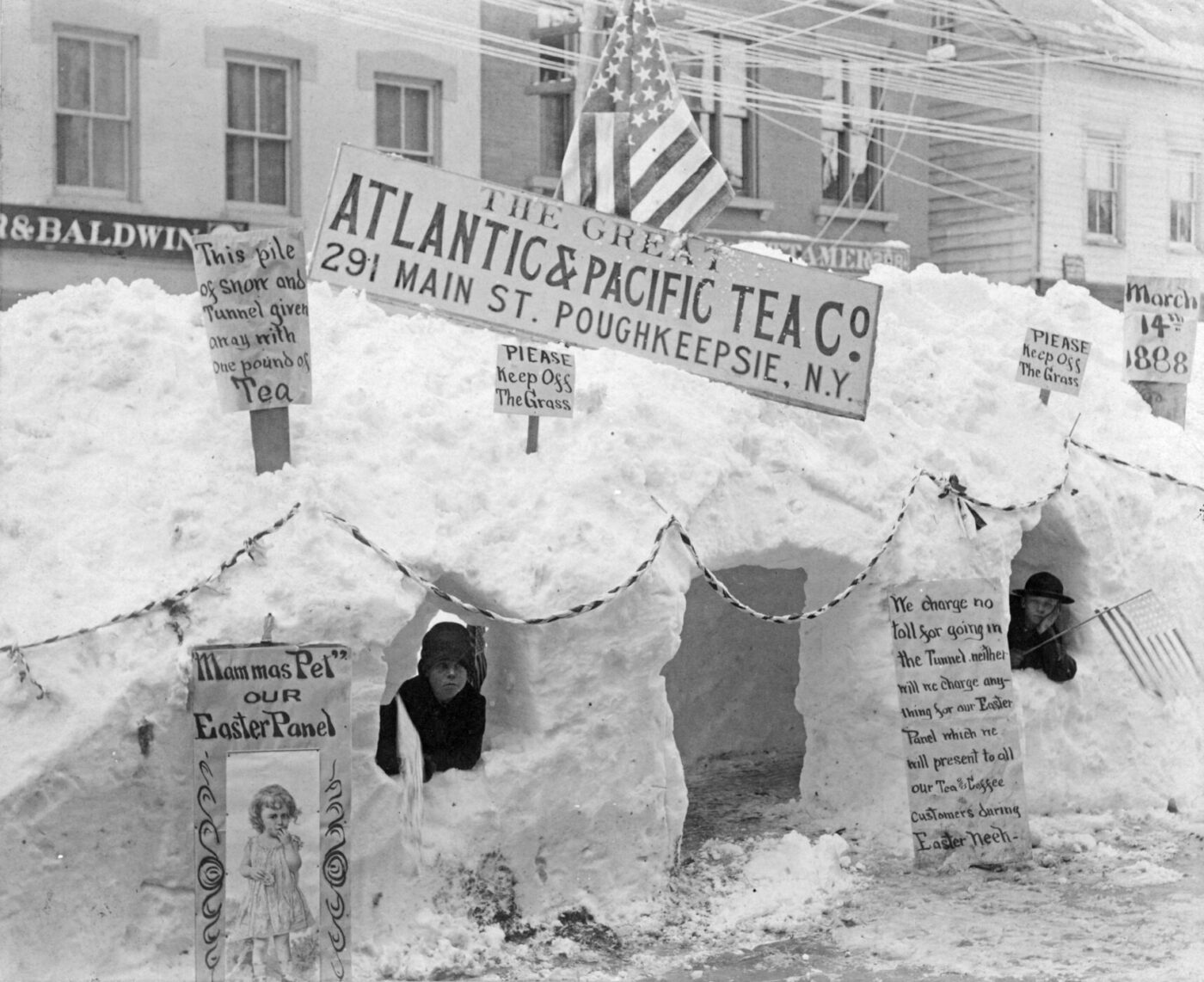 For much of the next 48 hours, the Blizzard of 1888, a.k.a. the "Great White Hurricane," did its best to deliver a knockout blow to the Hudson Valley, inflicting it with record snowfalls, mountainous drifts, freezing temperatures, and winds up to a stunning 80 mph. Yet most remarkable about what's still the biggest and most vicious winter storm ever to hit the region is the public's reaction to the punch.
"The amiable spirit with which people bear all the discomforts of the great snow storm is pleasant to note," stated the Poughkeepsie New Press on March 14, a day after the blizzard ended. "Everywhere a disposition is shown to make light of it, and have as much fun as possible while it lasts."
"A waste of snow"
The Blizzard of '88 came about when two powerful fronts — one heading north, the other east — converged just off the Atlantic coast. In no time, temperatures plunged below freezing and what had been a steady rain changed to a relentless snow that only increased in intensity as the days passed.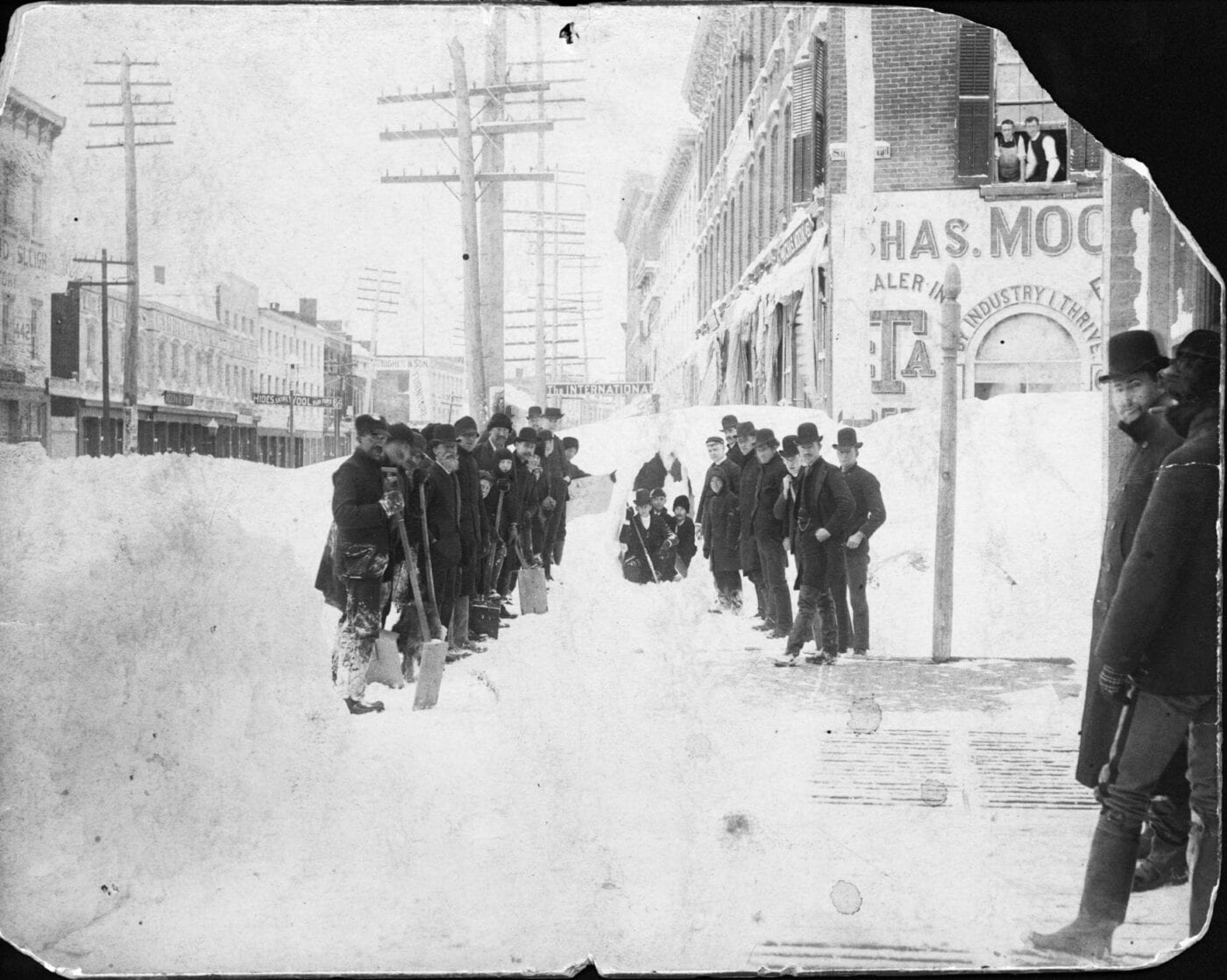 As Sunday turned into Monday, about three inches had blanketed most valley communities. By dawn, another 15 inches had fallen. Throughout the rest of that day, the storm became a whiteout, dropping as much as three additional feet. Before it cleared out of the region on Tuesday, it dropped up to an extra foot in many places.
Saratoga Springs won the award for receiving the most snow — 58 inches — with Troy a close second at 55. (Most communities in the region measured between 30 and 35 inches.) Tiny Bangall, in rural Dutchess County, recorded the highest snowdrift — 40 feet. Across the valley, wind-driven piles towered above the second-story windows of many houses, forcing residents to tunnel out or stay put.
Why did it catch people unaware? At the time, weather forecasting was rudimentary and spotty — the U.S. Weather Bureau wouldn't be established until three years later. Furthermore, any meteorological maps and charts that were prepared had to be relayed by mail. So even if this complex storm had been predicted, news of it likely would have arrived too late for anyone on the East Coast to prepare.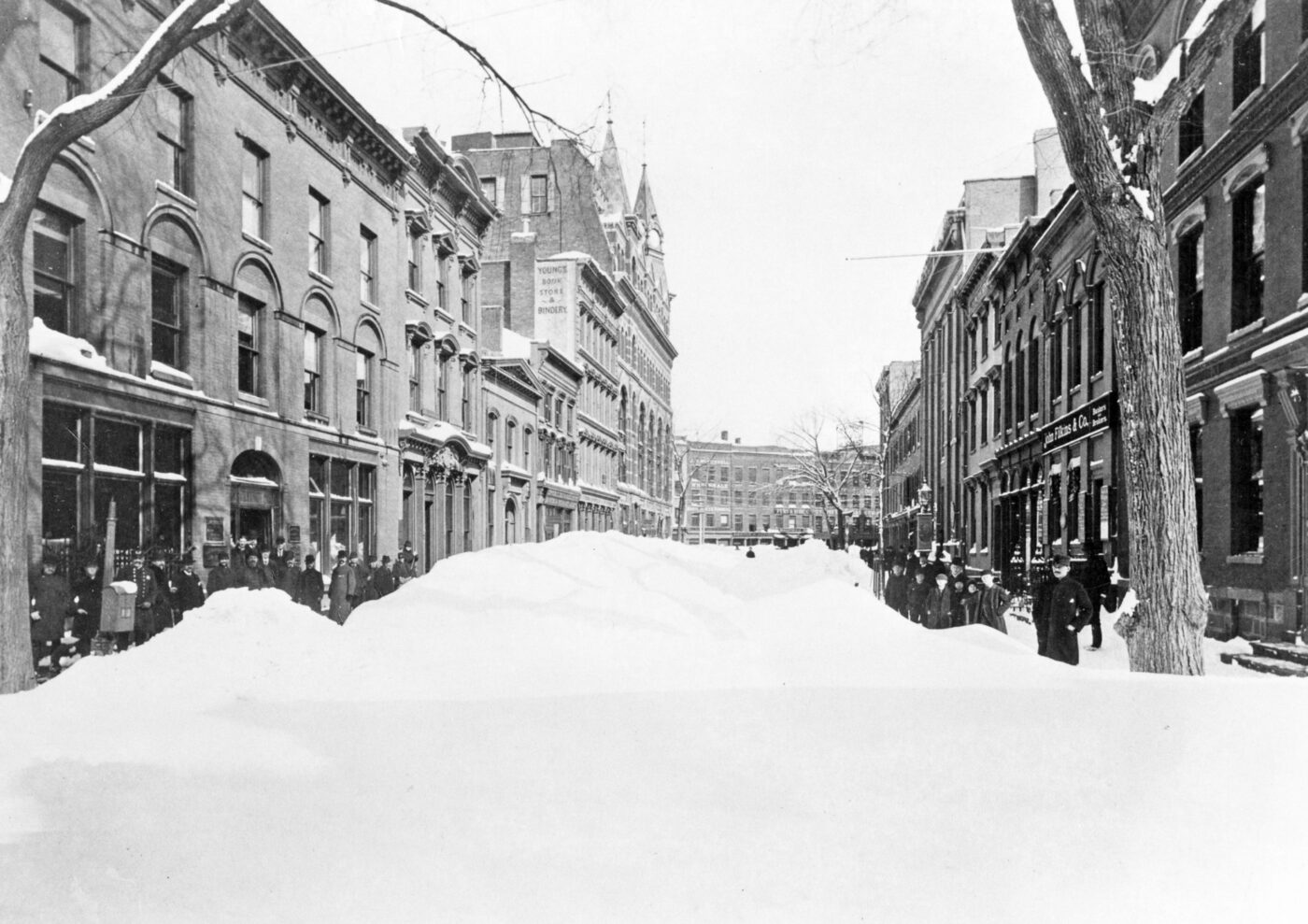 Fortunately for posterity, reporters and photographers recognized that this was a once-in-a-lifetime event, and they had no qualms venturing out. (In fact, this was the first major storm captured extensively on film.) Each day, newspapers kept pace with the blizzard, providing gripping and often poetic accounts, like this one in the Troy Daily Press on March 13:
"Troy to-day is effectually shut in from the outer world as was ancient Pompeii when the rivers of lava hid the eternal city from the gaze of man. The storm which commenced Sunday night, and which raged with unabated fury yesterday, continued through the night, accompanied by a high wind, and this morning the streets of the city presented a sight that defies description. Everywhere snow. The wind shrieked and howled around the housetops, and the air was filled with flying particles that added every instant to the drifts in the streets, yards, and alleyways. At 6:30 o'clock, Troy was a waste of snow, unbroken almost, by a single footstep."
The same day, the Poughkeepsie Daily Eagle alerted its readers that "in the alleys the snow is level with the tops of houses and at many places reaches to a height of thirty feet. Narrow passages have been cut through the snow so that the residents are able to reach the streets in some instances, while in others people are completely snowed in."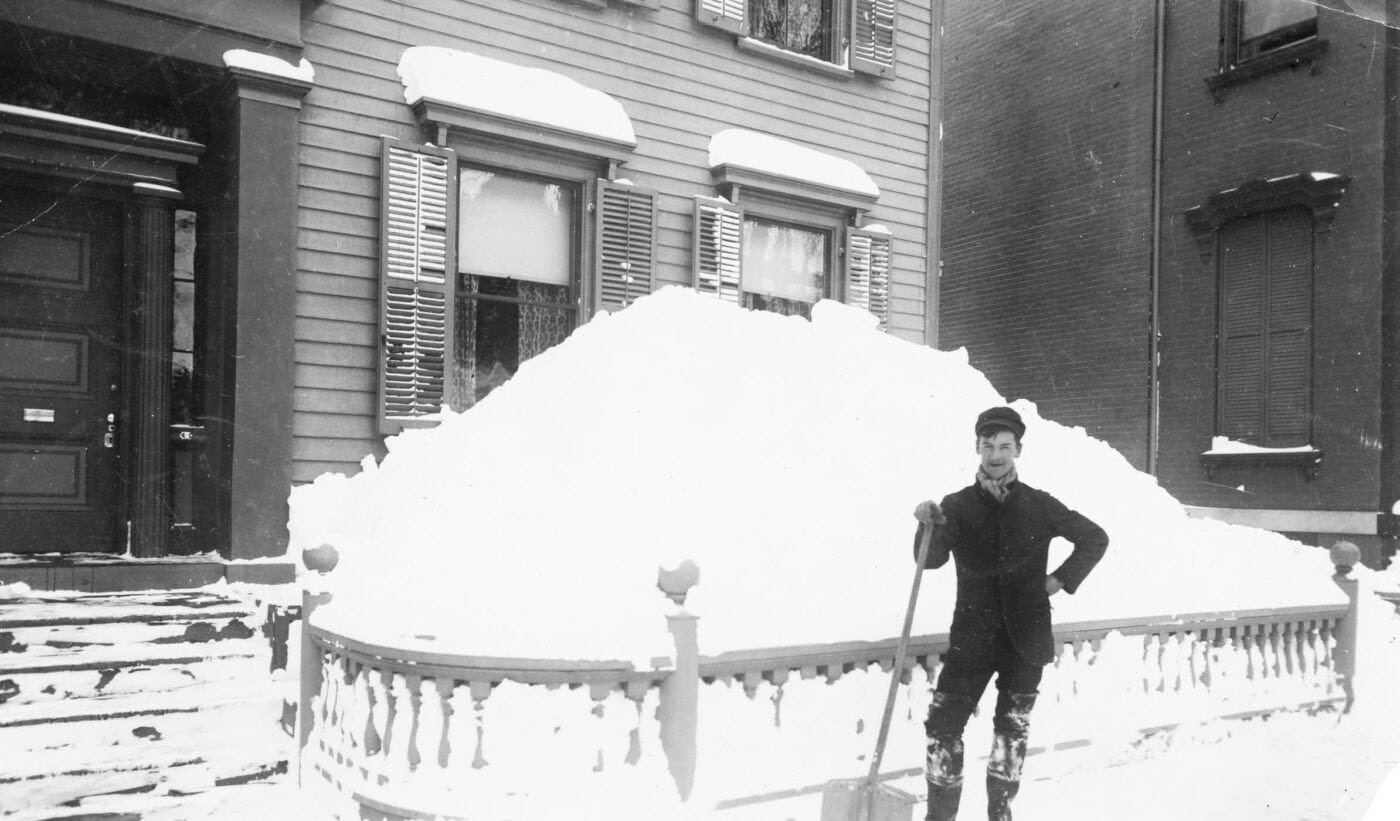 "It was an ordinary sight to see people floundering in snow drifts on Main Street, almost up to the bottom of their vests," the paper continues. "Some of the drifts presented a grand appearance when struck with full force by the gale. At the bottom they were six feet wide and tapered up so that the edge was as thin as paper, and when the gale came upon these edges with full force the snow combed gracefully over the top like the combings of the breakers on the sea shore."
"An event long to be remembered"
By Monday, the blizzard had effectively stranded communities. The winds snapped telegraph lines and the piling snow halted all public transportation, both long-distance trains and city streetcars. Anyone needing to travel had to go by foot. Those braving the elements included laborers (many industries docked employees a day's pay for any absence) or people replenishing food supplies (prior to electric refrigerators, a daily trip to the grocery was practically essential). One man in Poughkeepsie got around by using tennis rackets as makeshift snowshoes.
It wasn't until Wednesday that the cleanup could begin in earnest. Horse-drawn plows started clearing the streets, assisted by teams of specially hired day workers — a boon to immigrant laborers. But as Poughkeepsie's New Press reported, getting back to normal was an all-hands-on-deck affair: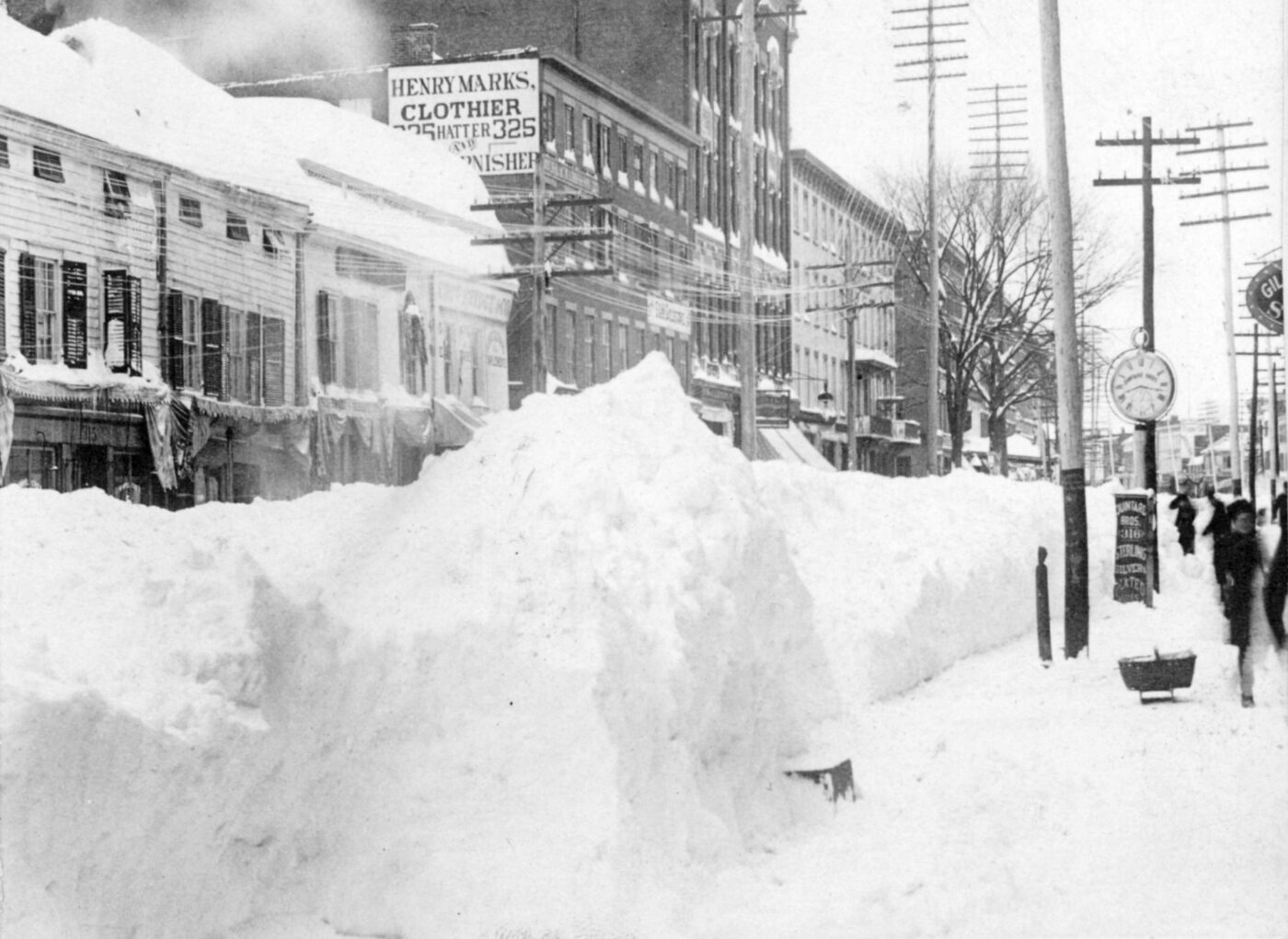 "It has seldom been known in the history of art, science or mechanism, when the whole working population of a city was busily engaged in one industry. Such was the case in Poughkeepsie…. Clergymen closed their breviaries, doctors abandoned their instruments, teachers their Latin exercises, blacksmiths forsook their forges, teamsters in many cases left their horses in the stalls, mechanics, musicians, restauranters, men, women and children, all flocked to one labor market, and a vast array of snow shovelers was the result."
They dug tunnels through the drifts to make sidewalks passable. The most impressive included one in Poughkeepsie that stretched the entire 30-foot length of the Jas. H. Ward & Son grocery — hundreds of people traversed it — and another in Saratoga Springs high and wide enough to drive a sleigh through.
Many reacted to the storm with humor. Atop a drift in Poughkeepsie, one wag upended a pair of boots next to a sign reading "Help! Help! Please Save Me!" A placard affixed to a pile in Albany declared "To be sold at auction," while that city's Evening Journal punned in a headline: "Who says Albany does not catch the drift of things?"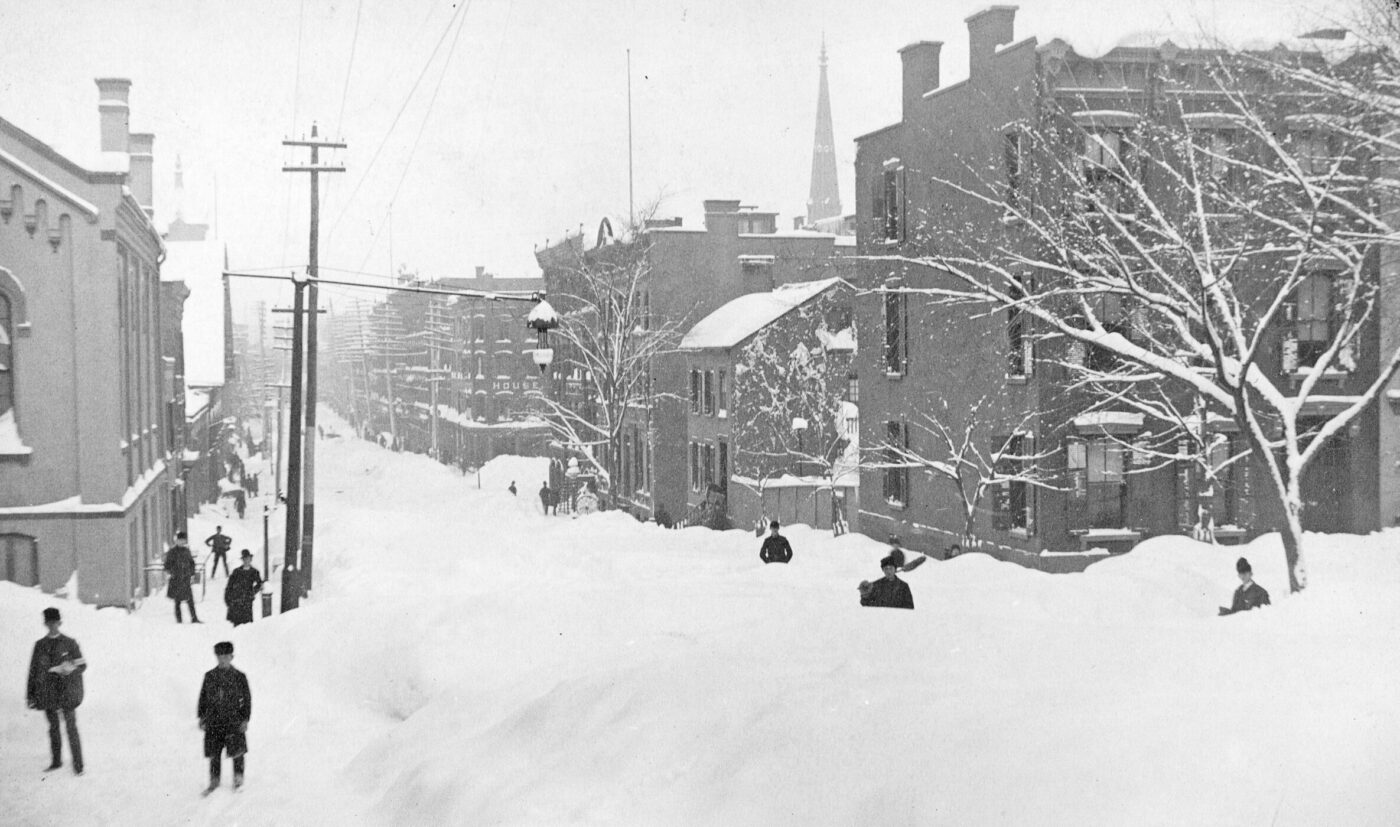 Children reveled in building forts and throwing snowballs at each other, and adults weren't immune from making lemonade out of this lemon of a storm. "Today the sleigh-bells jingle as cheerily as if four or five feet of snow had fallen just to make sleighing," said the Troy Daily Times.
The blizzard caused millions of dollars of damage in the Northeast and led to a number of important civic improvements, including the burying of telegraph and telephone lines and the establishment of subway systems in Boston and New York City. Eventually, the snow would melt (a thaw a few days after the blizzard helped, but also caused another major problem, flooding). But as Poughkeepsie's Evening Enterprise noted on March 14, the Great White Hurricane was an event for the history books:
"[F]or the Hudson River valley, such a thing never was before known, and it forms an event long to be remembered — in fact never to be forgotten…"
Reed Sparling is a staff writer and historian at Scenic Hudson. He is the former editor of Hudson Valley Magazine, and currently co-edits the Hudson River Valley Review, a scholarly journal published by the Hudson River Valley Institute at Marist College.