Once upon a time, I adopted the best trail buddy a gal could dream of. Roxy is a 50-pound mutt and loves hiking in all seasons, especially winter.
Being well prepared is essential for your safety, but are you prepared for the safety of your loyal four-legged trail buddy as well? As an avid hiker, I've learned a lot through my hiking experiences, research, and simply by talking to many other helpful dog owners.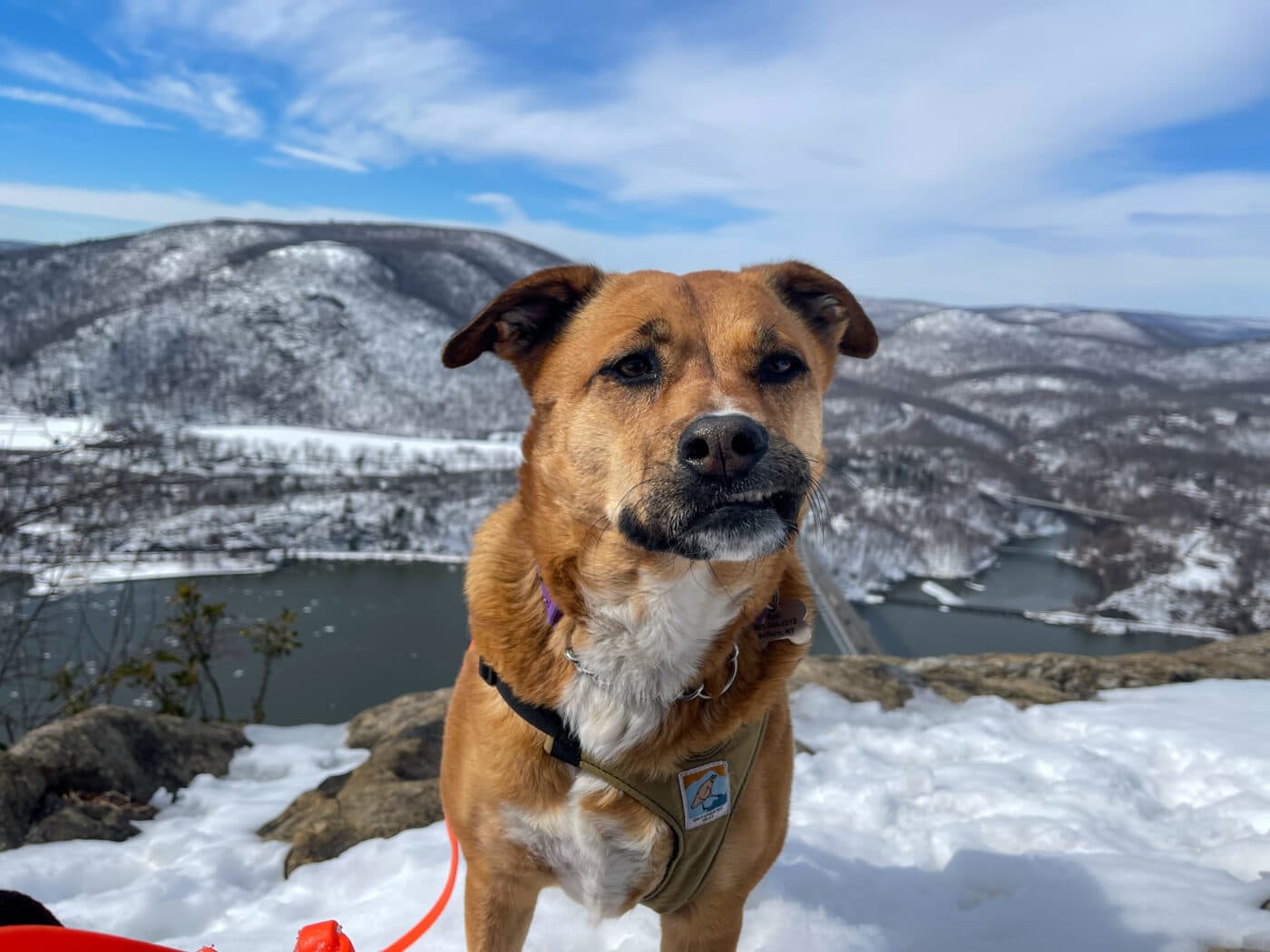 Here are a few tips I've learned along the way to keep your dog safe while enjoying the snowy serenity on winter hikes:
Consider the Type of Dog You Have
Your dog is special and unique, and of course you know them best. Not all dogs enjoy hiking in cold conditions, and many of them are not physically capable of safely being outside in cold weather. Be sure to do research about your dog's breed, age, and any health conditions before you take them on a snowy adventure in the mountains. Generally, elderly dogs should not join on winter hikes, and short-haired dogs like pugs should sit them out as well. I'm sure their shivering sad puppy eyes have already given you that hint!
Keep Your Trail Buddy Warm
Winter temps can vary with elevation and wind, so be sure to check the weather of your particular mountain before you go. For higher peaks I always check the weather on https://www.mountain-forecast.com/, but mountain weather is also known for changing conditions very quickly. Along with your own extra layers, be sure to carry extra layers for your dog as well. I carry an insulated waterproof jacket made by Ruffwear to throw on my dog as the temps get chillier.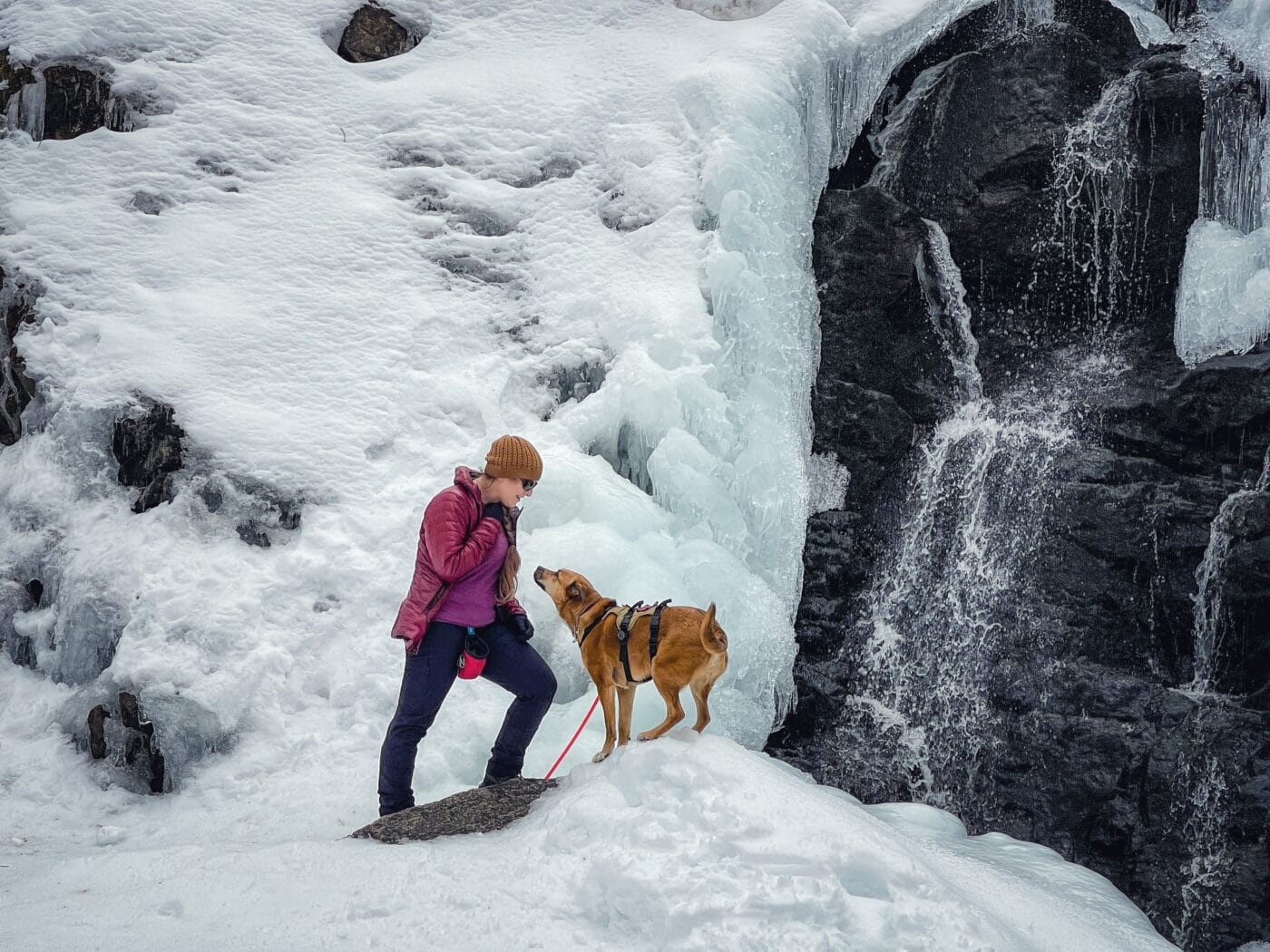 Protect the Paws
Not all paws are equal. Dogs that are new to hiking may have softer paws that are sensitive to icy conditions. I use Musher's Secret Paw Wax to help protect my dog's paws from icy conditions and salty sidewalks. I also use booties in snowy conditions to help protect her paws from forming ice balls between her hairy toes. I use the Pawz brand dog booties because I found that those are the only ones that will stay on her feet, but there are many kinds out there that may fit your pup better.
Pack Extra First Aid and Be Ready to Carry Them Out
Did you know that dogs have arteries in their paw pads? Are you prepared to carry your dog out if they can no longer walk? My dog has had numerous injuries, from cutting her paw to splitting a nail. Be sure you have something or someone to assist carrying your dog if you need to.
In addition to my human first aid kit, I always carry my dog first aid kit. Depending on your dog, you may choose to add certain specific items to your kit.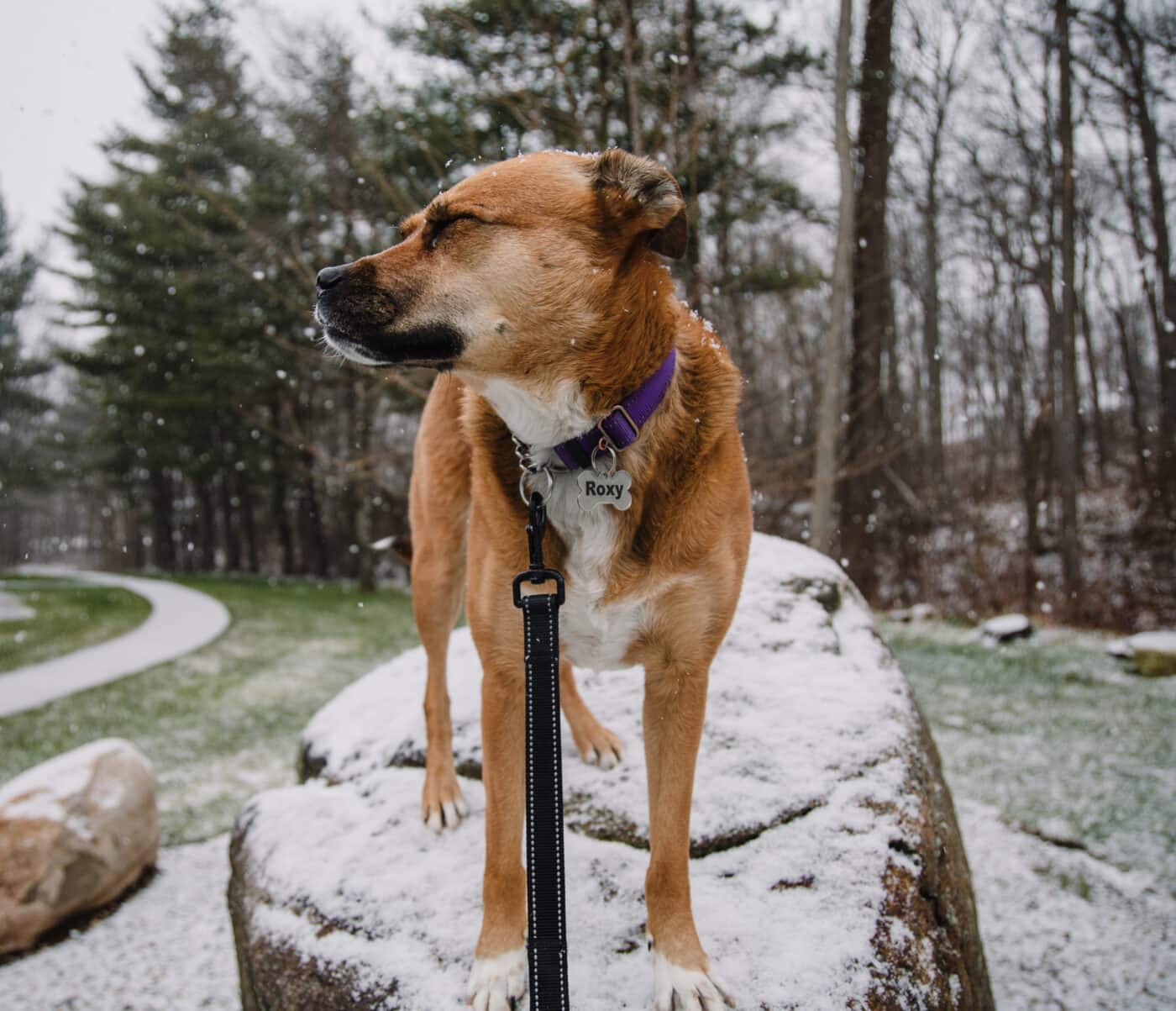 Here are a few suggestions that I carry for my dog:
Mushers' wax
Hand warmers and an emergency blanket
Hydrogen peroxide
Benadryl
Tick key and tweezers
Bandages for paws
Styptic powder for bleeding nail injuries
A card with your dog's info, vet info, appropriate doses for any meds, etc.
Extra leash
"The Dogs Way Podcast" has great episodes about dog training, and even one about your dog's first aid kit. Check out this link for their dog first aid kit list.
Be a Considerate Dog Owner
If you're hiking in a Scenic Hudson park, bear in mind that dogs are welcome at all Scenic Hudson parks except Scenic Hudson Park at Irvington and Hudson Highlands Nature Museum. Dogs must be leashed at all times, with a six-foot maximum. Owners must clean up after their pets.
Hypothermia Signs: When in Doubt, Turn Back
Pay close attention to your dog and how they are acting. Are they lifting their paws a lot? Do they seem more tired than usual? Hypothermia symptoms can start slow but progress very quickly. Here are some symptoms to look out for, but never hesitate to turn back if your dog is showing any discomfort or unusual behavior:
Shivering
Acting lethargic or weak
Trouble breathing
Dilated pupils (the black inner circle of the eye appears larger)
Blue or pale gums or inner eyelids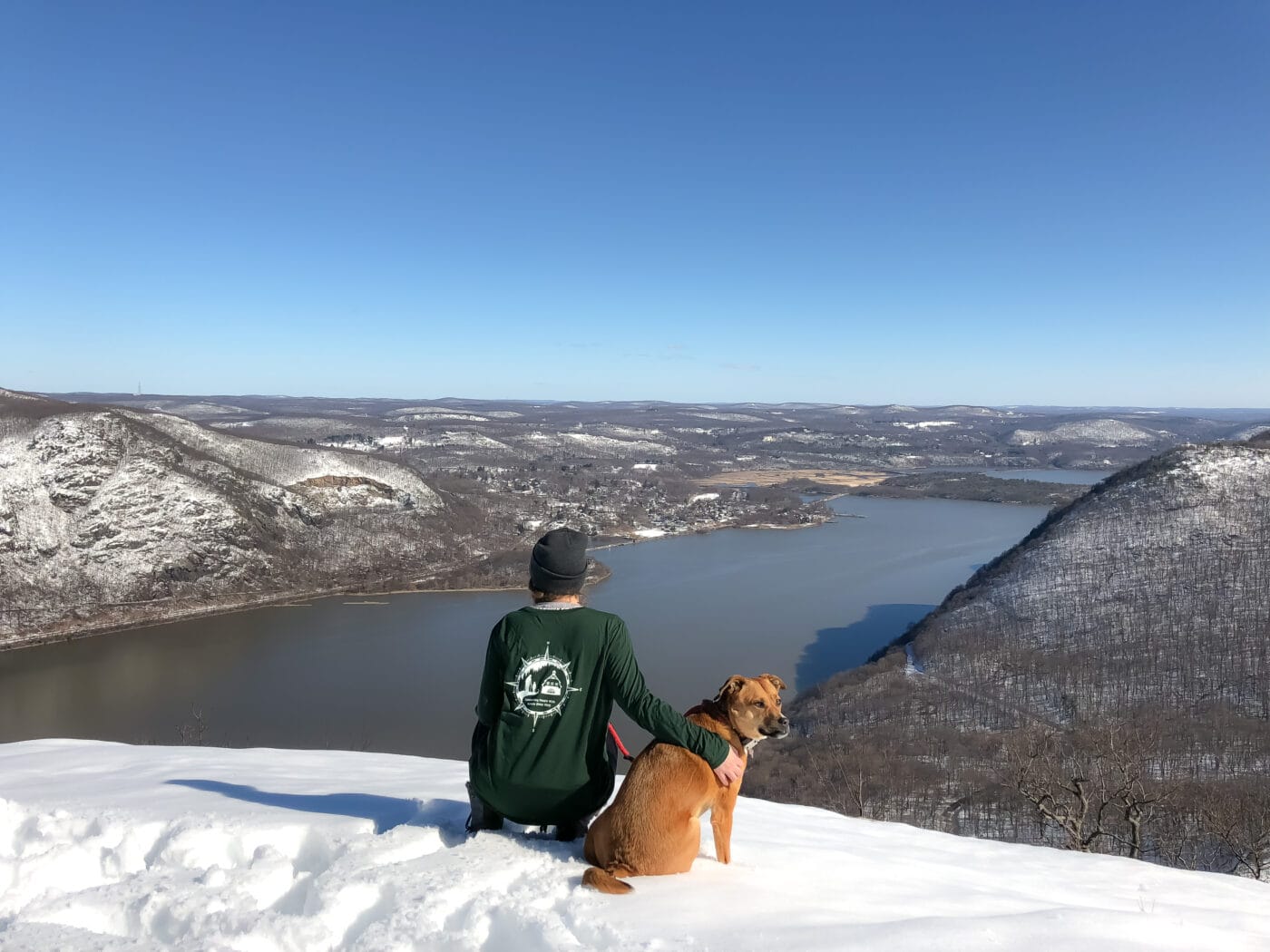 Remember…
Dogs are loyal and loving beings and they all have very different needs and behaviors. Most dogs will follow you until they can't physically move anymore. Remember, know before you go and always be prepared. Stay safe, and happy trails to all you human and pup friends!
Diana Richards is a Hudson Valley-based landscape photographer, educator, and dog mama. She has volunteered with Gear Forward, to help provide equitable outdoor access for underserved youth, as well as assisted the New York-New Jersey Trail Conference with trail-building. She recently became Education Lead for The Fungi Foundation.