Learn more about farmers and activists fighting for food justice, as well as other grassroots environmentalists in our People Who Make a Difference virtual gallery tour.
Everybody deserves to eat healthy, nutritious food. Unfortunately, not everyone in our society has access to healthy food options, and studies show people in poverty and people of color are more affected by food insecurity and diet-related illnesses.
Many areas across the country are considered "food deserts," or places without easy access to fresh, healthy food. These areas lack grocery stores that sell fresh fruits, vegetables and meat. Instead, they typically offer processed, high sugar and high fat foods.
One way to increase the accessibility of fresh food is to grow it locally. Small farms, urban farms and even backyard gardens are just a few ways to provide food desert areas with fresh food and to fight the injustices that exist in our food system.
Farming is hard work, and it is often difficult to become and maintain a life as a farmer, especially in suburban and urban areas. We are facing a potential shortage of new and young farmers to grow our food in the United States. We need to find ways to encourage more young people to get into farming and implement better ways to support our farmers and farm workers who are the backbone of our food system.
A just food system can also good for the environment. Locally produced food helps fight climate change and sustainable, organic farming practices can reduce emissions and help safeguard our air and water quality.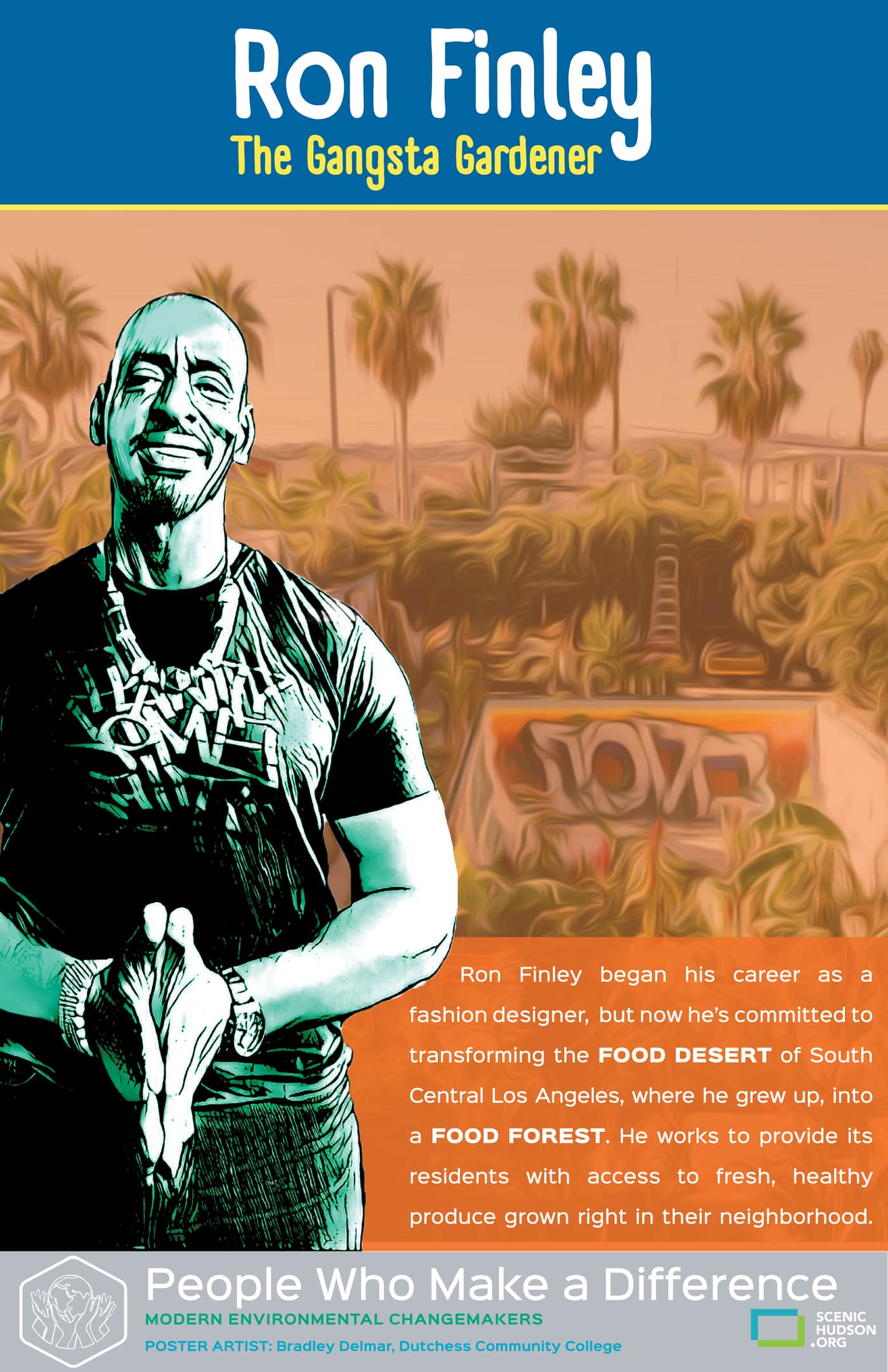 Ron Finley: The "Gangsta Gardener"
In 2010, Ron Finley decided to dig up a curbside piece of land next to his house in South Central Los Angeles to plant fruits and vegetables. That action launched him into his career as the "Gangsta Gardener."
Ron grew up in South Central Los Angeles, an area plagued with a lack of fresh produce and healthy food options. He began encouraging South Central residents to plant small gardens on the "parkways" between the sidewalk and curb, just like he had done. After facing backlash from the city of Los Angeles for gardening in these spaces, Ron and fellow activists petitioned and eventually the "Residential Parkway Landscaping Guidelines" were changed to end fines for vegetables gardens on strips of city-owned land.
Since then, Ron has used his platform to promote urban gardening in communities of color. He founded The Ron Finley Project, an organization dedicated to training young people and their communities in gardening and sustainability.
"Gardening is gangsta. Drugs, robbing — that's not gangsta," says Ron. "Building community — that's gangsta. I'm changing the vernacular."
Ron and his team are continuing to work toward eliminating food deserts by teaching communities how to grow and take agency over their own food.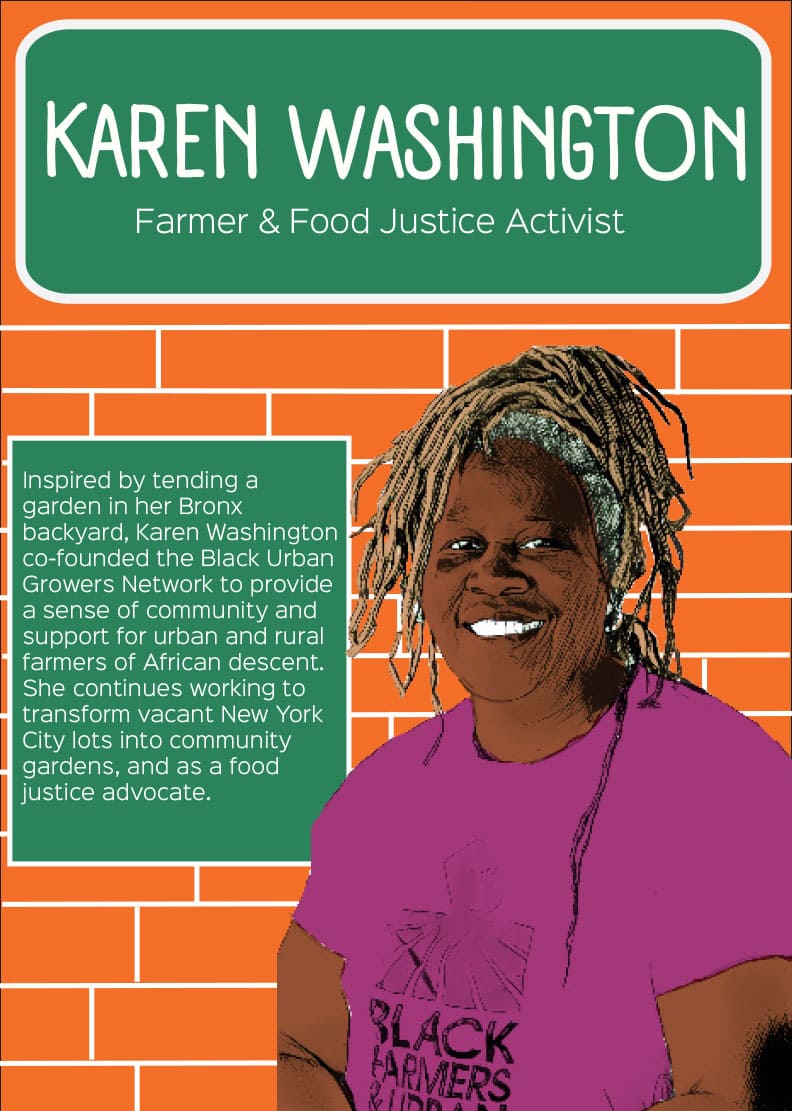 Karen Washington: Farmer and Food Justice Activist
Karen Washington has worked for decades to create and protect urban farms and provide New York City communities with fresh produce.
In 2010, Karen co-founded Black Urban Growers (BUGS), an organization dedicated to supporting urban and rural growers of color. BUGS is a resource for communities to learn more about their food, where it comes from and who's growing it. Through education, advocacy and support, BUGS raises awareness around food and farming issues, promotes Black leadership in farming, and invites communities to take agency over their own food.
BUGS has organized a host of community events, including an annual Black Farmers and Urban Growers Conference to bring Black growers, activists, chefs and educators together.
"To grow your own food gives you power and dignity," she says. "You know exactly what you're eating because you grew it. It's good, it's nourishing and you did this for yourself, your family and your community."
Karen formerly worked as a community gardener and board member of the New York Botanical Gardens, creating and protecting community gardens throughout the Bronx. She is also a board member and former president of the New York City Community Garden Coalition.
In 2012, Karen Washington was voted one of 100 most influential African Americans by Ebony Magazine. She also received the James Beard Leadership Award in 2014.
Karen is currently co-owner of Rise & Root Farm in Chester, New York.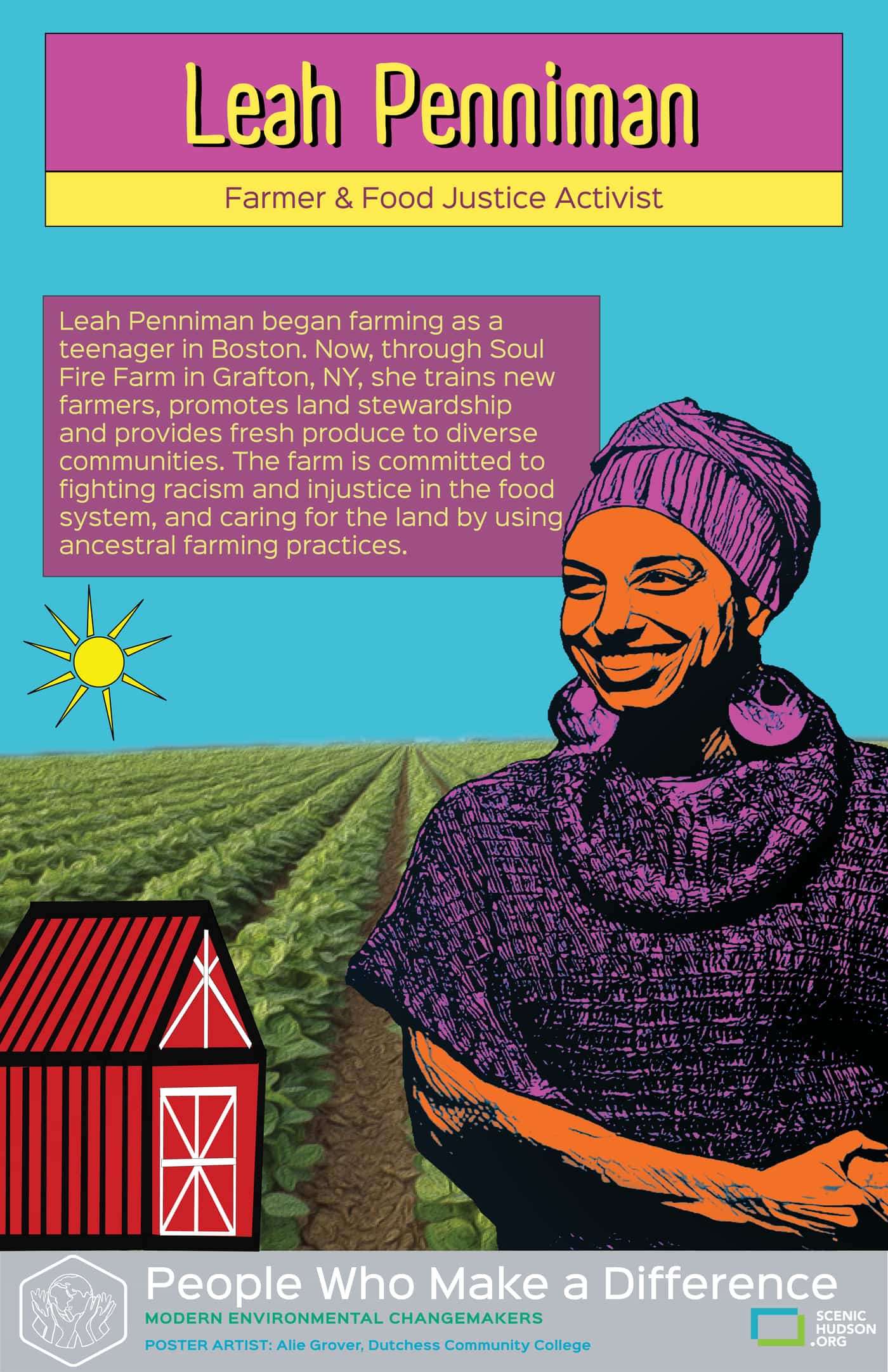 Leah Penniman: Farmer and Food Sovereignty Activist
Leah Penniman is co-founder, co-director and farm manager of Soul Fire Farm in Grafton, New York.
Soul Fire, founded in 2011, is a BIPOC (Black, Indigenous and people of color)-centered community farm working to end racism and injustice in the farming and food systems, giving Black and Brown people agency over their food. Soul Fire hosts training programs for Black and Latinx famers, a CSA farm share program and several other trainings and programs for activists, youth, and communities.
As a teenager, Leah began farming with The Food Project in Boston, MA. She went on to work with a host of farming organizations in the United States and around the world.
In 2018, Leah wrote Farming While Black: Soul Fire Farm's Practical Guide to Decolonizing Land, Food, and Agriculture. The book discusses the lack of diversity in farm management and ownership and provides a how-to guide for aspiring growers of African heritage.
Leah Penniman and Soul Fire Farm are working to help communities of color deepen their connections to the land and heal from personal and inherited trauma.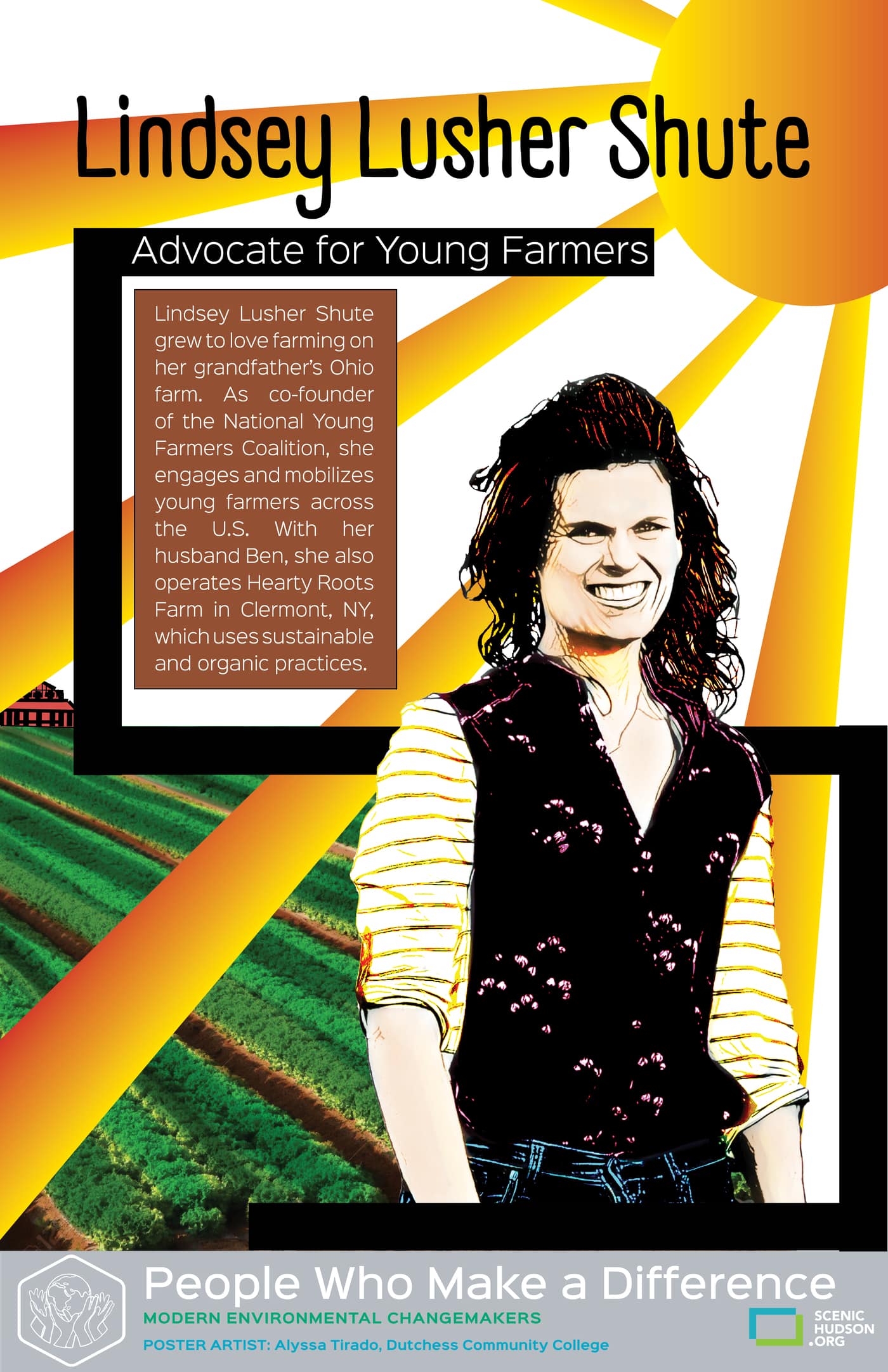 Lindsey Lusher Shute: Advocate for Young Farmers
Lindsey Lusher Shute is a co-founder and former executive director of the National Young Farmers Coalition, which represents, mobilizes and engages young farmers to ensure their future success.
Lindsey developed her love for farming at an early age on her grandfather's land in Ohio.
In 2017, she testified before the U.S. Senate Committee on Agriculture, speaking on risk management tools and trends of the 2018 Farm Bill. She was recognized as a "Champion of Change" by President Barack Obama for her work in agriculture and received the Glynwood "Harvest Award" in 2013.
She also hosts the Young Farmers Podcast, where she discusses food and farm policy through a farmer-centric lens.
Lindsey owns and operates Hearty Roots Farm in Columbia County, along with her husband, Benjamin.