Is this the year electric vehicles hit their tipping point? New York dug into a $750 million EV-infrastructure expansion. States like Massachusetts and California banned sales of new gas-powered cars by 2035. And while Tesla had gobbled up a lot of early EV market share, carmakers like Volkswagen, Hyundai, and Ford rolled out cool new models, including all-electric SUVs and pickups.
The Hudson Valley is getting in on the action, too. While most Scenic Hudson parks don't have electricity, making the addition of power stations a challenge, Mt. Beacon and Long Dock Park now feature brand-new chargers that opened to park users in early September. I used the grand opening as a good chance to rent one of the many new models and to take a scenic road trip, seeing the HV by EV.
If you're a gas-car driver like me, you might feel "range anxiety" starting out, wondering how far you'll get on a charge or what you'll do with your time if you have to stop and recharge. Apping up helps. I started by downloading the map-enabled Charge Point and Electrify America apps — plus EV Connect, which the Scenic Hudson chargers use — so I could find some of the valley's many charging stations.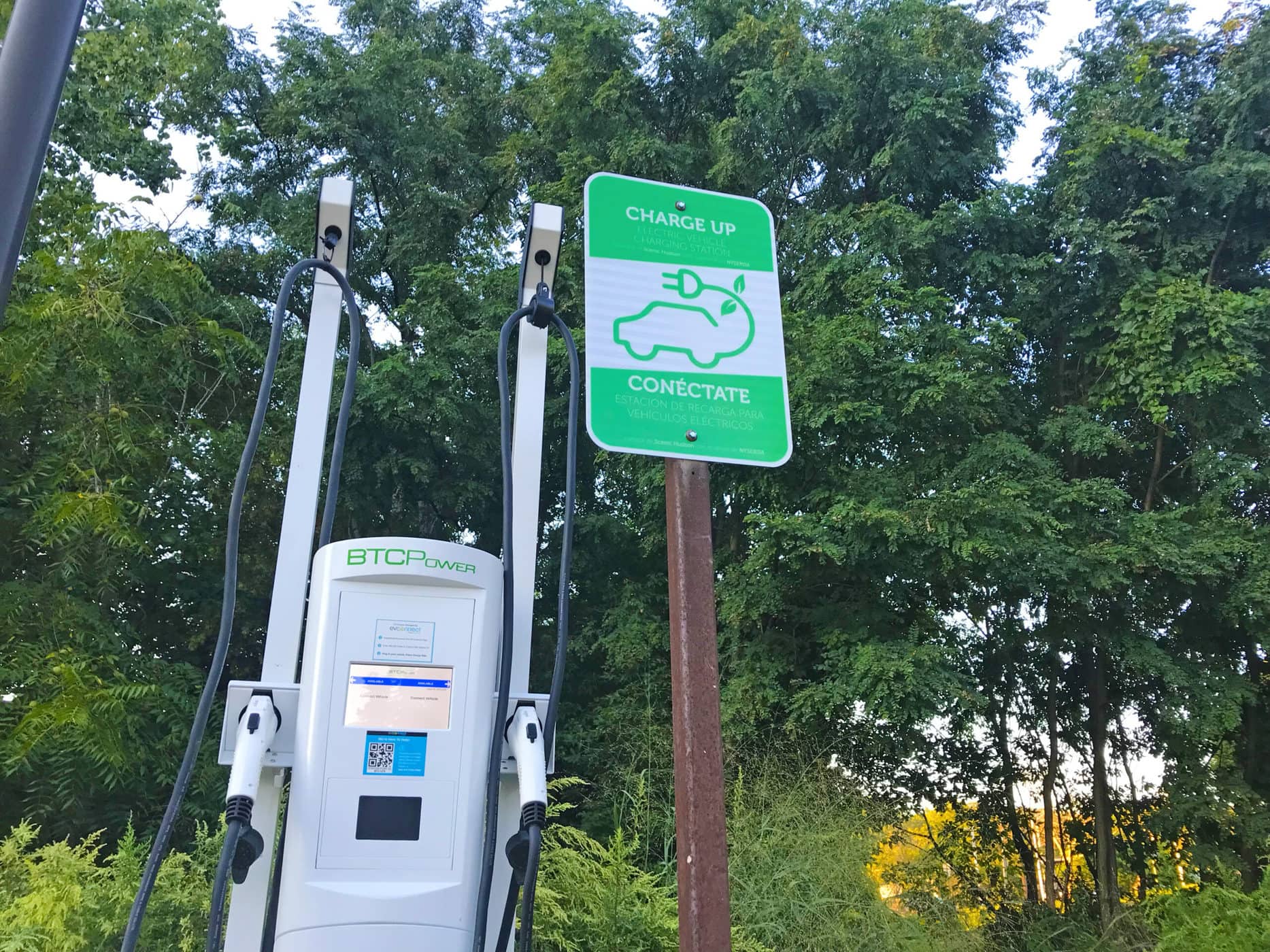 But I soon realized — especially with stops like parks figured in — that EVs offer the perfect way to travel more mindfully. I reduced emissions and felt more conscious of the environment. My vehicle ran quieter, bothering people, animals, and even myself less. And my top-offs offered time to slow down and explore.
Electric vehicles can still be hard to rent. Local agencies didn't offer them when we called, and there weren't easy search filters for gas-free models online. Luckily, Turo brings the now-familiar Airbnb model of renting directly from owners to the car market — and lets you filter your search to specific preferences, including EVs. I rented an all-electric SUV. Not only was my host friendly and helpful at pickup, he even left his toll pass and phone-charging cord in the car for me when I asked.
Here's my itinerary, just one of many possible ways to spend a beautiful day exploring the Hudson Valley's scenery, recreation, agriculture, food, and parks.
9 a.m., Rosendale Trestle, Rosendale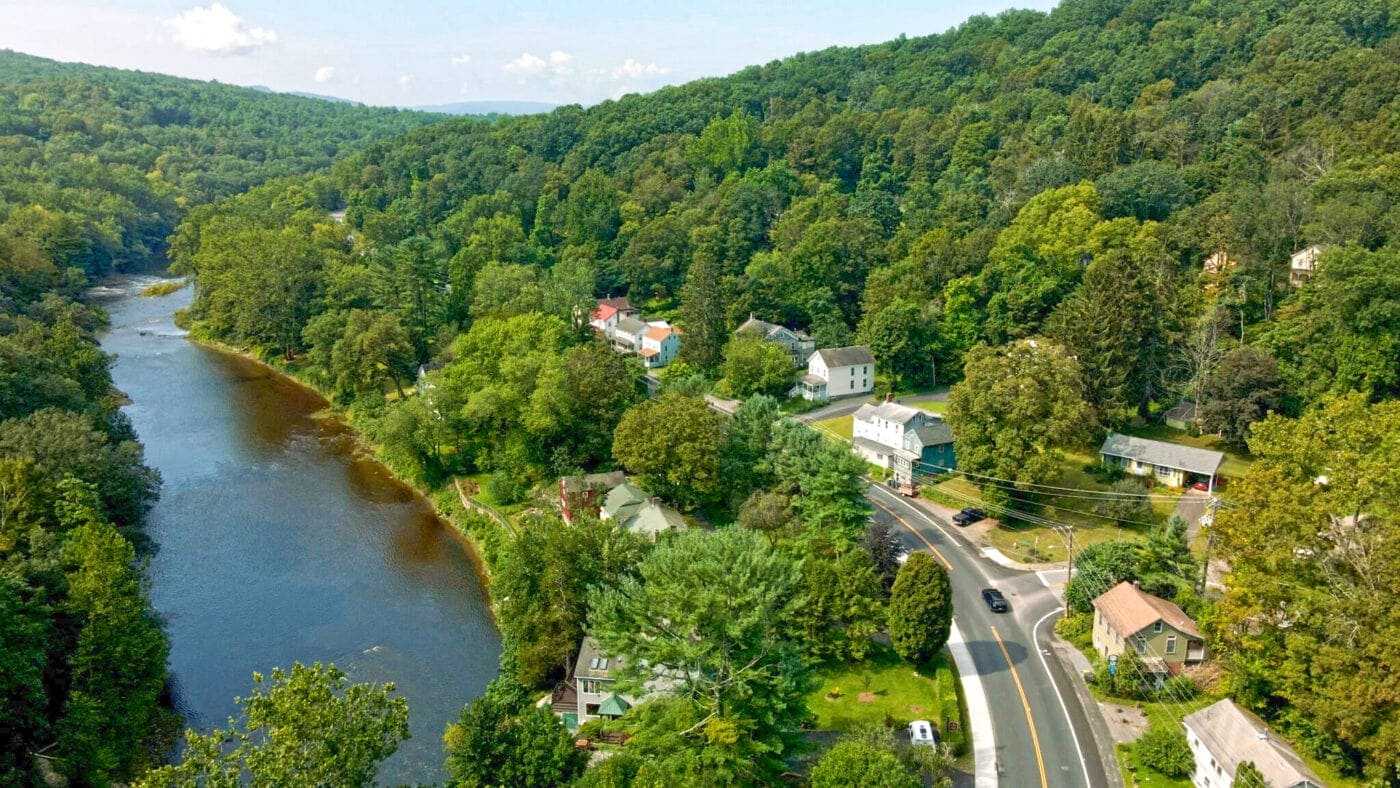 Folding down the back seats of the SUV gave me juuuust enough room for my bike. I topped up behind the famously adorable Rosendale Theater, at Willow Kiln Park. A trailhead near a graceful weeping willow tempted me to hike Joppenbergh Mountain. But having packed my 10-speed, I wanted to take a spin. I pedaled through the village and across the trestle, where the view 150 feet down to Rondout Creek was heart-stopping. The Wallkill Valley Rail Trail tempted me again — I knew the lovely on-farm Coppersea Distillery was just a couple miles ahead — but my car was doing fine for charge, and other road-trip stops were calling my name.
Noon, Hawthorne Valley Farm, Ghent
Most charging stops just offer two or three chargers. Hawthorne Valley Farm went big in 2018 with six — and they're all free. Neighbors are welcome to use them even overnight, and drivers like me top up while lunching in the pavilion next to the super-fresh farm store. There's been a big increase in the number of people charging even in the past year, executive director Martin Ping told me during a tour of the bucolic, rolling biodynamic farm campus. I had Hawthorne Valley's fantastic vegan curry wrap and its own cherry tomatoes (which rocketed me right back to the ones my family grew in our garden when I was a kid). Even though the electric SUV only needed a bit of charge, I found myself hanging out at Hawthorne Valley Farm for a couple hours, just taking it slow.
3 p.m., Alleyway Ice Cream, Saugerties
Friends have raved about the unique flavors of Saugerties' tiny, artisan Alleyway Ice Cream, which some have dared to call the best ice cream in New York State. But every time I'd showed up before, it'd been closed. Finally, on a summer Friday, I charged near a school just a couple blocks off Partition Street and tasted for myself. My double dish of Ube Heath Bar Crunch and Thai Iced Tea Cookies & Cream was worth savoring. While stopped, I cooled off further with a seltzer hidden in my favorite EV feature: an insulated storage space, or "frunk" (which you can put ice in to make a cooler!) It's under the car's hood — which on a gas-combustion car is where the engine would be.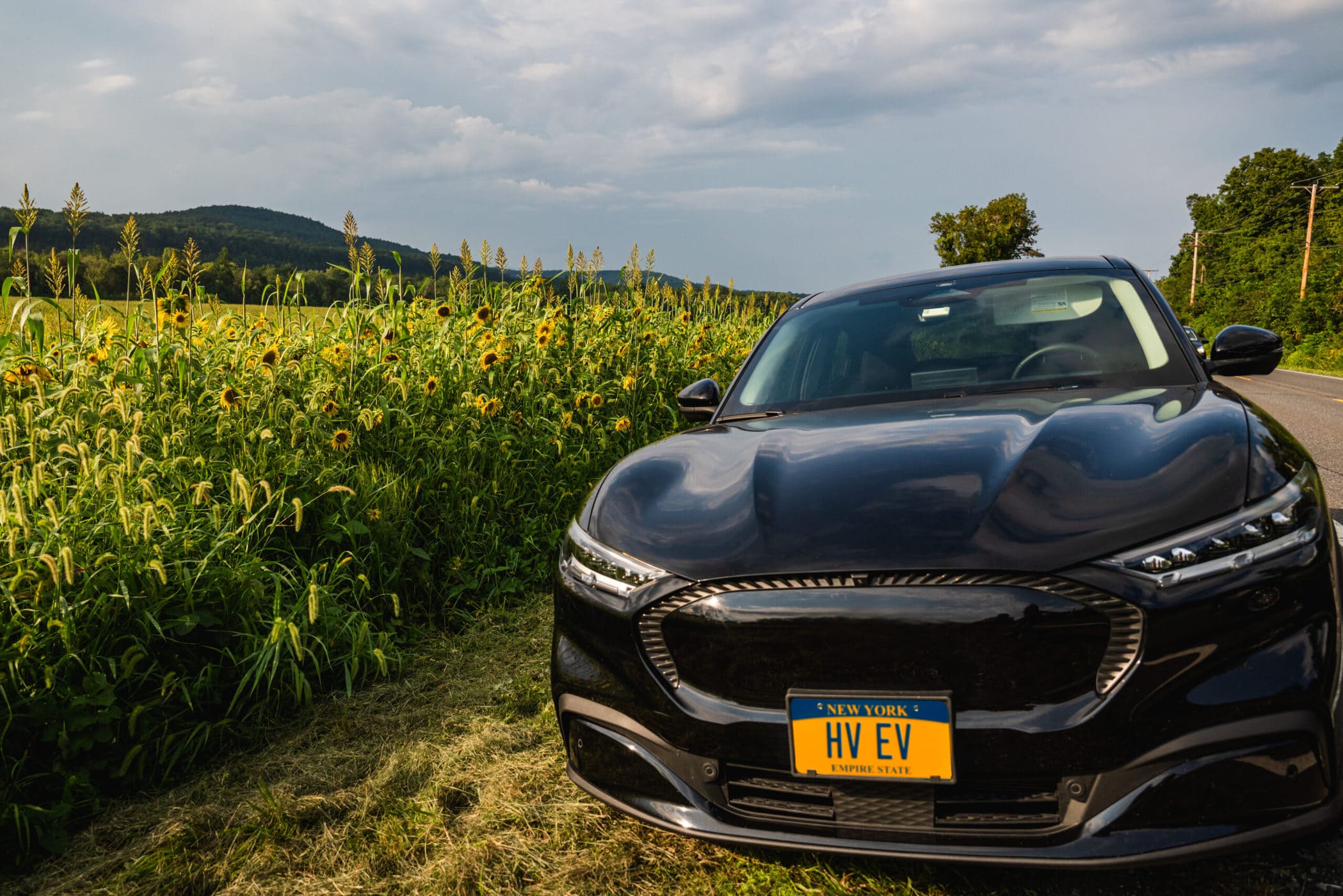 6 p.m., Long Dock Park, Beacon
I closed the day by picking up my toddler, Wil, for some exploration and playtime at Scenic Hudson's Long Dock Park. The new chargers there are free as long as park visitors need them — users only pay for any time they leave them parked in the spot after they're fully charged. Feeling no rush, Wil and I played catch, watched the sunset over the Hudson, and absorbed the sounds of an enthusiastic local drum circle, all while the SUV soaked up fresh energy. "I love EVs!" (the only lightly indoctrinated) Wil told me, capping off a pretty darn picture-perfect Hudson Valley road trip.
Lynn Freehill-Maye is managing editor of Scenic Hudson's HV Viewfinder. She is also a Hudson Valley-based sustainability writer whose work has appeared in the New York Times, the Washington Post, Scientific American, Sierra, Civil Eats, CityLab, Modern Farmer, and beyond.