Crisp temperatures and clear air make this prime time for a hike or walk in the Hudson Valley. But with hunting season also in full swing, it's critical to take some extra precautions before and during your ramble.
Scenic Hudson allows hunting at only one of our parks: Shaupeneak Ridge. We manage it carefully in partnership with the state Department of Environmental Conservation and the West Esopus Landowners' Association, a local sporting group. Hunters must apply to us for a permit, which are allotted on a first-come, first-served basis.
To ensure the safety of all visitors, our chief concern, we limit hunting during bow season to 100 permits; regular gun season, 80 permits; and muzzle-loading, 40 permits. Like all visitors to Shaupeneak, hunters can access the preserve from dawn to dusk. They must follow designated rules and remain in areas indicated on this map.
Why hunting?
Believe it or not, in the early 20th century, deer were deemed nearly extinct in the Hudson Valley. Farmers hunted them mercilessly to keep the animals from devouring their cash crops. But as many of the region's farms started failing and fields reverted back to forests, deer made an amazing comeback, both because of increased habitat and the absence of wild predators. Today, they're a constant presence in rural, suburban and even some city backyards.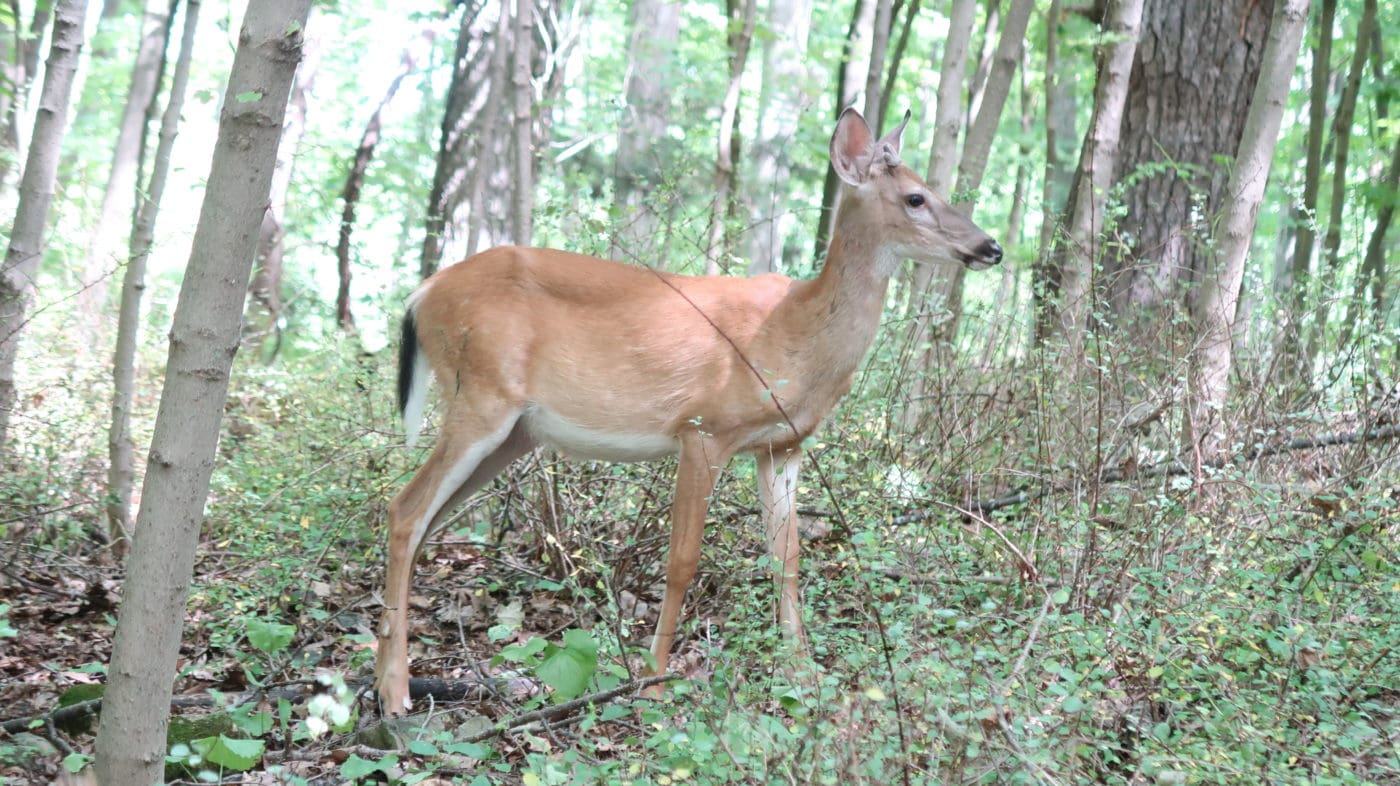 Deer have a mixed record mingling with humans. They carry ticks that spread Lyme disease. And it's estimated that a car in New York hits a deer every 8 minutes. But it's deer's preference for eating native seedlings, shrubs and wildflowers that takes a big toll on the valley's biodiversity. Their rapacious appetite for shrubs in the forest understory is a prime cause of the decline in woodland songbirds, which depend on these plants for nesting and food. In fact, in 2013 the Nature Conservancy declared that white-tailed deer threaten forests more than climate change.
Along with being the most effective and efficient method of reducing the valley's overabundance of deer, hunting offers a number of other benefits — from being a nutritious source of food to supporting (through the sale of hunting permits) the state's land protection efforts. And as the U.S. Fish and Wildlife Service states, "Hunters are among the most ardent conservationists around." With anglers, their advocacy helped secure passage of many of our nation's environmental safeguards.
Safety tips for hikers and hunters
The good news is that hikers and hunters can happily and safely co-exist by following some simple rules.
For hikers:
Know when and where hunting is allowed. Specific park websites should provide that info. If not, call prior to heading out on your Outdoor Adventure. Also, be aware that some private properties adjacent to Scenic Hudson parks may permit hunting.
Wear bright clothing. Think orange, red and yellow — and steer clear of gray, brown, tan or white attire. Also outfit your dog with a fluorescent harness, collar or bandana.
Keep your pet leashed. Don't let Fido rustle through the underbrush.
Hike during the day. Hunters are most active at dawn and dusk.
Stay on marked trails. This is NOT the time to go bushwhacking.
Make lots of noise. Deer don't sing or carry on conversations.
For hunters:
Follow all DEC guidelines and stay out of areas posted off-limits to hunting.
Wear "hunter orange" visible in all directions.
Clearly identify your target before shooting.
Be alert when hunting near developed areas and trails.
Hunting has taken place in the Hudson Valley since Indigenous people chased mastodons. For many, it remains an important aspect of their outdoor appreciation — as does hiking for others. We're lucky to live in an area where we can enjoy both while respecting and watching out for our fellow nature enthusiasts.