Frederic Church and his fellow painters of the Hudson River School saw nature in a beautiful, romantic light. Contemporary artists can't, says Jean Shin: "We don't have the ability to romanticize nature because of climate change."

Shin, who was born in South Korea, now divides her time between Brooklyn and the Hudson Valley settlement of Hurley. Her work spans photography, video, sculpture and beyond, and she has exhibited at museums that include the Museum of Modern Art and the Smithsonian.
The artist has two large-scale new exhibitions in the Hudson Valley this spring. Both reimagine what's left of majestic old trees in a time they are existentially threatened. "Fallen" recently opened at Church's showplace Hudson estate of Olana; "Allée Gathering" recently opened at Art Omi. In her work there and elsewhere, Shin seeks to "update our relationship to nature and re-frame nature as a backdrop," she says.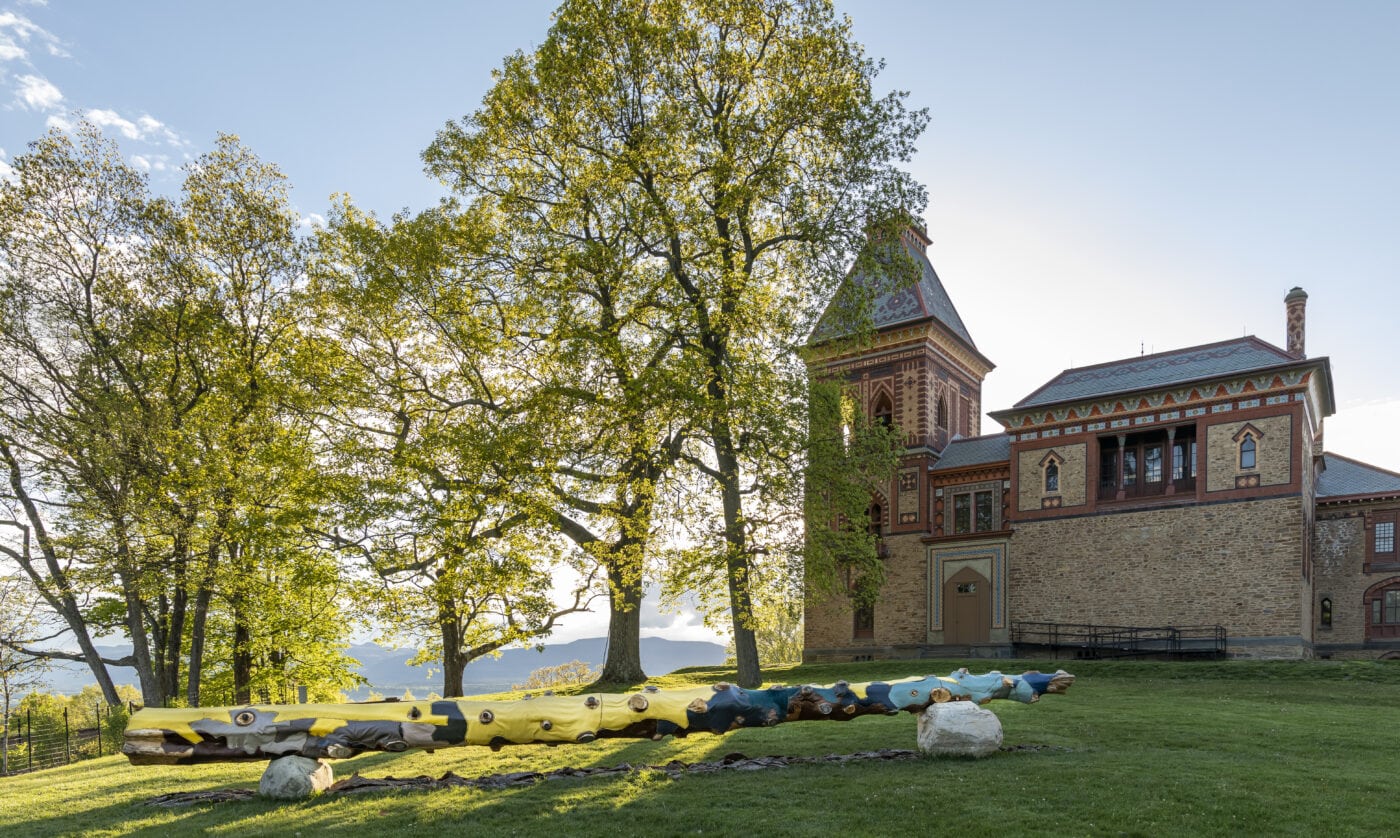 Church purchased a farm and built his home on an estate that would later be known as Olana between 1860 and 1872. From there, he witnessed the deforestation of hemlock trees whose bark was used in the leather production industry.

The painter responded to this in his works of the period by including fallen Eastern hemlock trees. He also planted thousands of trees on the property, including hemlocks. Last year, a 140-year-old hemlock tree died of natural causes at Olana. Shin was commissioned to create "Fallen," which pays tribute to the life of the tree.
For Shin, it was important to contextualize the site. "I thought about Olana's origin story, the vision of Church and the view he had from Olana," she says. "He was looking at the Catskills, and I live near this area, which in present day is known for its beautiful forests. So to learn that it was completely devastated by the tanning industry, I was struck by the horror of how it happened."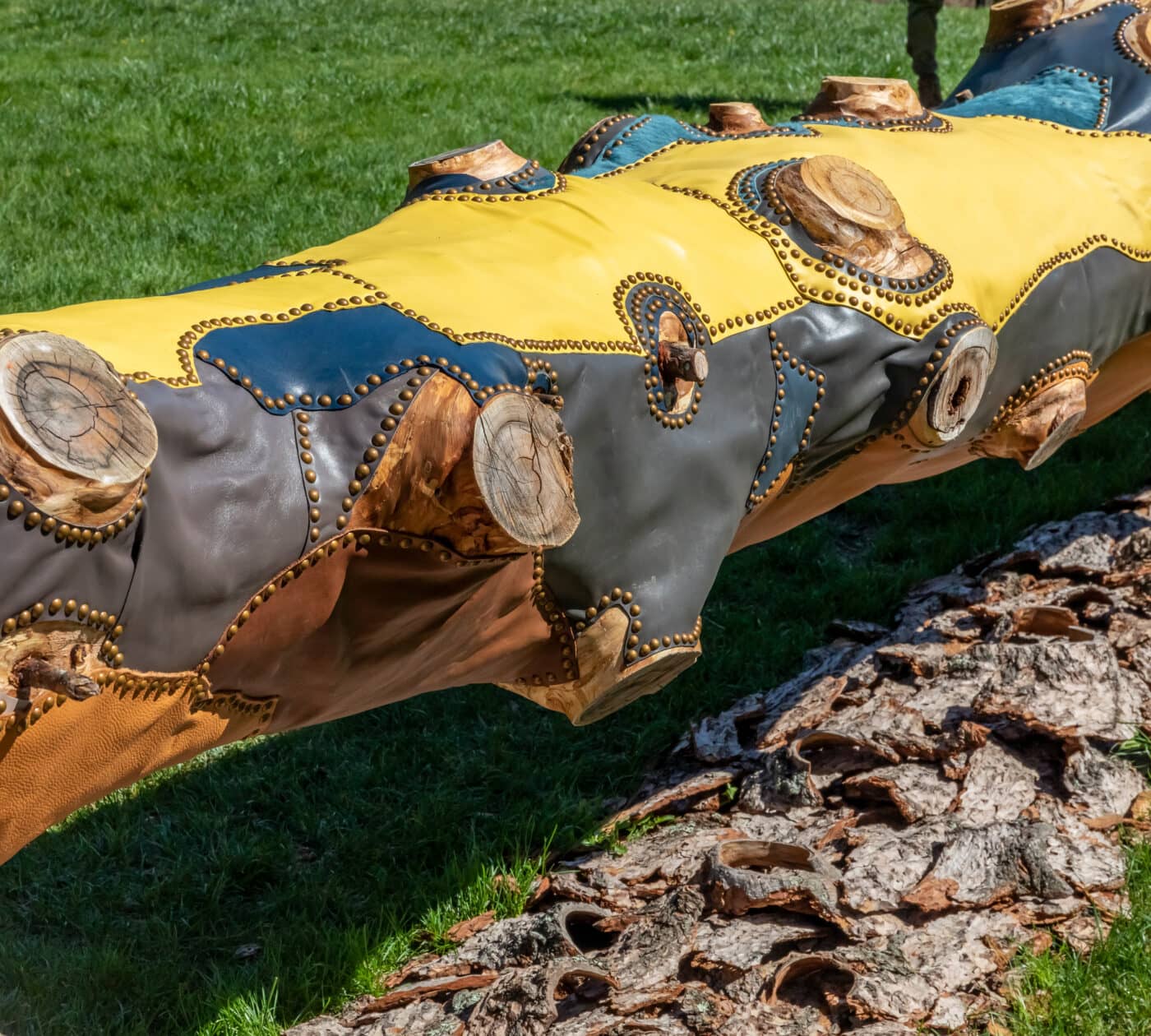 Shin has previously used leather remnants in her work. She has always been interested in "how strange it is that we protect our skin with the other skin of an animal and how we don't question where the material comes from and not seeing it as a second skin," she says. "I thought I could weave the interest I had in creating a second skin and the debarking process. This is a modest re-creation."
The death of the hemlock tree happened as the COVID-19 pandemic swept across the globe, leaving a trail of lost human life and lingering trauma. "Just like deforesting, a huge population [of humans] was gone," Shin says. "I was thinking about how we mourn and grieve this loss. Funerals are a way of celebrating the life of someone or something, and this tree would be a way for us to go through that loss emotionally and psychologically. This tree is now at rest and is like an open casket where you say your final goodbyes and wish it peace."
To debark the tree for the exhibition, Shin used a spud, a hand-forged metal instrument typical in the 19th century. It was important to her to "imagine what 150 years ago felt like," she says. "They were using such simple tools back then, and they could deforest a tree that lived for 500 years. I wanted to experience this process and acknowledge it. No one uses this method to debark anymore, as we have chainsaws now. It was bittersweet that it fell so quickly in these big shards of bark."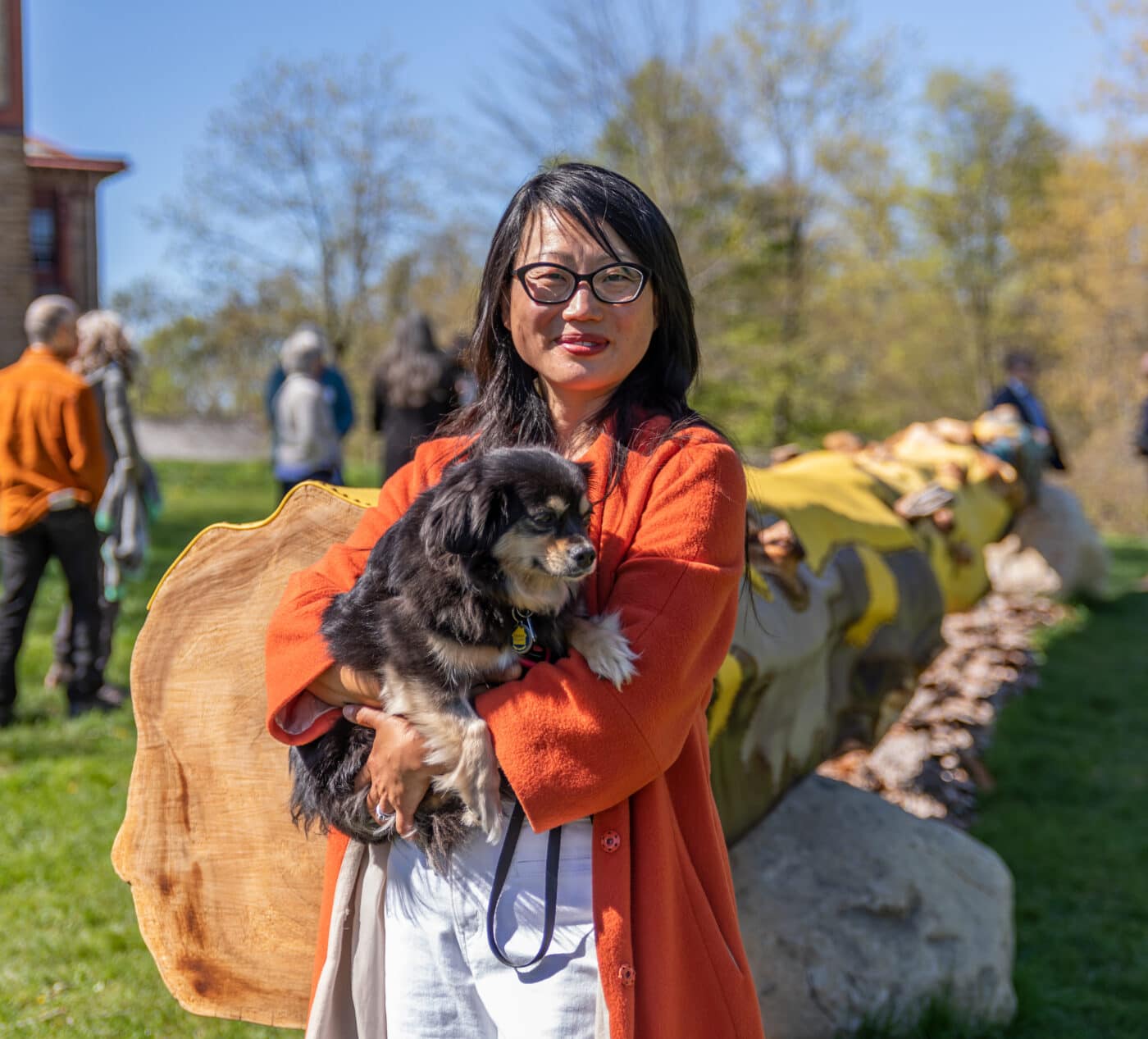 Shin hopes that visitors to the exhibition will be drawn to the striking colors of the leather and the shroud. "People may then come closer to touch the leather, which is a beautiful and luxurious product, so you want to touch it. But it is that luxurious desire that caused the death of hemlocks in the Catskills, particularly the fashion industry. So I want people to wrestle with that and think about the true cost of our desire for leather on the planet."
In addition to "Fallen," a mapping project allows visitors to the 250-acre Olana grounds to see hemlocks thriving in the landscape. Prior to the beginning of the exhibition, volunteers mapped more than 500 hemlocks and tagged them using leather remnants that Shin branded with the word "Hemlock." Ecology students from Greene Community College will continue to map and document threats to the species, which over the past few years has become dangerously infested with the invasive woolly adelgid in New York State.
Church was one of the artists who formed the collective known as the Hudson River School. Early in her career, Shin drew on its tradition by sketching landscapes in plein air. She committed herself to spending time in the landscape. And like Church, she makes her work about looking at our ecology and connection to nature — even though, in the age of climate change, those connections look very different, and often feel more precarious.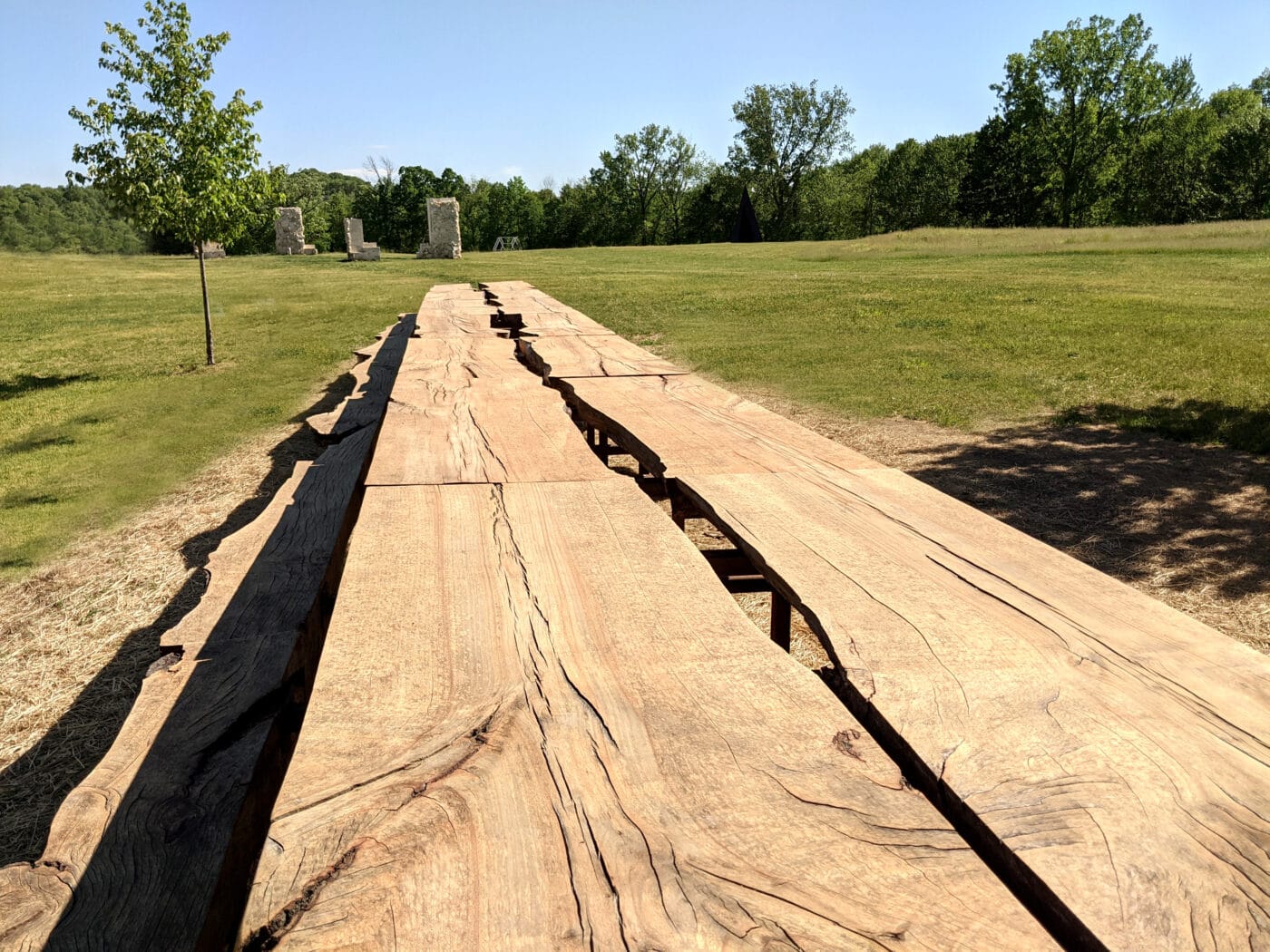 For Allée Gathering at Art Omi, Shin used salvaged wood from maple trees at Storm King to create a picnic table. The table is deliberately set among Art Omi's community of young maple trees, intended to spark dialogue on tree health. Of the work, Shin has said: "When you sit at a table and feel the surface and the wood grain and you touch it, you really feel like you're inside that tree in a way that's different from when you walk through a grand landscape."
Back at Olana, "Fallen" (part of a larger exhibition called "Cross Pollination: Heade, Cole, Church, and Our Contemporary Moment") will close on October 31 — just before the Day of The Dead holiday celebrated in Mexico and beyond on Nov. 1.
After it ends, Shin hopes to salvage the leather and give it yet another life. The trunk, she hopes, can become part of the Olana landscape in some way.