Jessica Alonso never really envisioned herself as an activist. But in mid-2020, the Kingston YMCA Farm Project Youth Crew member, along with her colleagues Aleshanee Emmanuel and Briana Gary, started leading teen group discussions of anti-racist activism.
As they dove deeper, they came to believe that Sojourner Truth, an African American woman born into slavery in Ulster County, was not being credited enough for her range of ground-shaking work. Among her efforts: Truth advocated for the abolition of slavery and women's suffrage, recruited Black troops to the Union Army during the Civil War, helped formerly enslaved people receive federal grant aids and successfully sued a white man on behalf of her son — becoming the first Black woman to seek justice through the U.S. courts and win.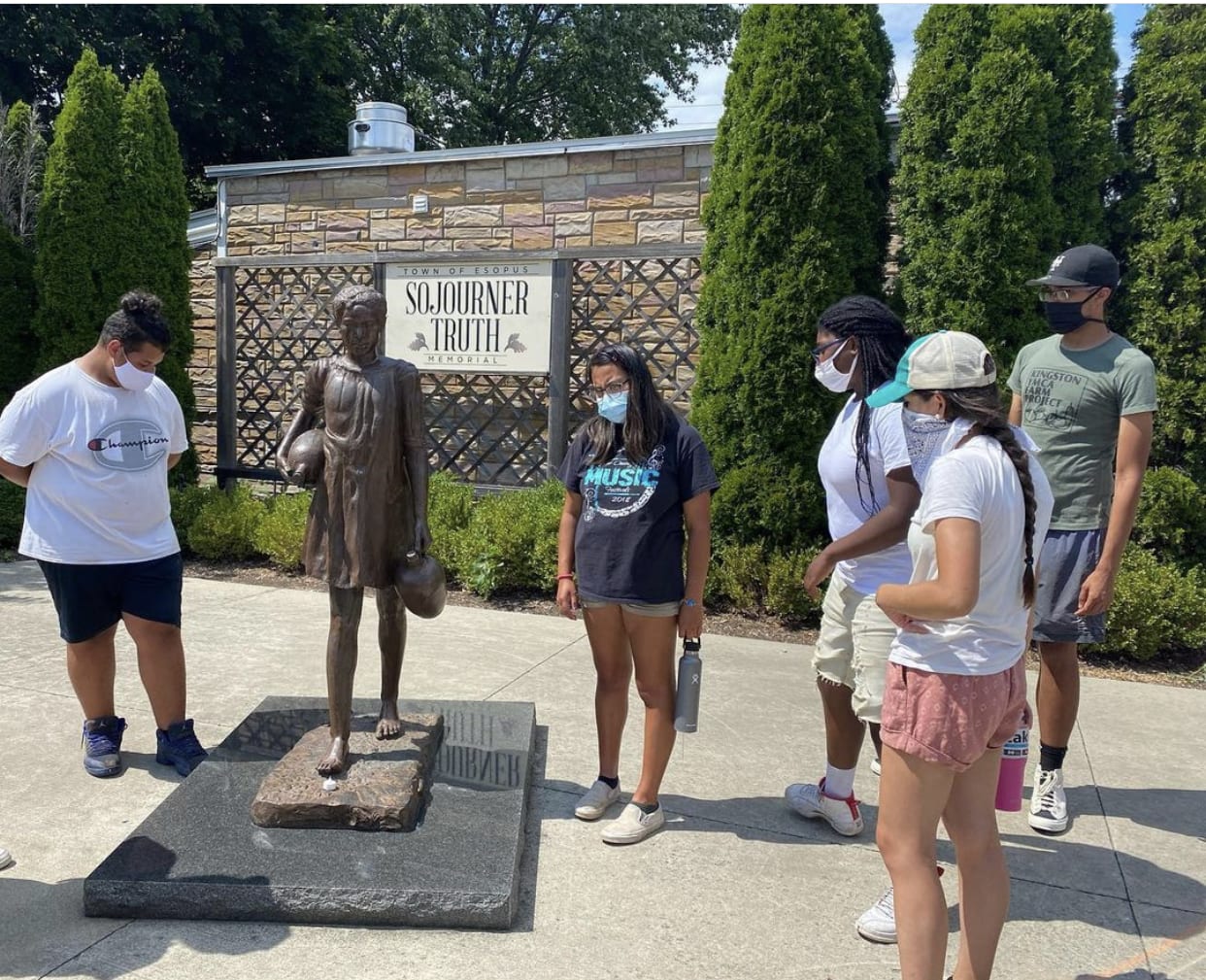 Alonso, Emmanuel, Gary and their colleagues decided that Ulster County should declare a day in honor of the abolitionist. "I always thought Kingston should have a Sojourner Truth Day," Alonso says. "She is a local hero, she was born in Ulster County, so I thought she should be honored."
The Town of Esopus (home of the 11-mile Sojourner Truth Freedom Trail) and the City of Kingston agreed to recognize such a day in their municipalities last year. On Nov. 17, 2020, with the Youth Crew looking proudly on, the county legislature agreed to extend the recognition. It designated Nov. 26, the recorded date of Truth's death, as Sojourner Truth Day throughout Ulster County.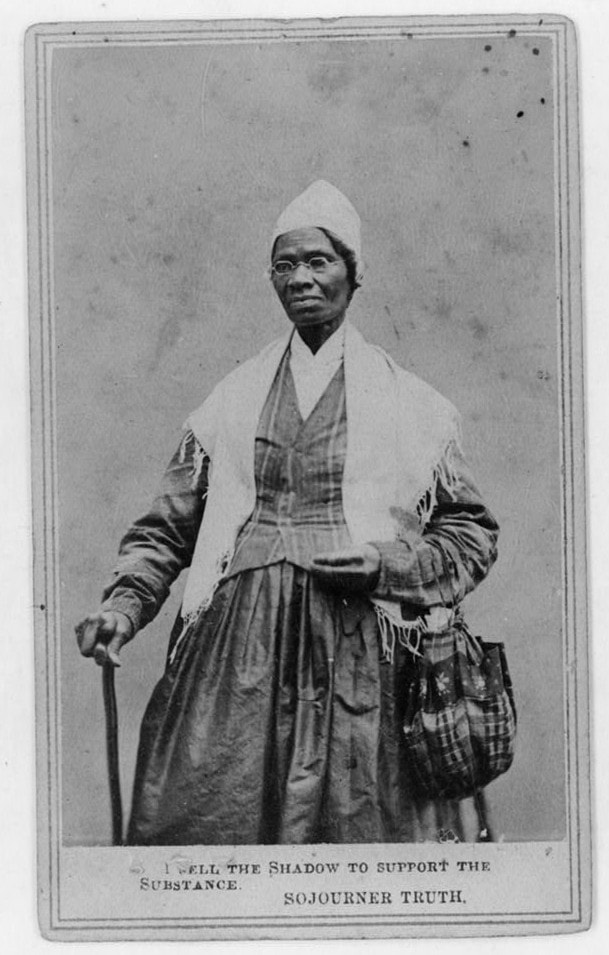 The youth-led movement received support from Kingston Mayor Steve Noble, as well as Peter Criswell, the Ulster County Legislator for District 7 in the City of Kingston. "There's such a good local connection with Sojourner Truth's story that it just makes sense to honor her legacy on the county level," Criswell says. "Optics are important. When a young Black girl sees that a Black woman is elevated to a position of having a day named after her, it leads to a connection of understanding."
Next, Emmanuel plans to petition that the holiday become recognized as an annual one locally. And her group hopes to work with New York State legislators to designate Sojourner Truth Day as a state-recognized holiday as well. Last June, the Senate passed a bill supporting that step.
The youth activists plan to take a reflective, socially distanced walk on the day and suggest others do so as well.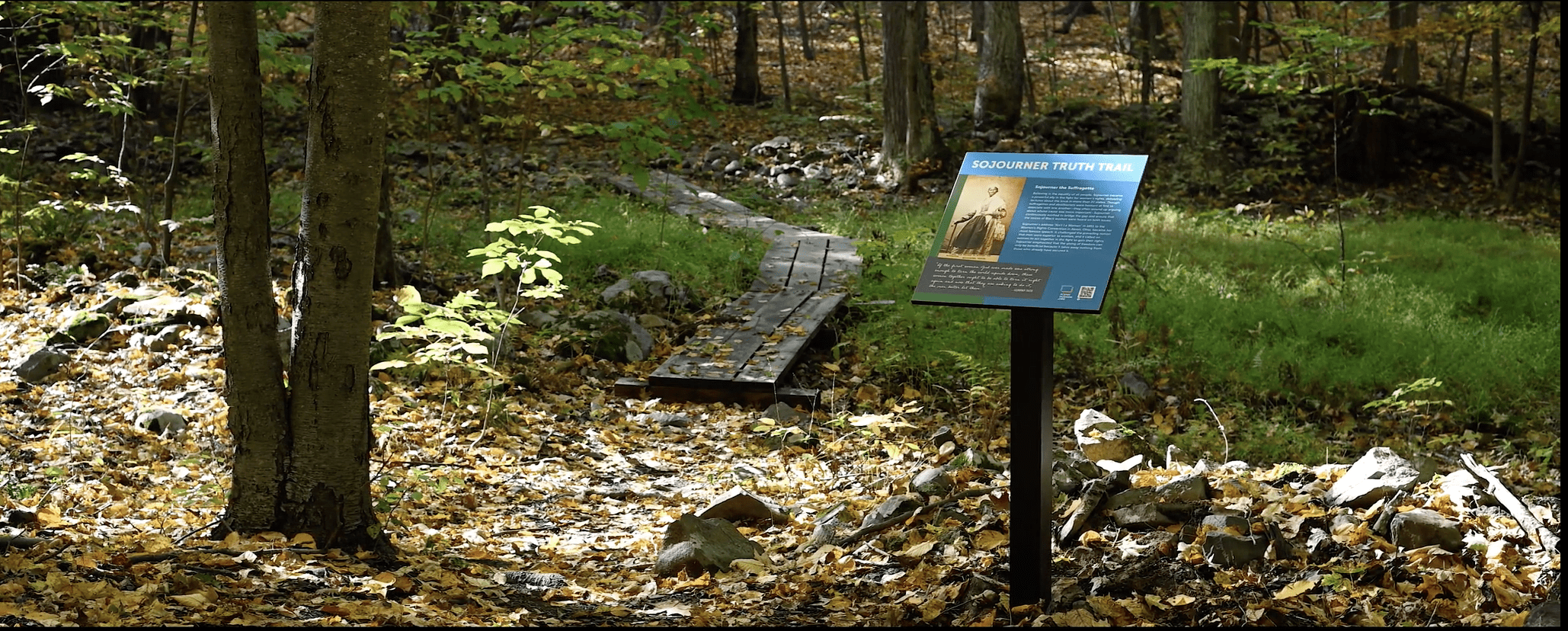 Sojourner Truth Day builds on recent recognitions in the Hudson Valley that further her legacy — and offer new places to take that reflective walk.
Scenic Hudson installed a Sojourner Truth interpretive trail at its Shaupeneak Ridge park that highlights her life's journey. Shaupeneak was a significant site in Truth's life, since she walked — she purposefully did not run, she would later say — to freedom with her baby over the ridge.
Another spot to consider visiting: Walkway Over the Hudson, where a seven-foot bronze statue of Sojourner Truth was unveiled on the Highland side of the walkway in August 2021. The statue was made by Yonkers-based sculptor Vinnie Bagwell.   
And in February 2022, Governor Kathy Hochul announced that the new state park in the City of Kingston and Town of Ulster would be named after Truth. Speaking at the official opening of Sojourner Truth State Park two months later, Barbara Allen, Truth's sixth-generation granddaughter, noted that "She may have left, but her spirit is always here."