Growing up in Queens, I never once thought, "I'd like to study eels one day," but in early 2020 my teenage son was looking for volunteer opportunities. When I heard about the eel monitoring that Scenic Hudson collaborates on with the New York Department of Environmental Conservation, I thought this might be something the whole family could actually enjoy doing together.
Countless American eels make an important migration from the Atlantic Ocean up the Hudson River each spring while they're in their see-through, or glass, stage. Since the Eel Project's start in 2008, 1,000-plus volunteers have caught, counted, and released more than one million glass eels, helping these animals access better habitat.

Our first eel study training was set for Saturday, March 14, 2020. If you remember what happened to your life around that date, you won't be surprised to know we didn't begin studying eels then. Fast forward to spring 2021. Small "pods" were allowed to volunteer together! The family and I were excited to get out of our bubble and into nature.
But what was this eel monitoring all about? What did we need to prepare? Would the water be freezing in March? How deep is the water? Would it get too buggy in the summer? Are we really going to do this? Can we do this? Here, in photos and videos, are the answers our family discovered to all our questions.
THE GEAR
The fun began with the gear. Even though the DEC provides everything that you'll need (from hand sanitizer to waders), in the middle of a pandemic, we felt more comfortable purchasing our own. There are affordable options online. We figured even if we never did this again, we'd be prepared for fly fishing, a severe flood, or at least an awesome group costume for Halloween.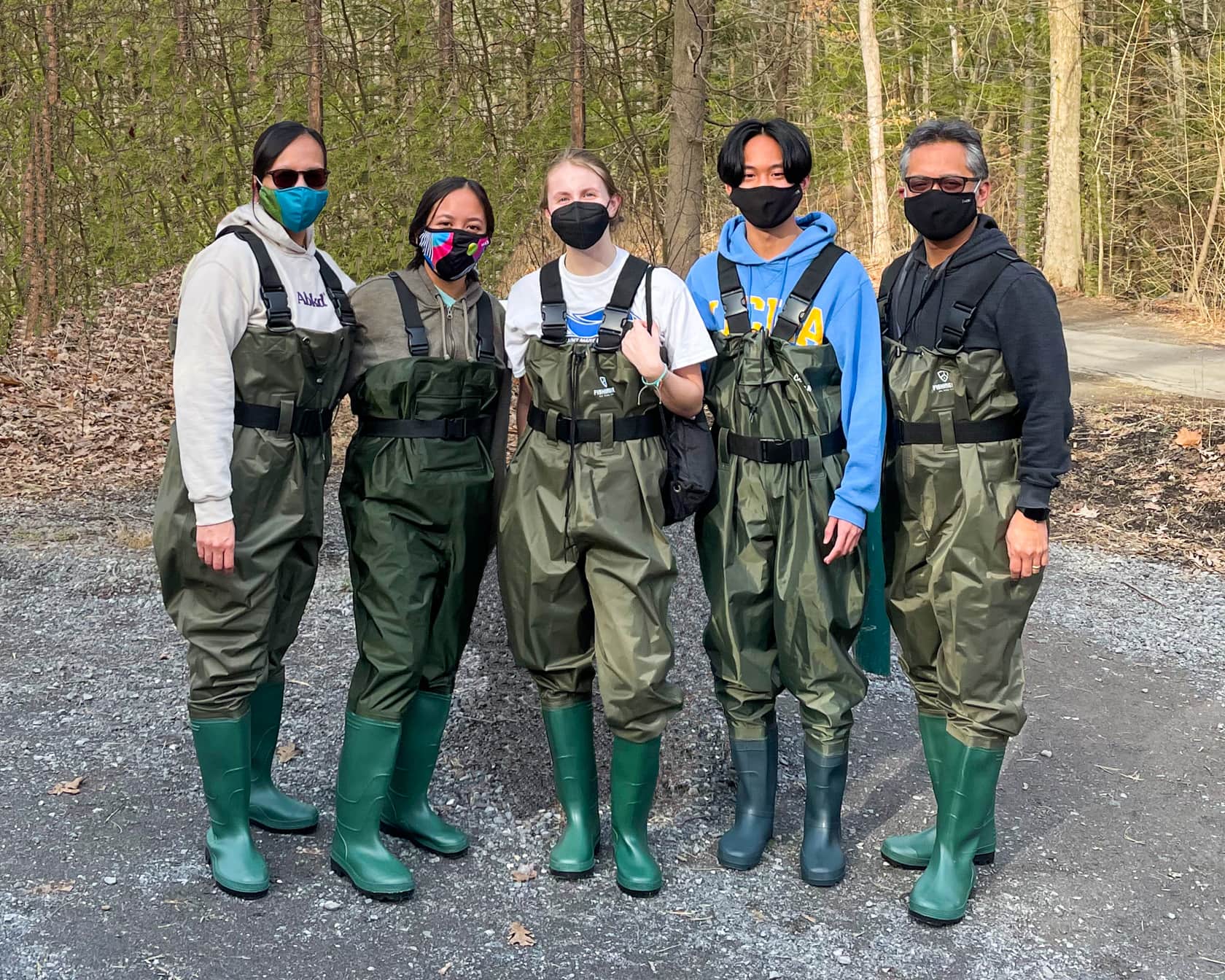 TRAINING
The Eel Project Coordinators Sarah Mount, SCA member Kate Cooper, and Chris Bowser of NYSDEC's Hudson River Estuary Program shared the basics about glass eels and the importance of counting them. Essentially, their journey starts out in the Sargasso Sea, where the adults spawn. When the eggs hatch, the baby eels are transparent — helping them drift into streams, rivers, and lakes virtually undetected by most predators. After traveling 3,700-plus miles, they stay in freshwater from 10 to 25 years until they begin migrating back to the Sargasso Sea. Our task was to count young eels as they continued their migration upstream.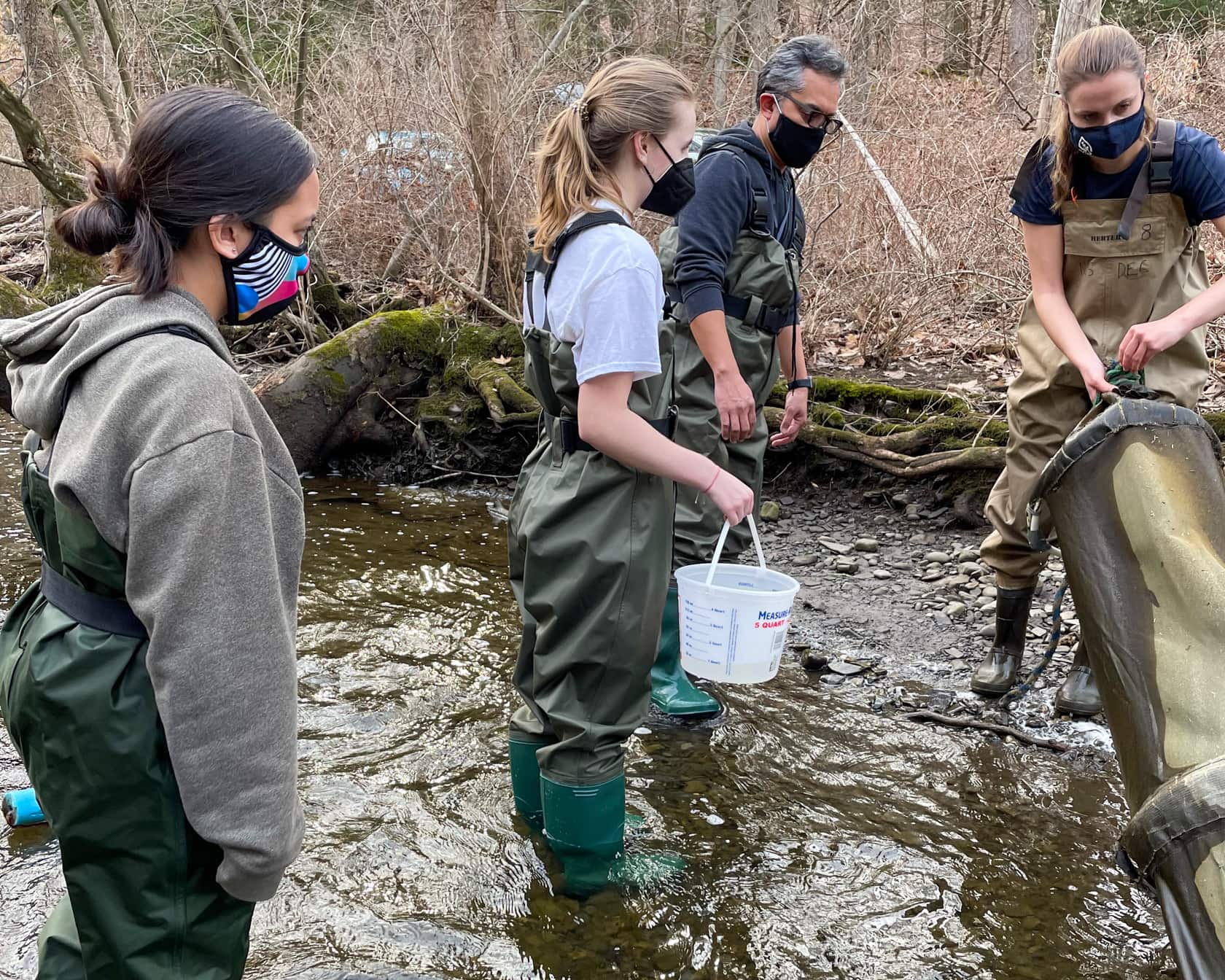 COLLECTING
Every Thursday, we would eagerly take a break from working indoors and travel 45 minutes north to count some eels. How do you catch an eel? With a long tubular net called a fyke net, of course. The net is set in shallow water and designed to only catch eels.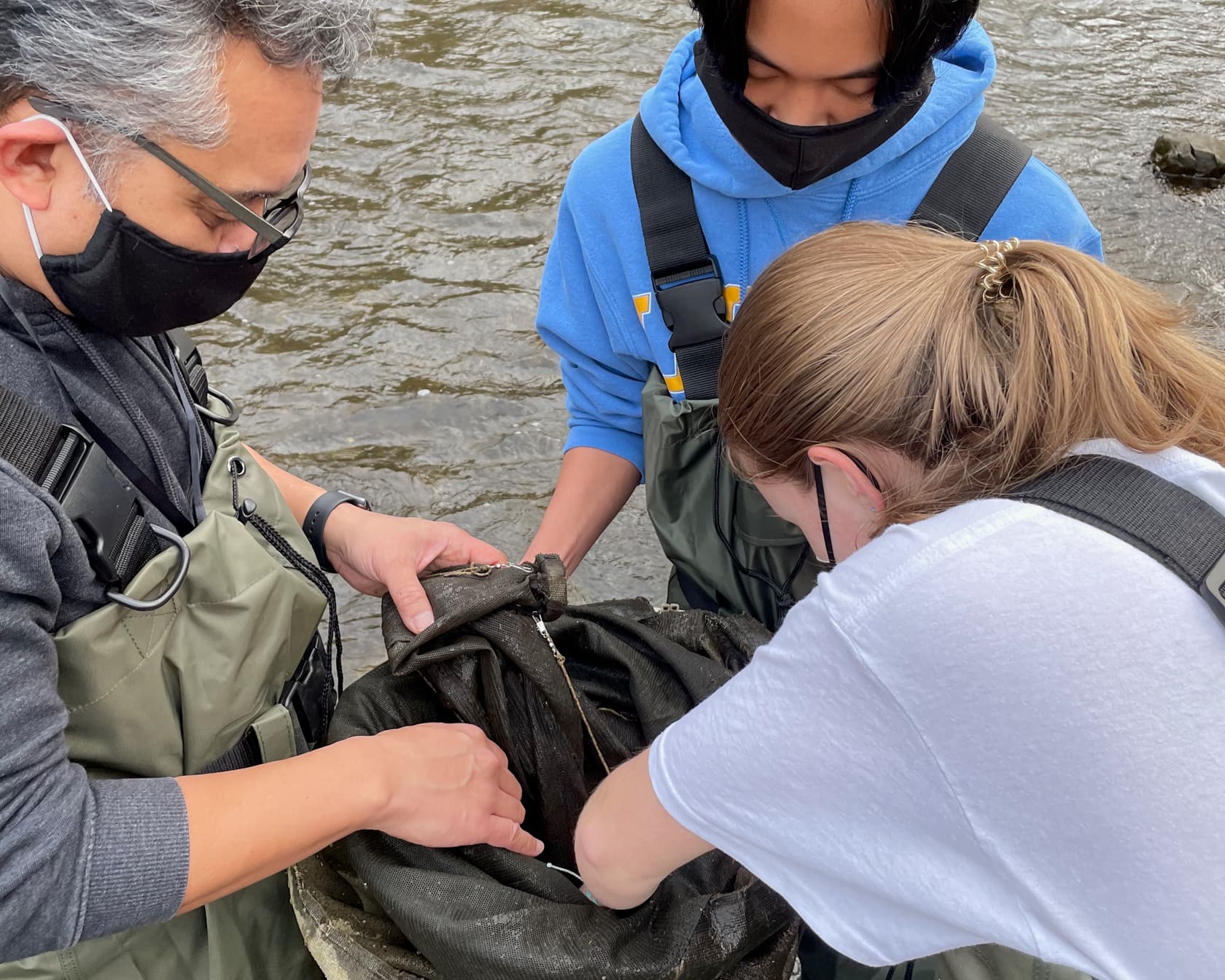 COUNTING
After we gathered some eels into a bucket, we would tally up the numbers. There were two categories: glass (transparent juveniles) and elvers (slightly more mature ones that have gained some color). Our highest count was approximately 600 eels one day.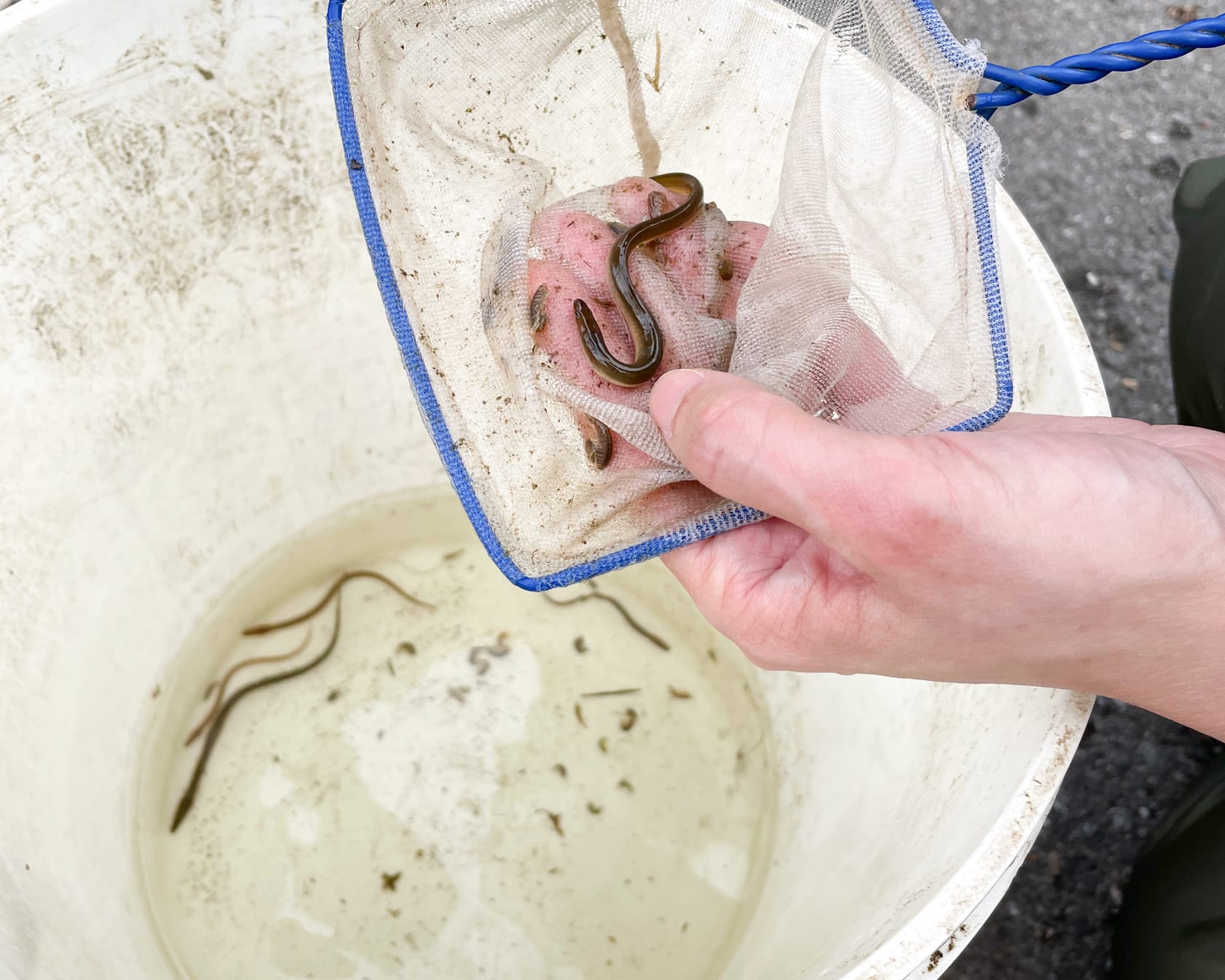 REPORTING
Reporting was super-easy. All we needed to do was record some basic information: date, time, tide, weather, eel count, and any other observations that we thought might be relevant.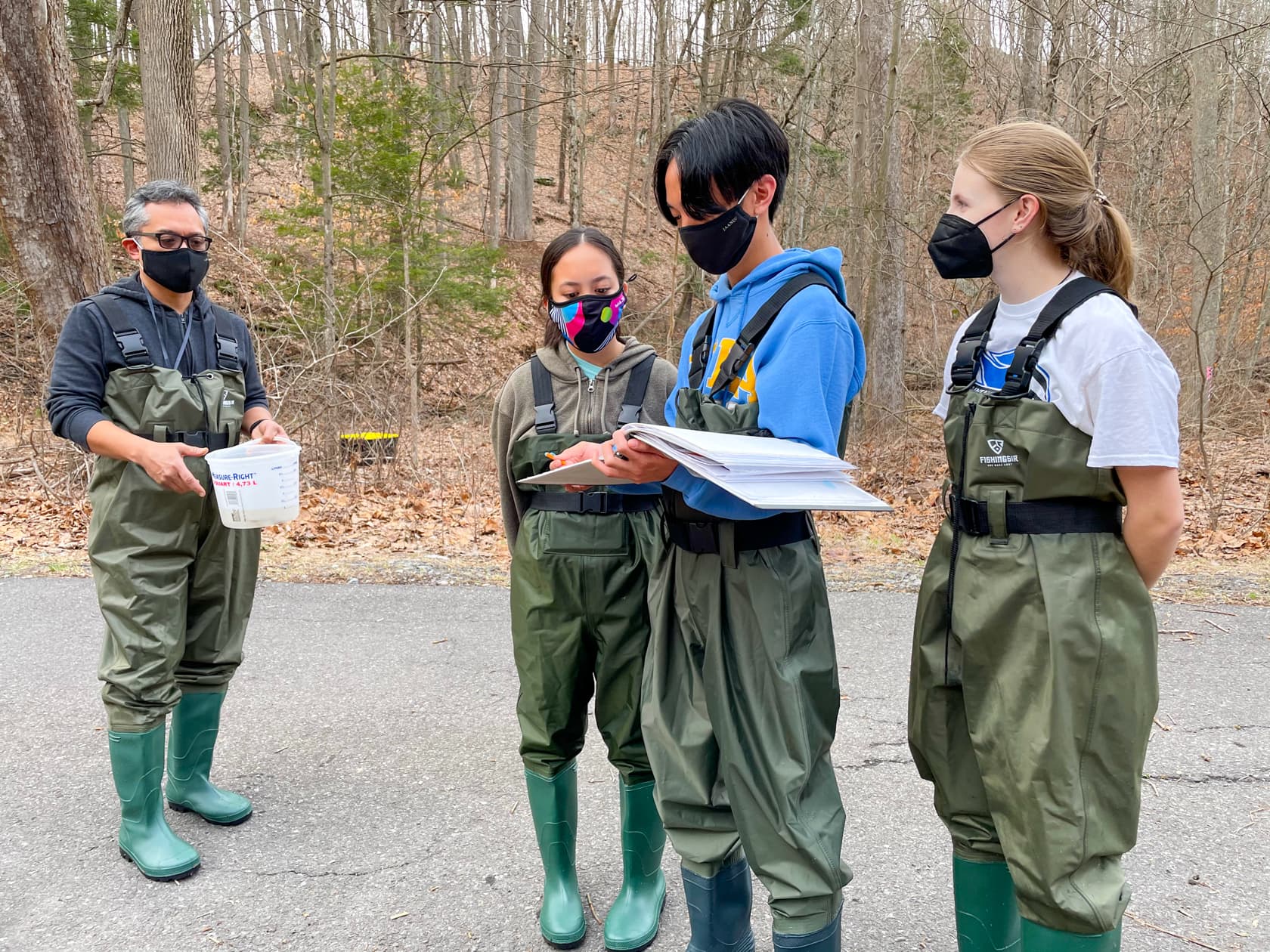 BENEFITS
Overall, there were many benefits to eel monitoring as a family.
It forced us to spend time away from our devices.
For one dedicated day a week, we were together in the outdoors. Oh, and some of us may have pretended to be scientists.
The setting was incredible.
Having the creek to ourselves, we didn't have to worry about COVID-19.
There was always something interesting to observe (e.g., a beaver we named Justin, great blue herons, an albino carp the DEC called Carl, millipedes, centipedes, other crawly things).
Putting on waders was fun, and getting in the water is not something we would have ever planned on doing on our own.
We learned how to tie proper square and half hitch knots.
It was a unique experience. How many people can say they were eel monitors in their lifetime?
We felt like we were doing something important.
We made some really great memories. Press play below to view some of our favorite moments.
My Family's
Eel-monitoring Experience

At the end of the season, we had an outdoor "Eelibration" at Scenic Hudson's Esopus Meadow Preserve, where we talked about our experiences and the collective data was shared with us. Together, we had counted 77,350 glass and elver eels! We were each rewarded with a cool T-shirt, a certificate, and a poster about eel migration. It felt great knowing that we got to play a small part in an important study that spanned from NYC to Albany.
Yes, it felt like something different and fun to do on a Thursday afternoon, but we were, also, truly honored to have had the opportunity to participate in the Hudson River Eel Project. Special thanks to NYSDEC's Sarah Mount, Kate Cooper, and Chris Bowser in partnership with Scenic Hudson's Anthony Coneski and Helena Mazurek, for all their efforts in making sure our experience was enjoyable and safe. We look forward to doing it again next year.
VOLUNTEER
Interested in eel monitoring or other similar community science opportunities?
NYSDEC and Scenic Hudson invite you to join the 2023 eel counting season by joining our first virtual training on March 1! Learn about the mysterious life cycle of this fish that swims thousands of miles to grow up in a Hudson River tributary, and the eel-monitoring project's goals for this year at Scenic Hudson's Black Creek Preserve.
Here are some additional links:
Jo-Anne Asuncion is a communications assistant and photo archivist at Scenic Hudson. She enjoys photography, birdwatching, hiking, and exploring the Hudson Valley from her home base in Wappingers Falls.