Environmental changes can move at a snail's pace, making them costly to record and hard for the average person — and even scientists — to visualize. Now, Scenic Hudson has introduced an inexpensive but innovative feature in a handful of parks that could make it possible to watch change taking place while it occurs.
It's called Chronolog, and its success depends on your cellphone and about 30 seconds of your time.
This month, Chronolog is coming to RamsHorn-Livingston Sanctuary, Madam Brett Park, Esopus Meadows Preserve and Long Dock Park. At each, you'll find a station (2 at RamsHorn) with a platform facing an area that Scenic Hudson scientists are eager to monitor. Directions instruct visitors to position their phones on the platform's bracket, take a photo and email it to Chronolog.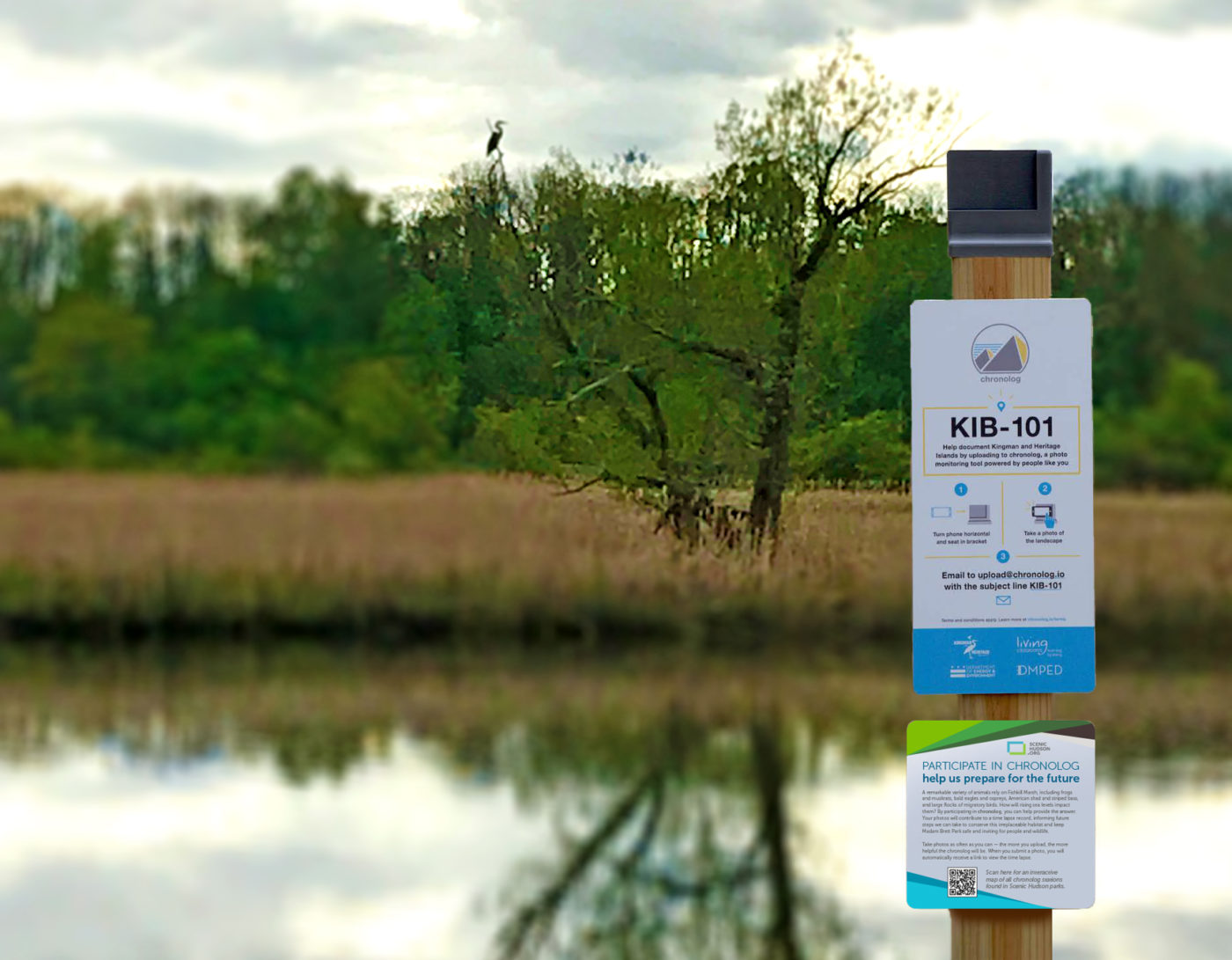 Snap, send and scoot. Just remember to take a new photo each time you visit.
The magic happens back at Chronolog, where individual images are collected and turned into a time-lapse video documenting changes over the days, seasons and years. All who contribute receive a link to the video, so they can keep track of regular updates.
Tracking the impacts of sea level rise
Established in 2019, Chronolog grew out of an interactive community science project developed by a biologist studying bees at the U.S. Geological Survey. Currently, there are recording stations at more than 130 sites nationwide, from a Vermont marsh and Oregon creek to a Texas forest. The ones in our parks are positioned specifically to record how sea level rise along the estuary impacts tides and, in turn, park trails and habitats. The stations at RamsHorn-Livingston Sanctuary and Madam Brett Park face marshlands, those at Esopus Meadows Preserve and Long Dock Park the Hudson shoreline.
Helping the public better grasp the reality of rising sea levels has long been a goal of Nava Tabak, Scenic Hudson's director of Science, Climate and Stewardship. "This kind of education is needed because sea level rise is so incremental that it's hard to document, and it's hard for people to really process and internalize sea level rise projections," she says. Her hope is that those who contribute to Chronolog and keep watching the videos will be inspired to support projects promoting sea level rise adaption and resilience in their communities.
Chronolog also could help Scenic Hudson overcome some ongoing maintenance challenges. For example, one station at RamsHorn-Livingston Sanctuary is positioned along a trail that often floods. "Getting a sense of how frequently it floods, how water shifts and changes through the tides, will be really important for us in managing it," says Land Stewardship Coordinator Dan Smith, who's overseeing the Chronolog project.
Another example: "At Esopus Meadows, we've been battling erosion along the shoreline for years. Learning how the tides are coming in and out, what kind of ice floes we're seeing, will be helpful in designing an ultimate solution to stabilize it," he explains. This not only will make public access to the water safer but protect important offshore feeding and nursery habitat for striped bass and other fish species.
How long will it take to see benefits from Chronolog? "That will depend on how often people use it," Smith admits. "The more pictures people submit, the faster it will become useful."
Still, he's optimistic. "It's a quick and easy thing that people can jump into, and that's why I'm hopeful they'll be excited."
Reed Sparling is a staff writer and historian at Scenic Hudson.