If ever there were a summer to make a splash, this is it. From the Outdoor Adventures section of our website, we've chosen five spots for chilling out that are less likely to overload our natural resources. And to make the fun last longer, we suggest some post-swim stops — places offering more Instagrammable moments, good food, and unique shops — for your trip home.
Minnewaska State Park Preserve, Ulster County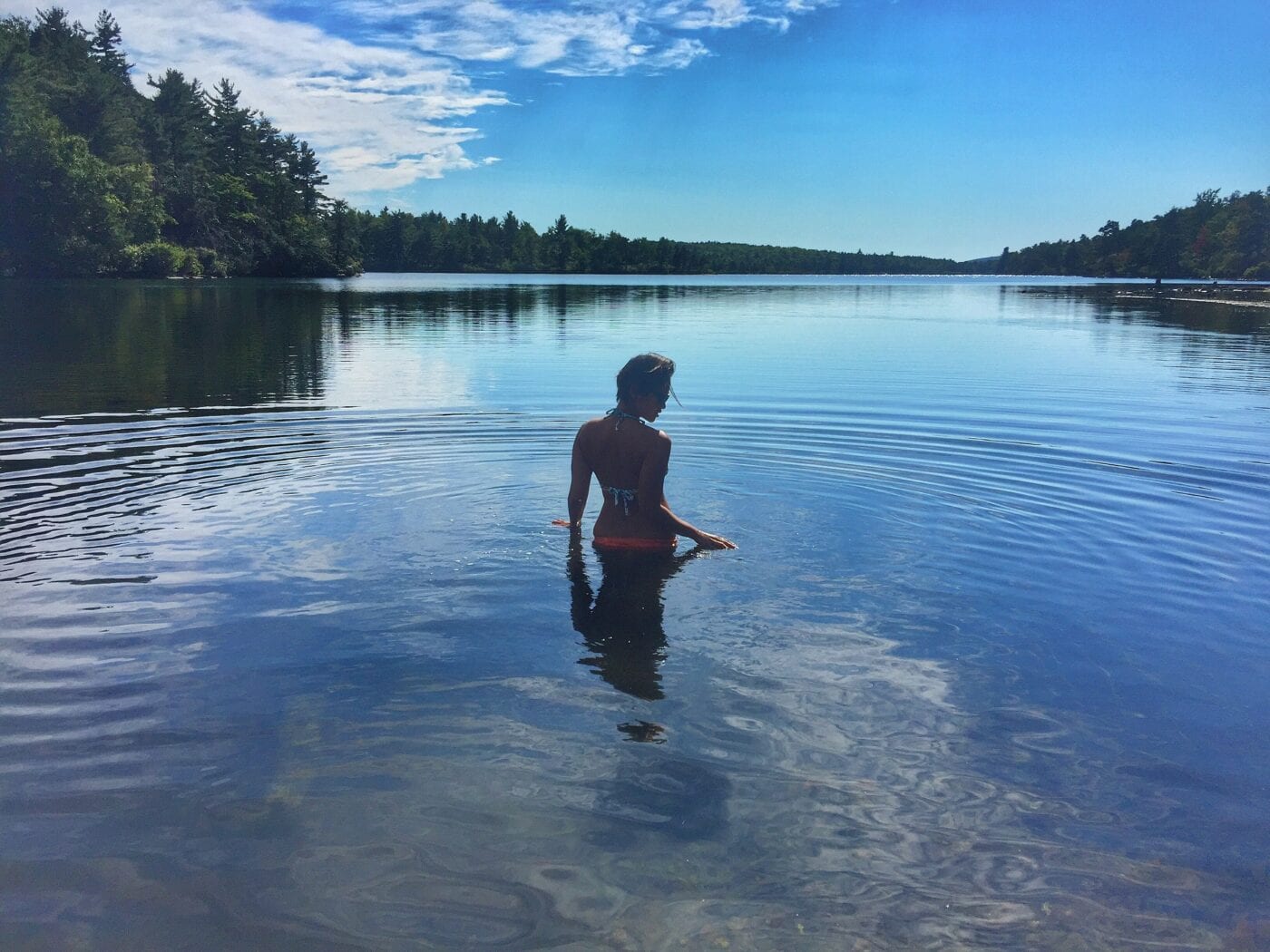 What's so special: Getting there. It requires a 3.5-mile trek that ascends gradually, allowing you to enjoy beautiful Shawangunks scenery without causing exhaustion. Oh, and the lake is pretty stunning, too.
Added attractions: Miles and miles of carriage roads afford spectacular views — plus, Awosting Falls plunges over a 60-foot cliff into a pristine pool.
FYI: The "beach" is a giant, fairly-flat rock slab that angles into the water. For those not up to hiking or biking to Lake Awosting, the beach at Lake Minnewaska is a short jaunt from the upper parking area. In summer, parking fills up early on weekends, so arrive early.
On the way home: You can satisfy just about any food craving in New Paltz and do a lot of shopping as well. Before heading into town, stock up on corn and other just-picked veggies at Wallkill View Farm Market. And on your way out, sample the ciders (from apples grown on site) at Brooklyn Cider House.
Fahnestock State Park, Putnam Valley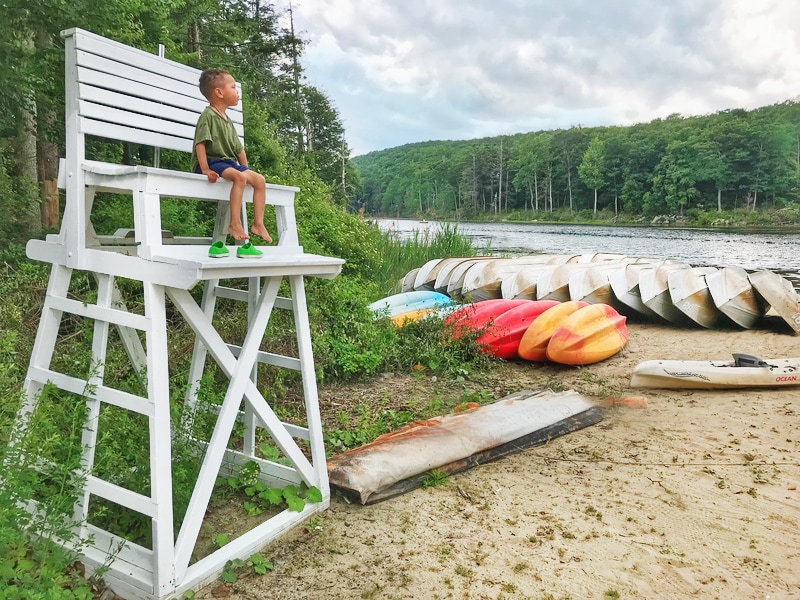 What's so special: Sand, sun, and woodland scenery.
Added attractions: Rent a rowboat for a spin around the lake, with or without your fishing pole. Surrounding Clarence Fahnestock State Park features 50 miles of hiking trails, many in the easy to moderate category.
FYI: The lake's location minutes from the Taconic Parkway makes it popular, so arrive early to guarantee a parking space. Campsites for rent (each equipped with a picnic table, fire ring, and barbecue grill) provide a level of privacy rarely found in valley campgrounds.
On the way home: Join the crowd on Cold Spring's Main Street, a mecca for food, antiques, and housewares. Walk through the ruins of a 19th-century ironworks at Scenic Hudson's West Point Foundry Preserve, or enjoy a show at the Hudson Valley Shakespeare Festival.
Pine Hill, Ulster County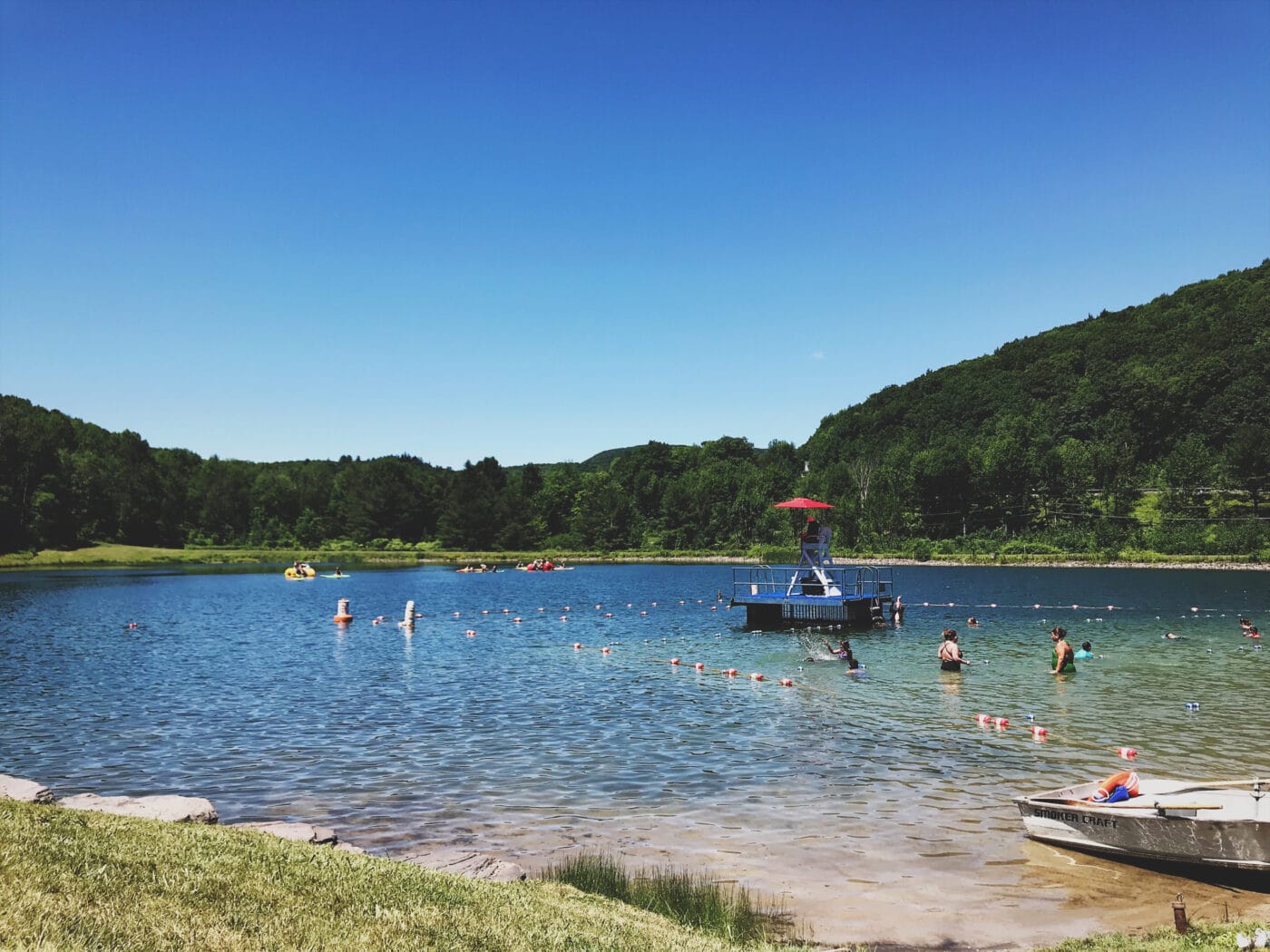 What's so special: A lake in the midst of stunning Catskills scenery offering people of all ages and abilities the chance to enjoy, including through lap lanes and a diving platform.
Added attractions: The beach and park offer a range of activities guaranteed to occupy the entire family for hours, including kayaks and pedal boats, a climbing wall, horseshoes, badminton, and volleyball.
FYI: Need more fun? Stroll around the lake or hit the nearby trail and hike up Belleayre Mountain. Those lacking the energy, or time, can still enjoy summit views by riding the Catskill Thunder Gondola.
On the way home: Despite its middle-of-nowhere location, Margaretville is one happening place. Its beautifully restored downtown features a remarkable variety of shops, galleries, and restaurants.
Haines Falls, Greene County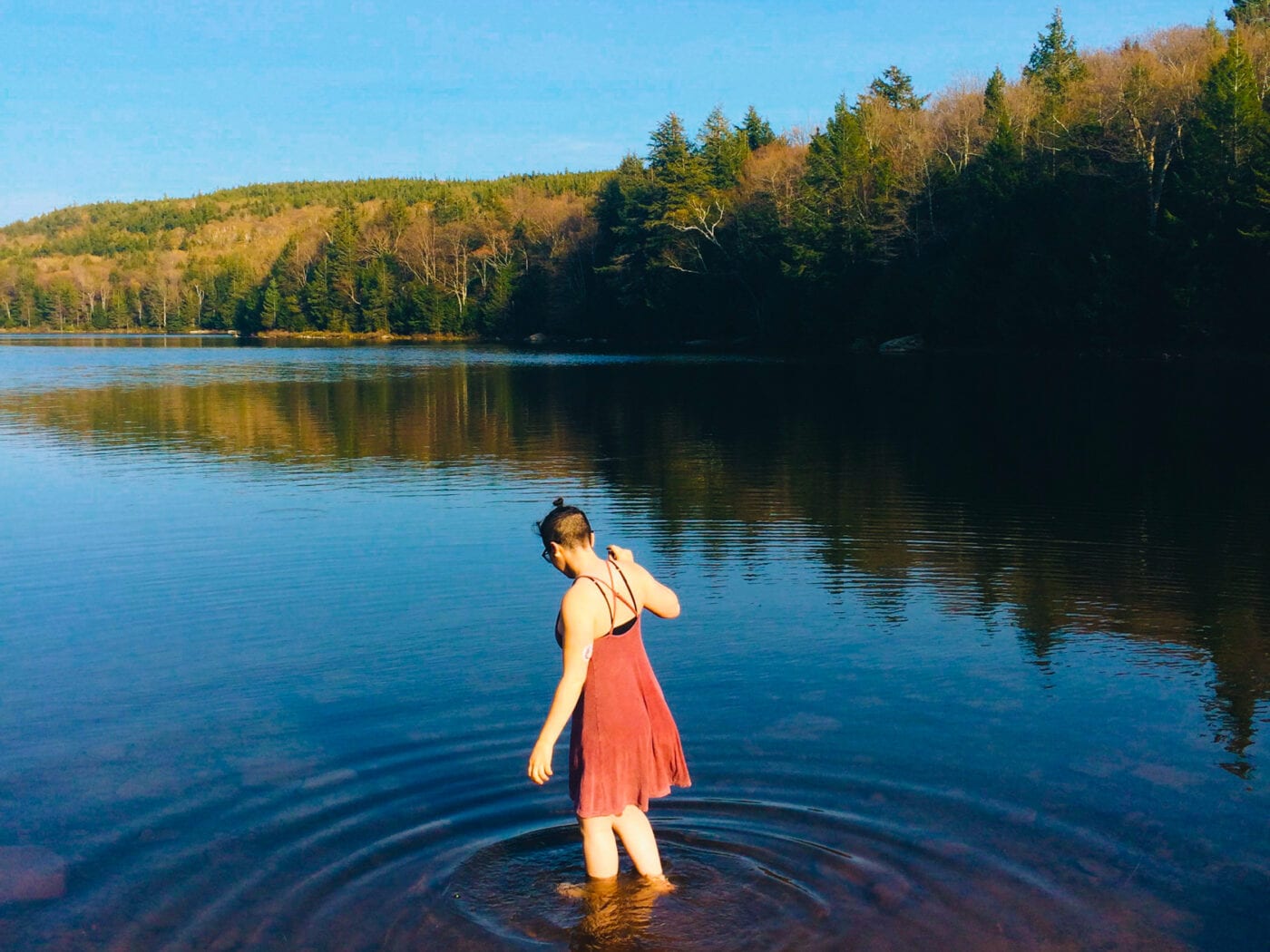 What's so special: Nestled in the Catskills, these twin lakes feature cool, clear water; surrounding mountain scenery; and a sandy beach.
Added attractions: Paddling, fishing, and miles of hiking trails along the Catskills escarpment. If nothing else, walk the short path to the site of the historic Catskill Mountain House, the Hudson Valley's premier 19th-century resort, and enjoy unforgettable views from its long-gone piazza.
FYI: The lake is located in a state campground, so consider extending your stay. Showers offer the chance to freshen up before heading off to the next adventure.
On the way home: Take the short hike to view nearby Kaaterskill Falls, New York's tallest two-tiered waterfall. Further along Route 23, grab a bite and browse the galleries and shops on Catskill's quaint Main Street.
Ancram, Columbia County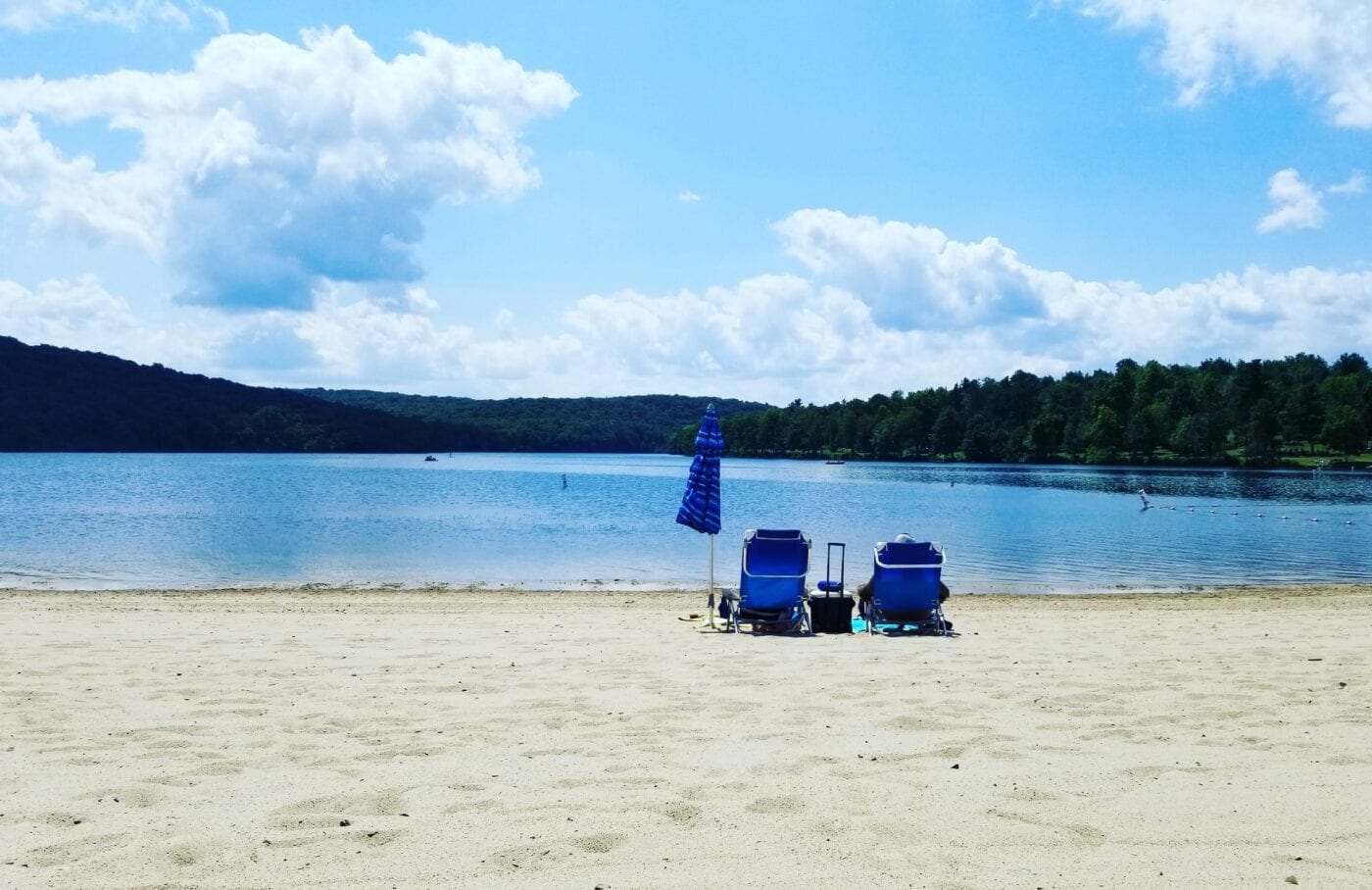 What's so special: Though right off the easy-breezy Taconic Parkway, the lake feels secluded.
Added attractions: There are miles of hiking and biking trails, as well as lots of fish to tempt anglers.
FYI: In addition to snack bars and showers for day visitors, the park offers campsites, cabins, and cottages to rent. The built structures contain kitchens and running water, so you don't have to rough it.
On the way home: Drive the hilly rural back roads to Tivoli, a small village with lots of fun shops and eateries. Don't leave town without stopping at Migliorelli Farm for fresh fruits and vegetables.