In 1825, artist Thomas Cole journeyed up the Hudson to capture the magnificence of the Catskills en plein air. This way of working, which involves sketching and painting outdoors to depict the dynamic qualities of weather and light, was a relatively new approach for Cole. Instead of following step-by-step instruction manuals as in the past, Cole used the direct study of nature to inform his famous landscape paintings, giving them an expressiveness and romanticism that would define America's first artistic movement: the Hudson River School.
Nearly 200 years later, plein air painting is as alive as ever in the Hudson Valley. You may even see artists set up their easels at spots made famous by artists of the Hudson River School during the Hudson Valley Plein Air Festival. Held Oct. 9-14, the festival is just one of many ways the tradition lives on in the Hudson Valley today.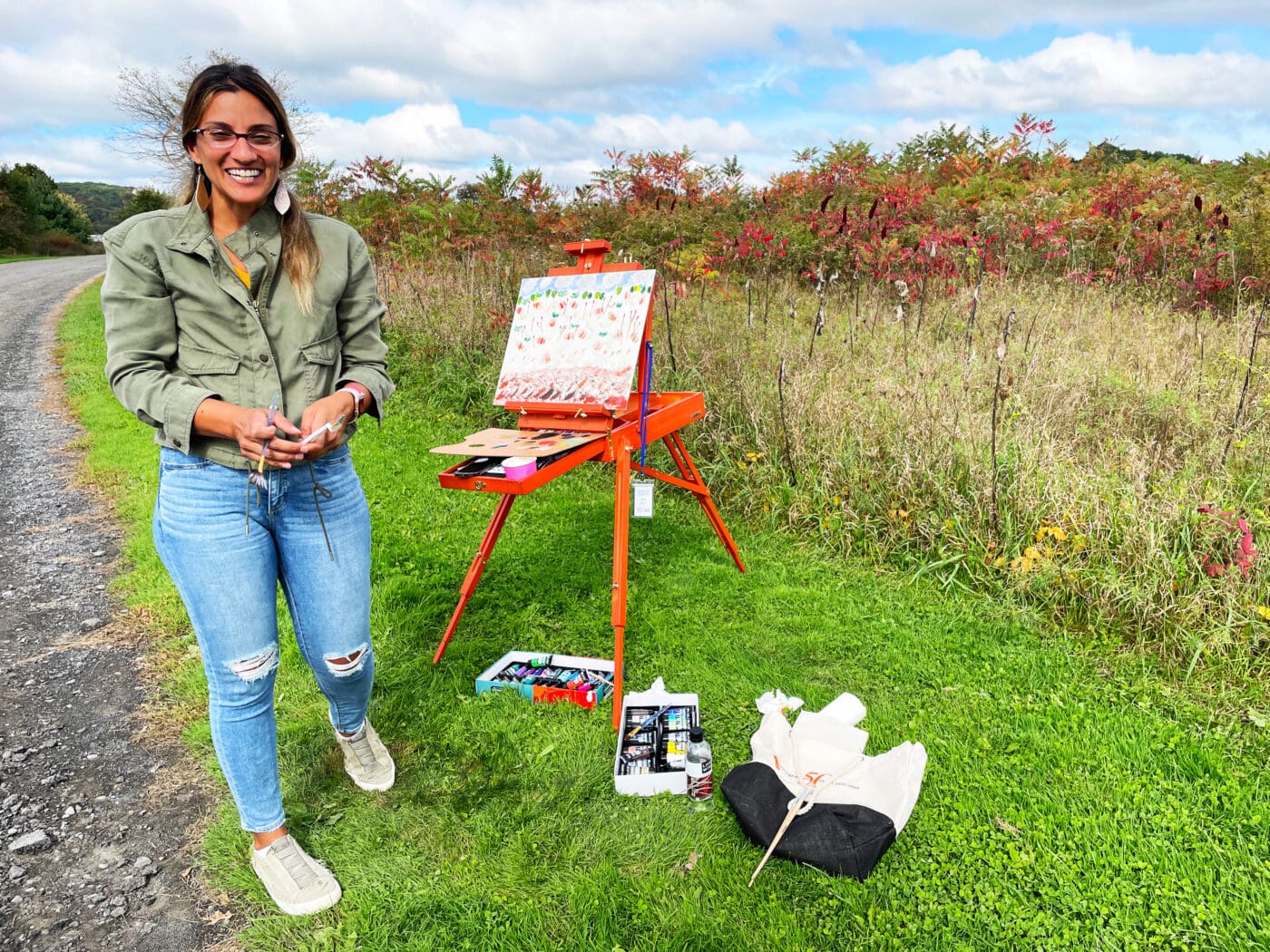 Keeping a Hudson Valley Tradition Alive
Presented by the Wallkill River Center for the Arts, the festival is approaching its 8th year. It has selected 46 participating painters to enjoy a week of outdoor paint-outs, public demonstrations, competitions, a gallery exhibit, and more.
To point artists toward particularly scenic areas, the festival provides all participants access to an online map with around 50 suggested painting sites, ranging from historic villages and public parks to private properties that have opened up for the festival. "It's important to do plein air programs to encourage people to appreciate and cherish the land, so we don't lose the flavor of this area," says Sarah Fortner Pierson, committee member for the Hudson Valley Plein Air Festival and executive director of the Wallkill River Center for the Arts.
Katie Langford, an artist and social worker in Glens Falls who participated in the 2022 festival, says it offered an opportunity to get to know the Hudson Valley more intimately. "I realized there's still a good chunk of wilderness out there," Langford says. "The Hudson Valley also felt historical, seeing how the cities and towns have developed."
This festival, and others like it, also help foster camaraderie among artists who often work alone, said former festival participating artist Ken Wilson, a retired New York state trooper who now has an art studio in Cohoes. "It's a great way to build fellowship with other artists who you have a spiritual connection with," he says.
The festival also opens the door for members of the public to continue the tradition of plein air painting in the Hudson Valley with its Painter's Pass, available to anyone regardless of their skills with a paintbrush.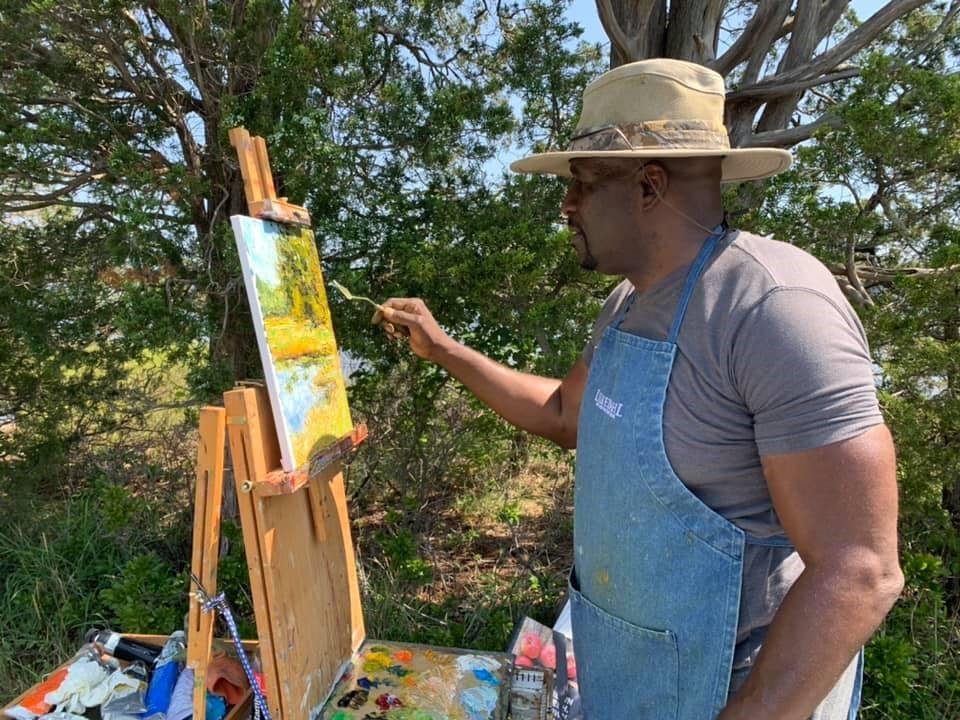 Connecting with Nature and Community
Perhaps one explanation for the longstanding tradition of plein air painting in the Hudson Valley is the technique's ability to foster a deep connection with nature. Plein air painting demands that you immerse yourself into one specific place and get to know it deeply — and the Hudson Valley has much natural beauty deserving of a closer look.
"Any time you paint or draw something, you look at it through a deeper lens. You see it with greater detail than you would on a hike or just passing through," explains Pierson. "You sit and study it, and look at the shapes, colors, and composition of the scene. You let it seep into you."
Vietnam-born Minh Doan, an arts student at SUNY New Paltz who participated in the Plein Air Art Walk at Mohonk Preserve in 2022, adds: "I walk by Mohonk [Preserve] every day but I don't have the chance to slow down and think about it until I do my painting and drawing. Plein air painting helps you see the beautiful things that you might miss out on in everyday life."
Another reason the Hudson Valley is a particularly inspiring place to practice painting en plein air is its diverse scenery. In a single day, an ambitious artist could paint the viewpoints at Olana State Historic Site once captured by Hudson River School artist Frederic Church, the waterfalls and rock ledges at Falling Waters Preserve in Saugerties, valley views from the Walkway Over the Hudson, and the cotton candy sunset over Storm King Mountain from Long Dock Park in Beacon — largely because plein air painting is a rapid art form. Artists paint quickly to beat changes in weather and lighting, often completing works in just an hour or two.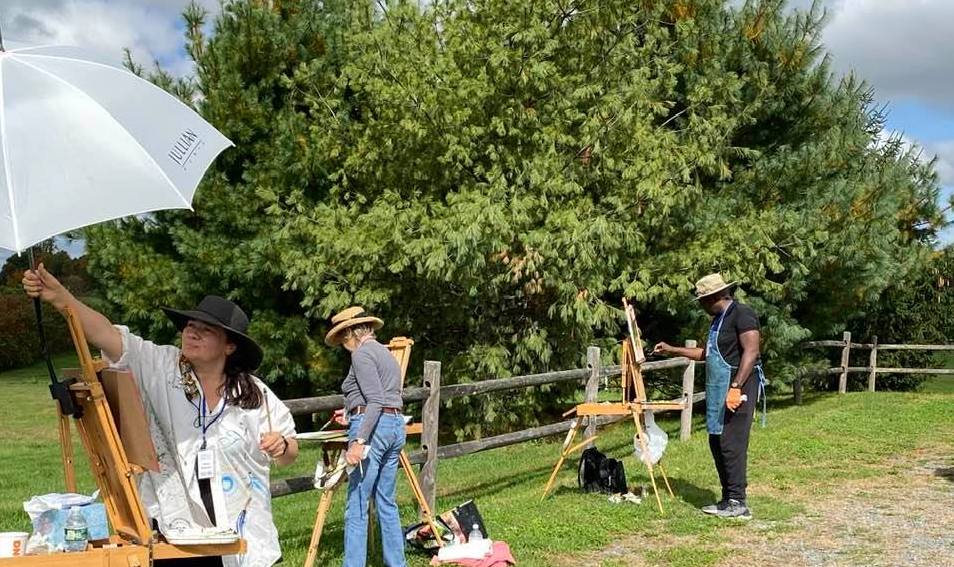 "You can paint a lot of dramatic work in the Hudson Valley, with all the different types of scenery," Wilson says. "But with the ever-changing dynamics of light, there's no time to sit and scratch your chin — you have to get out there and do it."
Tuning in to nature quickly and with deep focus also has a way of helping artists tap into the atmosphere of a place, ultimately expressing it to others through the canvas. "Plein air painting has made me more aware of just how the weather and daylight itself affects the mood. How you process your emotions while out in nature shifts drastically with the angle of the light throughout the day," says Langford.
The resulting works, in turn, can give people a new perspective on Hudson Valley sites they've seen thousands of times. "It's interesting to see the landscapes you know reinterpreted through a painter's eyes. It captures a moment in time, and there's something very beautiful about the looseness and spontaneity of the work," Pierson explains.
Plein air painting also has a way of building community. An artist painting in a public space will certainly be noticed by passersby, who often stop to watch the process and engage with the makers — something Doan experienced firsthand when he participated in the Plein Air Art Walk.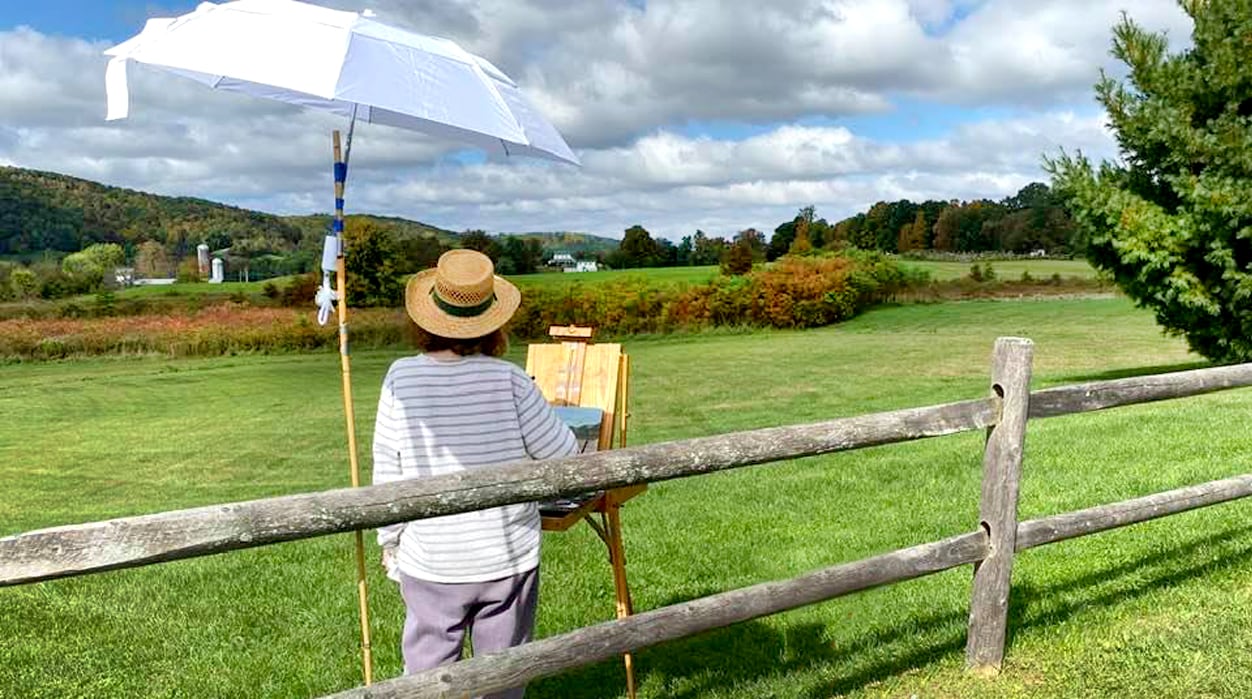 "It was my first time participating in an event with other artists in America, so I was nervous. When you bring your easel and paint outside, people walk past you and have a conversation," he says. "Looking back, it was a fun experience."
For its part, the festival is paving the way for even more of these community-building interactions between participating artists and locals this year. It is moving its exhibit (on view from Oct. 14-Nov. 5) to the Wallkill River Center for the Arts gallery space in Montgomery for easy public access, says Pierson. The festival will also include more public painting demonstrations and group paint-outs for anyone to watch.
How to Try Plein Air Painting in the Hudson Valley
Plein air painting can be a worthwhile thing to try if you're looking for a way to relax outside. Just ask Wilson, who used it to relieve some of the stress and pressures he felt while working as a state trooper. "You see a lot of things in law enforcement that leave an impression on you. Plein air painting gave me an escape from that," he says. "It allowed me to think of something else and focus on creating a peaceful work of art."
The good news is that it's pretty easy to get started. You can sign up for the Painter's Pass or participate in another interactive event, like Olana State Historic Site's five-day plein air painting tour in late September. In the past, Hudson Valley communities like New Paltz have held plein air paint-outs, so it's worth keeping an eye on local events listings.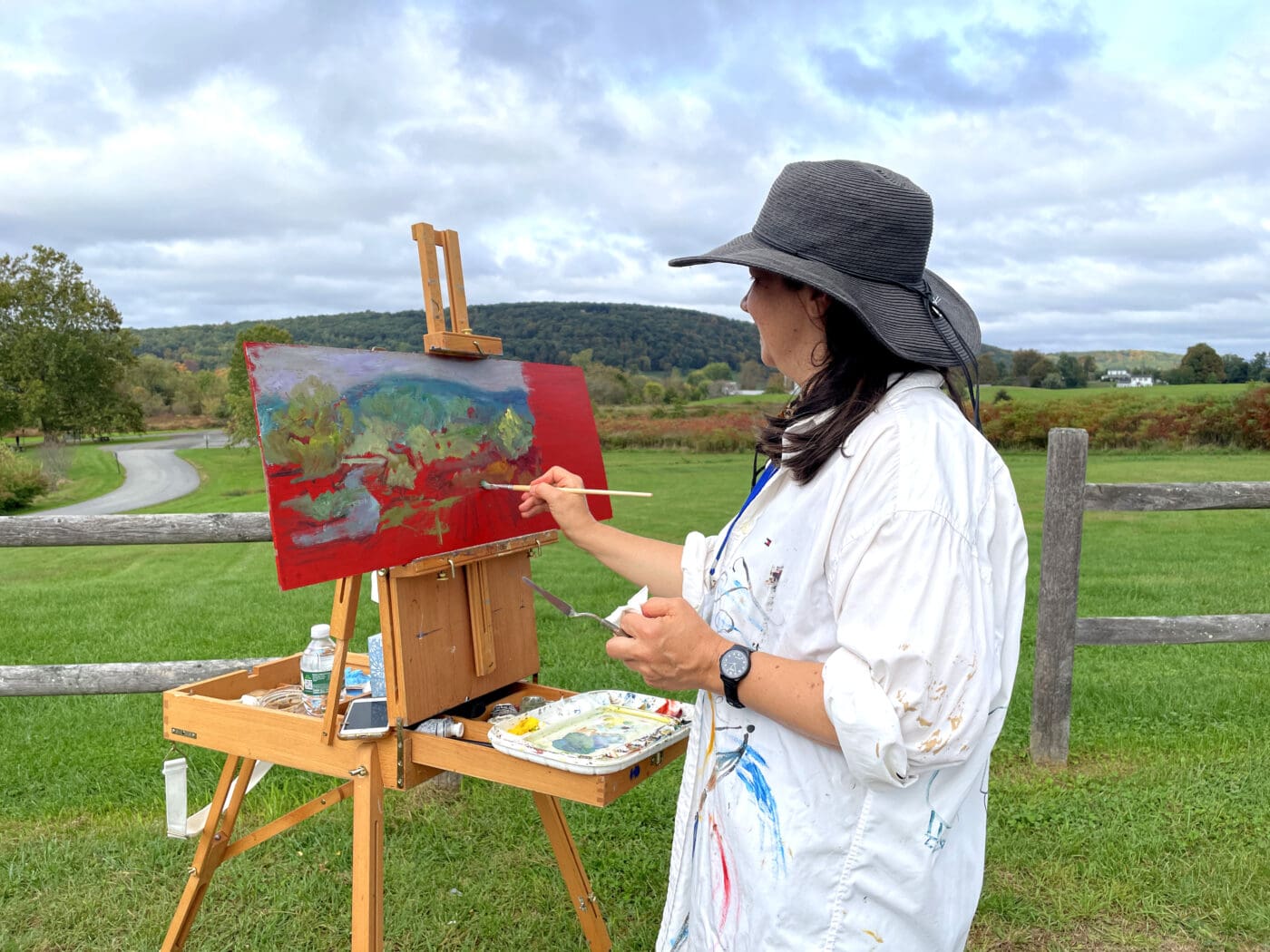 You could also take classes at local art workshops, including Riverside Art Workshop in Balmville, or with artists in the area. Wilson himself often offers classes on plein air painting using a palette knife. And you don't need to spend a lot on supplies to give plein air painting a try. Wilson says he can teach people to practice with a $20 aluminum easel and a $70 pochade box (the compact wooden boxes plein air painters use to store and transport their supplies).
In fact, making art en plein air doesn't have to involve paints at all. Simply going outside to your backyard with a pencil and paper in hand and drawing what you see can give you a sense of the technique, says Langford. Focus on having a creative, mindful moment in nature. "Go see what piques your interest. If there's a tree you want to draw, do a quick doodle," Langford suggests. "You'll learn something and appreciate what drew you there in the first place."
Saugerties native Joni Sweet writes about health, travel, and adventure from her Beacon home. She's the author of the National Geographic guidebook 48 Hours: New York, and her work has been published by Lonely Planet, Forbes, SELF, Health, and Real Simple, among other outlets. She loves hitting the Dutchess Rail Trail on her 4130 road bike from State Bicycle Co.