How Do You Solve a Problem Like the Climate?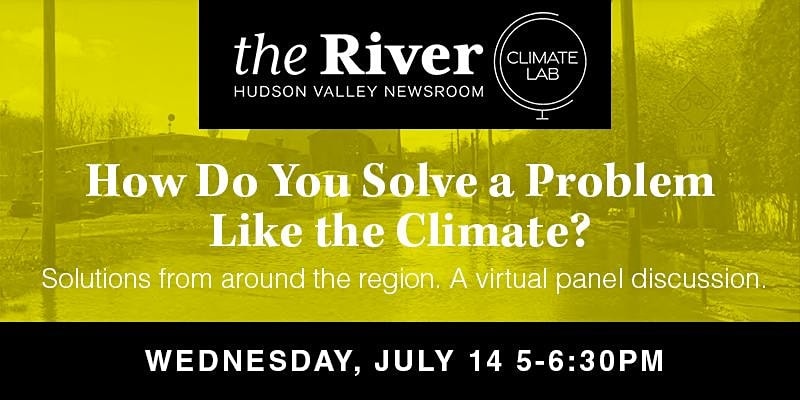 What is being done in the region to prepare and ensure that our communities and systems will be resilient enough to withstand change?
In this conversation, The River Newsroom will bring together expert panelists working on a broad range of climate solutions throughout the region, and invite them to talk about their work—and the change that lies within our grasp, even in the midst of a complex global disaster.
Climate change isn't coming—it's here. Average temperatures are rising, and extreme weather is intensifying. The Hudson River has risen a foot over the past century, and is on track to rise six feet or more by 2100. To protect communities in the Hudson Valley and Catskills from the worst impacts, we need to decarbonize the economy. But we also need to adapt to the change that has already begun.
Moderated by Lissa Harris, staff writer at The River Newsroom.
Co-moderated by Jen Metzger, former New York state Senator and policy advisor for New Yorkers for Clean Power. Jen Metzger, PhD, served in the NY State Senate in 2019-2020, and currently advises on climate and energy policy with the nonprofit organization, New Yorkers for Clean Power. Prior to her election to the State Senate, she served for over a decade in local government in the Town of Rosendale, and cofounded and directed Citizens for Local Power, an organization dedicated to fighting unfair utility rates and practices and helping communities shift to a locally based clean energy economy.
Panelists for this conversation include:
Ben Dobson, founder of Hudson Carbon and farm manager of Stone House Grain
Nava Tabak, director of science, climate, and stewardship at Scenic Hudson
Andrew Willner, sail freight advocate and founder of the Center for Post Carbon Logistics
Additional panelists to be announced.
This event also marks the launch of The River Newsroom's Climate Lab, a new project focused on covering climate impacts and solutions in the Hudson Valley and Catskills region.