Safely connecting communities to river fronts and providing access to nature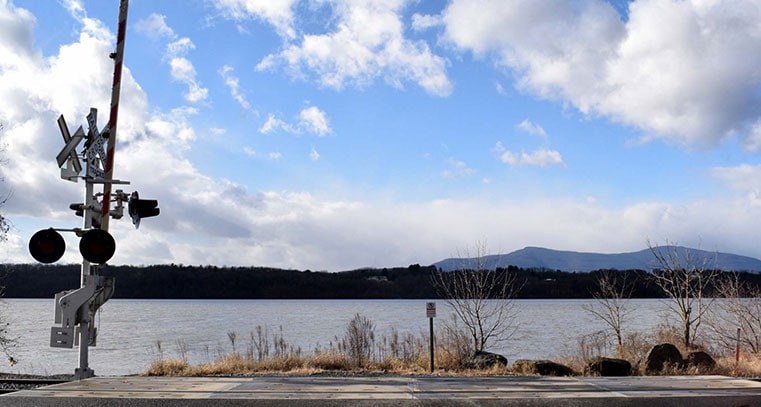 For generations people have visited the Hudson River shoreline for sustenance, renewal, and recreation. Public access to the river also plays a vital role in creating economically vibrant communities. So while the railroad is an important part of the Hudson Valley's infrastructure, providing safe ways to cross the tracks is critical to sustaining the benefits people enjoy from river access.
In 2018, Amtrak announced its intention to deny this access by constructing 8,200 feet of fencing and locked barriers at locations along the tracks between Rhinecliff and Stuyvesant. In January 2019, Amtrak withdrew its plan after an outcry from local officials and citizens in a dozen riverfront communities. (The New York State Departments of State and Transportation also helped Amtrak reach this decision.) However, the rail carrier intends to reconsider the fencing proposal as part of a comprehensive five-year safety strategy along its entire Empire Corridor.
The proposed barriers, some up to eight feet tall, would:
Disconnect communities from their waterfront.
Eliminate public river access at sites long cherished for fishing, boating, swimming and duck hunting.
Mar outstanding river views in many places.
Prevent economic development and tourism opportunities along the river.
Scenic Hudson partnered with riverfront communities to host a series of well-attended informational forums about Amtrak's plans. We also commissioned and contributed to the creation of multiple studies that suggest viable alternatives:
At-Grade Passenger Rail Pedestrian & Trail Crossings, Empire Corridor describes successful methods used elsewhere that enhance rail safety and allow public river access.
The 2023 Hudson River Access Plan provides the most comprehensive evaluation of existing public access along the river's rail corridor from Rockland and Westchester counties in the south to Waterford and Troy in the north. It also suggests new locations for shoreline access and makes additional recommendations for crossing the rail lines safely.
The 2021 Cultural Resource Survey (made possible by a Preserve New York grant) documents the condition of 12 historic steel truss bridges spanning the railroad tracks between Hyde Park and Clermont, and encourages their restoration as a way of reconnecting people to the river.
How to Reduce Risk and Improve Shoreline Access Along Passenger Rail Lines, a case study prepared by students in a Marist College Environmental Planning class, details strategies employed to improve shoreline access along passenger rail lines in San Clemente, California, that could be replicated at sites along the Hudson River.
Revitalizing Hudson Riverfronts is a comprehensive guide to promote the development of lively, pedestrian-friendly, mixed-use riverfronts while conserving forests, farms, wetlands, and fields, and providing for a continuous public greenway corridor along the river.
Subscribe to Scenic Hudson's email list to receive updates and learn about ways you can take action to protect and enhance public river access.