Siting Renewables in New York: Ambitious Climate Goals, a New Siting Process, and How It Is Going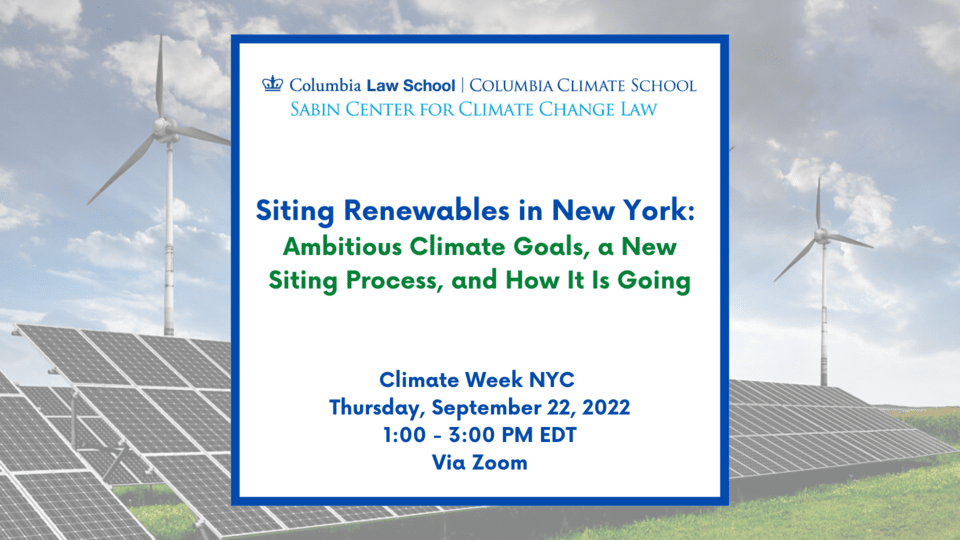 In 2019, New York State enacted an ambitious climate law, the Climate Leadership and Community Protection Act (CLCPA), mandating that 70% of the State's electricity be generated by renewable energy by 2030, and that 100% be generated by zero carbon sources by 2040.The law also requires that emissions be reduced 85% from 1990 levels by 2050. The CLCPA will require siting and developing a very large number of major renewable energy projects at an unprecedented pace throughout New York State.
To achieve its mandate under the CLCPA, in 2020, New York State enacted a landmark siting law, the Accelerated Renewable Energy Growth and Community Benefit Act.The siting law created a new Office of Renewable Energy Siting (ORES) to conduct a "coordinated and timely review" of all major renewable energy projects in a cost-effective and environmentally responsible manner.
Please join the Sabin Center for Climate Change Law at Columbia Law School and the Columbia Climate School for a discussion on ORES's progress implementing the new siting process over the last two years and other stakeholder perspectives.The event will feature a 30-minute discussion with Houtan Moaveni, Executive Director of ORES, followed by a 90-minute panel discussion with:
-Audrey Friedrichsen, Senior Climate and Renewable Energy Attorney at Scenic Hudson
-Cullen Howe, Senior Renewable Energy Advocate at the Natural Resources Defense Council (NRDC)
-Anne Reynolds, Executive Director of the Alliance for Clean Energy New York (ACE NY)
-Noah Shaw, Partner at Foley Hoag LLP and former General Counsel of NYSERDA
The event will be moderated by Matthew Eisenson, Attorney, Sabin Center for Climate Change Law at Columbia Law School.