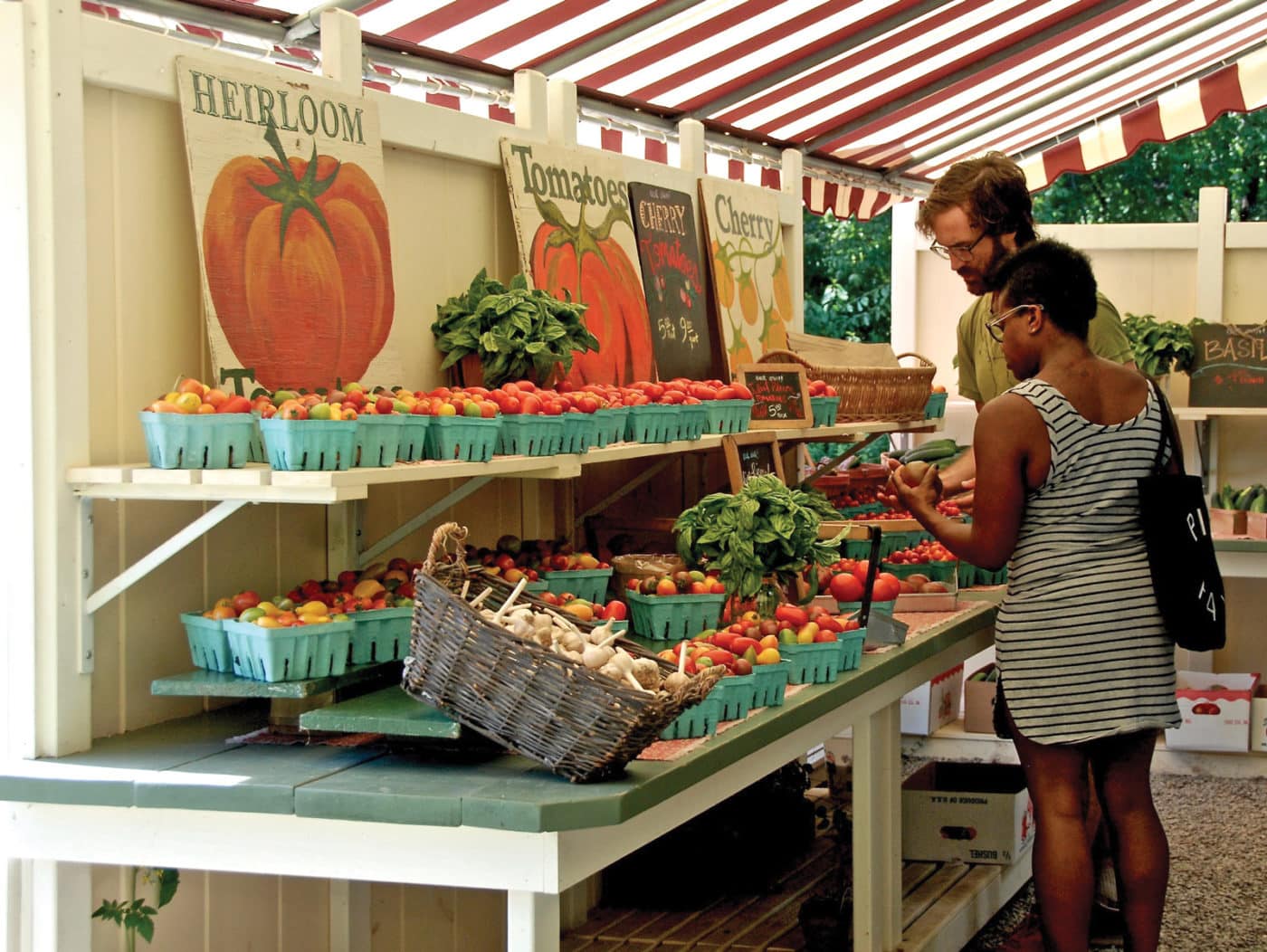 COLUMBIA COUNTY
Churchtown Dairy
357 Route 12, Hudson
This biodynamic farm (it's similar to but a step above organic agriculture) is worth visiting for the beauty of its round barn—an architectural marvel—as well as to purchase homemade cheese. Come watch the cows get milked, a treat for the kids, and enjoy the self-serve, farm-to-table fare at its Community Table (pay what you wish).
The Farm at Miller's Crossing
170 Route 217, Hudson
Satisfy your fresh-food cravings while enjoying some agricultural and architectural history. The just-picked bounty provided by this first-generation farm family—including organic vegetables, meat and maple products—is for sale in a 250-year-old Dutch barn.
Golden Harvest Farms
3074 Route 9, Valatie
More than 25 varieties of apples to choose from—either pick-your-own or pick them up at the farm's road stand—as well as peaches and other fresh produce. Readers of Capital Region Living magazine perennially choose its apple cider donuts as the best in the area.
Green Acres Farm and Bakery
226 Route 82, Hudson
Owned and operated by the same family since 1915, the farm grows a staggering array of fruits and vegetables—including a huge variety of heirloom tomatoes, currants, popcorn and Brussels sprouts—while the bakery offers scratch-made pies and other treats.
Hawthorne Valley Farm
327 County Route 21C, Ghent
This non-profit farm, affiliated with an adjacent school (students work on the farm as part of the curriculum), was one of the first U.S. dairies to be certified organic. Along with yogurts and cheeses—made solely with milk from the farm's cows—its store features just-picked produce from its fields along with baked goods and craft beers/ciders from local food artisans. The farm also hosts fun and educational events.
Hearty Roots Farm
1822 Route 9, Germantown
Along with offering more than 40 types of homegrown organic vegetables—ranging alphabetically from arugula to winter squash—this is a destination for procuring fresh produce, milk, cheese, pasta and other goodies from neighboring farms and artisanal makers.
Holmquest Farms and Greenhouse
516 Spook Rock Road, Hudson
In addition to berries, fruits and vegetables (including hard-to-find okra and lima beans) grown on the farm—in its fourth generation of family ownership—you can take home flowers and vegetable plants nurtured in 40,000 square feet of greenhouses.
MX Morningstar Farm
5956 NY-9H, Hudson
This farm grows a diverse array of vegetable crops on 30 acres in the Claverack/Hudson area. They have a farm store, farmers' markets, and a CSA. Their farm store offers fresh picked organic vegetables, plant starts and hanging baskets, and is supplemented with fruits and berries, mushrooms, eggs, grains, maple, honey, bread, dairy, meat, charcuterie, ice cream, and more from trusted local growers.
DUTCHESS COUNTY
Dykeman Farm
31 Dykeman Lane, Pawling
A go-to place for homegrown vegetables in eastern Dutchess County, the farm also sells locally produced blueberries, plums, peaches and other fruits. Don't worry about showing up late—the farm stand has an honors system for after-hours shopping. Kids take note: It also has ducks for feeding.
Meadowland Farm
689 Schultzville Road, Clinton Corners
This farm offers up history—its 1790s homestead served as a stop on the Underground Railroad—as well as a wide variety of organically-grown fruits and vegetables, eggs, pasture-raised meats and cut-your-own Christmas trees sold at its on-site store.
Montgomery Place Orchards
4330 Route 9G, Red Hook
This is a great place to experience the gamut of Hudson Valley agriculture—Montgomery Place's farm store complements it homegrown supply with fruits, vegetables and other edibles from some 30 regional farms. Established in 1802, Montgomery Place is renowned for growing "antique" apples you may never have tasted, such as Black Twig and Ashmead's Kernel.
GREENE COUNTY
Story Farms
4640 Route 32, Catskill
The location of this fifth-generation family farm, established in 1896, makes it a convenient place to stock up on fresh fruits and vegetables after spending a day hiking in the Catskills.
ORANGE COUNTY
The Farmer's Daughter
1717 Route 211 West, Otisville
Along with homegrown fruits and vegetables, the farm offers all-natural, pasture-raised beef, pork, chicken and eggs. While its store is only open on Saturdays, you can access the farm's bounty anytime at a self-serve stand.
Jones Farm
190 Angola Road, Cornwall
The last working farm in the Hudson Highlands, it offers homegrown vegetables as well as produce fresh from nearby farms. Hikers completing a trek up Storm King Mountain come to indulge in the confections baked in the on-site Grandma Phoebe's Kitchen.
Overlook Farm Market
5417 Route 9W, Newburgh
Straight-from-the-fields fruits and vegetables—along with home-baked pies! A great place to stop after visiting Storm King Art Center or Washington's Headquarters, and a worthy destination on its own.
Pennings Farm
169 State Route 94 South, Warwick
Its farm store offers homegrown fruits and vegetables as well as produce from neighboring farms. Adding to a farm visit—a farm-to-table café, pub (featuring homemade hard cider), beer garden (including brews made with hops grown on the farm) and ice cream stand.
Pierson's Farm
320 White Bridge Road, Middletown
Owned by the same family since 1790—and one of the oldest farms in Orange County—Pierson's Farm is best known for its grass-fed beef and pastured chickens, but it also offers homegrown produce at its farm store. In addition to pumpkins, its October festival includes hayrides, a corn maze and petting zoo.
Pine Hill Farm
3298 Route 94, Chester
Fresh fruits and vegetables—including half a dozen varieties of heirloom tomatoes—are available minutes after they are picked. Attention history lovers: The farm is the homestead of J. Hector St. John de Crevecoeur, who wrote the book Letters from an American Farmer.
Sleepy Hills Orchard and Greenhouses
1328 Route 284, Johnson
In addition to providing produce fresh from the field and you-pick apples, the farm features bedding flowers and vegetable plants for those who want to be backyard farmers.
ULSTER COUNTY
Wallkill View Farm
15 Route 299 West, New Paltz
A popular stop on the way to or from Minnewaska or Mohonk preserves, the farm offers a huge array of produce—either fresh from its fields or those of neighboring farms—and 50 types of homemade baked goods. Its field of sunflowers has become a much-anticipated (and Instagrammable) late-summer tradition.
WESTCHESTER COUNTY
Harvest Moon Farm & Orchard
130 Hardscrabble Road, North Salem
Established in 2011 by first-generation farmers, its farm store features homegrown vegetables, fruits and meats, as well as hard cider pressed on site. The farm also offers seasonal events, including a popular Fall Festival that coincides with apple picking in September and October.
Hilltop Hanover Farm and Education Center
1271 Hanover St, Yorktown Heights
Located on land farmed since the 1780s, this county-owned farm dedicated to the development and advancement of sustainable agriculture offers organically grown veggies, herbs and flowers, or you can head into the garden and pick them yourself.