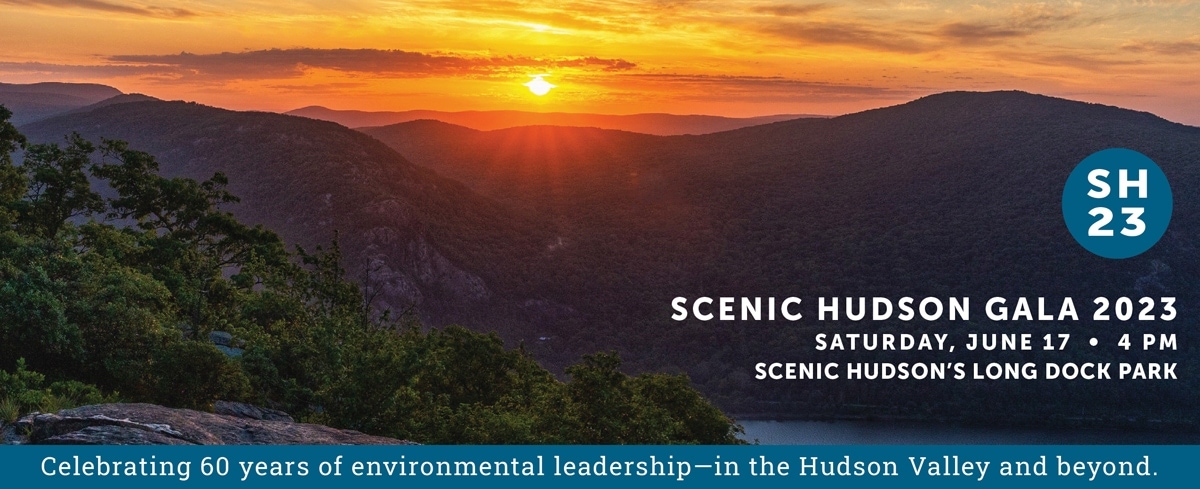 Individual Gala Tickets Currently Sold Out
If you'd like more information about reserving a table, please call 914-489-4380.
WHEN:
SATURDAY, JUNE 17 • 4 PM (Past Event)
WHERE:
SCENIC HUDSON'S LONG DOCK PARK, BEACON, NY
This year's Gala — our first time together since 2019 — promises to be unforgettable. It will be a celebration of our 60th anniversary — six decades of leadership at the forefront of protecting the valley's environmental health and beauty — as well as our bold, ambitious vision for an even brighter future.
When a group of citizens came together in 1963 to protect Storm King Mountain from a proposed power plant, they launched what has become the modern environmental movement. Scenic Hudson's landmark accomplishments since then are unparalleled. We've conserved more than 52,000 acres of scenic vistas, working family farms, and prime habitat. We have created or enhanced over 65 public parks, including the transformation of former urban industrial sites into magnificent places to connect with the river. We are supporting residents of neighborhoods in our river cities to plant trees, restore polluted and forgotten waterways, and revitalize derelict public parks. We have spearheaded dozens of successful campaigns to halt or modify projects that threatened our irreplaceable assets. Now, we're leading the way in helping the valley become a regional model for responding to the climate crisis.
In addition to marking our achievements, we will proudly honor others who are working alongside us to boost the valley's health and sustainability:
Farmer and food access advocate Karen Washington;
Affordable housing advocate RUPCO; and
The Schooner Apollonia, the only wind-powered freight vessel on the Hudson River.
We hope you can generously support this special event and affirm your abiding commitment to the valley's environmental health.

Scenic Hudson Gala 2023 Photos