FeedHV and Scenic Hudson Collaborate to Donate Locally Produced Food to Over 20 Assistance Programs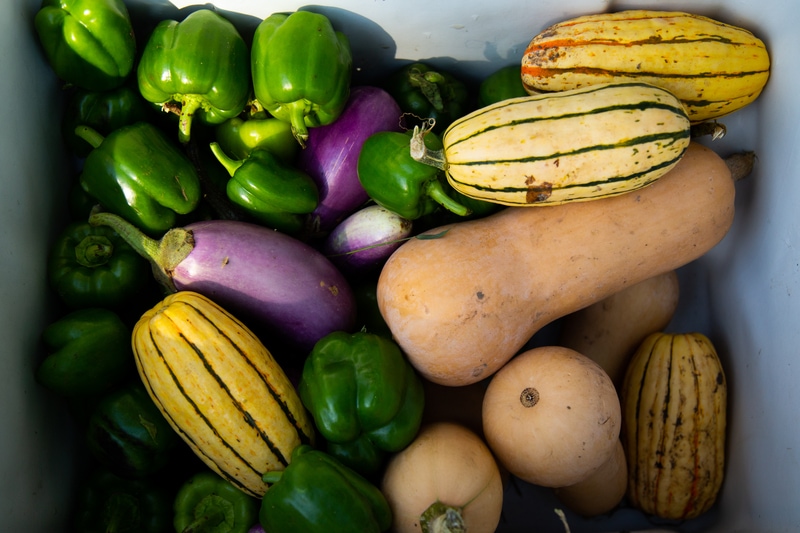 For Immediate Release
CONTACT: Riley Johndonnell, Director of Communications, (845) 473-4440 Ext. 222
FeedHV Community Food Network issued this release today, which we're sharing with permission.
---
Purchases from BIPOC Farmers Assist Agencies in Putnam, Ulster, Orange and Sullivan
HUDSON, NY—Just in time for the holidays, FeedHV and Scenic Hudson have joined forces once again to purchase food grown by area farmers to distribute to area agencies with food assistance programs throughout the region. A generous donation from Scenic Hudson enabled the procurement and distribution of over 3,300 pounds of food from local BIPOC-owned farms and benefited over 20 area agencies.
Administered by Hudson Valley AgriBusiness Development Corporation (HVADC), FeedHV is a regional food rescue and harvesting network operating throughout Dutchess, Orange, Ulster, Columbia, Greene, Putnam and Sullivan counties. It links donors of prepared, but unserved, food and fresh produce with nonprofits and food assistance programs. Through an app-assisted network of food donors, volunteers and feeding agencies, FeedHV facilitates the harvesting, processing and distribution of locally grown or produced agricultural products, shelf-stable food donations and prepared nutritious foods. Among the donors are restaurants, farms, food makers, stores, hospitals and universities. The food assistance programs include food pantries, soup kitchens and shelters. When significant donations such as that from Scenic Hudson are received, HVADC is able to identify needs within its farmer network and match purchases to the needs of FeedHV receiving agencies. Farms involved in this effort were those identified with BIPOC ownership/management, as part of HVADC's ongoing efforts to support smaller BIPOC farmers.
"Scenic Hudson is delighted to continue our partnership with FeedHV and the Hudson Valley's family farms to supply fresh, healthy produce to local food assistance programs. With food access and hunger becoming ever more pressing challenges, collaboration like this can make a real difference in people's physical and emotional well-being, especially around the holidays. At the same time, it supports the region's hard-working farmers, making this a win-win. Scenic Hudson also thanks the agencies in Orange and Ulster counties ensuring that this bounty reaches those most in need," said Scenic Hudson President Ned Sullivan.
Through Scenic Hudson donation, purchases totaling $10,000 were made from:
· R&R Produce Family Farm in Goshen: Potatoes and onions
· Trinity Farm in Clintondale: Apples
· Choy Division Farm at the Chester Agricultural Center: Napa cabbage and stir fry mix
· Grandpa Farm at the Chester Agricultural Center: Collards
· Farm Fresh Caribbean Growers in Montgomery: Kales and Swiss chard
· Black Yard Farm Collective in Sloansville: Chickens
· Amoon Farm in Roscoe: Potatoes
· Every-Growing Family Farm in Ulster Park: Rice
"The FeedHV receiving agencies have seen such dramatic increases in the need within their communities over the past two years," said HVADC Executive Director Todd Erling. "Donations such as this one help FeedHV extend its efforts beyond its year-round direct food donations, gleanings and processing events to help to meet the increased demand, while at the same time helping our area farmers. With this particular donation, we identified that we had an opportunity to support some of the local BIPOC farmers."
Among the agencies benefiting from the distributions were Family of Woodstock Inc., Loaves & Fishes Food Pantry (Wallkill), Family of New Paltz walk-in center, St. Joseph's Food Pantry (New Paltz), Ascension Holy Trinity Food Pantry (West Park), Reservoir Food Pantry (Boiceville), Good Neighbor Food Pantry (Woodstock), Rochester Food Pantry, Rondout Valley Food Pantry , Rosendale Food Pantry , Family Inn (Kingston), the Salvation Army (Kingston), Angel Food East (Kingston), Center for Creative Education (Kingston), Everette Hodge Community Center (Kingston), Helping Hands Food Pantry (Gardiner), St. Mary & St. Andrews Food Pantry (Ellenville), Family of Ellenville walk-in center, the Ellenville Rural Health Network "Farmacy" program, the Alamo Farm Workers Community Center (Goshen), Our Core (Newburgh), Catskill Food Pantry, Coxsackie Food Pantry, People's Place (Newburgh), A Single Bite (Youngsville), and Deacon Jack Seymour Food Pantry (Newburgh).
Family of Woodstock Inc. assisted with the distribution to its affiliated agencies in Ulster County, and through CCE Orange County, food was also distributed to additional agencies in Putnam, Orange, Ulster and Sullivan counties.
"This time of year can be extremely difficult for families who can't afford to put together seasonal holiday meals. When local organizations purchase produce from farms for donation, or when farms donate their extra produce through our program, it directly translates to food on someone's plate. We are extremely grateful to Scenic Hudson and Feed HV for helping us get more local, fresh, and healthy food to folks who need it most," said Suzanne Flaum, Assistant Program Director, Farm to Food Pantry Collaborative, Family of Woodstock, Inc..
This was the fourth instance of HVADC coordinating FeedHV and Scenic Hudson to supply area food assistance agencies, and at the same time helping Hudson Valley farms and food producers. In each initiative purchases were made to also target specific farm segments that were facing challenges. Through the four efforts, over 84,000 pounds of food have been purchased and distributed.
In August 2020, at the height of the pandemic and with surplus challenges facing local dairy farmers, Scenic Hudson and FeedHV partnered to purchase milk, yogurt and butter from Hudson Valley Fresh and Ronnybrook Farm Dairy. Through that effort, nearly 75,000 pounds of dairy products were directed to community assistance organizations focusing on feeding children in need in Dutchess, Ulster and Columbia counties.
In September 2021, HVADC connected Scenic Hudson and FeedHV with Hudson Valley Fisheries of Hudson, New York, to procure approximately 1,200 pounds of locally grown steelhead trout for distribution to six agencies with food assistance programs in Greene and Columbia counties.
At the end of 2021, the partnership purchased frozen products from Hudson Harvest at a reduced cost to distribute to nine area agencies with food assistance programs. That effort, which alleviated a shortage of cold storage for local farmers, benefited nine agencies, with donations of more than 4,550 pounds of locally produced frozen protein, produce and baked good products.
To learn more about FeedHV, its donor and volunteer programs, visit www.feedhv.org. To become a food donor, contact info@feedhv.org. To make a monetary donation to FeedHV, visit https://www.feedhv.org/donate-today.