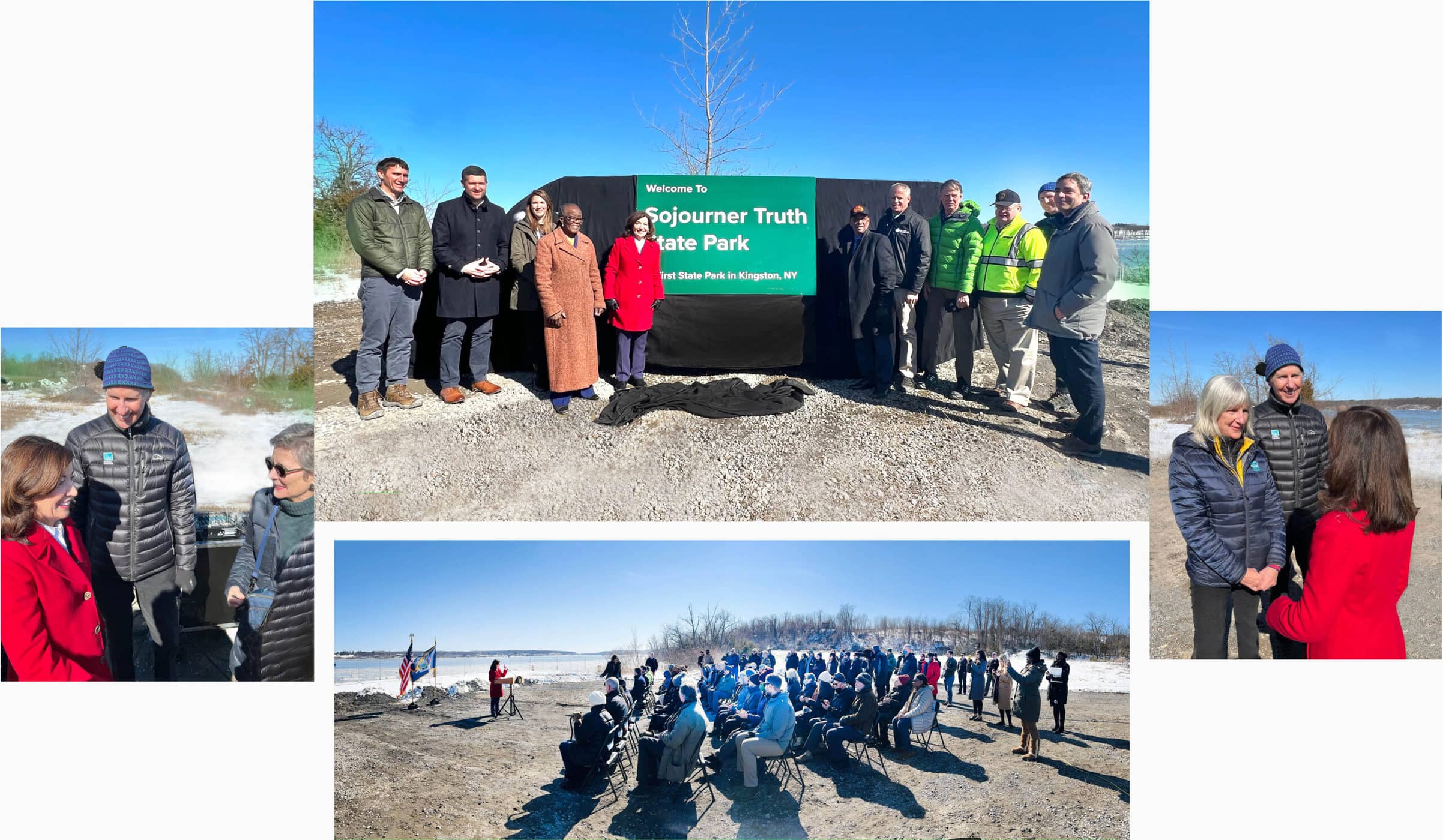 Dedicated to 19th Century African American Hudson Valley Native, Abolitionist and Suffragist
For Immediate Release
Contact:
Ned Sullivan, President
914 489 4630; nsullivan@scenichudson.org
The Governor's office issued this release yesterday, which we're sharing with their permission. 
---
$13.5 Million Acquisition of Former Cement Production Plant Along More than Mile of Hudson River Shoreline in Kingston and Town of Ulster  
State Parks, PIPC Will Partner with Scenic Hudson to Operate New Park
Photos Available Here and Here
In recognition of Black History Month and Women's History Month, Governor Kathy Hochul announced today a new State Park planned for more than 500 acres of former industrial property along the Hudson River shoreline in Ulster County will be named for 19th century African American abolitionist and suffragist Sojourner Truth. This will be the first State Park in the City of Kingston and the first new State Park to open since July 2019.
"It is fitting such a magnificent property with its cliffs and Hudson shoreline bears the name of a remarkable woman who started life right here in Ulster County," Governor Hochul said. "New York is committed to reflecting the diverse stories of its people, such as Sojourner Truth and her message of freedom and equality, that have influenced our state's inspiring history."
Born enslaved in 1797 in Esopus, Ulster County, Isabella "Bomefree" Baumfree freed herself from slavery in 1826 a year before legal enslavement ended in New York. In 1828, she won a lawsuit to regain custody of her son, who had been sold into slavery in the Deep South, marking one of the first legal cases where an African American woman prevailed in court against a white person.
Following her deeply held religious views she traveled as an itinerant preacher, speaking 'truth' to the harsh inequities endured by people of color and women while calling for systemic change. Renaming herself Sojourner Truth, she became one of the nation's leading voices for abolition and universal suffrage in the mid-19th century. During the Civil War, she recruited men for the Union Army, and worked for the Freedmen's Bureau, an agency that assisted the newly freed enslaved. After the war, she continued advocating for universal voting rights. Sojourner Truth died in 1883, after African American men had received the vote but with the national adoption of women's suffrage still four decades away.
In August 2020, State Parks installed a statue of her at the western entrance to the Walkway Over the Hudson State Historic Park in Highland, Ulster County and dedicated it to the 100th anniversary of women's suffrage in a ceremony attended by one of her descendants.
State Parks partnered with the not-for-profit environmental group Scenic Hudson to protect land for this new park that earlier had been slated for a large-scale private development. Funding for the $13.5 million purchase by State Parks was provided through the state Environmental Protection Fund. About three-quarters of the property is in Kingston, with the balance in Ulster.
Once the site of cement production, brick making, quarrying, and ice harvesting, the property already includes the Hudson River Brickyard Trail. Part of the Empire State Trail and the Kingston Greenline, this paved trail opened in December 2020 as a project of the city of Kingston, which manages the trail, and Scenic Hudson. It offers spectacular views of the Hudson River and the 150-foot cliffs of limestone and sandstone that drew cement production to the site beginning in the 1840s.
State Parks Commissioner Erik Kulleseid said, "State Parks is proud to name our newest Park in honor of Sojourner Truth, an early prominent voice in New York and later the nation for abolition and women's rights. In addition to bringing her story to visitors, this park also will allow for interpretation of the site's industrial and indigenous history and will help protect the ecology of the Hudson River. The new park will support the ongoing economic revitalization of Kingston and the regional recreational tourism economy. It will benefit the quality of life for residents throughout the year, as well as provide a major new Hudson Valley attraction for users of the Empire State Trail."

Palisades Interstate Parks Commission Executive Director Joshua Laird said, "We are thrilled that our newest state park will honor Sojourner Truth and her powerful legacy as an abolitionist and voice for women's rights. We look forward to telling her story and to interpreting the reclamation of this former industrial site into a beautiful and dramatic landscape overlooking the Hudson River. The Commission wishes to express its gratitude to Governor Hochul, State Parks Commissioner Kulleseid and to Scenic Hudson for their efforts to protect this land."
Scenic Hudson President Ned Sullivan said, "Scenic Hudson is delighted that Governor Hochul has chosen to celebrate the life and legacy of Sojourner Truth by naming this park after her. Through her courage and forceful voice for justice and equality for all, she set an example that still resonates strongly in this vitally important ongoing cause. We're grateful to Governor Kathy Hochul and State Parks Commissioner Erik Kulleseid for leading the state's acquisition of this magnificent property, rich in history and possibility for public enjoyment. Adding this to the New York Park system is truly a visionary step, and we salute their partnership in this conservation action. Scenic Hudson looks forward to continuing our cooperation with State Parks, the Palisades Interstate Park Commission, and the Kingston and Ulster community as we turn this former industrial site into an exciting place for all people to connect with the outdoors, the region's Indigenous and labor heritage, and each other. With its unique combination of natural beauty and history, I have no doubt Sojourner Truth State Park will quickly become one of the region's premier recreational destinations. We also wish to acknowledge Scenic Hudson's generous supporters who made possible our acquisition of the property, those who worked with us to save the property from development years ago, and Scenic Hudson Board members and staff for their important roles at every stage of the process."
State Parks will install limited parking and hiking trails to provide public access for passive recreation this spring. Until then, except for the Hudson River Brickyard Trail, the property is not open to the public. Scenic Hudson has already conducted a comprehensive study of the property's ecological, geological, and cultural resources.
Under an agreement, State Parks, Scenic Hudson, and the Palisades Interstate Park Commission will collaborate and solicit public input on how Sojourner Truth State Park will be developed. Scenic Hudson, which will operate the park under a five-year agreement, has already held public meetings on the topic and more meetings will be announced by the partners in the future.
State Senator Michelle Hinchey said, "This visionary effort to induct the City of Kingston into the New York State Parks system holds deep meaning in our community. I'm proud to have secured $200,000 in state funding to support this triumphant project, which will bring a first-of-its-kind green space amenity into our community while memorializing one of the most prolific figures of our county, state, and nation — Sojourner Truth. I thank Governor Hochul, State Parks, and Scenic Hudson for making this landmark investment in Kingston so that we can proudly transform this history-rich stretch of land into our City's first-ever State Park."
Assemblymember Kevin Cahill said, "Governor Hochul continues to demonstrate her knowledge, concern and energy on behalf of our area. Today is the latest example. Naming this park for one of the most important people from our community, Sojourner Truth, is fitting and appropriate. It was just several hundred yards up the shoreline, to Sleightsburg and the Rondout Creek where Truth, then known as Isabel Bumford, a young girl, trekked over several miles, every single day, crossing the Creek on a skillypot raft, with provisions for the tavern owned and run by her enslavers. The statue that stands in the center of Port Ewen portrays this young, exploited, but strong and determined teen age girl serves as a stark reminder that our community was not exempt from the horrors of slavery. Indeed, some of our fore bearers did not even distinguish between adults and children in their exploitation of other human beings. But the naming of this park recognizes all of the greatness of Sojourner Truth and the impact she has had on freedom, demonstrating strength in the face of adversity and inspiring a nation. Let every visitor pause for a moment to take in the beauty of our community and remember this as the home of this important national leader."
Kingston Land Trust Executive Director of Cultural Engagement and Sustainable Living Shaniqua Bowden said, "This park, named after our region's inspirational champion, Sojourner Truth, is a tremendous honor and dedication to the life and legacy of her incredible heroism. It is my hope that this land is a haven of invigoration and rejuvenation that deepens our appreciation of nature's magic and the interconnections that are vital to the existence of all living beings."
Hudson River Valley Greenway Executive Director Scott Keller said, "Sojourner Truth State Park is an iconic Hudson River property that provides unique recreational, open space, and ecological benefits to New York residents and visitors. Future park improvements will enhance public access created by the Hudson River Brickyard Trail completed last year, which is a critical link in the Hudson River Valley Greenway and Empire State Trail in Kingston and Ulster County."
Kingston Mayor Steve Noble said, "After years of sitting neglected, this unique urban property will, for the first time, be open for Kingston residents to access its breathtaking views, incredible trails, and beautiful Hudson River waterfront. We are looking forward to working with all of our partners to make this a world class park that is accessible to each and every resident of Kingston and our surrounding communities. I thank Governor Hochul for her commitment to our parks and open spaces and also for recognizing Sojourner Truth's legacy here."
Last summer on the property, abandoned cement silos and two former structures of the cement industry were removed to improve site safety, as well as expand areas for future programming and events. Remaining structures, including the chimney and mule barn dating to the site's brick-making period, as well as many low-rise structures from the cement industry that are visible from the Hudson River Brickyard Trail, have the potential to be interpreted and integrated into the landscape. Former quarry pits on the property have filled with water, and while not suitable for swimming, support fish populations.
The site is a part of the traditional homeland of the Esopus tribe of the Lenape, who inhabited the area of Kingston until the 1600s when they were displaced by European colonists. In addition to telling the story of the Esopus, the site will allow for the interpretation of industrial history, geology, the resilience of our natural environment, and the significant role of the Hudson Valley in the development of New York State and the nation.
Prior to Scenic Hudson's purchase, the former cement mine and processing facility grounds were destined for development into a 1,682-unit mixed-use site, a project that had drawn significant public concern.
The Scenic Hudson purchase was made with support of private donors including philanthropists Eric and Wendy Schmidt, the Walbridge Fund, The PCLB Foundation, the Kathryn W. Davis Fund for Hudson River Parkland Acquisition, Carolyn Marks Blackwood, Will Nixon, Illiana K. van Meeteren, Sue Sie, Steven Holl and Robert Lonergan.
New York State Office of Parks, Recreation and Historic Preservation oversees more than 250 individual parks, historic sites, recreational trails, and boat launches, which were visited by a record 78 million people in 2020. For more information on any of these recreation areas, visit www.parks.ny.gov, download the free NY State Parks Explorer mobile app or call 518.474.0456. Also, connect with us on Facebook, Instagram, and Twitter. 
Top photos clockwise from left:
Gov. Kathy Hochul with Scenic Hudson President Ned Sullivan and former Scenic Hudson Board Chair Kristin Gamble; City of Kingston Mayor Steve Noble, Ulster County Executive Pat Ryan, State Senator Michelle Hinchey, Ulster County NAACP Chapter President Maude Bruce, Governor Kathy Hochul, Reverend Donald Mapes, NYS Commissioner of Parks Erik Kulleseid, Palisades Interstate Park Conservancy Erik Larsen, Town of Ulster Supervisor Jim Quigley, Scenic Hudson President Ned Sullivan, Palisades Interstate Parks Commission Executive Director Joshua Laird; Scenic Hudson Director of Parks and Community Engagement Rita Shaheen, Ned Sullivan and Gov. Kathy Hochul; Gov. Kathy Hochul names Sojourner Truth State Park in Kingston.