Today Labor Unions, Health, Business, Education, Civic, and Environmental Groups Gathered to Support the Clean Water, Clean Air, and Green Jobs Bond Act Ahead of General Election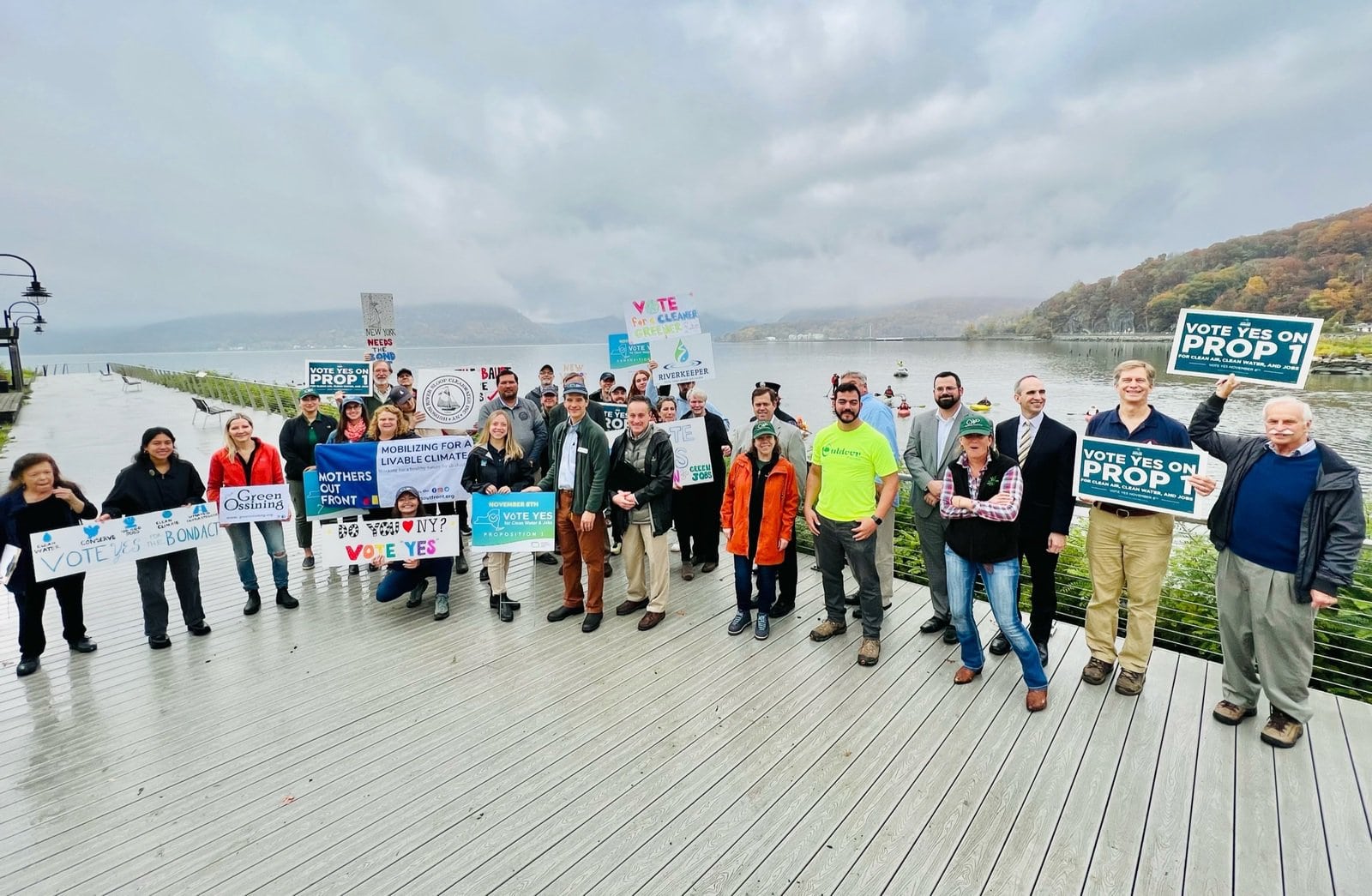 For Immediate Release
CONTACT: Andy Bicking, Director of Government Relations and Public Policy, (914) 489-1568
The Vote Yes for Clean Water & Jobs Coalition issued this release today, which we're sharing with permission.
---
Advocates Gathered to Encourage NY Voters to Vote Yes on the Monumental Proposition 1 to Protect New York's Drinking Water and Infrastructure
Groups Emphasized Creation of Tens of Thousands of Local, Family-Sustaining Jobs Through the Bond Act
HUDSON VALLEY — Hudson Valley Economic Development Corporation, Laborers Local 754, Physicians for Social Responsibility, and many other groups from across the Hudson Valley joined Scenic Hudson to demonstrate support for the Clean Water, Clean Air, and Green Jobs Bond Act (Proposition 1) and urge New York voters to vote "yes" on Tuesday, November 8.
Speakers voiced the importance of Clean Water, Clean Air, and Green Jobs Bond Act (Bond Act) as a once-in-a-generation opportunity to protect clean drinking water, modernize infrastructure, and improve quality of life across the state. The measure will help communities throughout New York make critical upgrades to water and sewer lines, replace lead pipes, and maintain water treatment plants to ensure that our drinking water is safe and clean. If approved by voters on the general election ballot on November 8, the Bond Act would support nearly 100,000 local, family-sustaining jobs across multiple sectors, from construction, to healthcare, to retail, and more.
Further information about the Bond Act can be found here: Vote Yes For Clean Water and Jobs Coalition
"It's hard to imagine what the Hudson River and communities along it would be like without a clean and healthy environment," said Pete Lopez, Scenic Hudson Executive Director of Policy, Advocacy and Science. "The Hudson Valley and New York State have come so far, but there is still more to do to protect clean drinking water, modernize infrastructure and conserve world-class wildlife habitat for all to enjoy. A vote for the Environmental Bond Act is a vote for our future that will renew our commitment to our waterways and the jobs that come with that investment. "
"The Hudson Valley has been on the cutting-edge of creating solutions that address the environmental challenges of our time. Despite this great progress, much more could be done to assure an even safer, healthier, and thriving future for all New Yorkers," said Andy Bicking, Director of Government Relations and Public Policy for the environmental group Scenic Hudson. "On November 8, New Yorkers will have an opportunity to cast a vote that will make such a difference in the well-being of so many people by protecting clean water, creating new parkland, conserving the sources of fresh local food, and advancing environmental justice."
This funding is important to bring much-needed updates to crucial state's infrastructure. This investment in our future will support nearly 100,000 good-paying jobs and $8.7 billion in project spending and reinvesting in our local communities. This is not just about jobs. IUOE Local 825 members don't just work here. They live here and raise their families here, too. The Bond Act gives us the opportunity to protect the health and safety of New Yorkers and invest in the future of our communities and our economy," said Daniel Ortega, Community Affairs Representative, Engineers Labor-Employer Cooperative Local 825.
"The natural beauty of the Hudson Valley is one of the biggest factors that draws businesses to our region, making the Valley one of the most vibrant business climate in the nation," said Michael Oates, President and CEO, Hudson Valley Economic Development Corp. "The Bond Act will help in maintaining the splendor of our community, while also creating nearly 100,000 good, local, and family sustaining jobs through the various projects it will fund. On November 8th, voters must flip their ballots to vote yes for Proposition 1, not just because it's good for the environment, but also because it's a smart economic investment for all New Yorkers."
Opportunities to earmark funding for vital water, sewer, flood control and open space system and technology upgrades happen once or twice a century. We have a rare opportunity to get our environmental house in order with this Bond Act. This is a benefit to all New York citizens and will go a long way towards fulfilling the inherent obligation we have towards future generations by providing a solid platform to build from. The economic impacts will be compounded positively over time and will certainly pay off in the short term through solid job opportunities for tradesmen and tradeswomen throughout the state," said Stephen J. Reich, business manager, Laborers Local 754.
"This year's ballot initiative offers New York State what may be our last, best chance to get our priorities right for Clean Air, Clean Water, and Green Jobs. We know that climate chaos harms our health — people can die from heat stroke and dehydration not to mention worsening of chronic illness and harms to pregnancy. We know that fracked fuels and their contaminants enter our homes and businesses, despite our statewide ban on fracking. We know that a transition to clean, renewable energy provides reliable health, environmental, and economic benefits," said Kathleen Nolan MD, MSL, Catskills Mountain keeper and Physicians for Social Responsibility – New York. "What we need now is to turn our ballots over and take action through funding the Bond Act. What we do in this vote determines how much and how quickly we can change course and therefore how much good we can do, simply by acting on the sound scientific and medical information we have in front of us today."
"It's clear why this is called a 'jobs' bond act. The work of restoring the environment and adapting to climate change is much broader than most people realize. It involves not just scientists and engineers but architects, builders, landscapers, nurseries, technicians and technology developers. Just achieving New York's climate goals is expected to create 189,000 net new jobs in the next ten years, from solar panel installers to geothermal drillers to electric vehicle salespeople. This is public policy investment at its best," said Melissa Everett Ph.D., Executive Director of Sustainable Hudson Valley.
Support for the Clean Water, Clean Air, and Green Jobs Bond Act is critically important to protect New York's environment and clean water, along with increasing access to open spaces, and mitigating the increasingly disruptive impacts of climate change. Here in the Hudson Valley, communities know the great importance of protecting the land we love and the land we need. As such, the Open Space Institute encourages all Hudson Valley residents to vote "yes" on the Bond Act to ensure the magnificent, abundant natural resources and landscapes of this renowned region are protected today and for generations to come," said Kim Elliman, President and CEO, Open Space Institute.
From Hurricane Irene and Sandy to annual 90+ plus degree heat waves, frequent flooding and rapidly accelerating sea-level rise to invasive species and pest infestations, the most extreme impacts of climate change have arrived in New York State. The Environmental Bond Act, also known as Proposition 1, is an excellent way for necessary funding to go toward jumpstarting projects aimed at important aspects of climate change adaptation and mitigation, including: air quality and pollution, clean drinking water, conservation, extreme temperature mitigation, electric school buses, flooding and stormwater infrastructure, green space accessibility, and renewable energy. It is of utmost importance that state-level efforts to protect and restore ecosystems, improve and safeguard the health of 19.84 million New Yorkers, and ensure economic stability commence before the window of opportunity closes," said Frankie Lede, Chapter Co-chair, Citizens' Climate Lobby Westchester.
"New York has a once-in-a-generation opportunity to make major investments in transformational climate-ready infrastructure that will leverage federal funding to create local jobs and resilient communities. Trust for Public Land is proud to join with our partners today to advocate for the Environmental Bond Act to ensure that we protect our water and air, conserve natural buffers, and improve connections to the outdoors that are so critical for Hudson Valley communities," said Carter Strickland, Vice President, of the Mid-Atlantic Region and New York State Director for Trust of Public Land.
New York stands on the brink of an historic opportunity to make an unprecedented–and long overdue–investment in our environment. By voting yes to the Environmental Bond Act, voters can choose to protect our lakes and rivers and preserve our farmland; they can choose to invest in clean drinking water; and they can choose to improve their quality of life by increasing access to parks, trails, and nature centers. Add to that thousands of good paying green jobs, and the choice is clear: Vote yes on the Environmental Bond Act," said Julie Tighe, President of the New York League of Conservation Voters.
As a municipal-based environmental advocacy organization with a focus on resilience in the face of climate change, we believe the Bond Act's statewide opportunity to support communities' growing needs for infrastructure funding comes at a critical time. As an organization who has always put protection and conservation of natural resources front-and-center, the Act supports environmental efforts that address public health concerns on a more equitable basis: including clean water and air, protection and restoration of open space and farmland. It's in all New Yorker's best interest to flip the ballot over and vote "yes" on Proposition 1," said Suzie Ross, Co-founder and Chairperson, Green Ossining.
"Riverkeeper strongly urges voters to vote yes on prop 1 to support the continued recovery of the Hudson River, protect our drinking water, and accelerate the transition to a clean energy future," said Riverkeeper Senior Manager of Government Affairs, Jeremy Cherson. "For the first time in decades, New Yorkers have a choice to approve substantial clean water infrastructure projects while creating good jobs in the process. Flip over your ballot and vote yes for the environmental bond act!"
"The Land Trust Alliance supports the Clean Water, Clean Air and Green Jobs Bond Act to protect the safety, health and well-being of all New Yorkers and the environment," said Meme Hanley, The Land Trust Alliance, New York senior program manager. "The effects of climate change are upon us – New York needs to use every tool available to mitigate the impacts and slow the pace of climate change. Land conservation is a proventool to address these challenges, and by approving the Environmental Bond Act this November, voters can protect our natural resources while bolstering our economy. The nearly 90 land trusts located in communities across New York are ready to play their role in advancing private land conservation to achieve all these benefits and more."
This bond act will be a huge help in creating a healthier, more sustainable, and prosperous future for New York. Outdoor Promise supports the Bond Act because it will help mitigate many of the environmental injustices plaguing our towns and cities. Clean air and clean water are human rights, and we must do everything in our power to invest in our future," said Ronald Zorrilla, Executive Director, Outdoor Promise.
I strongly encourage voters to support the Environmental Bond Act which will increase the benefits they derive from the Hudson River by improving its current health and better preparing for inevitable challenges in the future. Most of the natural resources in NYS are in good condition and well-managed but climate change, aging infrastructure, historical contamination, and invasive species threaten to cause deterioration," said Stuart Findlay, aquatic ecologist, Cary Institute of Ecosystem. "We are fortunate that our scientific knowledge on many of these problems points to actions capable of mitigating negative effects and the Bond Act provides the support to put the plans into place before we reach crisis."