Reinvigorating neglected places as community cornerstones.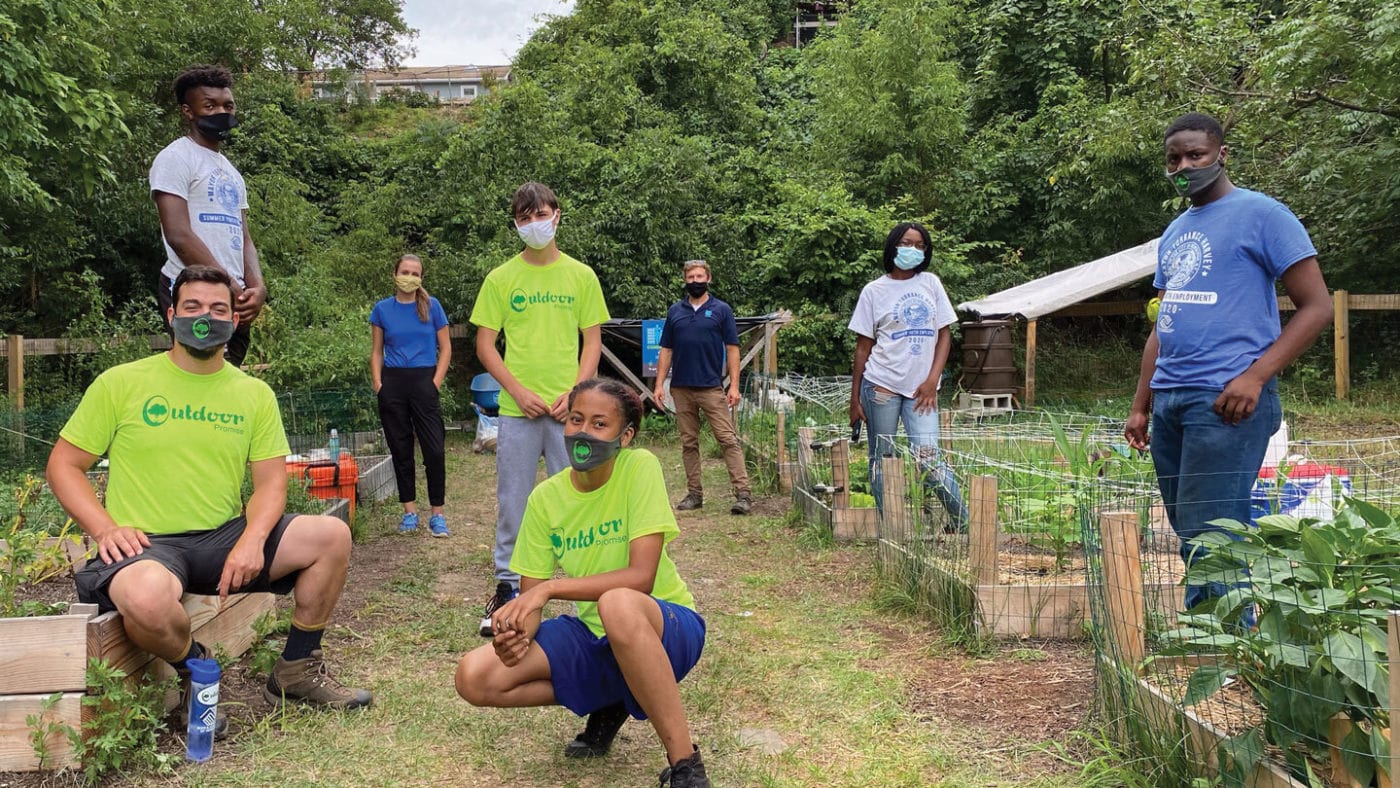 In Newburgh, we are igniting young people's passion for the environment and spurring locally-driven revitalization. We're working with community members to create stronger neighborhoods and restore local parks that offer an oasis from heat, manage stormwater, sequester carbon and improve air quality.
One focal point for these efforts is Crystal Lake — once a popular swimming spot but virtually abandoned since the 1970s — and adjacent Snake Hill, which offers stunning views of the city, river and the Hudson Highlands but has limited public access.
At these sites, city youth have helped us to:
Plan, build and improve trails, community gardens and urban farm plots
Design and build a new entryway and parking area
Install new bike racks and benches
Install new signage
Hold events, including our popular Winterfest
Conduct cleanups (we've already removed 1,250 pounds of litter from the shores of Crystal Lake)
The community farm alongside Crystal Lake has seen incredible progress. Local teens are learning about the importance of agriculture while growing fresh produce. The team delivered 240 pounds of produce to neighborhood families during the summer of 2020 and learned to make a meal with what they grew. We've turned management of the farm over to the Ecological Citizen's Project, and it is now known as the Sanctuary Healing Farm & Gardens at Crystal Lake.
We are continuing a long-term initiative with students and faculty from Newburgh Free Academy's P-TECH to take ownership of these green spaces by creating new pathways to success for them. Along with earning their high school diplomas, students have the chance to graduate with an associate's degree in Applied Sciences. We are lending support through classroom programs and site visits, and by providing the living laboratories for hands-on learning, helping students build confidence and skills with the ability to advocate for themselves and their community.
Additionally, we are:
Co-leading an initiative to plant street trees along the city's South Miller Street, not only connecting people to nature, but creating safer walking environments, lowering urban air temperatures and improving air quality. Partners include Habitat for Humanity Greater Newburgh, the Greater Newburgh Parks Conservancy, and members of the Broadway River District Neighborhood Association.
Creating equitable connections to green space by connecting parks and trails throughout the city.
Helping to develop a vision for a great public park at the People's Waterfront, located on a former contaminated industrial site. The vision for this park will also include innovative and creative ideas for flood protection and increasing access to and from the water's edge.