In November 2008, Scenic Hudson protected 48 acres of prime Hudson Highlands wildlife habitat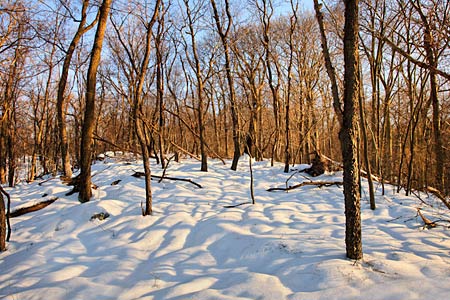 View of Putnam County's Watergrass SanctuaryRobert Rodriguez, Jr. Our collaborative acquisition of a conservation easement on this nature sanctuary with the Hudson Highlands Land Trust (HHLT) and Putnam Highlands Audubon Society (PHAS) ensures the permanent protection of its forested slopes and wetlands, guarantees public access and provides resources for PHAS's long-term stewardship of the property. The land is contiguous with 450 acres previously safeguarded by the Open Space Institute and HHLT. HHLT was instrumental in securing the easement, which it will administer. In addition to providing critical habitat for birds and other wildlife, the sanctuary is an important contributor to stunning Hudson Highlands vistas enjoyed from state parks such as Bear Mountain and Storm King, as well as from several popular public viewpoints across the Hudson River, including the West Point overlook and Storm King Highway. With 2,000 feet of frontage along Route 9, the preserved land also helps maintain the rural character of this road, heavily developed in many Hudson Valley communities, as it passes through the Highlands. The purchase is part of Scenic Hudson's collaborative campaign to Save the Land That Matters Most, protecting 65,000 acres of great scenic, ecological and agricultural significance.
Project highlights
Safeguards dramatic Hudson Highlands views from and of the sanctuary
Preserves rural scenery along a well-traveled road
Protects important wildlife habitats
Ensures permanent public access to the sanctuary
Location
See the map below to view the Watergrass Sanctuary in relation to other nearby protected lands.