Connecting Hudson to Nature—Land Deal Offers Great Potential for City Residents to Enjoy Outdoor Fun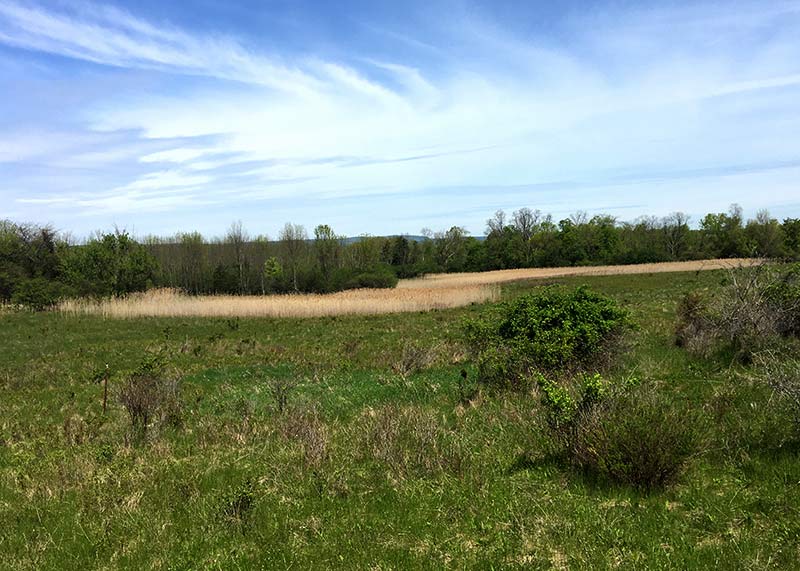 Contact: Steve Rosenberg, Scenic Hudson Land Trust Executive Director
845 473 4440, ext. 217; srosenberg@scenichudson.org
FOR IMMEDIATE RELEASE: January 24, 2020
TOWN OF GREENPORT (Columbia County)—Offering the potential to provide new health and quality-of-life benefits for City of Hudson residents and visitors, Scenic Hudson has protected 80 acres of scenic and ecologically important land just outside the city—the first step in creating a place for people to enjoy outdoor recreation and explore nature.
Conserving the property—which features meadows, forested ravines, wetlands and numerous streams— affords future opportunities for hiking, cross-country skiing, snowshoeing and birdwatching very close to Hudson's downtown. In addition it permanently protects views from the historic Dr. Oliver Bronson House and estate, located on the grounds of the Hudson Correctional Facility and managed by Historic Hudson, as well as from Olana State Historic Site to the south. The property also sustains diverse wildlife.
The conserved land sits adjacent to a new community solar energy array. Solar company East Light Partners worked with Scenic Hudson to address all concerns regarding potential visual and ecological impacts of this project from the newly acquired land and the Bronson House.
Acquisition marks progress in creating Hudson-to-Catskill Trail, protects local water supply
The acquisition also marks a step forward in Scenic Hudson's vision of creating a trail stretching from Hudson to Olana and across the new Hudson River Skywalk (on the Rip Van Winkle Bridge) to the Village of Catskill and the organization's 612-acre RamsHorn-Livingston Sanctuary. To date, Scenic Hudson has protected more than 500 acres along the proposed route of the trail.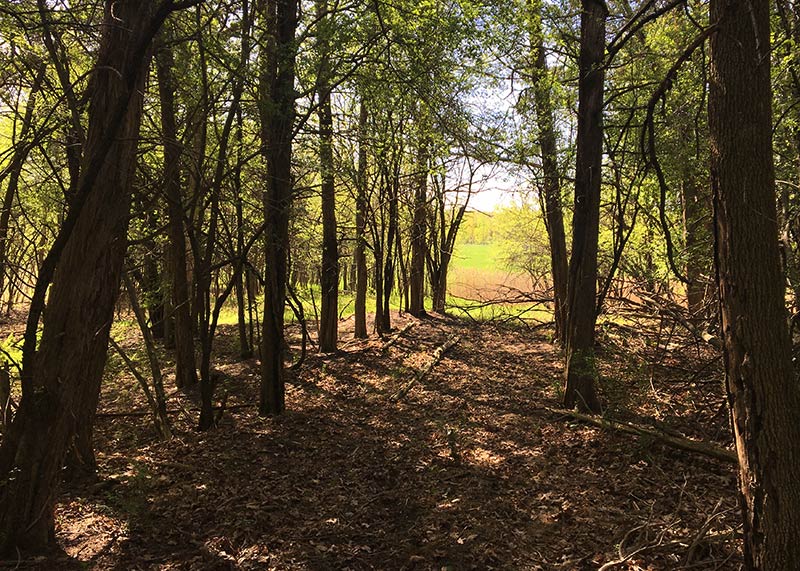 Much of this conserved acreage—including the newly acquired property—is within the watershed of South Bay Creek and Marsh, which the New York State Department of State has designated a Significant Coastal Fish and Wildlife Habitat. The Town of Greenport secures drinking water from wells abutting this assemblage. In addition to supporting the ecological health of these waterbodies and the Hudson River (into which the creek flows), Scenic Hudson's acquisitions in the South Bay Creek watershed will help to accommodate the inland migration of species whose habitats face inundation from climate-related sea level rise in the Hudson River and South Bay.
This transaction was completed with funds from Scenic Hudson's Lila Acheson and DeWitt Wallace Hudson Valley Land Preservation Endowment.
Scenic Hudson President Ned Sullivan said, "Protecting this property not only preserves outstanding views from Olana—one of the Hudson Valley's prime tourism destinations—but supports our longstanding efforts to complete a Hudson-to-Catskill trail, creating an exciting new destination. In addition, it's a critical first step in providing Hudson residents with direct access to nature, and it safeguards more habitats in the ecologically important South Bay watershed."
Scenic Hudson Land Trust Executive Director Steve Rosenberg said, "Preserving this beautiful property embodies so many aspects of Scenic Hudson's work—promoting healthy communities, connecting people to nature, safeguarding the Hudson Valley's extraordinary biological diversity and supporting tourism. Scenic Hudson looks forward to working with community stakeholders to explore ways of providing a direct pedestrian link from downtown Hudson to this land, creating an outstanding recreational resource for residents and visitors."
Historic Hudson President Alan Neumann said, "What makes the City of Hudson livable? Certainly access to beautiful open spaces within walking distance. By acquiring these 80 acres, Scenic Hudson increases the potential for providing this in Hudson, offering critical support for our urban community. This transaction also safeguards land that has been farmed for centuries and has historically been connected to the adjacent 55-acre Dr. Oliver Bronson House and Estate, a National Historic Landmark. Historic Hudson has been working to restore the main house there and looks to enhance future public access."
Olana Partnership President Sean Sawyer said, "For decades, Scenic Hudson has understood that the views from Olana are significant as an American cultural resource, but also integral to Olana as a regional economic engine. The preservation of this ecologically important property is a key element in a shared long-term vision."
East Light Partners Co-Founder and Principal Jamie Fordyce said, "Scenic Hudson's acquisition of this property is a great development for the area, its community and its ecology. East Light Partners was thrilled to have the opportunity to work alongside Scenic Hudson to make our neighboring community solar project a model of low-impact solar development and compatible with the organization's forward-looking vision for sustainability in the Hudson Valley."
The transaction was skillfully led by Scenic Hudson Land Conservation Director Seth McKee and Senior Land Projects Manager Abdiel López Torres.
About Scenic Hudson
Scenic Hudson preserves land and farms and creates parks that connect people with the inspirational power of the Hudson River, while fighting threats to the river and the natural resources that are the foundation of prosperity in the Hudson Valley.