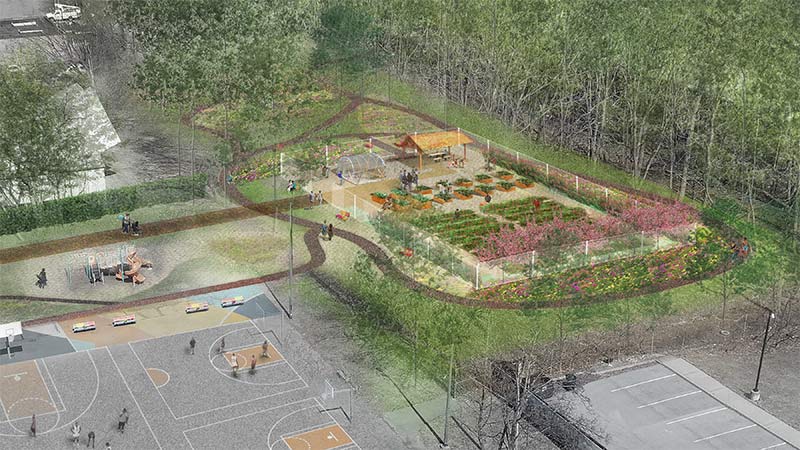 For immediate release
Contacts:
Riley Johndonnell, Communications Director: 415 797 0110, rjohndonnell@scenichudson.org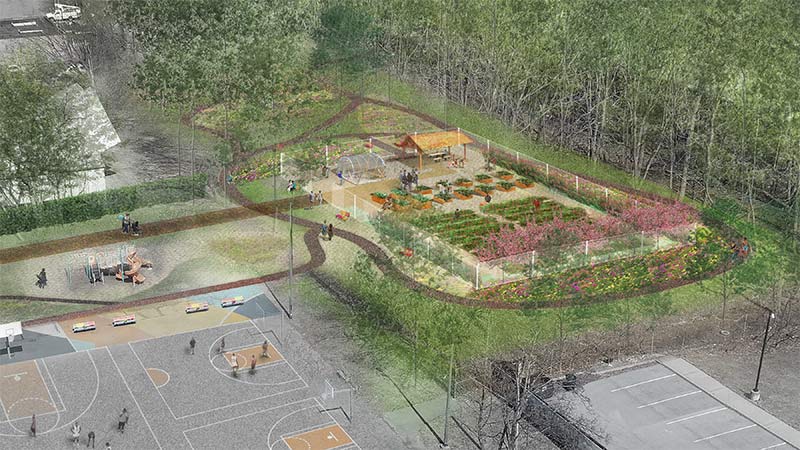 Project will supply fresh produce to local residents, offer educational programs for youth
CITY OF POUGHKEEPSIE (Dutchess County)—Taking the first step in supporting and building healthy lifestyles for city children and families, as well as providing quality education programs for youth, construction has commenced on the Pershing Avenue Neighborhood Farm in Poughkeepsie.
Located adjacent to the city's Pershing Avenue Park, the quarter-acre farm will consist of two segments. One portion will serve as an educational farm where young people can learn about agriculture and its role in promoting good health. Food grown on this land will be distributed to local families via Dutchess Outreach. The remainder of the property will be a community garden, with plots available for residents to grow their own produce.
Poughkeepsie-based LCS Landscapes is working with the city, which owns the land, Scenic Hudson and RPA/New City Parks to carry out the initial phase of construction. This includes grading the site, bringing water to the farm site, installing a fence around it, and creating access with paths and a grassy farm road. Once the work is completed later this fall, the YouthBuild Americorps Program of Nubian Directions II, Inc., will create the raised beds for the farm and garden plots. Beds in the community garden should be available for planting in the spring. The educational portion of the farm should start up in the fall of 2021 or spring of 2022.
The Pershing Avenue Neighborhood Farm is part of a larger initiative to create a neighborhood-focused "park corridor" along Pershing Avenue. It is being spearheaded by the PARKnership – a group of community leaders, municipal representatives and local organizations created to focus on how to improve the health and safety for Pershing Avenue neighbors.
The initiative intends to address the community's desire for a safer, more inviting environment for families, children and neighbors by creating new, safe places to enjoy the outdoors and providing summer programming for children. In the future, the city's Pershing Avenue Park and playground will be enlarged and improved.
Scenic Hudson River Cities Program Director Zoraida Lopez-Diago said, "Construction of the Pershing Avenue Neighborhood Farm marks another important step in Scenic Hudson's collaborative efforts to restore and reconnect people to Poughkeepsie's natural treasures. Thanks to the city, RPA/New City Parks, Nubian Directions II and PARKnership members for partnering with us on this project, which will improve the health and quality of life of so many residents in the city's Northside neighborhoods.
Poughkeepsie Mayor Robert G. Rolison said, "I welcome this initial step in realizing the vision to improve an entire block of Pershing Avenue. The Pershing Avenue Neighborhood Farm not only will be a place for local families to grow fresh food, but will provide an exciting new space for families to come together. The city is grateful to the partners working with us to create this new community hub."
NDI President/YouthBuild Executive Director President Robert Wright said, "Creation of the Pershing Avenue Neighborhood Farm is a perfect example of the great things that can happen when people and groups unite to meet the expressed needs of their community. Along with supplying fresh produce, the farm will allow people to share food that celebrates and reflects their diverse cultures, bringing the community together in exciting new ways. We are extremely proud to be a part of this project."
Poughkeepsie Fifth Ward Councilwoman Yvonne Flowers said, "The Pershing Avenue Neighborhood Farm will play an important role in getting nutritious food to many families who lack easy access to fresh fruits and vegetables. We have to promote healthier diets to help fight against obesity and many diseases that are associated with it. The fresh fruits and vegetables grown at the farm and shared with local residents actually could have a life-saving impact."
Anyone interested in learning more about the project or applying for a community farm plot should contact Zoraida Lopez-Diago at zlopezdiago@scenichudson.org.