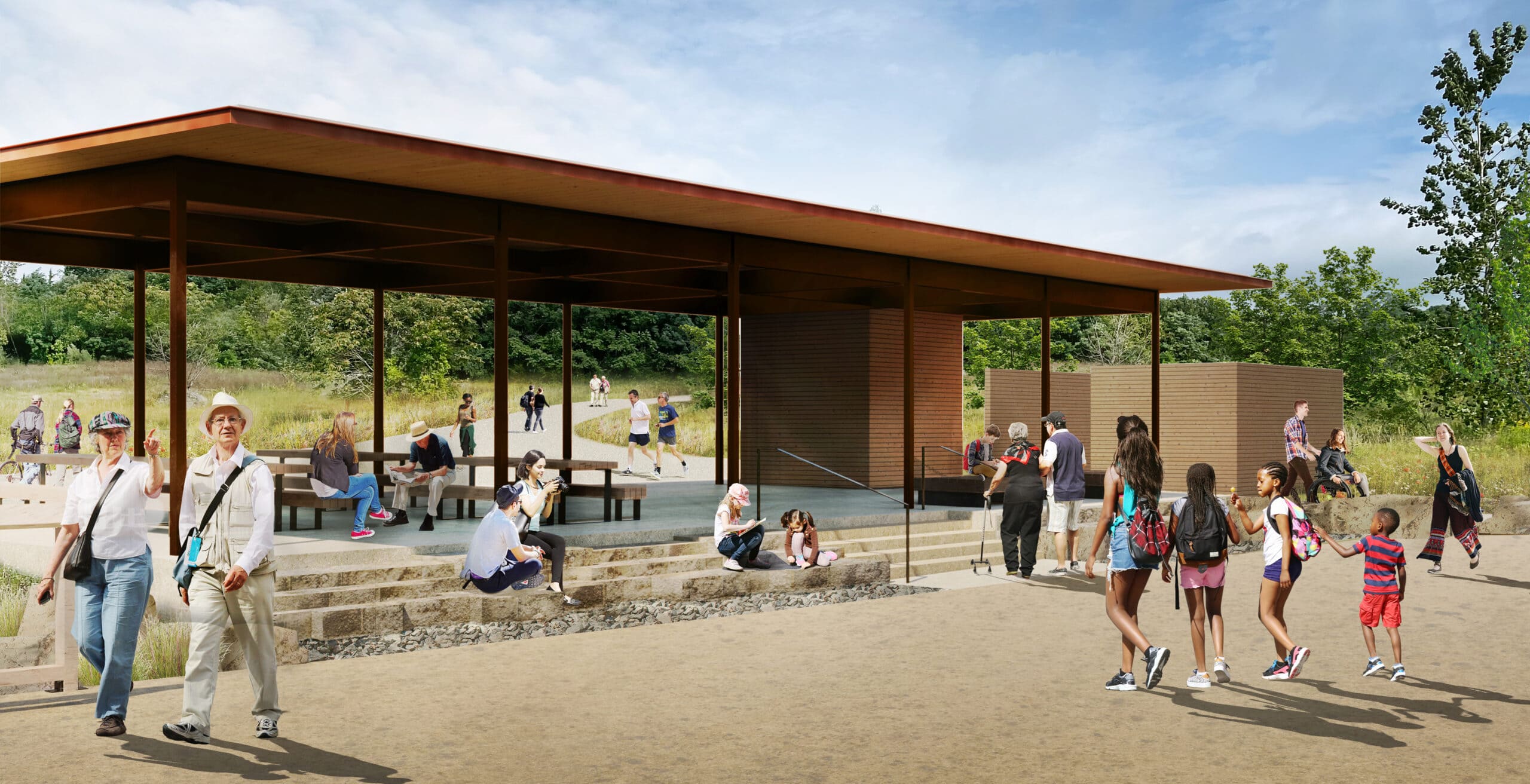 New features will include a shaded community pavilion, renovated fishing platform, trail to river
For Immediate Release
CONTACT:
Riley Johndonnell, Director of Communications
845 473 4440 Ext. 222
rjohndonnell@scenichudson.org

CITY OF KINGSTON AND TOWN OF ULSTER (Ulster County) — Providing exciting new opportunities for people to connect with the Hudson River — and responding to the requests of local residents — construction will commence this month on waterfront improvements at Sojourner Truth State Park. Scenic Hudson, the New York State Office of Parks, Recreation and Historic Preservation (State Parks), and the Palisades Interstate Park Commission (PIPC) have partnered to provide the new features at the site of a former barge dock.

Amenities funded and being constructed by Scenic Hudson — all of which will be ADA-compliant — include a 2,000-square-foot shaded community pavilion, a plaza-like gathering space, resurfaced fishing platform, benches and picnic tables, and a new River Pavilion Trail leading from the Hudson River Brickyard Trail/Empire State Trail to the waterfront. Newly planted native trees, shrubs and grasses will enhance the site's ongoing recovery from its historic past as a hub for brick and cement manufacturing and provide new habitat for wildlife.

The waterfront area also will contain bilingual interpretive signs about the river and the site's history, bike racks, and seasonal toilet facilities. A small lawn area with boulders salvaged during construction will provide additional informal seating overlooking the Hudson River.

State Parks is funding and leading the design and construction of a section of the River Pavilion Trail that will lead to the waterfront from the park's northern entry. This section of the trail will be a paved, ADA-compliant access route from the Empire State Trail, connecting to the pavilion area near the river's edge. Sweeping plantings will offer stormwater infiltration benefits and nestle the newly built components into the landscape. The trail will feature a small overlook area where visitors can rest while enjoying expansive views, including the Kingston-Rhinecliff bridge to the north.

Many of the new features are a direct response to the results of public outreach Scenic Hudson conducted in 2021. A shaded waterfront gathering area and accessible trails to the river were considered priorities among those who completed an online survey or attended online or in-person information-sharing sessions.


Scenic Hudson President Ned Sullivan said, "The improved waterfront at Sojourner Truth State Park will be a magnificent place to stop, relax, and enjoy the sights and sounds of the river up close, just off the popular Hudson River Brickyard Trail and Empire State Trail. At the same time, its new features will provide an ideal setting for gatherings by the river, whether community events or family celebrations. And best of all, it will meet the community's expressed needs and be accessible to everyone."
State Parks Commissioner Erik Kulleseid said, "We are grateful for Scenic Hudson's partnership. These investments will expand access to safe and healthy recreation, and boost the tourism industry and economy throughout the region."

Palisades Interstate Park Commission Executive Director Joshua Laird said, "The Commission is excited that waterfront improvements at Sojourner Truth State Park are proceeding, and we are looking forward to taking in the views from the beautiful pavilion designed by Scenic Hudson and their consultants. PIPC is fortunate to work closely with Scenic Hudson, who has been a great partner in preservation, community engagement, and park operations at Sojourner Truth State Park and across the Hudson River watershed."

Local firm will undertake construction
For the permitting, design, studies, and construction of the pavilion and other new waterfront features, Scenic Hudson secured $3.8 million. The new amenities being created by Scenic Hudson were designed by Olin Partnership, Ltd., while the trail section and river overlook being created by State Parks were designed by MKW & Associates.

All of the improvements are being constructed by Baker Brothers Construction/Kingston Equipment Rental of West Hurley, who were selected through a competitive bidding process. Bakers Brothers is affiliated with the International Union of Operating Engineers (IUOE) Local 825 and the Laborer's Local 17.

Until construction is completed this fall, the waterfront area will be closed to the public, but the Hudson River Brickyard Trail and the rest of Sojourner Truth State Park will remain open. Construction will take place Monday through Friday, weather permitting. There will be times when construction vehicles will be utilizing a small portion of the Hudson River Brickyard Trail, which will impact visitor use briefly.

Under an agreement, State Parks, Scenic Hudson, and the Palisades Interstate Park Commission will collaborate on future phases of development at Sojourner Truth State Park. Scenic Hudson, which protected the parkland in 2019, manages the park under a five-year agreement signed in 2021.

More info about the park: https://parks.ny.gov/parks/SojournerTruth/