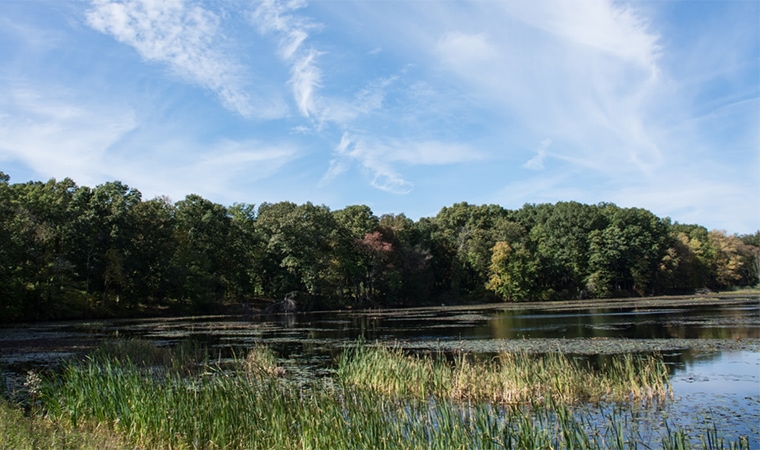 Colleen Pillus, Director of Communications, Dutchess County Government, (845) 486-2000
Riley Johndonnell, Communications Director, Scenic Hudson Inc., (845) 473-4440
Universally accessible park adjacent to Dutchess Rail Trail will greatly enhance opportunities to explore nature, promote tourism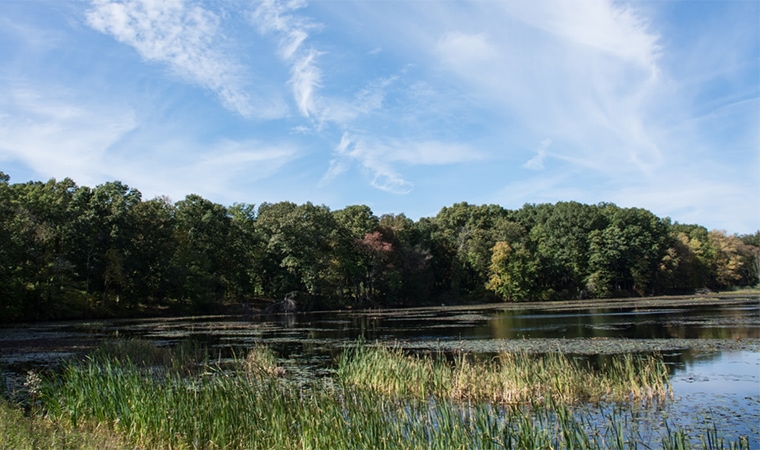 POUGHKEEPSIE—Clearing the way for a new, universally accessible park that will increase opportunities for people of all abilities to hike, fish, and explore nature, Dutchess County has acquired from The Scenic Hudson Land Trust, Inc. (Scenic Hudson), the 231-acre Lake Walton property in East Fishkill. Scenic Hudson acquired the property from a hedge fund and then contributed more than $500,000 to make the transfer to the County possible. The transaction marks the largest expansion of the County's park system in decades, enhancing recreation and tourism. The property was officially transferred to the County today at a closing attended by Scenic Hudson representatives, including Land Conservation Director Seth McKee, and Dutchess County officials, including Dutchess County Executive Marcus J. Molinaro.
The property is located adjacent to and near the southern terminus of the William R. Steinhaus Dutchess Rail Trail. In addition to the 40-acre lake that provides habitat to a variety of wildlife species and unusual plant communities, it features existing trails that can be easily utilized for public enjoyment.
Plans for the property's acquisition and creation of the park—to be called Lake Walton Preserve—were first announced by County Executive Molinaro in his State of the County Address in February. On March 11, the County Legislature voted unanimously to authorize the issuance of $1,697,810 in serial bonds for its purchase. The appropriation includes necessary funds for professional planning consultants, repairs and improvements to the property.
Scenic Hudson purchased the land for $2 million in January to preserve its habitats and secure its future as a public park. The group is selling the property to the County for $1.5 million. The $500,000 discount marks the organization's contribution toward creation of the park. Scenic Hudson also invested approximately $200,000 to repair existing roadways and remove more than 130 tons of debris and asbestos-contaminated materials from the property.
County Executive Molinaro said, "Generations of Dutchess County residents have made memories at Lake Walton; and with this acquisition, even more families and visitors of every ability will enjoy similarly memorable experiences there that will last a lifetime. The cornerstones of Dutchess County's largest parks expansion in more than a half-century, the addition of this parcel and the creation of the Lake Walton Preserve will conserve this amazing greenspace, providing a passive recreation venue with universal accessibility that will allow visitors to enjoy the park in countless individual ways. We thank our partners at Scenic Hudson and the Dutchess County Legislature for their full support of this project, as this collaboration will benefit our residents and visitors for decades to come."
"Scenic Hudson is delighted to partner with Dutchess County to provide this exciting opportunity for recreation and connecting with wildlife," said Scenic Hudson President Ned Sullivan. "In addition to promoting good health, it will enhance tourism by adding another great destination for visitors to explore—making this a win-win for the county and its residents. A special thanks to Marc Molinaro for ensuring this new park will inspire people of all abilities to get outdoors."
"What a special place this will be for all to enjoy!" said Scenic Hudson Land Trust Executive Director Steve Rosenberg. "We are grateful to County Executive Molinaro for his vision to create Lake Walton Preserve, to the County Legislature for their unanimous support for the acquisition and to County staff, who provided outstanding support to make this possible. Study after study has shown that spending time outdoors has wide-ranging health benefits for people of all ages."
The Dutchess County Department of Public Works Parks Division has already begun assessing the property as part of its ongoing County Parks Master Plan update and the park is expected to be open to the public by spring 2020.
For questions about the Lake Walton Preserve project, contact Dutchess County Parks at (845) 298-4600 or Scenic Hudson Land Project Manager Emily Hague at 845 473 4440, ext. 267.