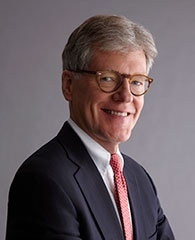 Jay Burgess
Director of Communications, Scenic Hudson, Inc.
Tel: (845) 473-4440 x222 Cell: (914) 489-0362 Fax: (845) 473-0740
jburgess@scenichudson.org
HUDSON VALLEY, N.Y.—Adding to the expertise represented by the members of its Board of Directors, Scenic Hudson has announced that Stephen M. Clement, III is the organization's newest board member.
Mr. Clement retired in June 2016 after serving for 28 years as the headmaster of The Browning School, a private college preparatory school for boys in Manhattan. Previously, he held administrative positions at The Dalton School, Union Theological Seminary and the Walden School, all in New York City. Mr. Clement began his career as an educator teaching sixth grade at Public School 125 in Harlem. He also taught at St. Mark's School in Southborough, Mass. Mr. Clement earned degrees from Yale University, the Union Theological Seminary and Harvard University.
Among numerous leadership posts Mr. Clement has held with statewide independent schools groups, he served as a trustee and president of the New York State Association of Independent Schools. He currently is on the board of the Millbrook School in Millbrook and Robert College in Istanbul.
Scenic Hudson President Ned Sullivan said, "Stephen Clement has a keen interest in the environment, history and culture of the Hudson River Valley. We will benefit from his sophistication in nonprofit management, and his experience with teaching and motivating students will help Scenic Hudson engage more young people in enjoying the outdoors and helping to protect and enhance the Hudson Valley's significant natural resources."
With his wife Sally, Mr. Clement lives in New York City and Millbrook, Dutchess County.
About Scenic Hudson
Scenic Hudson preserves land and farms and creates parks that connect people with the inspirational power of the Hudson River, while fighting threats to the river and natural resources that are the foundation of the valley's prosperity. A crusader for the valley since 1963, we are credited with saving fabled Storm King Mountain from a destructive industrial project and launching the modern grass-roots environmental movement. Today with more than 25,000 ardent supporters, we are the largest environmental group focused on the Hudson River Valley. Our team of experts combines land acquisition, support for agriculture, citizen-based advocacy and sophisticated planning tools to create environmentally healthy communities, champion smart economic growth, open up riverfronts to the public and preserve the valley's inspiring beauty and natural resources. To date Scenic Hudson has created or enhanced more than 65 parks, preserves and historic sites up and down the Hudson River and conserved nearly 40,000 acres.