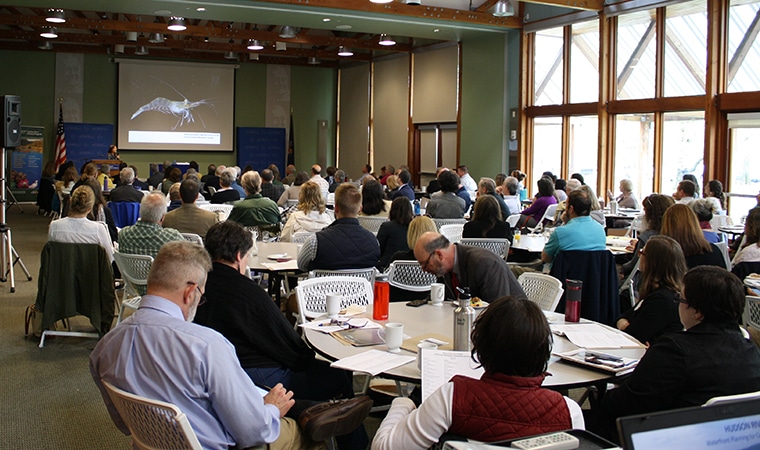 Jay Burgess
Director of Communications, Scenic Hudson, Inc.
Tel: (845) 473-4440 x222 Cell: (914) 489-0362 Fax: (845) 473-0740
jburgess@scenichudson.org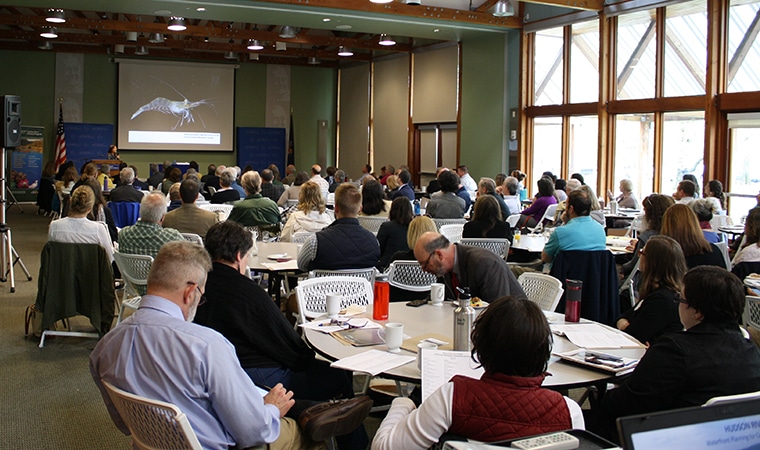 HUDSON VALLEY, N.Y.—Rising water levels and severe weather events along the Hudson River have and will continue to bring significant impacts to waterfront resources and vital infrastructure—and to people who rely on them. Regional, state and national experts gathered today at a one-day conference and shared with municipal and business leaders as well as other stakeholders the latest information about climate-smart policies and practices that can help ensure environmentally and economically vibrant riverfront communities.
About 150 decision-makers and influencers from cities, towns and villages dependent on the Hudson River attended Hudson River on the Rise: Waterfront Planning for Communities and Nature. The conference was held today from 9 a.m. to 4 p.m. at the Henry A. Wallace Center at the FDR Presidential Library and Museum in Hyde Park, Dutchess County.
The stakes extend beyond riverfront properties
Rising tides along the Hudson River will affect commuter and commercial rail transport, drinking water and wastewater plants, and a great variety of riverfront businesses, private properties and popular venues such as public parks. New systems and solutions will have implications for taxpayers.
Learning opportunities, sharing of resources and networking
The conference was organized by the New York State Department of Environmental Conservation Hudson River Estuary Program, Hudson River National Estuarine Research Reserve, New York State Department of State Office of Planning and Development, Scenic Hudson, New England Interstate Water Pollution Control Commission and Cornell University. The event convened experts on resiliency planning for the Hudson River Estuary's unique natural and community resources. Presentations covered innovative case studies from Hudson River communities grappling with flooding. Participants had the opportunity to learn about exciting efforts along the Hudson, available resources and ways to envision future projects in their own communities. Conference attendees also networked with each other and explored partnerships to pursue their own waterfront resiliency goals. These efforts are intended to increase resiliency for both developed waterfronts and natural areas, where ecological resources also are threatened by climate change and sea level rise.
The keynote speaker was Pippa Brashear, director of Planning and Resilience for SCAPE, a New York City-based landscape architecture and urban design studio. Ms. Brashear works with planning, engineering and design teams to integrate landscape strategies that are sustainable and resilient, and that balance environment, infrastructure, development and community quality of life. She earned a master's degree with distinction in Landscape Architecture and Urban Planning from Harvard University.
Additional presentations provided best practices in resource management and decision-making processes and conveyed the latest scientific data from the Hudson River Estuary.
Tarrytown Mayor Drew Fixell said, "Tarrytown shares the concerns all neighboring communities must have about rising tides. I applaud Scenic Hudson's initiative in arranging this conference, which helped us learn how best to prepare ourselves."
"Climate change is real, and the waters are rising. It's up to every one of us charged with the well-being of our communities to make resilience a priority as we plan for the future of our waterfront neighborhoods," added Tarrytown Planning Board Member David Aukland.
"Bethlehem has 10 miles of waterfront area along the Hudson River, which includes a diverse mix of industry, residences, and conservation and parkland. A goal of the town's ongoing Local Waterfront Revitalization Program (LWRP) update is to guide the future of Bethlehem's waterfront area by creating a balance between development and the protection of the unique environment and heritage of the Hudson riverfront. The integration of resiliency planning into the LWRP is important to ensure future development and town investment are resilient to sea level rise and flooding," said Town of Bethlehem Director of Economic Development and Planning Robert Leslie, AICP.
Scenic Hudson President Ned Sullivan said, "The Hudson Valley is well poised to be a model in responding to climate change. Scenic Hudson is working with partners to shape science-based strategies to preserve land and habitats to help buffer water and weather impacts. We see innovative ways to work with communities to be adaptable and vibrant places for people to live, work and enjoy the Hudson's special offerings. The vision and experience of those who took part in this conference will help shape a bright future for our region."
Forecasting shows now is the time for action
Scenic Hudson at www.scenichudson.org/climatechange offers scientific and other climate change resources, including its Sea Level Rise Mapper—a free, online tool that helps communities visualize the impact of rising water levels at specific locations along the river and begin to plan for the "new normal."
In February, New York State adopted official sea level rise projections intended to help state agencies and coastal communities better plan for the impacts of a changing climate. These projections indicate that, depending on ice melt scenarios, the Mid-Hudson's sea level could rise from between two and six feet by the end of the century. More at www.dec.ny.gov/energy/102559.html.
"Communities in the Hudson River Valley Estuary watershed are leaders in New York's Climate Smart Communities (CSC) program and the state's efforts to build more resilient waterfronts. This conference brings together some of the best and brightest scientists and environmentalists working on the front lines in the fight to combat rising waters and extreme weather. Harnessing the collective power of their knowledge and experience will position the Hudson Valley's waterfront communities to become stronger and more resilient for generations to come," said DEC Commissioner Basil Seggos.
New York State Secretary of State Rossana Rosado said, "Hudson Valley communities have been faced with a multitude of extreme weather events in recent years. This conference will bring together representatives of local government, state agencies and concerned citizens to shares ideas on how to address very real issues, such as increased flooding and sea level rise, and safeguard our state from future climate change. The New York Department of State looks forward to working with all these committed stakeholders and partners to fulfill Governor Cuomo's vision of a more resilient New York."
About Scenic Hudson
Scenic Hudson preserves land and farms and creates parks that connect people with the inspirational power of the Hudson River, while fighting threats to the river and natural resources that are the foundation of the valley's prosperity. A crusader for the valley since 1963, we are credited with saving fabled Storm King Mountain from a destructive industrial project and launching the modern grass-roots environmental movement. Today with more than 25,000 ardent supporters, we are the largest environmental group focused on the Hudson River Valley. Our team of experts combines land acquisition, support for agriculture, citizen-based advocacy and sophisticated planning tools to create environmentally healthy communities, champion smart economic growth, open up riverfronts to the public and preserve the valley's inspiring beauty and natural resources. To date Scenic Hudson has created or enhanced more than 65 parks, preserves and historic sites up and down the Hudson River and conserved nearly 40,000 acres.