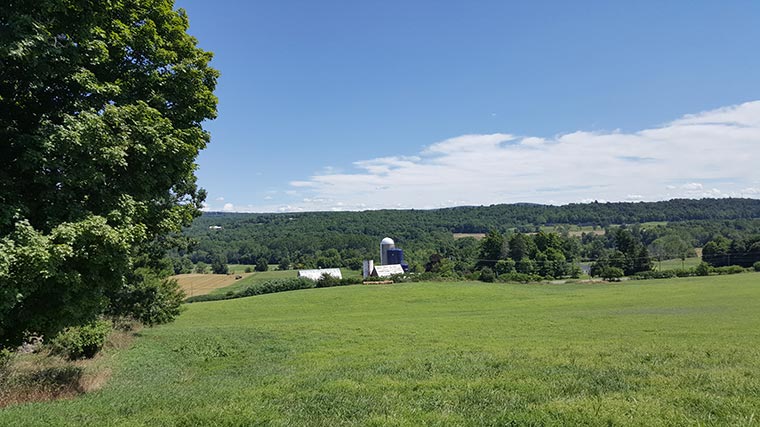 Contact: Steve Rosenberg
Scenic Hudson Land Trust Executive Director
914 489 7925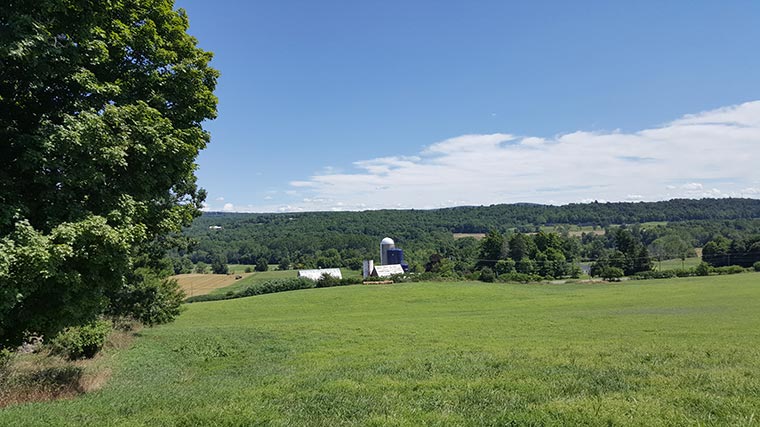 Partners engaged in conserving regional, New York City foodshed
HUDSON VALLEY—Farmers and groups working together to protect the Hudson Valley's family farms are commending Gov. Andrew Cuomo for his strong support of their work this year. Specifically, they praised the governor's leadership in dedicating $20 million in state funds to facilitate collaborative initiatives that will lead to the acquisition of conservation easements on more than 5,600 acres of productive farmland.
The funds—awarded through the governor's Hudson Valley Agricultural Enhancement Program (HVAEP), New York's first-ever regionally targeted farmland protection grant program—are enabling land trusts, county and local governments, and farmers to complete projects that will permanently protect land on 28 farms in seven counties. These farms are among the leading suppliers of fresh vegetables, fruits, meats and dairy products to consumers, restaurants and markets throughout the region and New York City.
The conservation easements will provide capital for current farmers to increase their productive capacity, growing the valley's $800-million agricultural economy. By lowering the land's resale value, the easements also will make the land more available for the next generation of farmers. Securing land at an affordable price is one of the greatest challenges facing new farmers.
"Scenic Hudson thanks Governor Cuomo for his vision in boosting the agricultural economy of the Hudson Valley by funding the protection of its prime farmland, as well as his leadership in promoting the state's vibrant food and beverage industry via his Taste NY initiative. These programs are a critical part of the governor's overall commitment to creating jobs—in the valley and throughout the state," said Scenic Hudson President Ned Sullivan.
"Governor Cuomo's groundbreaking commitment to protecting Hudson Valley farms is making a big difference. His $20-million investment to conserve our richest soils not only is enabling the families that own these lands to reinvest in their operations, but also is providing a catalyst for securing critical support from other public and private funders to conserve the region's family farms. The millions of people in the valley and New York Metropolitan Area who depend on these farms for their healthy, local food should thank the governor for his leadership in ensuring their permanent conservation," said Scenic Hudson Land Trust Executive Director Steve Rosenberg.
"There is a seven-generation history of farming that will continue because of the funding and permanence provided through the Agricultural Enhancement Program. It has been my responsibility and my dream to work toward keeping the farm in the family for future generations. With the funds provided by the program, we have the confidence to continue to invest in the farm operation, and to expand to new crops and agricultural products without the fear of our investment and hard work being lost," said Bob Stuart of Stuart's Fruit Farm in Somers, Westchester County. HVAEP is providing $1,843,250 to preserve the 172-acre farm. Other partners include Westchester County, Scenic Hudson, the Town of Somers, Westchester Land Trust and the Somers Land Trust.
"Funding from the state's Agricultural Enhancement Program will enable us to purchase lands we've been leasing for decades, providing increased stability for our dairy operation. I thank Governor Cuomo for recognizing the essential role the Hudson Valley's working farms play in supplying fresh food, supporting the region's agricultural and tourism economies, and preserving its rural heritage," said Martin Ping, executive director of the Hawthorne Valley Association in Ghent, Columbia County. HVAEP is providing $335,248 to preserve 107 acres critical to the support of the association's Hawthorne Valley Farm. Other partners include Columbia Land Conservancy.
"The funds we qualified for in this state-funded program, along with the generous matching funds from Scenic Hudson and Equity Trust, allowed us to realize our dream of owning land we'd been leasing. With the security of ownership, we now can confidently make the long-term investments in the land that insure and improve our ability to grow food on it. Not only does this program give our generation the basic security to plan out our future crop rotations, but the real legacy here is this land will remain in agriculture forever, and will always be there for future farmers to do the same thing we do—grow local, fresh food for New York State and beyond," said Chris Cashen of The Farm at Miller's Crossing in Hudson, Columbia County. HVAEP is providing $1,108,175 to preserve 397 acres. Other partners include Columbia Land Conservancy and the 1772 Foundation.
"We are very grateful for Governor Cuomo's far-sighted commitment to farmland protection. The Hudson Valley Agricultural Enhancement Program, together with the most recent round of statewide farmland protection funding, has enabled us here in Columbia County to conserve 12 active family farms, 2,300 acres of great farmland that will now remain available for agriculture. This program supports the local economy, supports the network that supplies fresh local food throughout the Hudson Valley, and works to protect the beautiful and ecologically healthy landscape that makes upstate New York a world-class destination," said Columbia Land Conservancy Executive Director Peter Paden.
"Bob and Betsy Stuart and their family are committed and dedicated both to caring for their land and to farming as a profession and way of life. They have persevered to preserve Stuart's Fruit Farm, and Westchester Land Trust is grateful to be a part of the successful effort to bring permanent protection to a regionally significant resource without equal. I congratulate and thank all of our partners for their generosity, energy and vision, and the State of New York for recognizing that Stuart's Fruit Farm is a worthy recipient of funding," said Westchester Land Trust President Lori Ensinger.
Easements support goals of Scenic Hudson Foodshed Conservation Plan
Grants awarded through Gov. Cuomo's Hudson Valley Agricultural Enhancement Program provided up to 75 percent of each easement's purchase price. Farms being protected are located in Columbia, Dutchess, Orange, Rensselaer, Saratoga, Washington and Westchester counties.
More than 3,300 acres of these lands are designated a priority for protection by Scenic Hudson's Foodshed Conservation Plan. A first-of-its-kind analysis to quantify farmland in the valley, the plan goes on to prioritize those agricultural lands whose protection will have the greatest impact in meeting the growing need for fresh, local food in the valley and New York City. The urgency of protecting these lands is borne out by the estimate that New York City's unmet demand for regionally produced food already approaches $1 billion.
Scenic Hudson and other farmland protection partners continue advocating for New York City to support protection of farms that supply its neighborhoods with healthy food, much the way the city has been making its water supply more secure by conserving farms surrounding its upstate reservoirs.