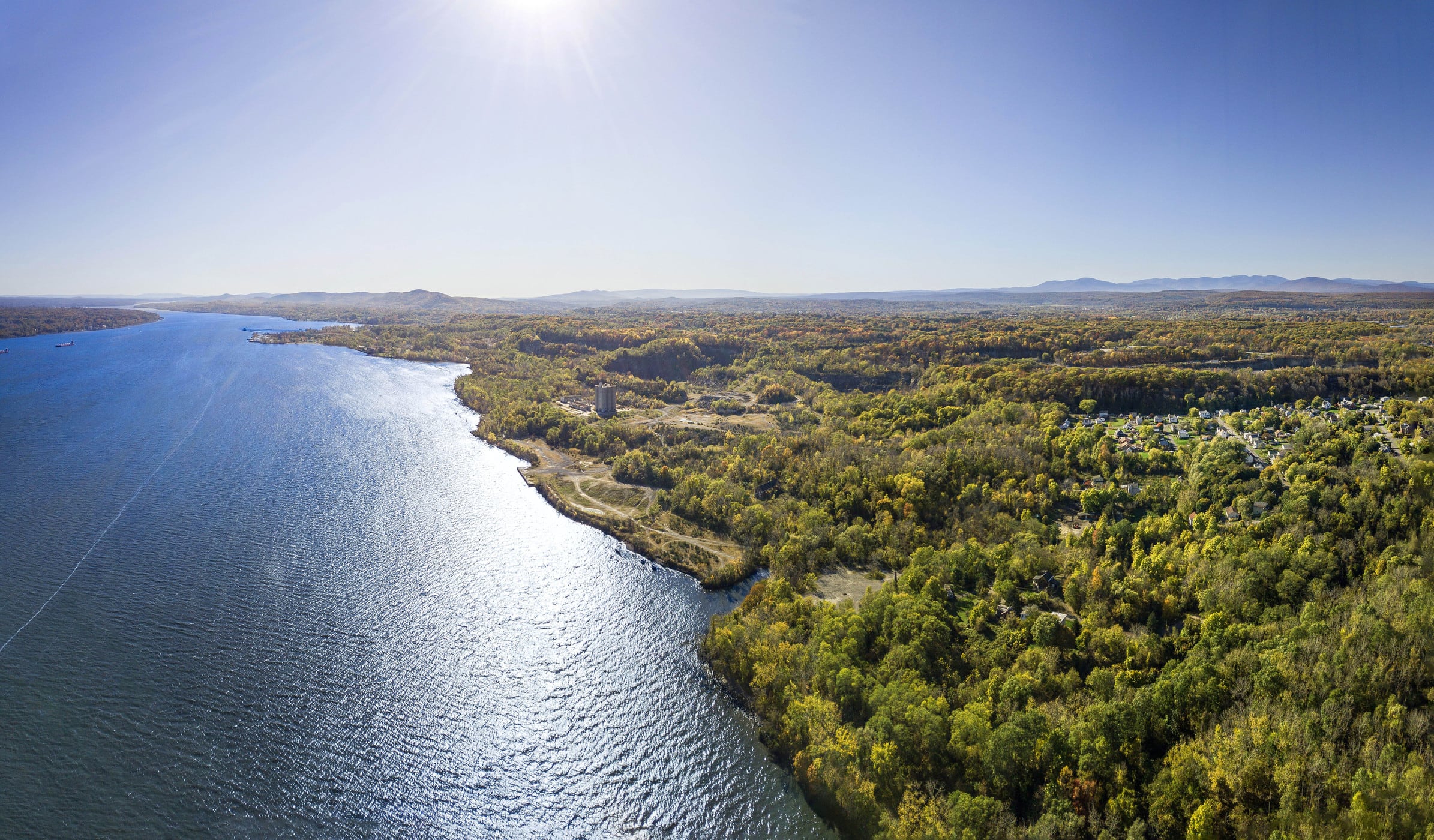 Contact: Steve Rosenberg, Executive Director,
The Scenic Hudson Land Trust
914-489-7925 srosenberg@scenichudson.org
For immediate release: October 29, 2019
KINGSTON (Ulster County)—Studies have shown repeatedly that greenspaces and trails near urban areas provide myriad benefits—enhancing residents' physical and mental health, contributing to a reduction in childhood obesity, alleviating stress and anxiety, improving air and water quality, helping to cool nearby neighborhoods, and mitigating crime and vandalism.
Taking the first step toward providing a new public park that will allow City of Kingston residents to enjoy these benefits, Scenic Hudson announces the acquisition of 508 acres of forested and former industrial lands along the Hudson River. Some 75 percent of the property lies within Kingston, with the remainder in the Town of Ulster. The land had been slated for a 1,682-unit mixed-use development. Prior to that, it had been the site of a cement mine and processing facility.
"It's unbelievably exciting that Scenic Hudson has acquired this property as future parkland. The 500-acre swath of land with its woodlands, river access, quarry ponds and industrial relics really captures what makes the Hudson Valley special all in one space. These park investments can in turn spark investment and economic opportunities in the cities and towns throughout the region. I'm so excited to see how the site transforms over time," said Kate Orff, founder and principal of SCAPE, the award-winning landscape architecture and urban design studio based in New York, and a MacArthur Fellow.
Key funding to acquire the land was provided by private donors, including philanthropists Eric and Wendy Schmidt, the Walbridge Fund, The PCLB Foundation, the Kathryn W. Davis Fund for Hudson River Parkland Acquisition, Carolyn Marks Blackwood, Will Nixon, Illiana K. van Meeteren, Sue Sie, Steven Holl and Robert Lonergan.
Land features outstanding natural beauty, diverse wildlife habitats
Acquired by Quarry Waters, LLC, an affiliate of The Scenic Hudson Land Trust, the property features areas of outstanding natural beauty perfect for engaging in many forms of outdoor recreation and exploring a broad array of wildlife. It contains 260 acres of woodlands, more than a mile of Hudson Riverfront offering sweeping views, a dramatic cliff and ridgeline, and 37 acres of wetlands. Also remaining are numerous vestiges and structures from the cement industry, which will be further studied to determine potential risks as well as opportunities for public use and historic interpretation.
This new park will build on Scenic Hudson's track record for transforming former industrial riverfront landscapes into magnificent places that benefit local residents and support the Hudson Valley's $5.5-billion tourism economy. Among its successes are Scenic Hudson's Long Dock Park in Beacon, Scenic Hudson Park at Irvington, Scenic Hudson RiverWalk Park at Tarrytown and Scenic Hudson Park at Peekskill Landing.
Land offers potential to expand biking, hiking and accessible trail connections
The acquisition capitalizes on the development of a dramatic segment of Gov. Andrew Cuomo's 750-mile Empire State Trail (also part of Kingston's Greenline Trail), which will traverse the site's 1.3-mile riverfront, and other economic development investments the governor has prioritized in the area. The trail will enter the property at the Hutton Brickyards and then lead north through East Kingston to the Kingston-Rhinecliff Bridge. It is scheduled to open next fall.
Property to remain closed to public for now to ensure public safety
The property will remain closed to the public—as it has been for years—until further notice so that Scenic Hudson can take immediate and necessary action to secure the site and ensure public safety.
In the coming months, Scenic Hudson plans to reach out to various segments of the community to brief them on the acquisition and seek their preliminary input about how it can think about planning for the property's future use. The land's varied terrain and challenging conditions mean that whatever plans are ultimately developed will take time to consider and implement. Scenic Hudson also may explore complementary concessions appropriate to the land's significant conservation values.
Scenic Hudson President Ned Sullivan said, "Securing this property will bring tremendous recreational, ecological, scientific and economic benefits to city and town residents and the entire region. We have long protected the Hudson Valley's rural landscapes, including working farms, for all to enjoy, while also restoring brownfield sites in Hudson River communities. This acquisition represents Scenic Hudson's most ambitious undertaking in its history to transform a former industrial site on the Hudson into a community asset in an urban setting. We are committed to joining with other partners in the region to make the valley's cities great places to live, work and play, and to engaging residents and stakeholders to work with us to restore natural assets that can enrich their lives."
Mr. Sullivan added, "Scenic Hudson is deeply grateful to the individuals and foundations who have generously stepped up to assist us in this momentous undertaking. I also commend our experts in land acquisition, park planning, science, public policy and fundraising who carried out this transaction—assessing the property's assets, identifying risks and strategies to address them, considering opportunities for future park amenities and raising the funds needed for the project."
Scenic Hudson Land Trust Executive Director Steve Rosenberg said, "Scenic Hudson is thrilled to bring the powerful potential of this remarkable property to the public by providing an exciting new place for local residents and visitors to connect with the Hudson River and the beautiful lands along it. Reclaiming and restoring this waterfront, long off-limits to the public, can transform the city's relationship with the Hudson River and create new opportunities to build a strong sense of community by creating public spaces and programs that reflect residents' needs and desires. We are committed to working with all interested citizens to create a vision for its restoration, use and stewardship."
Project builds on prior Scenic Hudson investments in Kingston
Scenic Hudson has long supported efforts in Kingston to connect people to natural and historic treasures, catalyzing locally-driven community revitalization. It helped convene a task force of local stakeholders to develop strategies for making its waterfront more resilient to rising sea levels and more frequent flooding. The City Council has implemented many of the task force's recommendations. Scenic Hudson helped the Hudson River Maritime Museum acquire the site of its wooden boat-building school and secured permanent public access to a 575-foot portion of the popular esplanade along Rondout Creek. It also provided financial support for the museum to launch Solaris, the first solar-powered boat in operation on the Hudson. Scenic Hudson's 436-acre Juniper Flats Preserve (the former IBM Recreation site) has become a prime outdoor classroom for Kingston schoolchildren through a partnership with Wild Earth educators. And, the organization partnered with Harambee Kingston and the Kingston Land Trust to acquire the Pine Street African Burial Ground.
Top left: map of Quarry Waters and surrounding lands. Top right: proposed route of Empire State Trail. Click images for higher resolution versions. Bottom: Quarry Waters property, looking north (photo: Pierce Johnston).
QUOTES
Kingston Mayor Steve Noble said, "Protecting this property represents a transformative moment for our city. With Scenic Hudson at the helm of this ambitious project, we have the opportunity to create an exciting greenspace for residents and a destination for visitors to explore the unique recreational, cultural and natural resources our city offers, enhancing Kingston's economic development. I look forward to working with Scenic Hudson and our community partners to ensure that this long-vacant property is reborn into one of the largest and most unique urban parks in New York State."
Ulster County Executive Pat Ryan said, "Scenic Hudson is to be commended for taking the first step toward turning this industrial site into a magnificent destination for recreation and connecting with the county's past. It secures a vital link in the Empire State Trail and will be another jewel among Ulster County's riverfront parks."
Andy Beers, director of the Empire State Trail program, said, "Scenic Hudson's acquisition of this property and plans to create a public park that will include a portion of the Empire State Trail will further Governor Andrew Cuomo's goals to enhance outdoor recreation, community vitality and tourism development along the trail's 750-mile route. When completed, the Empire State Trail section through the property will provide hikers and bicyclists with stunning views of the Hudson River. New York State looks forward to working with Scenic Hudson and its partners to facilitate construction of the trail."
Kingston Landing Development, LLC, Vice President Thomas F. Pernasaid, "With Scenic Hudson's past success in transforming former industrial riverfront properties into public parks that benefit their communities and the entire region, Kingston Landing Development, LLC, is confident that its acquisition of this land will provide the starting point for creating a great new destination for people to connect with the Hudson Valley's natural beauty and heritage."
Kingston Land Trust Executive Director Julia Farr said, "The Kingston Land Trust is breathing a sigh of relief that this land will remain undeveloped as a natural resource for our community, thanks to Scenic Hudson's efforts. We would welcome any collaboration to support meaningful access to this scenic, historic and ecologically rich site, especially since our initiative with the city and county—the Kingston Greenline—will be running directly through it."
City of Kingston Director of Health and Wellness Emily Flynn said, "The addition of a new Scenic Hudson property in the City of Kingston will improve the health of our residents by providing a park within walking distance of underserved neighborhoods that will create access to the Hudson River, reduce stress with nature and create opportunities for free physical activity."