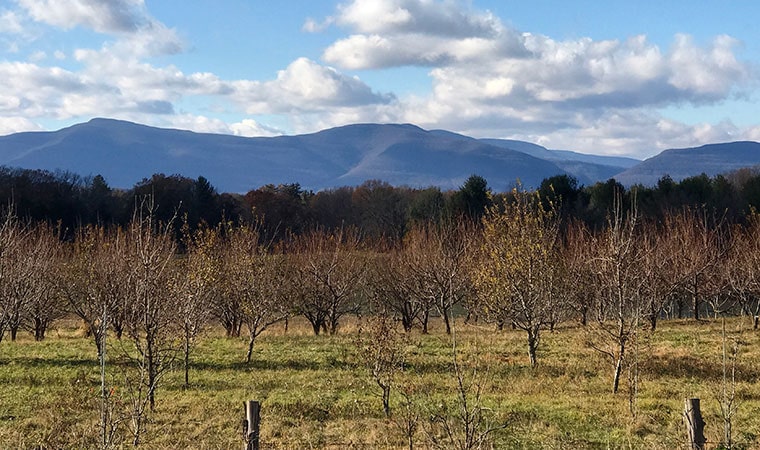 Jay Burgess
Director of Communications, Scenic Hudson, Inc.
Tel: (845) 473-4440 x222 Cell: (914) 489-0362 Fax: (845) 473-0740
jburgess@scenichudson.org
Millbrook, NY – You've undoubtedly seen the stunning views across the Potts Farm's open meadows and apple orchards towards the Catskill Mountains as you travel Route 9G north of Red Hook. Or perhaps you've stopped at Donald and Claudia Stickle's farm stand to buy fresh, farm-grown vegetables and fruits because you care about where your food comes from and you like to support local farm establishments. Well, we have great news to share! The Stickles have recently forever protected their 73-acre farm in Red Hook by selling the development rights on their land. In doing so, they have ensured that the farm will remain open and available for agriculture for current and future generations.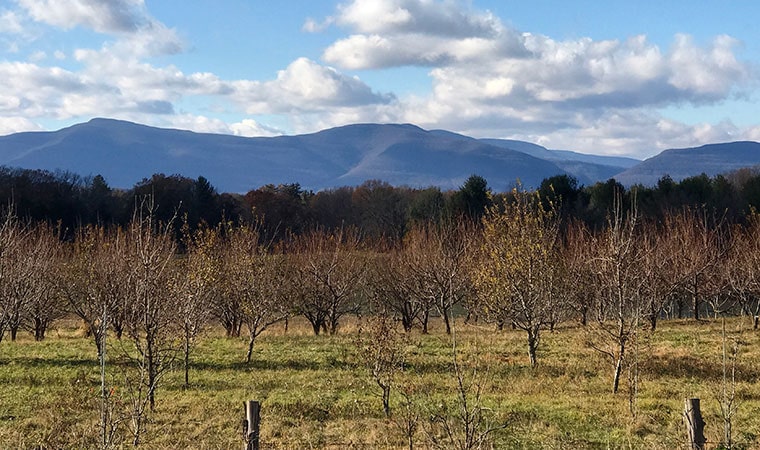 "Potts Farm has been in this family for many generations," said Don and Claudia. "We are very proud that it has been protected and will stay in farming long into the future. We love this land, and being part of the farming community in Red Hook, and appreciate that so many people in the area enjoy and understand the importance of farms and having healthy, local food."
The Stickles worked closely with the Dutchess Land Conservancy (DLC), Scenic Hudson, and partners the New York State Department of Agriculture and Markets (NYSDAM) and the Town of Red Hook on the planning, implementation, and ultimate protection of the farm. Funding awarded by NYSDAM (from the State's Environmental Protection Fund), Scenic Hudson, and the Town of Red Hook's Community Preservation Fund helped complete the transaction. And, as the grant applicant on behalf of the landowners, the DLC served as the project manager, provided a portion of the closing costs and in-kind services, and will hold and oversee in perpetuity the conservation easement on the farm.
"It's easy to see how much the Stickles love their land and love what they do. Farming is not just a business for them, it's a way of life. This land has been in their family since the mid-1800's, and their commitment to its tradition and their family heritage is inspiring," said the DLC's President Becky Thornton. "In addition to the fresh local foods they grow here which contribute to the region's agricultural economy, the farm is integral to Red Hook's rural farm fabric, and serves as part of the incredible scenic gateway that is seen by thousands of visitors entering Red Hook from Columbia County each year. The protection of this land also helps to safeguard the Village of Tivoli's public water supply. It's a win-win all the way around."
"This project is a wonderful accomplishment for the people of Red Hook and Tivoli," said Town of Red Hook Supervisor Robert McKeon. "We are indebted once again to our partners; New York State, Scenic Hudson, and DLC for their commitment to preserving agriculture in our farming community. The voters in Red Hook had the wisdom to institute a Community Preservation Fund a decade ago and those dollars are once again providing the local match. We wouldn't, however, even be in this enviable position, were it not for the original preservationists – the farmers themselves. The Stickle / Potts family have stewarded these treasured lands for generations and we are thrilled they've chosen to protect it for all of us to enjoy into the future."
This land has been farmed by seven generations of the Potts Family. Donald and Claudia took over farming of the property from Claudia's father, Claude Potts, in the year 2000. Their son Michael will be the eighth generation to work on the farm. The farm is a diversified operation raising beef, producing vegetables and fruit, as well as hay and corn for forage. Produce and meat from the farm are sold direct to consumers on-site as well as wholesale to other local farmers for sale at their regional markets.
The property is divided by New York State Route 9G running north/south with the Potts Farm stretching east and west on either side of the road. The farm is highly visible and situated at the gateway to both the Town of Red Hook and Village of Tivoli, and has a distinctive red barn at the roadside with the Catskill Mountains serving as a backdrop looking to the west. Apple orchards flank both sides of Route 9G on the property and extend behind the roadside farm houses on the east side of the road. The majority of the farm is open fields and the Stony Creek runs along the western edge of the property. The eastern edge of the property is bordered by farmland that is also under conservation easement.
"We are delighted to collaborate with Dutchess Land Conservancy, the Town of Red Hook, the state—and, of course, Don and Claudia Stickle—to protect their historic and productive farmland. Working farms are essential to our region's future because they supply us with healthy food, safeguard important habitat and drinking water, and contribute in a big way to our region's natural beauty," said Steve Rosenberg, executive director of The Scenic Hudson Land Trust.
Potts Farm was ranked as a high priority for protection in Scenic Hudson's Foodshed Conservation Plan, a data-driven blueprint for ramping up collaborative farmland-protection efforts to create a secure source of fresh, local food for the Hudson Valley and New York City. It also was ranked favorably in Scenic Hudson's new Hudson Valley Conservation Strategy (HVCS) because in addition to its agricultural importance, the land contributes to contiguous wildlife habitat spanning nearly 4,000 acres and safeguards critical water resources. Scenic Hudson developed the HVCS to pinpoint properties whose protection will maximize conservation investments by sustaining biodiversity, increasing resilience to climate change, securing the routes species depend on for survival and preserving working farmland.
Due to the property's high HVCS score, the Doris Duke Charitable Foundation provided a portion of the purchase price. Additional key funding was provided by Scenic Hudson's Lila Acheson and DeWitt Wallace Hudson Valley Land Preservation Endowment.
The protection of the Stickle property also has advantages for local residents beyond access to local, fresh and healthy foods. Even after development rights are sold, agricultural lands stay on the tax rolls, ensuring towns can continue to provide critical services. Studies indicate that agricultural lands cost communities significantly less to provide services to than residential lands. Both of these advantages result in a win for towns struggling to keep taxes as low as possible – something all local citizens can benefit from.
"The Potts family has dedicated many years of hard work to farming this land and through New York's Farmland Protection Program, we are proud to help them share this important tradition with the next generation," said State Agriculture Commissioner Richard Ball. "Recognizing the value of New York's more than 7 million acres of farmland, Governor Cuomo reestablished the program when he took office, and since then, the State has invested historic levels of funding to preservation projects like this one. Because of this commitment and close partnerships with organizations like Dutchess Land Conservancy and Scenic Hudson Land Trust, we can ensure that agriculture remains a vibrant industry in our great state for years to come."
About Dutchess Land Conservancy
Dutchess Land Conservancy is a private, nonprofit land conservation organization dedicated to preserving the scenic, agricultural and environmental resources of Dutchess County, including open spaces, forests, water resources and wildlife habitats. DLC has a long history of success working with partners to preserve this area's rural landscape. Since 1985 DLC has worked with local landowners to protect over 41,000 acres of critical resource rich land. An accredited land trust, DLC has been successful in leveraging millions of private, town, county, state and federal dollars to preserve open space.
About Scenic Hudson
Scenic Hudson helps citizens and communities preserve land and farms and create parks where people experience the outdoors and enjoy the Hudson River. We also bring together people, businesses and government to protect the river and natural resources that are the engines of the valley's local economies. Started in 1963 by a handful of citizens who cherished the simple pleasures of the outdoors along the Hudson, Scenic Hudson is credited with launching the modern grass-roots environmental movement. Today, in the face of new challenges and the effects of climate change, we are dedicated to making the Hudson Valley a great place to live, work and play. Our focus is on strengthening and maximizing benefits all can enjoy from the region's great assets—beautiful open spaces, working farms, and vibrant cities and town centers.