Land Deal Safeguards Hudson Highlands Waterfront, First Step in Creating New Park in Orange County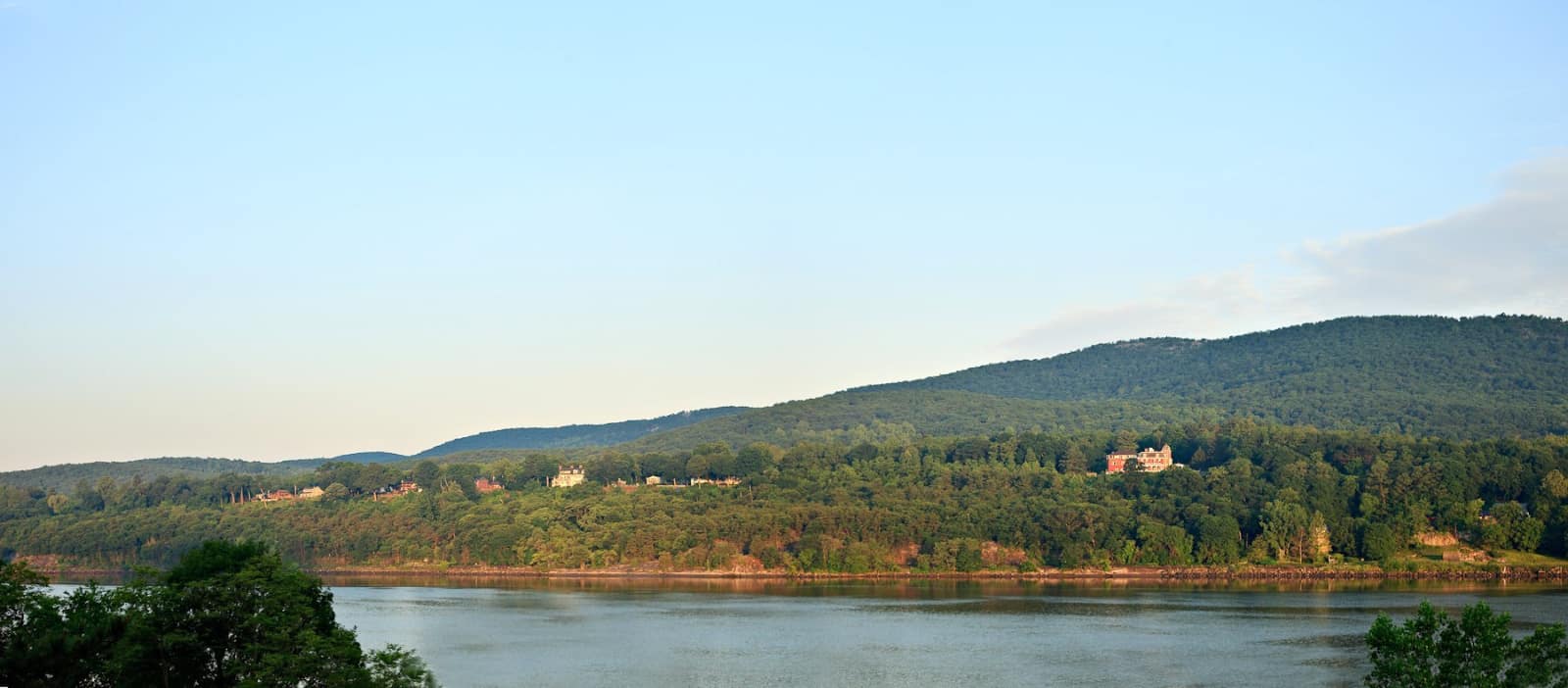 CONTACT:
Steve Rosenberg, Scenic Hudson Land Trust Executive Director:
914 489 7925, srosenberg@scenichudson.org
Acquisition also provides opportunity for potential commercial development
HIGHLAND FALLS (Orange County)—Though located in the heart of the Hudson Highlands, Highland Falls has long lacked a place within the village for residents and visitors to take a woodland walk, explore nature, and admire inspiring vistas of the river and mountains. Taking the first step toward creating a free park where the public can enjoy these activities, Scenic Hudson has acquired 31.8 beautiful and ecologically important acres along the Hudson River.
No more than a 10-minute walk from the homes of 2,500 village residents and the U.S. Military Academy, the newly protected land slopes down to the river from a ridgetop containing unique pitch pine habitat. Its topographical, bedrock and access constraints make it unsuitable for development but ideal for short hikes, picnicking and birdwatching.
In the future, Scenic Hudson will work with the village to support local efforts to create the park. The organization has partnered with many valley communities—including Fort Montgomery and Haverstraw—to provide new parks that offer residents and visitors recreation and inspiration, while attracting tourists and new businesses.
Land also contributes to views from popular parks and trails, river
Scenic Hudson's acquisition leaves a 3.5-acre portion of the property fronting Route 218 in private ownership. This land could be available for potential commercial development, subject to certain limitations on the height and visibility of structures codified in a set of restrictions based on the village's zoning provisions.
In addition to its direct benefits to residents of Highland Falls, the acquisition ensures that visitors to popular trails and parks in Putnam County, as well as boaters on the Hudson River, will continue to enjoy magnificent, unspoiled vistas of the Hudson Highlands. The protected property spans 2,000 feet of riverfront.
Scenic Hudson President Ned Sullivan said, "Protecting this outstanding landscape has been a Scenic Hudson priority for a decade—both to meet local needs for a place to connect with the Hudson Highlands' majesty and wildlife, and to assure it will continue contributing to the natural splendor that attracts so many visitors to this region. I thank the generous supporters who helped make this acquisition possible and Scenic Hudson staff who worked so long and hard to bring it to fruition."
Scenic Hudson Land Trust Executive Director Steve Rosenberg said, "This acquisition is a win-win for Highland Falls—offering residents close-to-home access to nature and providing the potential for new commercial opportunities on Route 218. At the same time, it's a victory for preserving the Hudson Highlands' natural beauty. Scenic Hudson looks forward to working with the Highland Falls community to create a vision for the land that provides the widest possible outdoor benefits."
Highland Falls Mayor Joseph D'Onofrio said, "It's great Scenic Hudson has preserved this beautiful land and will be making it available to benefit residents and visitors. We look forward to working with them to create a park that connects people with the majesty of the Hudson Highlands and Hudson River."
Orange County Land Trust Executive Director James Delaune said, "The acquisition of this parcel in Highland Falls is a long anticipated waterfront amenity for the village's residents. This is a wonderful example of collaboration and an opportunity to share the wealth that comes with another Hudson River park."
Scenic Hudson Senior Land Project Manager Emily Hague negotiated the transaction, which was completed with funds from its Lila Acheson and DeWitt Wallace Hudson Valley Land Preservation Endowment and the generosity of supporters.
–30–