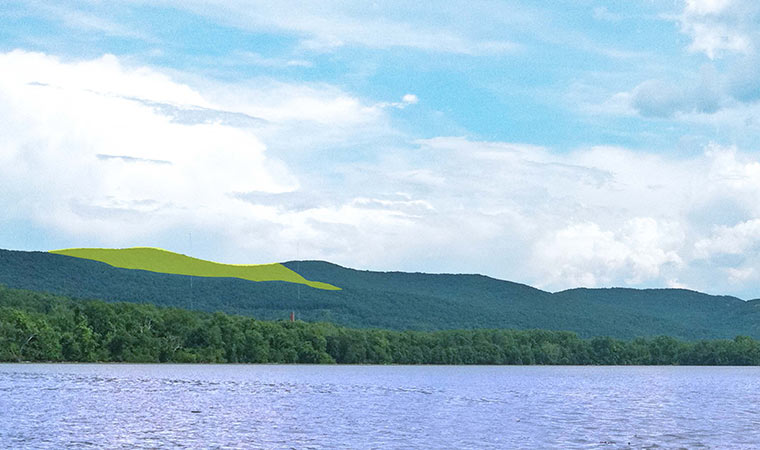 Steve Rosenberg, Executive Director, The Scenic Hudson Land Trust
914 489 7925, srosenberg@scenichudson.org
Conserving world-class hiking trails, safeguarding important habitats and local water supplies are primary benefits of preserving 1,178-acre property
HUDSON VALLEY—Preserving popular ridgetop hiking trails, irreplaceable forest and habitat, world-class views and the water supplies of six communities—those are the major benefits from protecting 1,178 highly scenic and ecologically important acres in the eastern Hudson Highlands. Slopeline, LLC, an affiliate of Scenic Hudson, acquired the land on July 19.
Located in the towns of Philipstown, Putnam County, and Fishkill, Dutchess County, the property comprises most of Scofield Ridge and features extensive forest, rocky slopes, wetlands and streams. A large portion of the land is prominently visible from the Hudson River, many public viewpoints along it (including the Newburgh waterfront) and the Newburgh-Beacon Bridge. It sits strategically between the northern and southern sections of the 8,000-acre Hudson Highlands State Park Preserve. Portions of this land will make permanent the ridgetop trails connecting Breakneck Ridge and Mount Beacon, two of the Hudson Valley's most popular hiking destinations.
Maps of the property can be viewed here.
Protected land safeguards vital habitat, drinking water
The newly protected land is within one of the largest intact forest blocks in southeastern New York and contributes to the ecological importance of the Hudson Highlands, which supports 85 percent of the state's vertebrate wildlife species as well as the greatest concentration of threatened and rare species in the Hudson Valley. The land's conservation will sustain biodiversity by securing habitat corridors and pathways on which many of these species depend for survival. Because the acquisition conserves lands that scientific analysis shows will make the region's irreplaceable habitats more resilient to a changing climate, a grant from the Doris Duke Charitable Foundation provided a portion of the purchase price.
In addition to its ecological significance, the property plays a critical role in safeguarding drinking water supplies. The land buffers the reservoir of the Village of Cold Spring, Putnam County, and sits atop the aquifer that captures and purifies water resources on which six Dutchess County communities rely.
For all of these reasons, this property had been designated a "Critical Treasure of New York" by the Highlands Coalition, a four-state alliance of nearly 200 public and private groups working to protect the Highlands' natural splendor and resources in furtherance of the federal Highlands Conservation Act, which was signed into law in 2004. It also has been a prime conservation goal of New York's Open Space Plan, the state's land preservation blueprint, for 20 years.
Slopeline, LLC, acquired the land for $12 million. In addition to the Doris Duke Charitable Foundation, key funding was provided by Scenic Hudson's Lila Acheson and DeWitt Wallace Hudson Valley Land Preservation Endowment.
"The land's astonishing beauty adds immeasurably to the scenic majesty enjoyed by hikers on Breakneck Ridge and Mount Beacon, two of America's most popular day hikes. The property's unspoiled natural resources help ensure that residents of local communities can rely on clean drinking water reaching their faucets. Both are prime reasons this has been Scenic Hudson's top conservation priority in the Hudson Highlands for many years," said Scenic Hudson President Ned Sullivan.
"This important transaction was made possible by the generous support of the Doris Duke Charitable Foundation, Frederic C. Rich and other private donors," added Mr. Sullivan.
"We couldn't be more excited by this conservation victory! This acquisition embodies Scenic Hudson's mission to preserve the Hudson Valley's most treasured places. The land is critical for ensuring that one of the region's most vital habitats will remain intact and will contribute to the region's ability to adapt to climate change. We look forward to working with the community as we think about the future of this special place that we've worked so hard to protect," added Steve Rosenberg, executive director of The Scenic Hudson Land Trust and Scenic Hudson senior vice president.
"This property sits squarely within one of the most important habitat corridors in eastern North America and its protection will help ensure that species and habitats can migrate as climate changes over the coming decades and centuries. The Doris Duke Charitable Foundation is pleased to be able to contribute to this important project as part of our effort to secure the long-term climate resilience of the nation's landscapes," said Sacha Spector, program director for the environment at DDCF.
"This property was ranked the Number 1 area for preservation in Philipstown's Open Space Protection Plan, dating back almost a decade. It's also very important to Cold Spring, where I live, for its role in our water supply. We are delighted to see this large conservation priority in our mission area preserved forever, and commend Scenic Hudson's efforts to bring this to fruition," said Hudson Highlands Land Trust Executive Director Michelle Smith.
Land preservation boosts economic opportunity
The Hudson Valley's parks and open spaces contribute substantially to a 10-county tourism industry that generates $5.3 billion in spending annually (including a combined $630 million in Dutchess and Putnam counties responsible for nearly 12,050 jobs), while its farmland is the cornerstone of an $800-million agricultural economy. A study by the Trust for Public Land notes that executives looking to relocate or start firms rank quality of life, including an abundance of parks and open space, higher than housing, cost of living and good schools.
Conserving natural areas improves human health
Protecting open space also offers myriad human health benefits. Trees sequester pollutants that contribute to asthma, lung cancer and cardiovascular disease, while releasing oxygen. In addition to helping keep drinking water clean and avoid flooding, conserved land maintains biodiversity, which plays an important role in preventing diseases such as West Nile virus and Lyme disease. Parks also encourage people to be active, contributing to their better overall health.