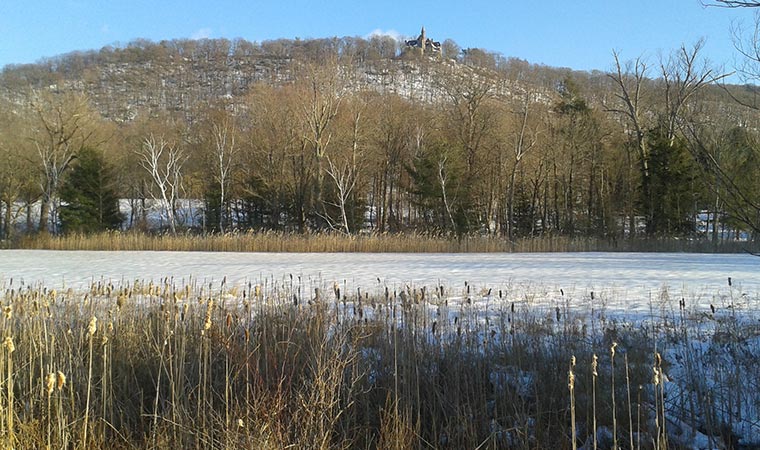 Jay Burgess, Scenic Hudson Director of Communications, 845 473 4440, Ext. 222
Eileen Larrabee, Open Space Institute Director of Communications, 518 859 5069
Claudio Marzollo, Philipstown Recreation Commission Chair, 914 519 7429
Agreement ensures people will always benefit from 10-acre property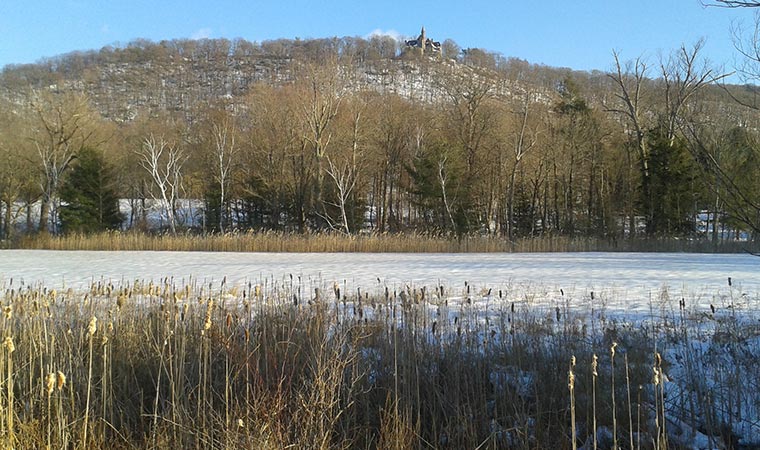 Philipstown (Putnam County)—Providing a new place for the community to gather for recreational activities and to experience the outdoors, the Open Space Institute (OSI) and Scenic Hudson have donated 10.8 acres of land to the Town of Philipstown to create a new park. OSI will retain a conservation easement on the property to ensure it will always be available for public enjoyment, and that its natural assets are permanently preserved.
The town board voted unanimously to accept the donated property on December 20. Long-term goals for the land call for the creation of a new youth soccer and/or play area, with space set aside for a community garden.
Currently undeveloped fields, the parkland is located in the hamlet of Garrison at the crossroads of State Routes 9D and 403, opposite the Desmond-Fish Library. The property lies within and contributes to two state-designated areas that recognize the town's natural beauty—the Route 9D Scenic Byway Corridor and the Hudson Highlands: Garrison Four Corners Scenic Area of Statewide Significance. The eventual playing fields and infrastructure will be sited to minimize their visibility from Route 9D, and vegetation will be planted to further screen them from view.
"This latest parkland addition to the Town of Philipstown will permanently protect this community green space and allow for expanded recreational opportunity for local residents," said Kim Elliman, OSI's president and CEO. "We are grateful for our longstanding partnership with Scenic Hudson and the Town of Philipstown as we continue to protect land for Putnam County and the greater Hudson Valley."
"Scenic Hudson is delighted to partner with the Open Space Institute and to donate this property to the Town of Philipstown to create a new park. The land's central location makes it a perfect place for people to come together to play sports, grow fresh vegetables and flowers, or just to stroll across the fields. In addition to enjoying these activities, the community will experience the land's scenic beauty and views of Castle Rock. We felt encouraged to make this donation thanks to the leadership of town officials and dedicated volunteers," said Scenic Hudson Land Trust Executive Director Steve Rosenberg.
"Scenic Hudson and Open Space Institute continue to be strong partners with the Town of Philipstown. The recent donation of the land at Route 403 will provide many opportunities to our residents. We look forward to returning the land to an agricultural use," said Town of Philipstown Supervisor Richard Shea.
OSI and Scenic Hudson jointly acquired this land and 74 additional acres from the Osborn family in 1981. The two groups donated 43 acres to the state Office of Parks, Recreation and Historic Preservation in 2011. That property has been incorporated into Hudson Highlands State Park Preserve.
"The Osborn family is pleased that the Open Space Institute, Scenic Hudson and the Town of Philipstown have come to an agreement about this wise use of former family land. It had always been our intention that it could serve the citizens of our community, and using it as recreational space does exactly that," said Garrison resident Fred Osborn III.
About Open Space Institute
The Open Space Institute protects scenic, natural and historic landscapes to provide public enjoyment, conserve habitat and working lands and sustain communities. Founded in 1974 to protect significant landscapes in New York State, OSI has been a partner in the protection of nearly 2.2 million acres in North America. A leader in environmental conservation, OSI leverages its knowledge and attracts resources for strategic investments to make innovative land conservation happen.
About Scenic Hudson
Scenic Hudson helps citizens and communities preserve land and farms and create parks where people experience the outdoors and enjoy the Hudson River. We also bring together people, businesses and government to protect the river and natural resources that are the engines of the valley's local economies. Started in 1963 by a handful of citizens who cherished the simple pleasures of the outdoors along the Hudson, Scenic Hudson is credited with launching the modern grass-roots environmental movement. Today, in the face of new challenges and the effects of climate change, we are dedicated to making the Hudson Valley a great place to live, work and play. Our focus is on strengthening and maximizing benefits all can enjoy from the region's great assets—beautiful open spaces, working farms, and vibrant cities and town centers.