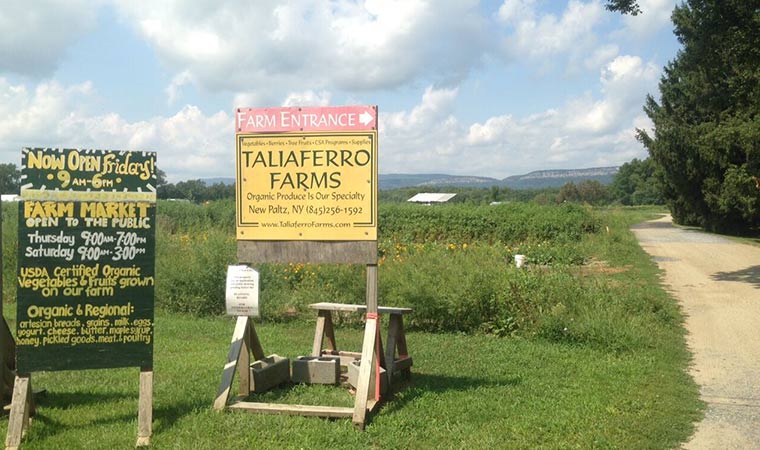 Jay Burgess, Scenic Hudson Director of Communications, 845 473 4440, Ext. 222
Christie DeBoer, Executive Director, Wallkill Valley Land Trust, 845 255 2761

Land sustains operations of popular organic farm and CSA
NEW PALTZ (Ulster County)—Land purchased by Sylvester (Pete) and Robin Taliaferro in 1995 solely for the purpose of creating a farm will now be legally protected and always be a farm. For more than 20 years this piece of land in New Paltz known to the region as Taliaferro Farms has provided the Hudson Valley with dozens of vegetable and fruit varieties such as heirloom tomatoes, greens, salads, potatoes, squash, strawberries, raspberries and apples to name a few. The farm has maintained one of the oldest Community Supported Agriculture (CSA) programs in New Paltz and provides over 300 families with its more than 50 varieties of organic vegetables, fruits and herbs.
The farm also partners with other local farms to offer many products such as meats, poultry, cheese, honey, pickles, eggs, yogurts and kombucha available at the farm as part of a farm-market-style CSA distribution. The farm provides produce for wholesalers (Red Barn Produce and Hudson Valley Harvest) selling throughout the Hudson Valley, four regional farm markets (Rhinebeck, Ossining, Hastings and Nyack), restaurants (Culinary Institute of America, Tea Room, End Cut, A Tovola Trattoria, Mountain Brauhaus, Gadaleto's, Lagusta's Luscious and Rossi's Rosticceria) and health food stores (Health & Nutrition and Sunflower Natural Foods). An average of 375,000 pounds of produce has been grown on this land every year over the past 20 years and consumed by the people of the Hudson Valley.
Now the Taliaferros have taken the very significant step, in partnership with Ulster County, the Town of New Paltz, Scenic Hudson and the Wallkill Valley Land Trust (WVLT), to permanently conserve their farm through a conservation easement. The easement, for which the Taliaferro family was paid a portion of the land's value, limits future subdivision and non-farm development of the 32-acre property.
The effort to conserve the farm is a model of public-private collaboration, and Scenic Hudson applauds its partners, Ulster County and the Town of New Paltz, which each provided one-third of the funding for the easement. The county's contribution importantly marked the first use of proceeds from its Open Space and Recreation Fund, established by County Executive Mike Hein and the county legislature in 2014. The town's funding came from its Clean Water and Open Space Protection bond, approved by New Paltz voters in 2006. The WVLT will hold and enforce the conservation easement.
In addition to conserving productive agricultural land, the easement preserves 660 feet of shoreline on the Wallkill River, safeguards magnificent views of the Shawangunks from nearby Plains Road and adds to the 800 acres of previously protected habitat in the farm's vicinity. The property also is visible from the popular Wallkill Valley Rail Trail.
"It was always my dream to be a farmer and own my own farm," said Pete Taliaferro. "When we purchased this land, I already had 25-plus years working in the agricultural industry. It has been a lot of work and sacrifice on my part and my family's to get this far. As a farmer I've had the fulfillment of all of life's good things. None of this would have been possible without my wife and family's support, and most certainly without the support of the people and families in this community. Thank you. A special thanks to the local governments, Ulster County and Mike Hein, Town of New Paltz and Neil Bettez. I'm most grateful to Scenic Hudson (Cari Watkins-Bates) and Wallkill Valley Land Trust (Christie DeBoer) for all their hard work, expense and patience that they put out to pull all this together. As a farmer, it's wonderful to know that this land will be available for future generations to farm and appreciate."
"As someone who grew up on a farm, I fully appreciate that Ulster County has a tremendous agricultural history, and with this project we were able to acknowledge that history while also protecting its future," said Ulster County Executive Mike Hein. "Taliaferro Farms is a fixture in Ulster County, and I am grateful that it will remain dedicated to farming for generations to come. I want to thank the Taliaferro family as well as Scenic Hudson, the Wallkill Valley Land Trust and the Town of New Paltz for coming together and doing what is best for our environment and the people of Ulster County."
"The Town of New Paltz is proud to be a partner in creating the conservation easement that will preserve the agricultural, scenic and environmental attributes of the Taliaferro farm property," said New Paltz Town Supervisor Neil Bettez. "This action is an excellent example of the use of our Clean Water and Open Space Protection (CWOSP) bond funding, which was created with overwhelming voter approval and continues to be available to support landowners who desire to protect and preserve property in similar fashion."
"We are delighted to partner with Wallkill Valley Land Trust, Ulster County, the Town of New Paltz—and, of course, the Taliaferros—to protect their land. In addition to helping sustain a family farm that supplies fresh, healthy food to so many, this easement safeguards habitat, contributes to our region's immense natural and scenic beauty, and preserves the Hudson Valley's agricultural heritage," said Scenic Hudson Land Trust Executive Director Steve Rosenberg.
"This is an example of collaboration at its best to protect natural assets that benefit their communities and the entire Hudson Valley. Special thanks to Ulster County Executive Mike Hein and the legislature for choosing Taliaferro Farms to inaugurate its Open Space and Recreation Fund. I also commend Supervisor Neil Bettez and the voters of the Town of New Paltz who supported funding of this project from the Clean Water and Open Space Protection bond. Finally, I commend the Wallkill Valley Land Trust for its long-term commitment as steward of the easement on the farm," said Scenic Hudson President Ned Sullivan.
"Collaborations such as this which preserve our scenic, rural farmlands are core to Wallkill Valley Land Trust's founding and continuing mission—enhancing the quality of scenic, agricultural, ecological, recreational and historically significant lands," stated WVLT President Hensley Evans.
Taliaferro Farms will continue to grow food, share sustainable agricultural practices with new farmers and interact with the community. WVLT will monitor the conservation easement annually, and is still accepting tax-deductible donations to support its stewardship needs. Donations can be made through its website or by mail (P.O. Box 208, New Paltz, NY, 12561).
Protection of Taliaferro Farms supports Scenic Hudson's efforts to carry out its Foodshed Conservation Plan, a data-driven blueprint for ramping up collaborative farmland-protection efforts to create a secure source of fresh, local food for the Hudson Valley and New York City. Scenic Hudson used funds from its Lila Acheson and DeWitt Wallace Hudson Valley Land Preservation Endowment to contribute to conserving the farm.
About Wallkill Valley Land Trust
The Wallkill Valley Land Trust serves the eight towns of southern Ulster County, including Shawangunk, Marlborough, Plattekill, Lloyd, New Paltz, Gardiner, Esopus and Rosendale. Their mission is to enhance the quality of life in southern Ulster County by conserving lands of scenic, agricultural, ecological, recreational and cultural significance. In collaboration with willing landowners, WVLT has conserved 38 parcels and owns seven parcels, totaling over 2,500 acres, including the Wallkill Valley Rail Trail, four Community Supported Agriculture (CSA) farms, 18 properties in active agricultural use, and a variety of important habitats, wetlands and forests. For more information and how to help them in their fundraising efforts for sustainability, please visit www.WallkillValleyLT.org.
About Scenic Hudson
Scenic Hudson helps citizens and communities preserve land and farms and create parks where people experience the outdoors and enjoy the Hudson River. We also bring together people, businesses and government to protect the river and natural resources that are the engines of the valley's local economies. Started in 1963 by a handful of citizens who cherished the simple pleasures of the outdoors along the Hudson, Scenic Hudson is credited with launching the modern grass-roots environmental movement. Today, in the face of new challenges and the effects of climate change, we are dedicated to making the Hudson Valley a great place to live, work and play. Our focus is on strengthening and maximizing benefits all can enjoy from the region's great assets—beautiful open spaces, working farms, and vibrant cities and town centers.