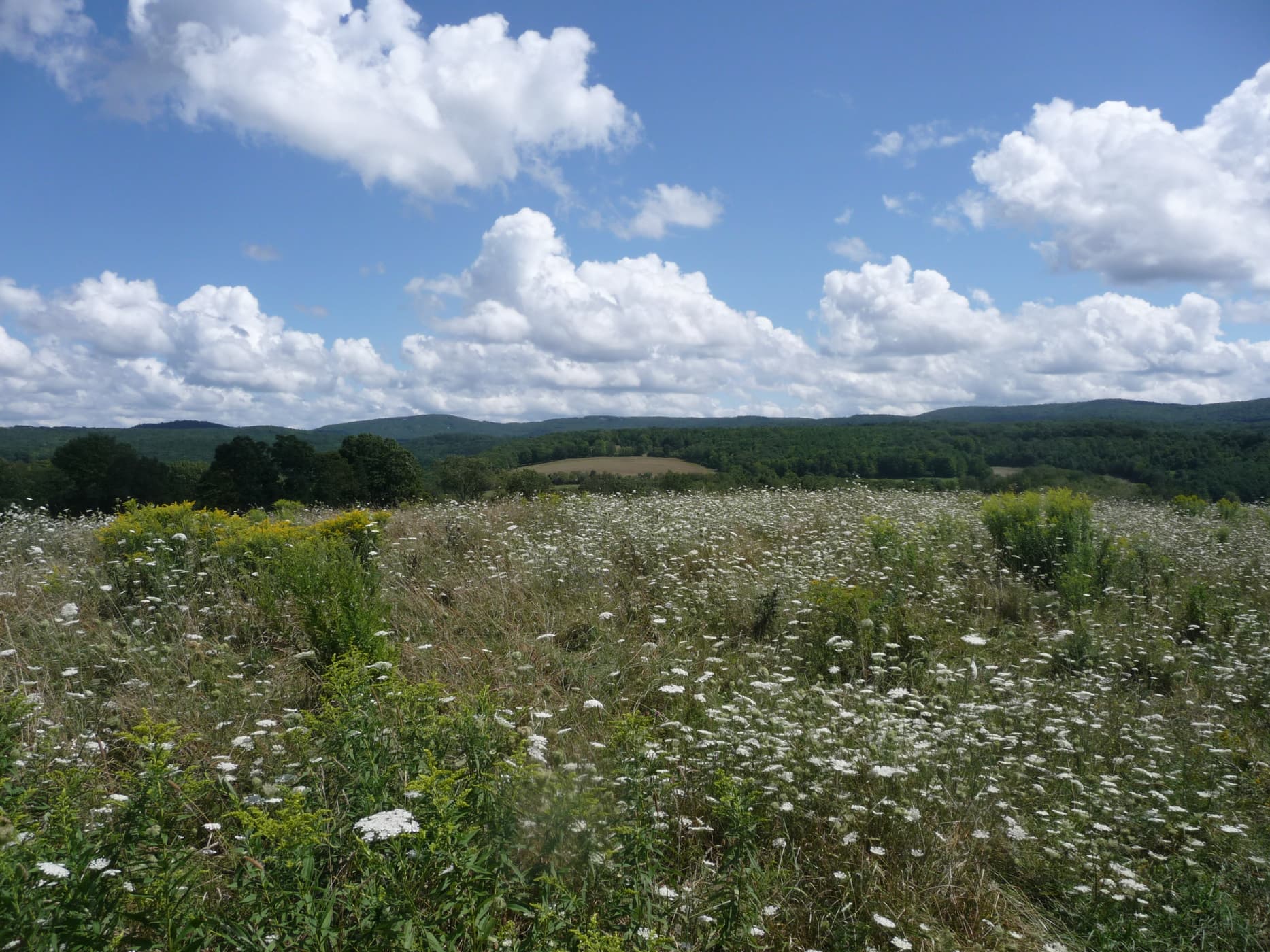 Jay Burgess
Director of Communications, Scenic Hudson, Inc.
Tel: (845) 473-4440 x222 Cell: (914) 489-0362 Fax: (845) 473-0740
jburgess@scenichudson.org
Rebecca Walker
Columbia Land Conservancy
518.392.5252, ext. 214
rebecca.walker@clctrust.org
AUSTERLITZ, NY – The Doyle family has been farming in Columbia County since 1875, when Patrick Doyle first purchased 90 acres of Austerlitz farmland to raise sheep for meat and fleece. Four generations later, however, the family was facing a challenge common to our region: how to plan for the farm's succession.
The land could easily have been sold for development – as the Doyle farm is an exceptionally scenic tract with views of the Catskills and surrounding properties. The Doyles, however, are not interested in selling their farm – they would rather continue working its fields and making sure that the land they have cared for and cherished for so long remains open for agriculture.
The Columbia Land Conservancy and Scenic Hudson worked with the Doyle family to make sure their legacy reflects their commitment to protecting local agricultural resources. The partners applied for and received a grant from the New York State Hudson Valley Agricultural Enhancement Program that enabled the family to permanently protect their farm from development through a conservation easement. The easement, for which the Doyle family was paid a portion of the land's value, limits future subdivision and non-farm development of the property.
The entire project encompasses nearly 600 acres of high quality farmland, including protection of neighboring lands owned by Ron and Kristen Davis, who generously donated the conservation easement on their property as part of the overall transaction.
In addition to the hundreds of acres of prime farmland, the Doyle Farm also contains important wildlife habitat and woodlands that have been left largely untouched for decades. The farm is also rich in local history. It is adjacent to an historic one-room school house where Joe's father John went school. "We raised 4 amazing children here on the family farm, and when coworkers asked where we lived I always said God's country. Now we know it will continue just as we planned for the generations and community to come," say Joe and Nancy Doyle.
The Doyle farm was ranked as one of the highest priorities for protection in Scenic Hudson's Foodshed Conservation Plan, a data-driven blueprint for ramping up collaborative farmland-protection efforts to create a secure source of fresh, local food for the Hudson Valley and New York City. Scenic Hudson used funds from its Lila Acheson and DeWitt Wallace Hudson Valley Land Preservation Endowment to contribute to conserving the farm.
Columbia Land Conservancy Executive Director Peter Paden said, "The family's decision to permanently protect this highly developable farm represents a legacy gift to our whole community; CLC was honored to have the privilege of working with individuals who hold such a deep and profound conservation ethic."
Scenic Hudson Land Trust Executive Director Steve Rosenberg said, "We are delighted to collaborate with CLC, the state—and, of course, the Doyles and Davises—to protect their historic and productive farmland. Working farms are essential to our region's future because they supply us with healthy food, safeguard important habitat, and contribute to our region's immense natural beauty."
###
About Columbia Land Conservancy
For more than thirty years, the Columbia Land Conservancy has collaborated with private landowners, businesses, government agencies, community groups, and partner organizations to preserve the County's vibrant rural character. It has conserved more than 30,000 acres of farmland, forests, and wildlife habitat to ensure clean air and water, healthy ecosystems, a strong agricultural sector, and a rich variety of outdoor recreational opportunities. CLC works with the community to cultivate connection to the land by providing outdoor and educational activities at our 10 Public Conservation Areas, to support agriculture by ensuring prime farmland continues to be available to the next generation of farmers, and to promote land protection and smart land use planning. For additional information, call 518.392.5252 or visit clctrust.org.
About Scenic Hudson
Scenic Hudson preserves land and farms and creates parks that connect people with the inspirational power of the Hudson River, while fighting threats to the river and natural resources that are the foundation of the valley's prosperity. A crusader for the valley since 1963, we are credited with saving fabled Storm King Mountain from a destructive industrial project and launching the modern grass-roots environmental movement. Today with more than 25,000 ardent supporters, we are the largest environmental group focused on the Hudson River Valley. Our team of experts combines land acquisition, support for agriculture, citizen-based advocacy and sophisticated planning tools to create environmentally healthy communities, champion smart economic growth, open up riverfronts to the public and preserve the valley's inspiring beauty and natural resources. To date Scenic Hudson has created or enhanced more than 65 parks, preserves and historic sites up and down the Hudson River and conserved more than 40,000 acres.