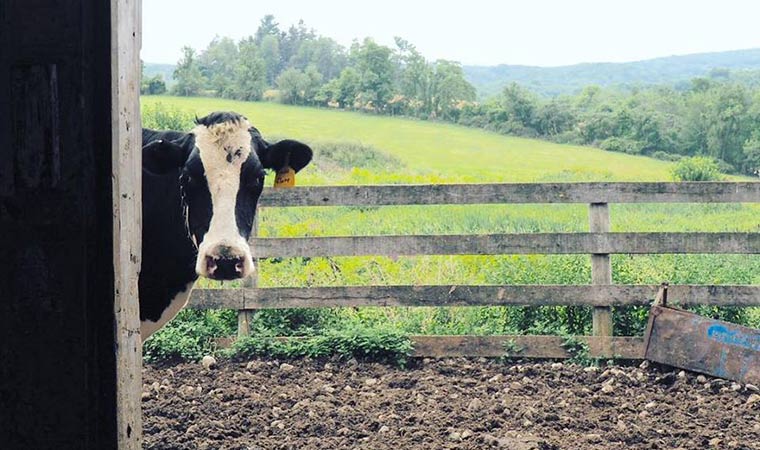 Jay Burgess
Scenic Hudson
845.473.4440 x222
jburgess@scenichudson.org
Rebecca Walker
Columbia Land Conservancy
518.392.5252 x214
rebecca.walker@clctrust.org
Ronnybrook Farm mainstay at 13 popular NYC Greenmarkets
ANCRAM, N.Y. – Shop most any supermarket between New York City and Albany and you're likely to see a familiar red-and-black Ronnybrook Farm Dairy label on milk, butter, ice cream, yogurt, and cheese. Thanks to a grant from the New York State Department of Agriculture and Markets' Farmland Protection Implementation Program, matching funding from Scenic Hudson and the efforts of the Columbia Land Conservancy (CLC) and Scenic Hudson, the Osofsky family will be able to transfer the business and the farm to the next generation, and consumers from the Hudson Valley to New York City and beyond will be able to continue to enjoy award-winning dairy products.
The Osofsky family worked with CLC and Scenic Hudson to complete two conservation easements on 210 acres of land on April 28. "These easements build upon a growing block of protected land in Ancram, and further our ongoing commitment to protecting Columbia County's agricultural economy by helping local farm families transition their lands to the next generation," said Peter Paden, CLC's Executive Director. Last year the family also completed protection of an additional 186 acres of its farmland in Dutchess County in partnership with Scenic Hudson and Dutchess Land Conservancy using funds from New York State. The permanent protection of the family land is an essential component of their long-term planning, and will ensure the farm will remain intact as part of our region's agricultural heritage and economy. Ronnybrook was ranked as one of the highest priorities for protection in Scenic Hudson's Foodshed Conservation Plan, a data-driven blueprint for ramping up collaborative farmland-protection efforts to create a secure source of fresh, local food for the Hudson Valley and New York City.
Ronnybrook Farm Dairy got its start in 1947 when David Osofsky purchased a farm in the Town of Pine Plains for use as a Holstein dairy operation. In 1962, David's son, Ronny Osofsky (from whom the dairy takes its name), joined the family business, purchasing a nearby parcel where he currently resides with his wife Cathy. Today, Ronny's son Daniel manages the farm operations, while Ronny and his younger brother Richard run the family business and the farm. Ronnybrook Farm currently employs about 50 staff, who crop 760 acres and milk over 100 cows. Their dairy was the original milk processing facility for a regional milk processing and labelling operation that has since relocated and become Hudson Valley Fresh. Ronnybrook is a model of regional agricultural economic development and highly visible producer, distributing fresh, local dairy products throughout the Hudson Valley and across New York City.
Protecting Ronnybrook Farm from future development highlights CLC's ongoing efforts to keep local farms in production while guaranteeing that Columbia County farmland will remain available for generations to come. Purchasing development rights on working farms, which keeps the land privately owned and maintained, is just one way that CLC supports our farm community. CLC also seeks to increase land access for farmers, coordinating a Farmer Landowner Match Program (which has facilitated more than 65 matches to date) with partner organization Dutchess Land Conservancy and operating the Conserve a Local Farm program, which helps conservation-minded buyers identify and protect important farm properties.
As part of its Foodshed Conservation Plan, Scenic Hudson used funds from its Lila Acheson and DeWitt Wallace Hudson Valley Land Preservation Endowment to contribute to conserving Ronnybrook Farm. Over the last five years, CLC and Scenic Hudson have collaborated to protect 22 farms throughout Columbia County. In addition to helping farmers sustain their livelihoods and support the viability of agriculture-related businesses, a growing block of protected farmland helps secure the region's agricultural vitality, which contributes substantially to the Hudson Valley's $800-million agricultural and $5.2-billion tourism economies. Conserving farmland is a buffer against rising local property taxes: Studies have shown that farms contribute more in taxes than they consume in tax-paid services. Protected farmland also safeguards critical wildlife habitat. According to the American Farmland Trust, half of the nation's protected species use farmland for over 80 percent of their habitat.
Scenic Hudson Land Trust Executive Director Steve Rosenberg said, "We are delighted to collaborate with CLC, the state—and, of course, the Osofsky family—to protect Ronnybrook Farm. Ronnybrook's commitment to local dairy processing has reinvigorated the regional market with their iconic glass-bottled milks, table butters, and yogurt line. Working farms are essential to our region's future because they supply us with healthy food, employ so many people, and contribute to our region's immense natural beauty."
The family is pleased that the farm will be preserved. "We are thankful that after this long process, we have succeeded in our goal to preserve our farm for our children, our grandchildren, and any future generations to carry on a legacy of farming. It is so wonderful to look out on our open fields now and know they will continue to grow corn or hay and pasture cows or, most importantly, remain open and beautiful. Our thanks to Columbia Land Conservancy and Scenic Hudson for giving us the gift of a way to achieve this."
"Ronnybrook retaught New Yorkers how to drink milk out of glass bottles when they joined the Greenmarket community in 1991," said GrowNYC's Greenmarket Director Michael Hurwitz. "Knowing that their land is protected from development ensures that our local dairy supply is secure for generations to come. We applaud the efforts of Scenic Hudson, Columbia Land Conservancy, and the State of New York to preserve this farm and our region's agricultural community."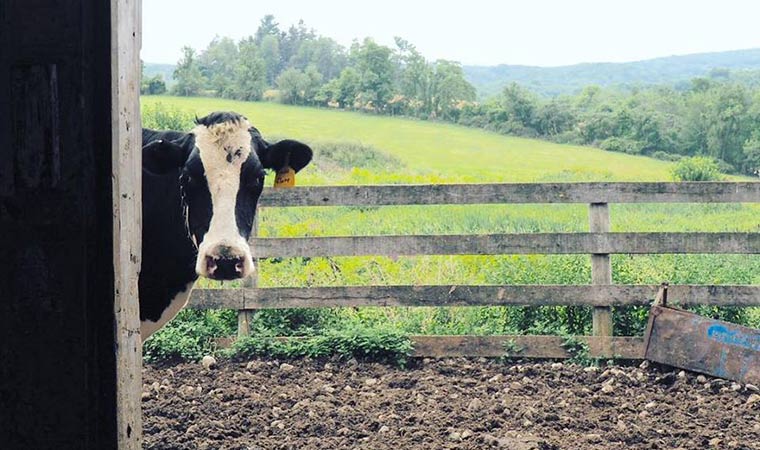 ###
For more than thirty years, the Columbia Land Conservancy has collaborated with private landowners, businesses, government agencies, community groups, and partner organizations to preserve the County's vibrant rural character. It has conserved more than 30,000 acres of farmland, forests, and wildlife habitat to ensure clean air and water, healthy ecosystems, a strong agricultural sector, and a rich variety of outdoor recreational opportunities. CLC works with the community to cultivate connection to the land by providing outdoor and educational activities at our 10 Public Conservation Areas, to support agriculture by ensuring prime farmland continues to be available to the next generation of farmers, and to promote land protection and smart land use planning. For additional information, call 518.392.5252 or visit clctrust.org.
Scenic Hudson preserves land and farms and creates parks that connect people with the inspirational power of the Hudson River, while fighting threats to the river and natural resources that are the foundation of the valley's prosperity. A crusader for the valley since 1963, we are credited with saving fabled Storm King Mountain from a destructive industrial project and launching the modern grass-roots environmental movement. Today with more than 25,000 ardent supporters, we are the largest environmental group focused on the Hudson River Valley. Our team of experts combines land acquisition, support for agriculture, citizen-based advocacy and sophisticated planning tools to create environmentally healthy communities, champion smart economic growth, open up riverfronts to the public and preserve the valley's inspiring beauty and natural resources. To date Scenic Hudson has created or enhanced more than 65 parks, preserves and historic sites up and down the Hudson River and conserved more than 40,000 acres.