Scenic Hudson and Dutchess County Acquire Rail Corridor in Poughkeepsie, Enabling Creation of New Urban Trail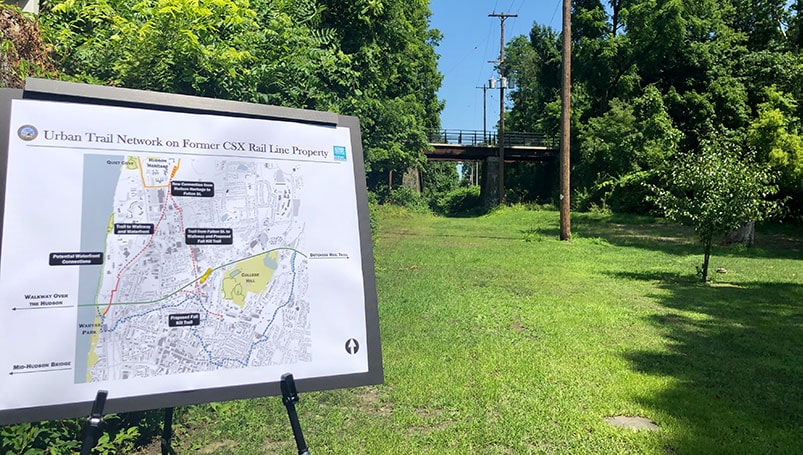 Contact: Steve Rosenberg, Executive Director,
The Scenic Hudson Land Trust
914-489-7925 srosenberg@scenichudson.org
For immediate release: December 11, 2019
POUGHKEEPSIE—Taking the first step in creating a new trail that will link neighborhoods in the city and town of Poughkeepsie, Scenic Hudson has negotiated and funded the acquisition of 2.7 miles of a former rail corridor that passes through residential and commercial neighborhoods, as well as alongside Marist College, before ending near the Hudson River. In July, the Dutchess County Legislature voted unanimously to assume ownership of the corridor and to develop and maintain the new rail trail, which will enhance recreational and economic opportunities.
A former freight train spur that ceased operating in the early 1980s, the V-shaped corridor extends north from North Clinton Street in the city past the Mid-Hudson Regional Hospital to the future Hudson Heritage development (former Hudson River Psychiatric Hospital). From there, it turns back to the south, abutting Marist College before terminating near Kittredge Place in the city.
The trail will connect Poughkeepsie's Northside neighborhoods to one another and other resources in the city and town, while providing recreational opportunities and future connections to the William R. Steinhaus Dutchess Rail Trail (which the corridor crosses) and the future Empire State Trail—all of which will help to improve residents' quality of life and economic opportunity. The trail also will provide a safe way for Marist students and future Hudson Heritage residents to get into and out of the city and access the Dutchess Rail Trail, the developing Fall Kill Greenway and public space along the Hudson River.
Prior to completing the acquisition, Dutchess County, with assistance from Scenic Hudson, conducted an assessment of the environmental and physical conditions along the 24-acre corridor.
Scenic Hudson President Ned Sullivan said, "This acquisition further solidifies Scenic Hudson's commitment to broadening our impacts in the valley's urban communities, building upon our longtime success in protecting and connecting people to the region's rural landscapes. Creating the trail will provide exciting new recreational opportunities that will improve the health of Poughkeepsie residents, and it presents great potential for expanding tourism and much-needed jobs in their Northside neighborhoods. It also will offer a car-free commuting alternative between Marist College, Hudson Heritage and downtown Poughkeepsie, and link Highland and New Paltz across Walkway Over the Hudson. Scenic Hudson thanks the Anna-Maria and Stephen Kellen Foundation for supporting our acquisition of the rail corridor. And we applaud Dutchess County Executive Marcus Molinaro and the county legislature for their commitment to acquire, develop and maintain the trail."
Scenic Hudson Land Trust Executive Director Steve Rosenberg said, "Acquiring this rail corridor marks a milestone in Scenic Hudson's ongoing collaboration with dozens of local groups to improve the quality of life of residents of Poughkeepsie's Northside neighborhoods. The paved bike/pedestrian trail will help meet community members' expressed desire for safe ways for kids and adults to enjoy the outdoors. We hope it will open up new economic opportunities for them as well by making nearby jobs more accessible, especially for those residents who don't own cars."
Dutchess County Executive Marc Molinaro said, "This rail corridor acquisition will allow for the creation of a new urban trail system, with direct connections to our Dutchess Rail Trail and Poughkeepsie neighborhoods, that will provide valuable linkages for so many people. We are excited to move forward to the design process. We are grateful for our continued partnership with Scenic Hudson, making transformative projects like this urban trail system as well as the Lake Walton Preserve possible."
City of Poughkeepsie Mayor Rob Rolison said, "The city greatly appreciates the efforts of Scenic Hudson and Dutchess County in partnering to create a new trail that will provide so many important links in the growing network. Significantly, this trail will connect the city's Northside neighborhoods, providing direct access to the waterfront and also to the William R. Steinhaus Dutchess Rail Trail and Walkway Over the Hudson. This is another positive development to revitalize that area of the city. The rail spur has sat dormant for decades. Putting it back to use as a walking and biking trail for both residents and visitors to enjoy deserves the support of the entire community."
Town of Poughkeepsie Supervisor Jon Baisley said, "The acquisition of the CSX property will enhance the connectability of town businesses and homes. This will enable our residents to work, shop and play without having to drive, making that part of the town a more walkable community."
Land to be acquired through federal railbanking process
Previously owned by CSX, the property was acquired via the federal railbanking process. Established in 1983 as an amendment to the National Trails System Act, railbanking is a voluntary agreement between a railroad company and a trail agency to use an out-of-service rail corridor as a trail until a railroad might need it again for rail service. The railbanking process has preserved thousands of miles of rail corridors for public recreational use that would otherwise have been abandoned. It is overseen by the U.S. Surface Transportation Board, an independent agency chartered by Congress.
Additional key funding for the acquisition was provided by Scenic Hudson's Lila Acheson and DeWitt Wallace Hudson Valley Land Preservation Endowment.
This is the third time Scenic Hudson has collaborated in the creation of rail trails. In 2009, it assisted Albany County in acquiring a nine-mile corridor from Canadian Pacific Rail. It has since been successfully transformed into the Albany County Helderberg-Hudson Rail Trail. Last year, the organization provided funds to extend the Hudson Valley Rail Trail in the Town of Lloyd by nearly a mile.
Project builds on collaboration to create universally accessible park
Scenic Hudson and Dutchess County also have partnered to create a new, universally accessible park surrounding Lake Walton in East Fishkill. Scenic Hudson initially protected the 231-acre property, located adjacent to and near the southern terminus of the William R. Steinhaus Dutchess Rail Trail. The county acquired the land from Scenic Hudson at a $500,000 discount and will create the new park, to be called Lake Walton Preserve. The largest expansion of the county's park system in decades, it will increase opportunities for people of all abilities to hike, fish, go boating and explore nature. The park is expected to open next year.
Top: The former rail corridor (yellow) will become part of a network of proposed and existing pedestrian trails throughout Poughkeepsie's Northside neighborhoods. Bottom: Last summer, Dutchess County Executive Marc Molinaro, City of Poughkeepsie Mayor Rob Rolison and Town of Poughkeepsie Supervisor Jon Baisley joined Scenic Hudson Land Trust Executive Director Steve Rosenberg and others for a tour of what will become a new urban trail.
QUOTES
The Anna-Maria and Stephen Kellen Foundation issued the following statement, "Congratulations to Scenic Hudson for initiating, negotiating and bringing into reality for the citizens of New York—and especially of Poughkeepsie and Dutchess County—this transformation of a rail corridor into a great new park and trail. Our Directors are proud to play a meaningful role in supporting Scenic Hudson's commitment to land conservation, especially as this particular project will also help improve the lives of people in the communities around this unused CSX rail spur who will now have access to new recreational opportunities. Scenic Hudson and we hope that this is one of many projects that takes unused rail spurs and turns them into 'High Lines,' which in turn can reinvigorate the communities around them."
Hudson River Housing Executive Director Christa Hines said, "Hudson River Housing congratulates Scenic Hudson on this important acquisition of the rail corridor. We are so proud to partner with them and other local organizations who share in the vision of a thriving and inclusive City of Poughkeepsie. This is a vital step forward in bringing our neighborhoods together to not only enjoy our beautiful surroundings but also to build community. We are truly thankful to Scenic Hudson for their efforts!"
Family Services Inc. Chief Executive Officer Brian Doyle said, "This is yet another terrific example of Scenic Hudson fostering an improved quality of life for the people of this community. Whether through walking, running or cycling, we all benefit from the type of healthful activities made possible by a rail trail such as this. Furthermore, connecting communities through this initiative promotes greater 'human connectivity' among the neighborhoods and people of the city and town."
Walkway Over the Hudson Executive Director Elizabeth Waldstein said, "We commend Scenic Hudson for their continued collaboration and successful efforts to preserve land and expand access to parks in the Hudson Valley. We're proud that the Walkway is one of the most accessible parks in New York State, and excited that this new urban trail network will provide even greater access for persons of all abilities. With nearly 600,000 people using the Walkway Over the Hudson every year, creating additional adjacent trails will be another positive step in improving our region's quality of life and attractiveness as a tourism destination."
MASS Design Group // Hudson Valley Design Lab Principal Christopher Kroner said, "By extending the network of trails, Scenic Hudson has enabled the City of Poughkeepsie to become even more renowned for a robust pedestrian experience. The CSX rail spur expands upon the success of the Walkway over the Hudson, and also extends the Dutchess Rail Trail into the streetscapes of Poughkeepsie. We support their efforts to help make the network inclusive, encourage healthier lifestyles and to become an economic pipeline for future generations."