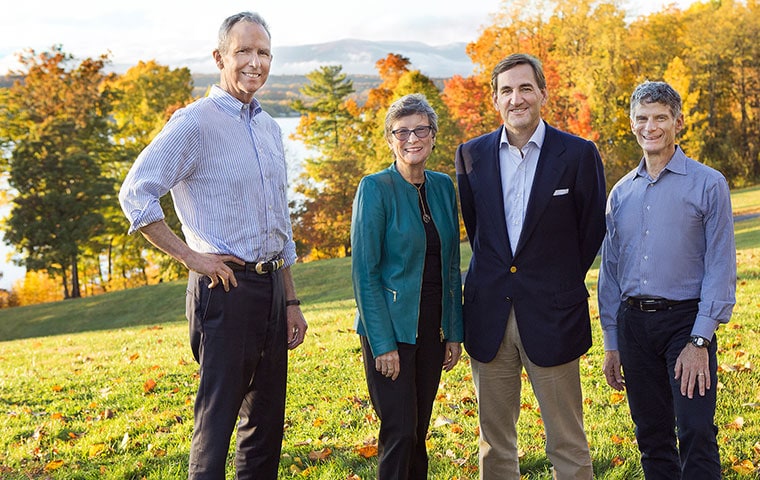 Jay Burgess
Director of Communications, Scenic Hudson, Inc.
Tel: (845) 473-4440 x222 Cell: (914) 489-0362 Fax: (845) 473-0740
jburgess@scenichudson.org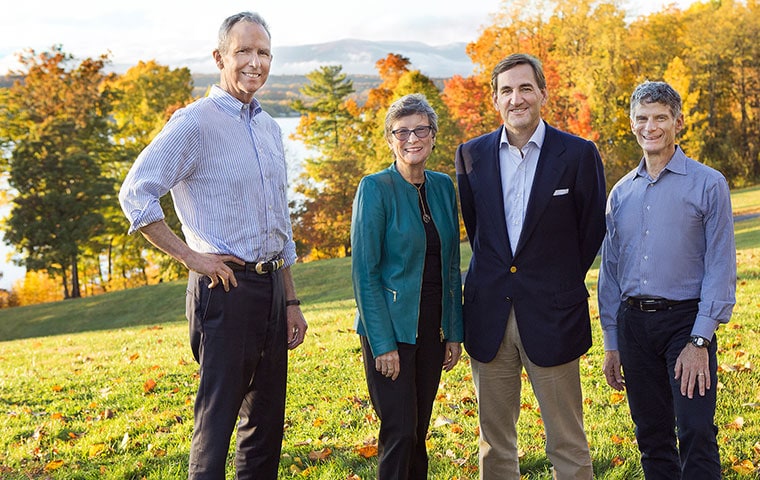 HUDSON VALLEY, N.Y.—At its recent annual meeting, Scenic Hudson named Kristin Gamble of Hudson, Columbia County, and New York City as the new chair of its Board of Directors. Simon Roosevelt of Stanfordville, Dutchess County, and New York City was named chair of the Board of Directors for The Scenic Hudson Land Trust. Both Ms. Gamble and Mr. Roosevelt have a depth of experience as board members for the organization and its affiliated land trust.
Scenic Hudson Chair Kristin Gamble, resident of Hudson and New York City
Kristin Gamble assumed the chair of the board of Scenic Hudson after 11 years as a director, during which she served the board as a vice chair and treasurer. She chaired the board's Investment Committee and was a member of its Land Use Advocacy Committee and land trust board.
Senior managing director of American Capital Management, Inc., Ms. Gamble has more than 45 years in the financial services field, including founding and serving as a principal of the investment firm of Flood Gamble Associates, Inc. Prior to forming her own firm, she held professional investment positions with Manufacturers Hanover, New Court Securities and Merrill Lynch. Her business affiliations include being a trustee of Federal Realty Investment Trust 1995-present and a board member of furniture manufacturer and retailer Ethan Allen, Inc. 1992-2015, serving on the Audit, Governance and Compensation committees of each at various times.
"I am thrilled and honored to assume the role of chair of Scenic Hudson, following in the footsteps of some of the valley's greatest conservation leaders. We have a dedicated and talented board and staff with tremendous skills, passion and commitment to the organization's mission. We hope to engage even more of the valley's residents and stakeholders in our mission that has served us well for more than five decades," said Ms. Gamble.
Scenic Hudson President Ned Sullivan stated, "Kristin Gamble's leadership and business savvy will help guide Scenic Hudson's initiatives at a crucial time in the Hudson Valley's history. We have tremendous opportunities to secure the vital resources of the region, while responding to the many threats to its integrity. No one is better suited for leadership of the board at this time than Kristin Gamble."
The Scenic Hudson Land Trust Chair Simon Roosevelt, resident of Stanfordville and New York City
Simon Roosevelt takes on leadership of The Scenic Hudson Land Trust, a subsidiary of Scenic Hudson that has conserved almost 40,000 acres and acts as a steward of those lands, which include more than 65 parks and preserves in the valley. Mr. Roosevelt has been a member of Scenic Hudson's board since 2010, while also serving as a member and vice-chair of its land trust board.
Mr. Roosevelt is a principal with Olimpia Fund Management, Ltd., a multi-family investment group in the U.S. and abroad specializing in alternative investments. Formerly he was general counsel for the investment management fund KCM, LLC, and an attorney with the New York City firm of Cadwalader, Wichersham & Taft.
The great-great-grandson of President Theodore Roosevelt and great-grandson of poet E.E. Cummings, Mr. Roosevelt is an active environmentalist and sportsman. His conservation work includes co-founding the Friends of the Elkhorn Ranch, which was responsible for successfully organizing and purchasing thousands of acres in the Badlands of North Dakota for the National Forest Service's Dakota Prairie Grasslands. A trustee of the Theodore Roosevelt Association, he also is a member of the Boone and Crockett Club and the Camp Fire Club of America.
"Scenic Hudson has a tremendous track record of preserving land for public benefit—as parks, family farms, ecological preserves and habitat. We now are adapting our conservation priorities to ensure the region's natural assets survive and thrive in the face of climate change, while strengthening communities and the Hudson Valley brand," said Mr. Roosevelt.
The Scenic Hudson Land Trust Executive Director Steve Rosenberg added, "Simon Roosevelt brings to Scenic Hudson years of experience as an avid outdoorsman, as a director of other conservation organizations, and as a knowledgeable investment and legal professional who will help the land trust achieve even greater positive impacts on the Hudson Valley."
Saluting Scenic Hudson's Outgoing Board Leaders
Ms. Gamble succeeds James C. Goodfellow as board chair. During Mr. Goodfellow's six-year tenure, he refocused the organization on the full breadth of its mission—land, parks and advocacy—and on the impacts of its work in protecting water resources, preserving working farms and adapting to climate change.
Mr. Roosevelt succeeds Frederic C. Rich as chair of the land trust board. During more than 20 years chairing The Scenic Hudson Land Trust, Mr. Rich played a pivotal role in the transfer of the Wallace Endowment to the organization, while helping guide creation of the organization's farmland preservation and Saving the Land That Matters Most initiatives, earning Scenic Hudson the Land Trust Alliance's National Land Trust Excellence Award.
About Scenic Hudson
Scenic Hudson works to protect and restore the Hudson River and its majestic landscape as an irreplaceable national treasure and a vital resource for residents and visitors. A crusader for the valley since 1963, we are credited with saving fabled Storm King Mountain from a destructive industrial project and launching the modern grass-roots environmental movement. Today with more than 25,000 ardent supporters, we are the largest environmental group focused on the Hudson River Valley. Our team of experts combines land acquisition, support for agriculture, citizen-based advocacy and sophisticated planning tools to create environmentally healthy communities, champion smart economic growth, open up riverfronts to the public and preserve the valley's inspiring beauty and natural resources. To date Scenic Hudson has created or enhanced more than 65 parks, preserves and historic sites up and down the Hudson River and conserved almost 40,000 acres.