Scenic Hudson to Celebrate Work Protecting Ulster County's Natural Treasures at Annual Gala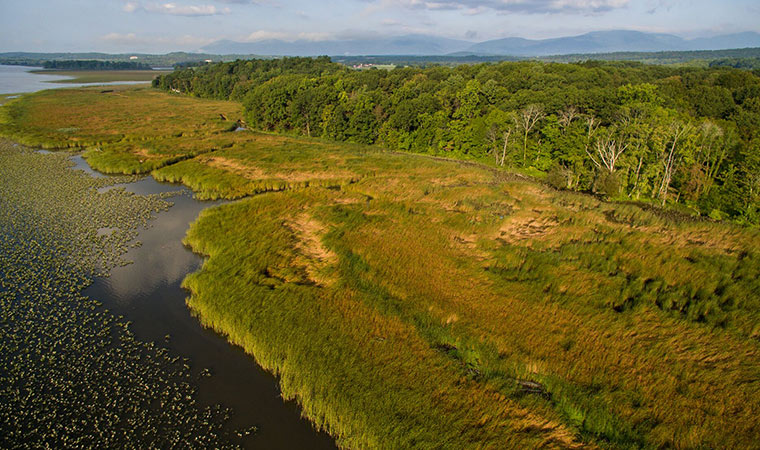 Jay Burgess
Director of Communications, Scenic Hudson, Inc.
Tel: (845) 473-4440 x222 Cell: (914) 489-0362 Fax: (845) 473-0740
jburgess@scenichudson.org
Group also will honor four key partners at June 23 event in Kingston
KINGSTON (Ulster County)—At Scenic Hudson's annual gala on Saturday, June 23, approximately 400 of its supporters will gather to celebrate the organization's partnerships in protecting Ulster County's natural treasures as part of its valley-wide mission. Scenic Hudson will honor four partners—the Doris Duke Charitable Foundation's Environment Program, Luminary Media, Ulster County Executive Mike Hein and Kingston Mayor Steve Noble—for their accomplishments and collaboration in creating healthy, prosperous communities in the county and throughout the Hudson Valley.
The gala will take place at the Hutton Brickyards in Kingston.
Scenic Hudson accomplishments in county include exciting parks, conserved family farms
Preserving Ulster County's natural assets has long been a focus of Scenic Hudson's work. The organization created its first public park—Lighthouse Park in Esopus—in 1990. (It later transferred the park to the town.) In Saugerties, the group also completed one of its first land acquisitions, conserving a major portion of the Great Vly, an ecologically important wetland. This land later was incorporated into the state's Great Vly Wildlife Management Area.
Overall, Scenic Hudson collaborative accomplishments in Ulster County include:
Opening 10 public parks that offer more than 25 miles of trails and access to the Hudson River—providing opportunities for people to get fit and connect with nature. Among these parks are some of the organization's most popular—Falling Waters Preserve in Glasco and Black Creek Preserve and Esopus Meadows Preserve in Esopus.
Partnering with farm families to conserve more than 700 acres of fields and orchards supplying fresh food to consumers throughout the Hudson Valley and New York City;
Providing leadership support for construction of Walkway Over the Hudson; and
Helping riverfront municipalities (including the City of Kingston) develop strategies to prepare for and adapt to rising sea levels and other climate impacts.
Currently, Scenic Hudson is engaged in several major collaborative projects in the county:
Creating the John Burroughs Black Creek Trail from Esopus to Lloyd. This nine-mile hiking/paddling route will extend from Scenic Hudson's Black Creek Preserve in Esopus through the John Burroughs Nature Sanctuary and Black Creek State Forest to Illinois Mountain in Lloyd. The project is intended to foster recognition of John Burroughs, the famed naturalist and writer who lived in Esopus. It also will conserve nature, enhance recreational opportunities and support local tourism economies.
Developing an exciting place for Kingston schoolchildren to learn about nature at the 376-acre former IBM recreation site it acquired in 2016. The group Wild Earth currently conducts field trips for local schoolchildren at the site—providing many inner-city students with their first opportunities to explore nature.
Providing major financial support for the expansion of the Hudson Valley Rail Trail in Highland.
In addition, the organization recently completed its first farmland conservation transaction with Ulster County, protecting 32-acre Taliaferro Farms in New Paltz. The farm operates one of the region's oldest community supported agriculture programs, supplying over 300 families with more than 50 varieties of fruits and vegetables. The farm provides produce for wholesalers, farm markets, restaurants and health food stores throughout the valley.
Honorees' outstanding achievements promote residents' health, vibrant economies
The achievements of the gala honorees support Scenic Hudson's commitment to develop partnerships and engage local citizens in initiatives focused on promoting regional identity, building community and strengthening resiliency. These goals build upon the organization's ongoing core mission to protect land, create parks and halt threats to the Hudson Valley's irreplaceable natural resources.
The Doris Duke Charitable Foundation's Environment Program—recipient of Scenic Hudson's National Environmental Leadership Award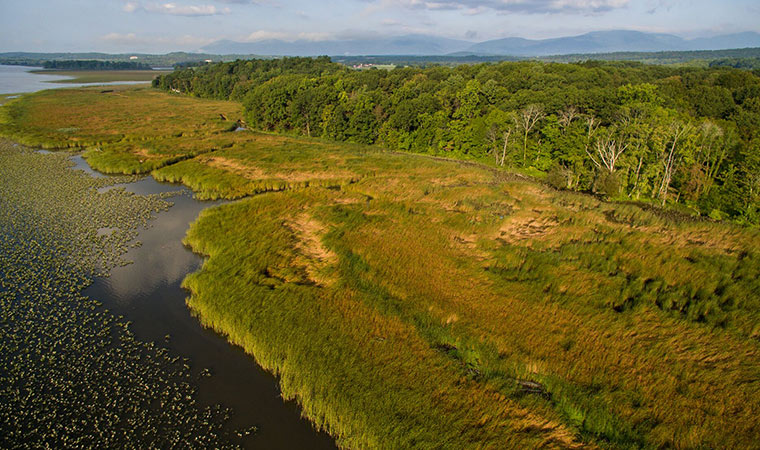 In fulfillment of its mission to ensure a thriving, resilient environment for wildlife and people and support a stronger, more diverse and climate-prepared conservation field, the Environment Program of the Doris Duke Charitable Foundation (DDCF) has awarded more than $337 million in grants since 1997. A leader in conserving America's irreplaceable natural resources, DDCF has contributed to the permanent protection of over 2.5 million acres across America. Recognizing the emerging threats of a changing climate, the foundation is making transformational investments in initiatives throughout the U.S. that promote climate-adapted conservation. These initiatives are focused on maintaining resilient landscapes and coastlines, adapting habitat stewardship, and accelerating energy efficiency and low-impact renewable energy development. Its newest effort, the Natural Climate Solutions Initiative, is working to employ nature's carbon-sequestering capacity as an essential tool for minimizing climate change. At the same time, it is leading efforts to increase the racial and ethnic diversity of the conservation workforce and foster a more inclusive conservation movement. Support from the Doris Duke Charitable Foundation's Environment Program has been instrumental in developing and implementing Scenic Hudson's groundbreaking approaches to protect resilient habitats and productive farms within the Hudson Valley.
Luminary Media—honored for Promoting Regional Identity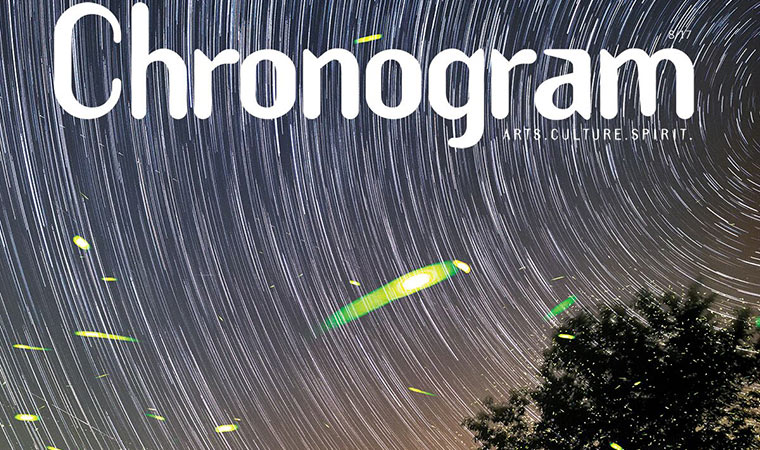 For 25 years, Luminary Media has connected residents and visitors with all that makes the Hudson Valley special—highlighting fun places to enjoy the outdoors, restaurants and farm markets featuring local food, vibrant neighborhoods to explore and art galleries featuring work inspired by the region's beauty. The Kingston-based company's Chronogram magazine helps residents stay informed about threats, such as Hudson River anchorages, that imperil the valley's natural beauty and public safety. And via its "Chronogram Conversations," a monthly series of public events, Luminary brings together municipal leaders, local stakeholders and the public for meaningful discussions about opportunities to improve the quality of life and prosperity of valley communities.
Ulster County Executive Mike Hein—honored for Strengthening Resiliency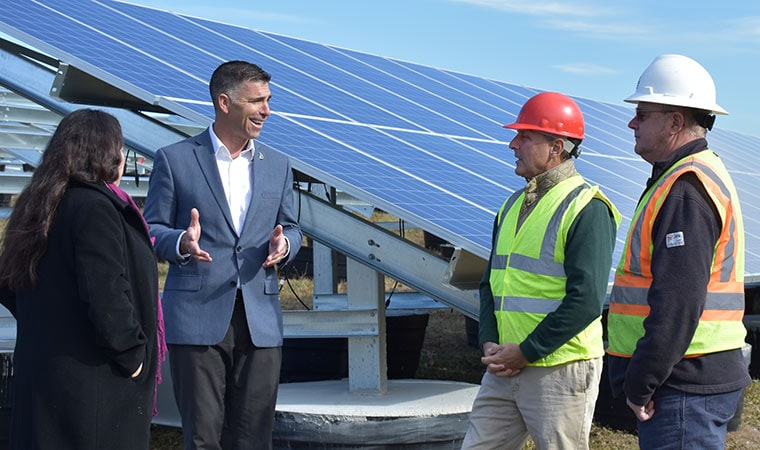 Since taking office in 2009 as Ulster County's first County Executive, Mike Hein has transformed Ulster County into a model of environmental stewardship by proving that a municipality can be both environmentally and fiscally responsible. Under County Executive Hein's leadership, Ulster County became the first net carbon-neutral county government in New York State, and the first to purchase 100 percent of its energy from renewable sources. In May 2018, County Executive Hein expanded Ulster County's commitment to the environment with the completion of the county's new 1.9-megawatt solar array, which is located atop a former landfill and now supplies 20 percent of the county government's energy needs. The county is also investing in an impressive array of new initiatives, such as farmland protection, outdoor recreation, active transportation and social justice, all while reducing taxes to the lowest level since 2009. As a result of these efforts, Ulster County has received numerous accolades and awards from a wide range of organizations, including National Geographic, Governing Magazine, the National Association of Counties, the NYS Department of Environmental Conservation and many others. Ultimately, the environmental and fiscal vision of County Executive Hein will serve as a model for other communities throughout New York State and beyond.
Kingston Mayor Steve Noble—honored for Building Community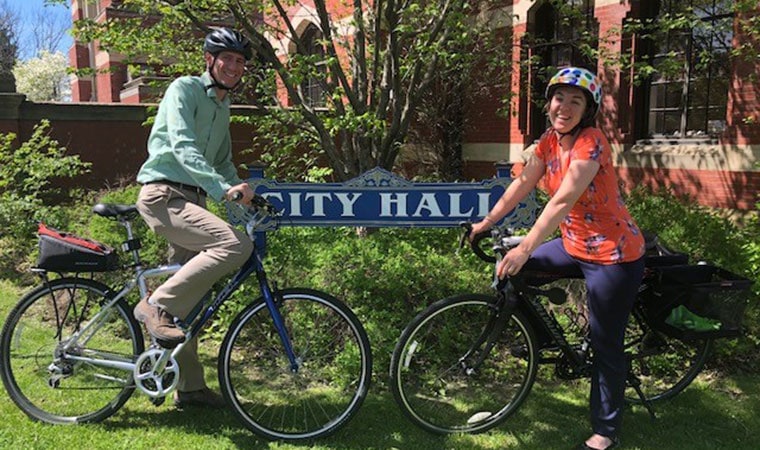 Mayor since 2016, Steve Noble has led efforts to improve the health and well-being of all Kingston residents. Starting as an Environmental Educator for the City of Kingston in 2008, he has worked to build community and empower residents to create a strong, sustainable city together. In 2008, Mayor Noble co-founded the Kingston Land Trust, an organization committed to the protection and preservation of open space, historic sites, wetlands, scenic areas and forests in the City of Kingston and the surrounding region. A key component of the Kingston Land Trust is the emerging Kingston Greenline, a network of urban trails, bikeways, water trails, walkable sidewalks and complete streets that will connect all of Kingston's diverse neighborhoods. Mayor Noble also has led ongoing efforts to help city neighborhoods prepare for rising sea levels and other impacts of a changing climate by strongly supporting the recommendations outlined in the city's Climate Action Plan and Kingston Waterfront Tidal Flooding Task Force (whose creation was spearheaded by Scenic Hudson). In 2017, Mayor Noble established the Live Well Kingston Commission, which brings partners and residents together to facilitate policy, environmental and systems changes, ultimately resulting in a healthier and more active community.
"All of the honorees to be toasted at Scenic Hudson's 2018 gala are champions at the national, regional or local level in conserving our communities' irreplaceable natural assets. Each is making the Hudson Valley a great place to live, work and have fun. The gala will provide us with a fitting opportunity to recognize their extraordinary achievements, celebrate Scenic Hudson's past accomplishments throughout Ulster County and showcase our ongoing collaborative projects that will yield new benefits to its residents and visitors," said Scenic Hudson President Ned Sullivan.
Hutton Brickyards is a fitting location for the event. Scenic Hudson helped save the property—site of a historic brickworks and now a popular performance and event space—from a major residential development project that would have destroyed its heritage as well as outstanding views to and from the land.
The gala is Scenic Hudson's sole fund-raising event of the year. Tickets are $500. For more information, contact Jody Harris, jharris@scenichudson.org or 845 473 4440, ext. 110.
About Scenic Hudson
Scenic Hudson helps citizens and communities preserve land and farms and create parks where people experience the outdoors and enjoy the Hudson River. We also bring together people, businesses and government to protect the river and natural resources that are the engines of the valley's local economies. Started in 1963 by a handful of citizens who cherished the simple pleasures of the outdoors along the Hudson, Scenic Hudson is credited with launching the modern grass-roots environmental movement. Today, in the face of new challenges and the effects of climate change, we are dedicated to making the Hudson Valley a great place to live, work and play. Our focus is on strengthening and maximizing benefits all can enjoy from the region's great assets—beautiful open spaces, working farms, and vibrant cities and town centers.